Eid al-Fitr, as known as Lebaran, is just around the corner. Residents in Gorontalo, North Sulawesi, have a special tradition called tumbilotohe to ring in the festivity. In the local language, tumbilo means installing while tohe is a lamp.
Thus, the tradition – that has been doing since the 15th – can be interpreted as a night to set the lights. In North Sulawesi's Bolaang Mongondow (Bolmong) regency, such tradition is called monuntul. It is derived from the word tuntul which means lighting.
In the olden days, people placing kerosene lamps along roadsides to provide lights for local officers who were collecting zakat fitrah alms in the form of rice from houses in the areas. Now, such tradition is not only meant for the aim but also to welcome the Lebaran day and to appreciate the people who practice their fast during the holy month of Ramadan.
Tumbilotohe is held for three days during the evening and it will end on the eve of Eid al-Fitr.
Below are things you need to know about the Tumbilotohe Festival and Gorontalo's other delights during Ramadan:
1 | Tumbilotohe Festival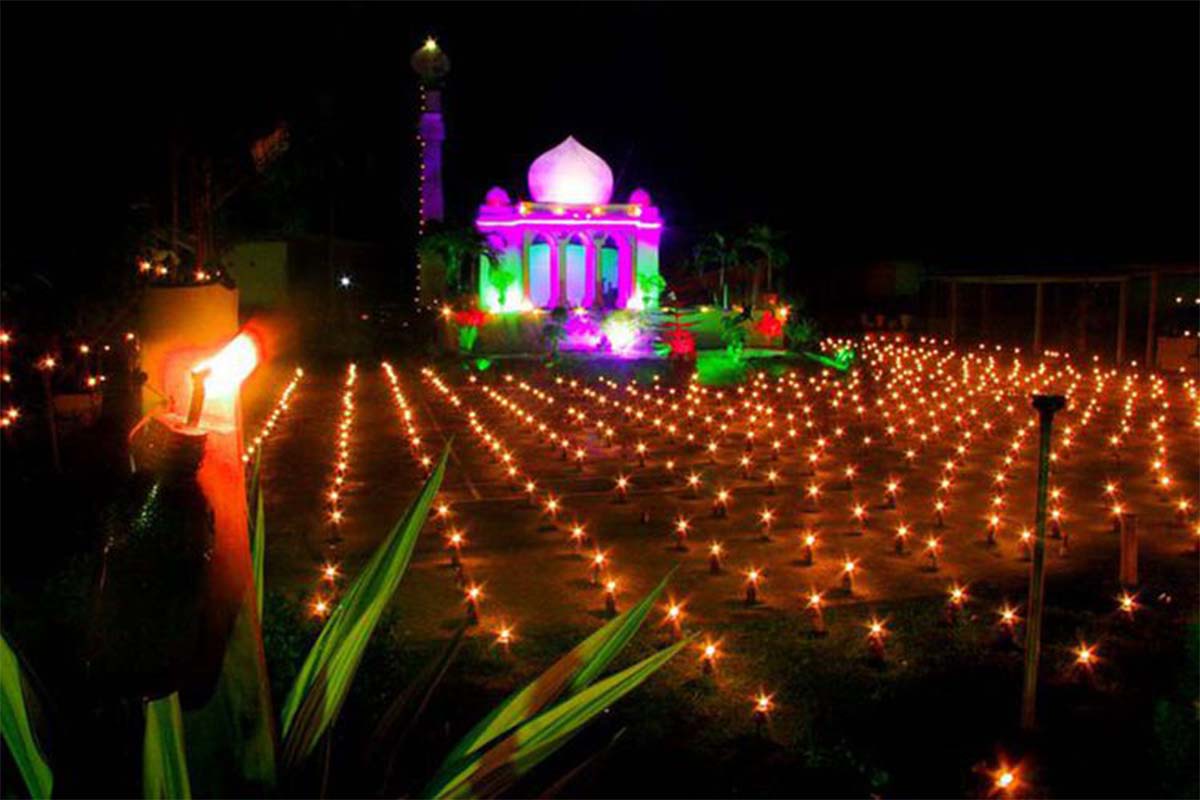 Image source:  https://regional.kompas.com

Near Eid al-Fitr, Gorontalo government teaming up with local communities holds annual Tumbilotohe Festival. In the occasion, districts in the city join in a fun competition where they are required to create the most attractive and creative lights.
To celebrate tumbilotohe, people will have set up wooden poles on the side of roads since before the month of Ramadan. These poles are used for laying and arranging lights. Besides roadsides, lights are also placed along the rice fields, riverbanks or the edge of famous Lake Limboto.
They will light these lamps simultaneously after Maghrib or dusk Islamic prayer and go around their areas to enjoy the installments.
During the time, children will visit houses of their neighbors, families, and other relatives while they are singing a distinctive song, also called tumbilotohe.
The excitement of these children was then welcomed by the visited families who will then give the minors alms in the form of new paper money.
If you visit Gorontalo for the Tumbilotohe Festival, this is the perfect time to join the people relishing the beauty of lights in various places. You should stroll around the rural countryside where usually sparkling lights will continue to burn until dawn.
2 | Bedug Festival & Gebyar Ketupat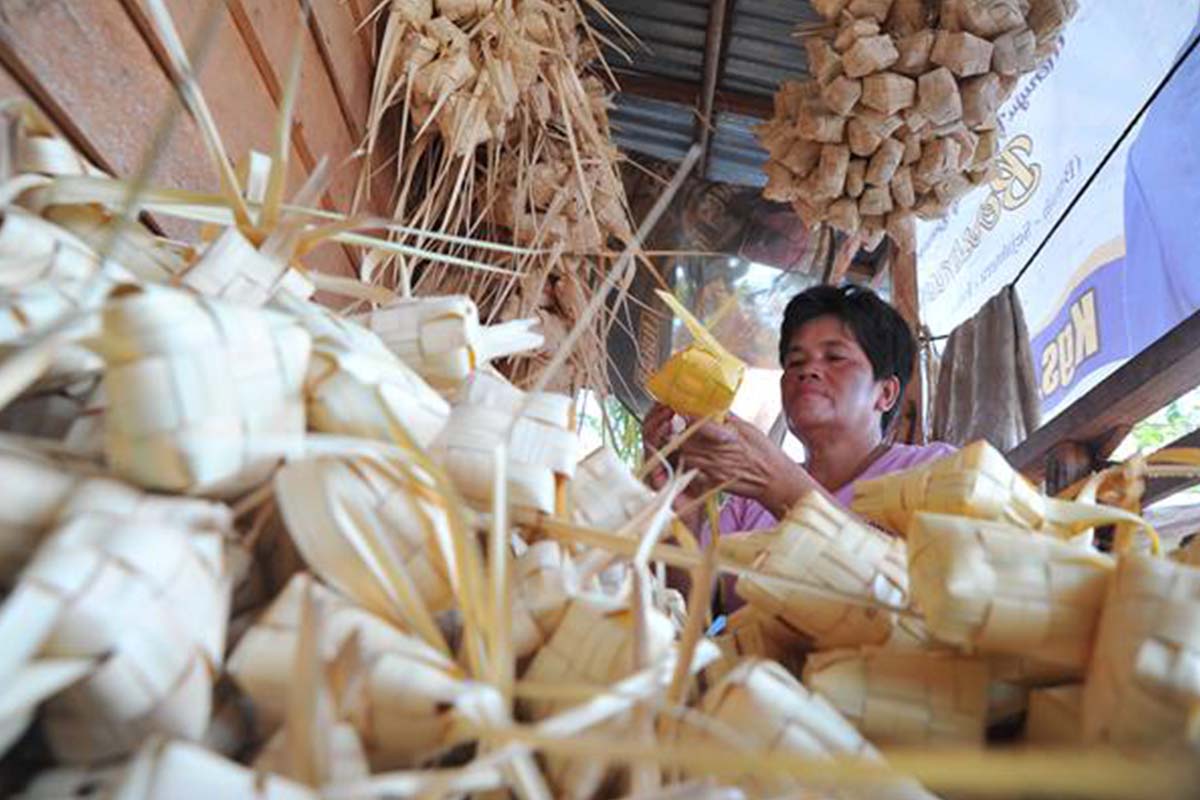 Image source: http://traveling.bisnis.com

Apart from the Tumbilotohe Festival, Gorontalo is also gearing up for other special festivities prior to Lebaran. They are Beduk Takbiran and Gebyar Ketupat festivals.
During Beduk Takbiran Festival, which is held near Eid al-Fitr, hundreds of youths will join drumming competition usually set at Taruna Remaja square.
Meanwhile, the Gebyar Ketupat Festival will be held at Lebaran Ketupat or on the seventh day after Eid al-Fitr. At Gebyar Ketupat occasion, there will be the longest food parade spanning from Ketupat statue in Isimu to Gorontalo regency's horse race field.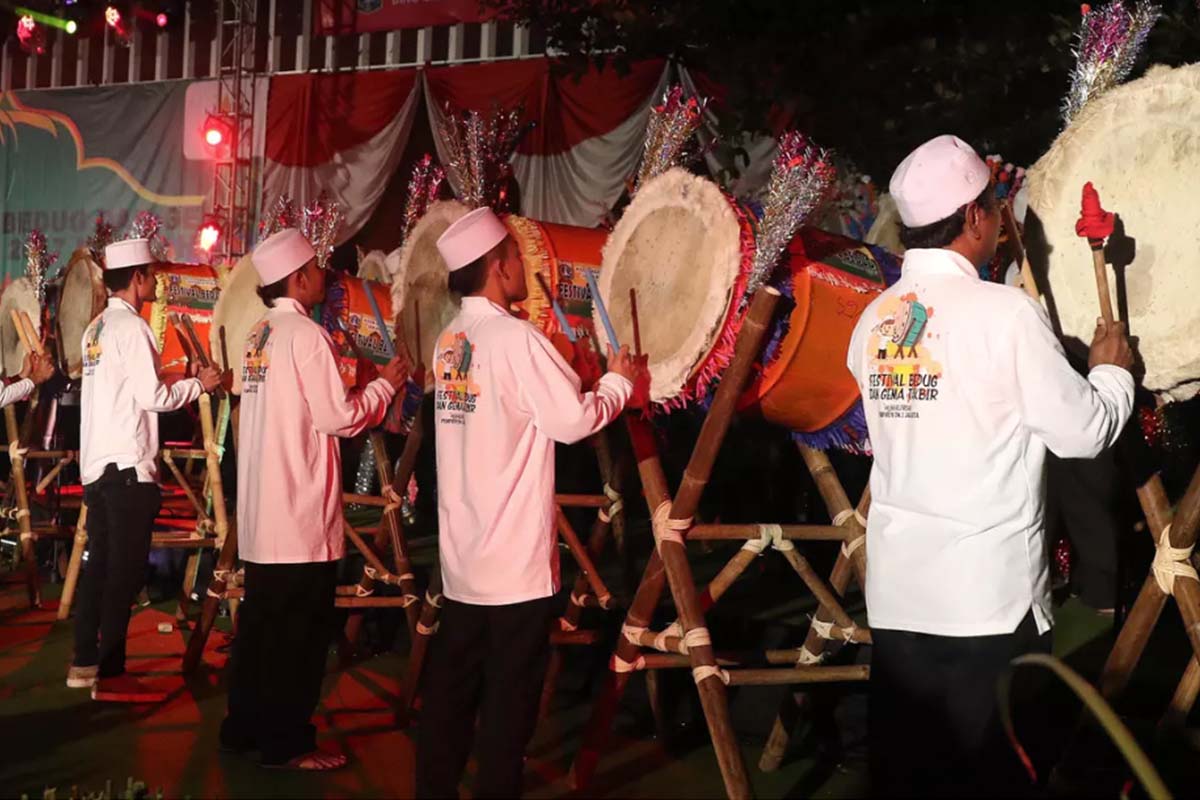 Image source:  https://www.liputan6.com

3 | Seasonal Pasar Senggol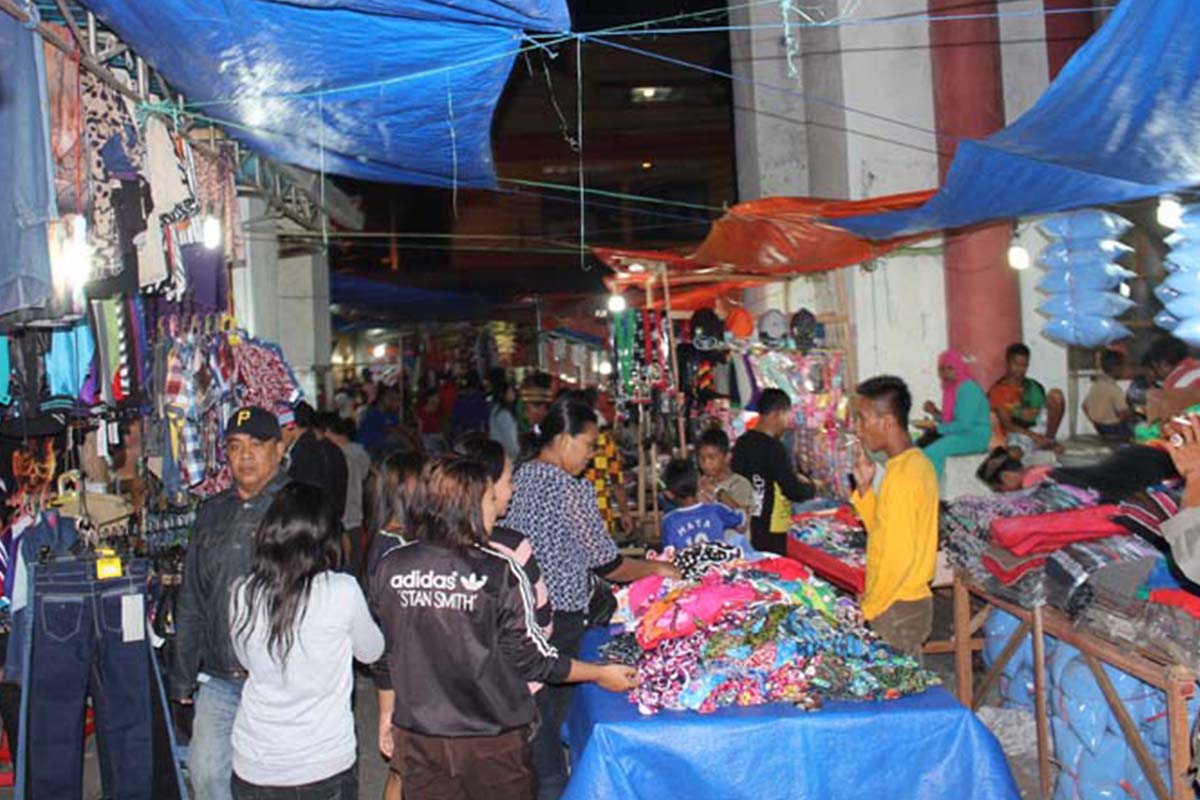 Image source:  http://radargorontalo.com
Prior to Lebaran, Gorontalo also holds seasonal market offering things for the Islamic festivity. The market is called Pasar Senggol. In Bahasa Indonesia, senggol means shoving one to another. This actually best describes the seasonal market as it will usually be packed and crowded with visitors.
The market, which is only held once a year, usually provides things that people need for Eid al-Fitr, such as prayer suits and assorted cookies.
4 | Mohibadaa mask tradition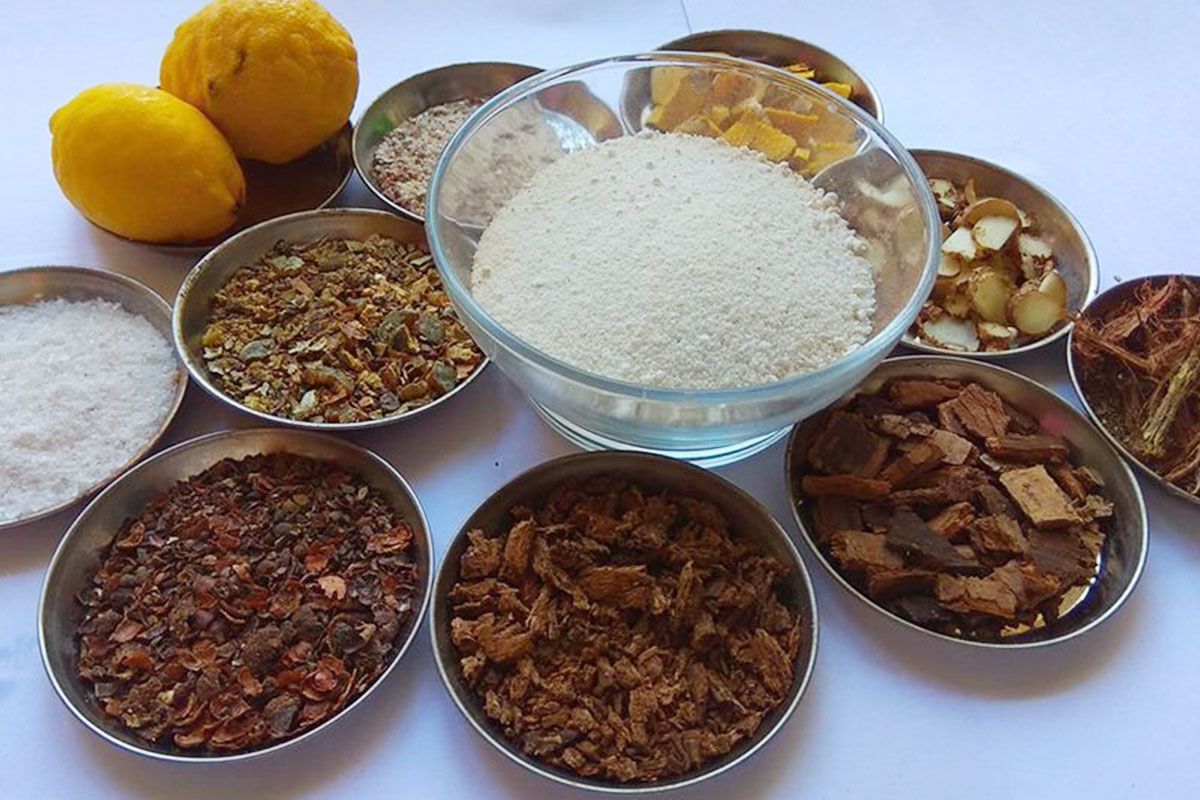 Image source: https://www.facebook.com/Jemi Monoarfa

Do you know that Gorontalo people have a unique tradition of covering their face with a local mask made from herbs during Ramadan? This tradition is called Mohibadaa.
It is actually not necessarily done only during Ramadan. However, in the fasting month, the Mohibadaa tradition becomes more special considering the skin feels drier during the time due to fasting. Moreover, the weather in Gorontalo tends to sting because of the heat.
The mask potion itself consists of rice flour and local herbs, like turmeric, kencur, and bungale. These ingredients are usually pounded into flour. After that, the mask is ready to be applied to the face. For those who do not want to bother, this traditional mask can be purchased in a package at local markets at IDR 15,000.
5 | Popaco dan lalampa for iftar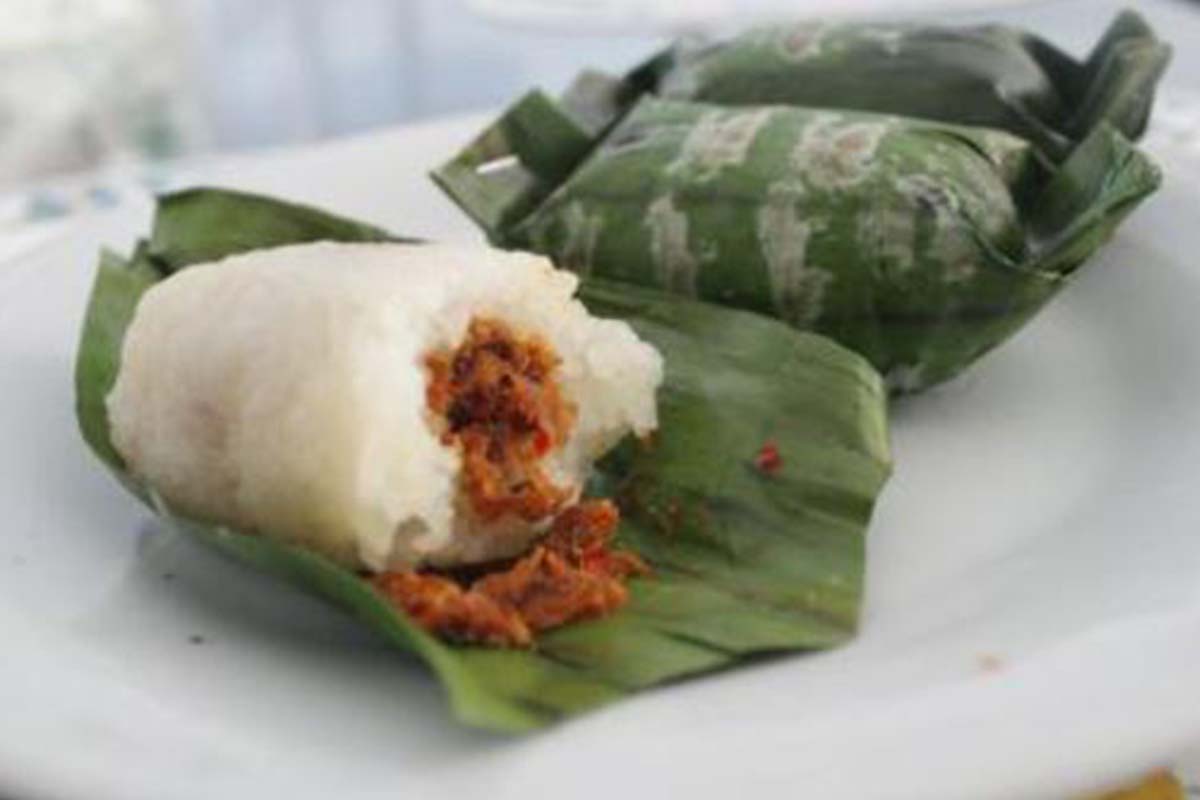 Image source:  https://www.merdeka.com
During Ramadan, Indonesians are no strange to takjil or light snacks to break their fast before eating the main dish. While some people believe that breaking the fast should be with sweet delicacies, some others stick to their choice by having savory dishes.
Gorontalo people, in particular, like to have both tastes for iftar with their local snacks, such as popaco and lalampa. Sweet legit, chewy, and fragrant perfectly describes popaco. It is basically a local cake made from wheat flour, coconut milk, brown sugar, vanilla, salt, granulated sugar, and eggs.
Meanwhile, lalampa is more savory and sometimes spicy. Lalampa is sticky rice wrapped in banana leaves and burned until it smells fragrant. Mostly, lalampa is stuffed with a kind of tuna fish.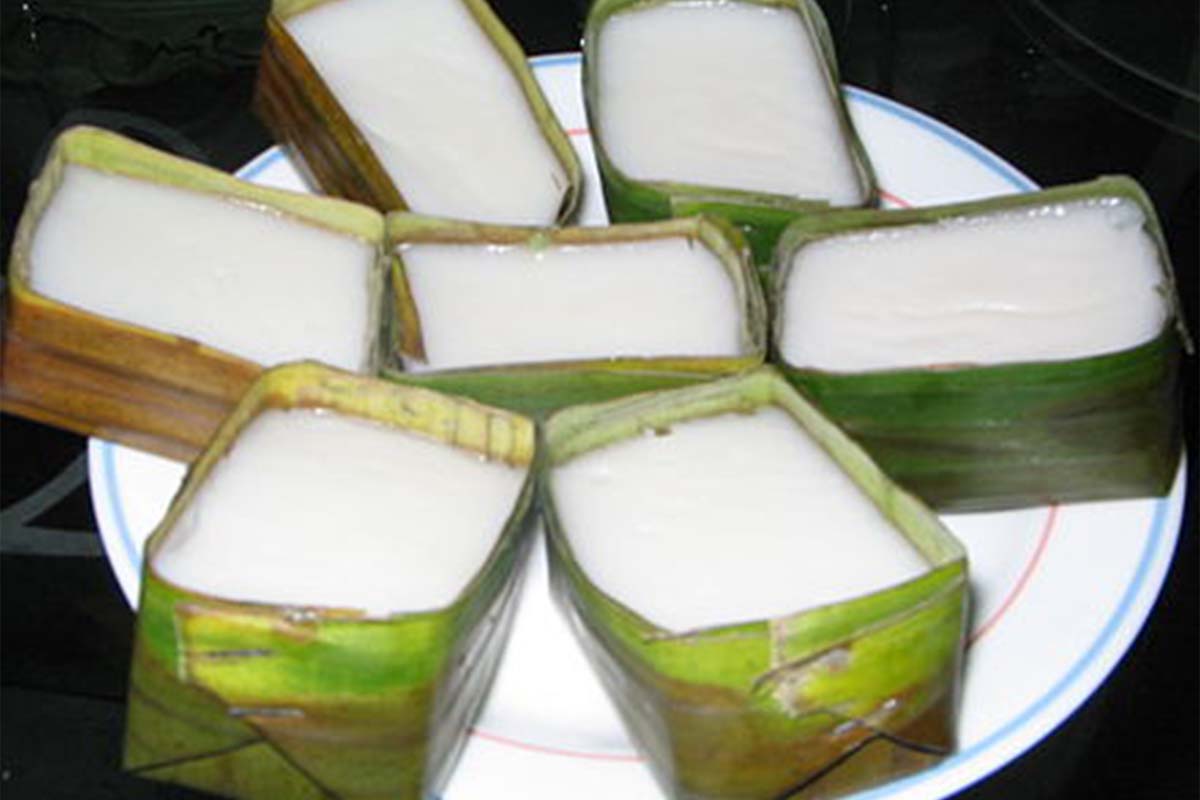 Image source:   http://www.wikiwand.com
Image source of header banner:  https://hiveminer.com