The city of Solo with its cultural charms is like a magnet to many travelers to Central Java. Batik, traditional foods, and heritage places are their favorites (and perhaps yours too). However, pursuing comfort and a luxurious trip to Solo does not need to cost travelers that much since this city also provides many affordable accommodations.
Check out five budget hotels below so you can still enjoy the city at affordable price!
1 | Red Planet Hotel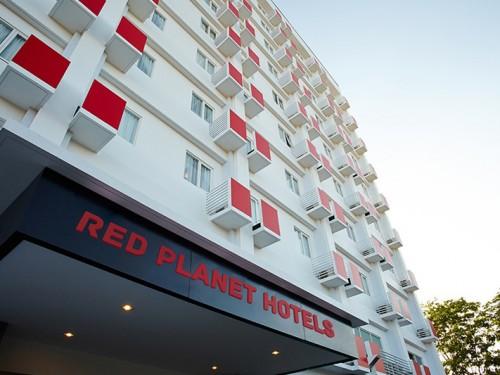 Photo source: www.foursquare.com/red-planet-hotels-solo
Dedicating itself to your comfort, the Red Planet Hotel emerges as one of the most inexpensive hotels in Solo. With 153 rooms available for your stay, you'll have enjoyable moments along with free hi-speed Wi-Fi, widescreen TV, and comfortable beds with air conditioned rooms. A meeting room is also available in case you're here for a business trip.
Located in the heart of Solo, it's just a short walk to the Manahan Stadium. Some favorite places around the hotel are the Klewer Market, the Kasunanan Palace, and Danar Hadi Batik Museum. Don't forget to buy some finest textiles and batik wear at Klewer Market!
Contact:
https://www.redplanethotels.com/
Jalan Dokter Soepomo No.49, Mangkubumen, Banjarsari, Kota Surakarta, Jawa Tengah 57139
(0271) 7889333
Prices start at Rp 178,289
2 | Dinasty Smart Hotel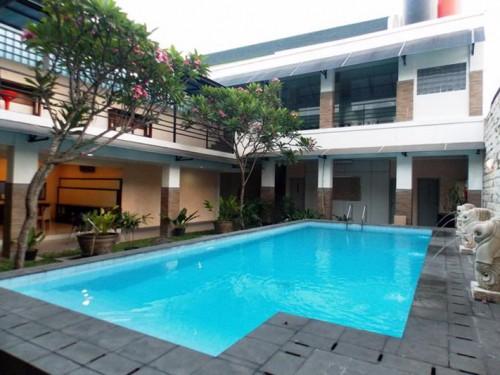 Photo source: www.pegipegi.com/dinasty-hotel-solo
Located in a cozy corner of a busy area in Solo, the Dinasty Smart Hotel offers friendly hospitality for its guests at an affordable price. It's easy to access most city attractions, especially since the hotel is near the bus station. You can also enjoy your walk around the hotel to tastes some street culinary dishes and indulge in the charming side of Solo.
Although it's relatively small, the hotel has a swimming pool and a fitness center to make you stay fit and healthy during your trip. Each room is equipped with LCD TV, comfortable bed, and free wifi. Breakfast is free — which is good for your budget trip, right?
Contact:
http://www.dinastyhotelsolo.com/
Jl. MT Haryono No.80, Manahan, Banjarsari, Kota Surakarta, Jawa Tengah 57139
(0271) 718000
Prices start at Rp 193,388
3 | Twin Star Hotel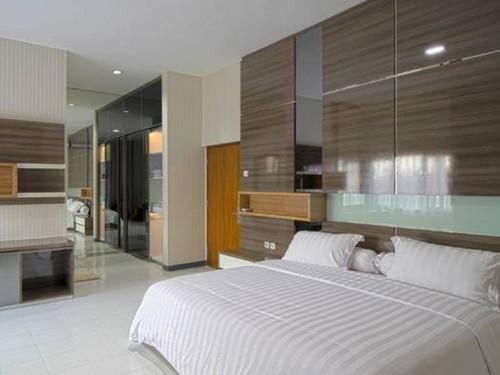 Photo source: www.pegipegi.com/twin-star-hotel-solo
Known as budget hotel with great service, the Twin Star Hotel boasts good service and facilities such as swimming pool, fitness center, and hi-speed Internet connection. Two types of rooms are available: Superior and Deluxe and both already include breakfast. The hotel is good for budget holidays or business trips due to its serene environment that boosts your rest time.
Only a 5-minute walk away from the Solo Balapan Train Station, the hotel is located in a strategic location of the city. Favorite attractions such as the National Press Monument, the Sriwedari Park, Museum Batik Danar Hadi, the Klewer Market, and many others are only within 2 km from the hotel.
Contact:
Jalan Natuna No. 4, Kestalan, Banjarsari, Kestalan, Banjarsari, Kota Surakarta, Jawa Tengah 57132
(0271) 648738
Prices start at Rp 194,215
4 | Amarelo Hotel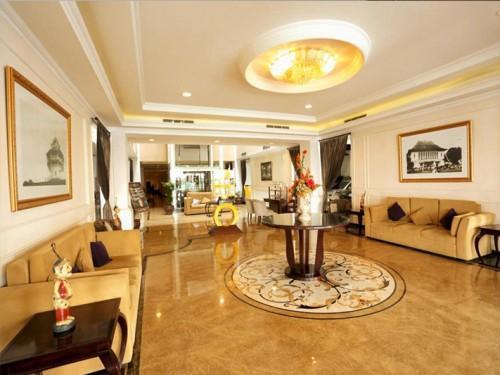 Photo source: www.agoda.com/amarelo-hotel-solo
Situated in the Central Business District of Solo, many public attractions and sightseeing places are reachable by walking. Puri Mangkunegaran, the Sunan's Palace, Kasunanan Mosque, and the Kauman Batik Village are within walking distance. Solo's shopping centers and street food are easily reached from the hotel.
Besides its large and comfortable rooms, hotel facilities that you can access include a sky lounge & bar, cafe with balcony, smoking area, and massage on the spot. Wi-Fi is available in every room and public areas. Want more? Karaoke and billiard are available free for guests.
Contact:
http://amarelo-hotel.com/
Jalan Gatot Subroto No.89-103, Singosaren, Surakarta, Jawa Tengah 57151
(0271) 669999
Prices start at Rp 206,612
5 | Pose In Hotel Solo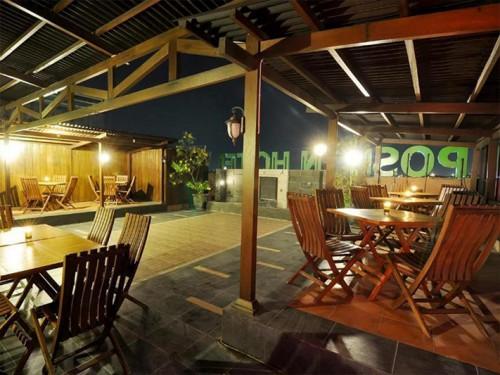 Photo source: www.hotelscombined.com/pose-in-hotel-solo
Boasting its big-sized room at inexpensive prices, Pose In Hotel Solo attracts budget travelers seeking short-term visit. Each room comes with breakfast and Wi-Fi access. Spa and swimming pool are available for relaxing in the hotel. There is also a convenience store in front of the hotel.
Located only 100 meter from Solo Balapan Train Station, this hotel is very easy to find. Some favorite attractions near the hotel are Pura Mangkunegaran, the Sunan's Palace, and Ria Batik Solo. The bustling area around the hotel will definitely keep you interested.
Contact:
Jalan W. Monginsidi No. 125, Kestalan, Banjarsari, Kota Surakarta, Jawa Tengah 57132
(0271) 666199
Prices start at Rp 211,983
Staying in a budget hotel doesn't need to mean miserable experience. Those five budget hotels in our list will promise an enjoyable stay. Now, it's your time to experience an affordable and wonderful holiday in Solo!
Photo source of header banner: Shutterstock
Related articles:
1. 5 Luxurious Hotels in the Royal City of SOLO
2. SANGIRAN Archaeological Site near SOLO developed into World Heritage Attraction
3. The Riveting WAYANG KULIT SHADOW PUPPET SHOWS of Java and Bali
4. Batik Solo: Keeping The Tradition Alive
5. Triwindu Antique Market, Exciting Ancient Trading Experience