Nowadays, people like to look for a place to stay that is beyond usual hotel rooms. They, instead, seek resorts or mesmerizing water villas with breath-taking scenery. Are you that kind of travelers? If yes, you might consider Indonesia as the country has a lot of beautiful water villas.

Here are 16 beautiful resorts surrounding with waters you should put on your list:
1 | Villa Lombok, Pahawang, Lampung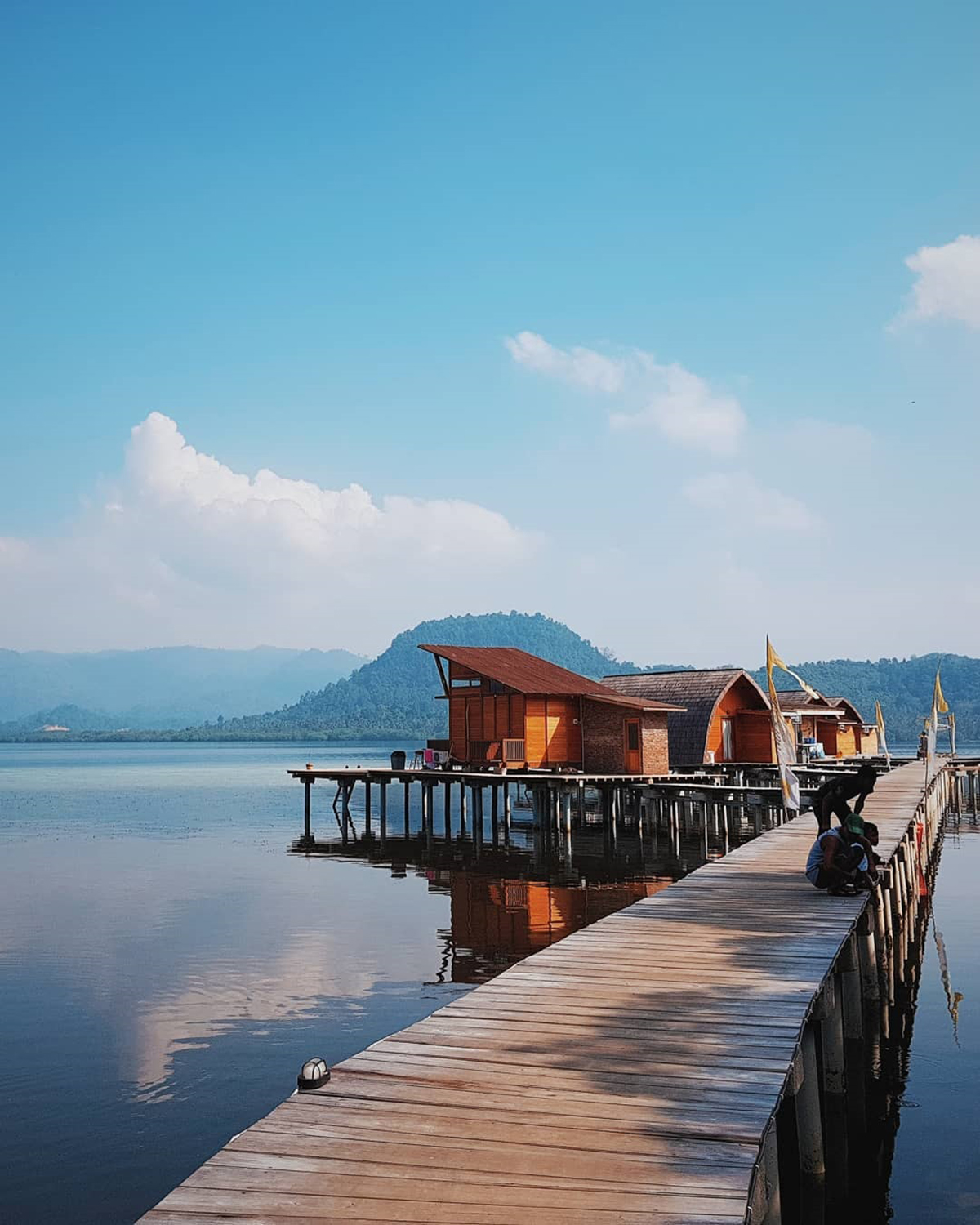 Image by tarinaminusta
Villa Lombok is located at Pahawang Island in Lampung, South Sumatra. It is a cluster of wooden huts floating on the sea. Each hut is completed with a very spacious terrace. You can do yoga or just sunbathe under the sun while seeing beautiful scenery from the space. Each villa can fit in 10 guests.

2 | Telunas Beach Resort, Batam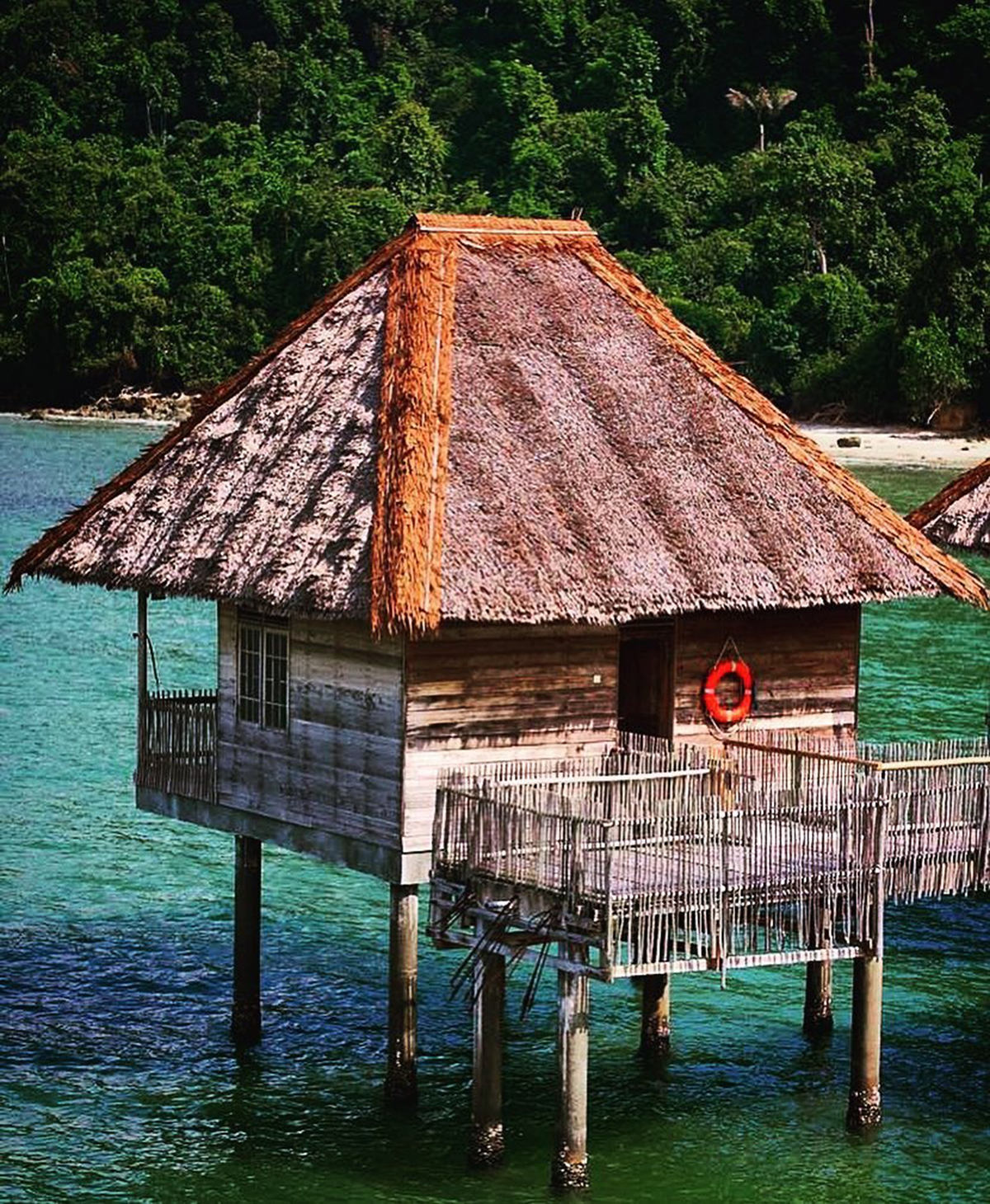 Image by spicy91

If you expect a remote island for a vacation spot, then Telunas Beach Resort in Sugi Island, Batam, is the right choice for you. There are 15 villas were designed to provide maximum comfort for guests. The sitting area is equipped with wide windows so you can enjoy the stunning scenery of the Sugi Islands. You can also soak in the infinity pool while watching panorama full of magical sunset. Romantic, isn't it? There are various activities provided in this resort, including paddling, guided tours to mangrove forests, kayaking, and many more!
3 | Pulau Ayer Resort, Kepulauan Seribu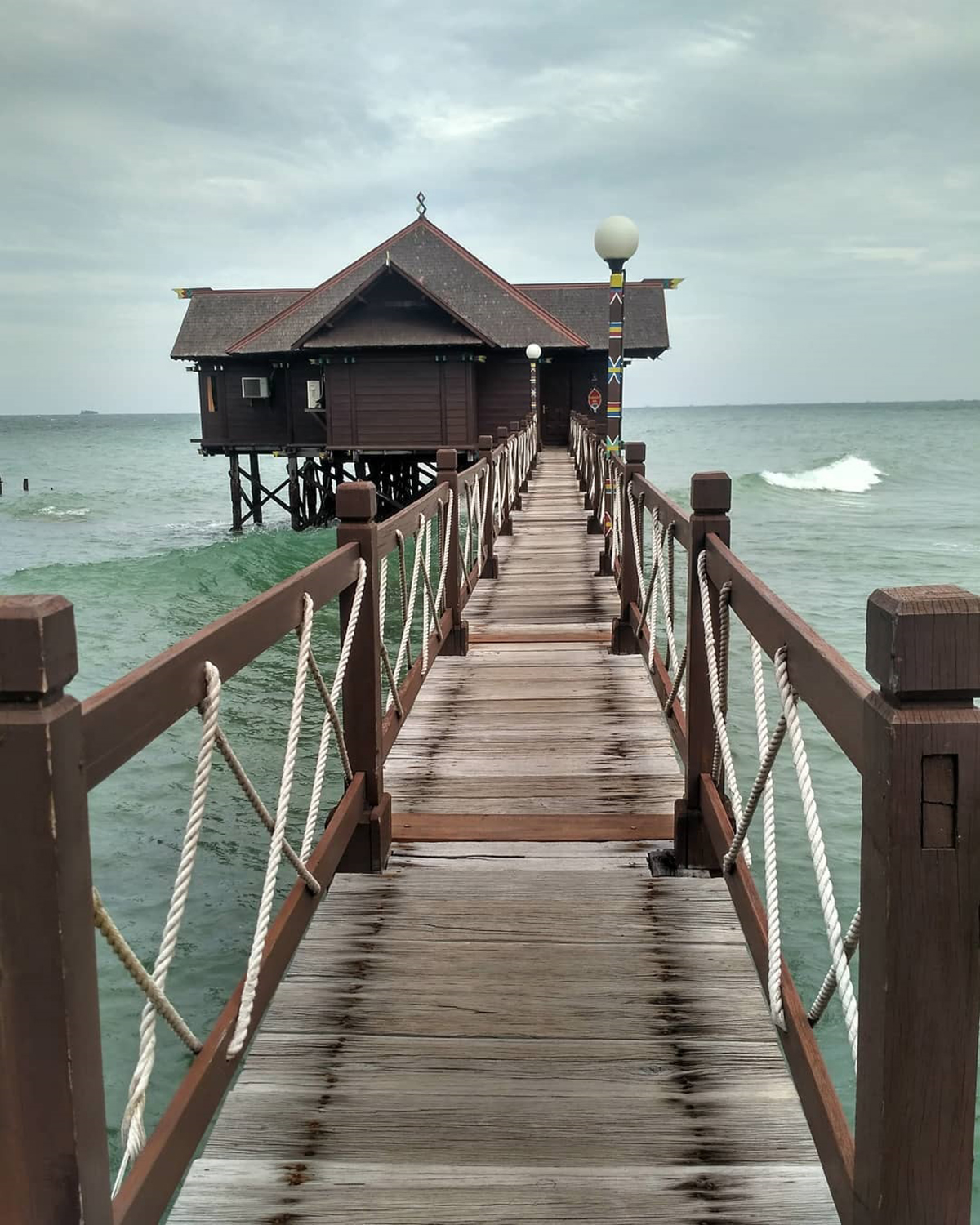 Image by lulukekomawati

Pulau Ayer Resort is located on Ayer Island in Kepulauan Seribu. Kepulauan Seribu itself is an island cluster in Jakarta waters. Pulau Ayer Resort has beautiful water villas standing above the sea. This resort has full-service adventure facilities, such as swimming pool, banana boat, fishing, and canoeing. The best part is that the beach on Ayer Island is none you can find in Jakarta. A clean, white sand beach.
4 | Pulau Macan Eco Resort, Kepulauan Seribu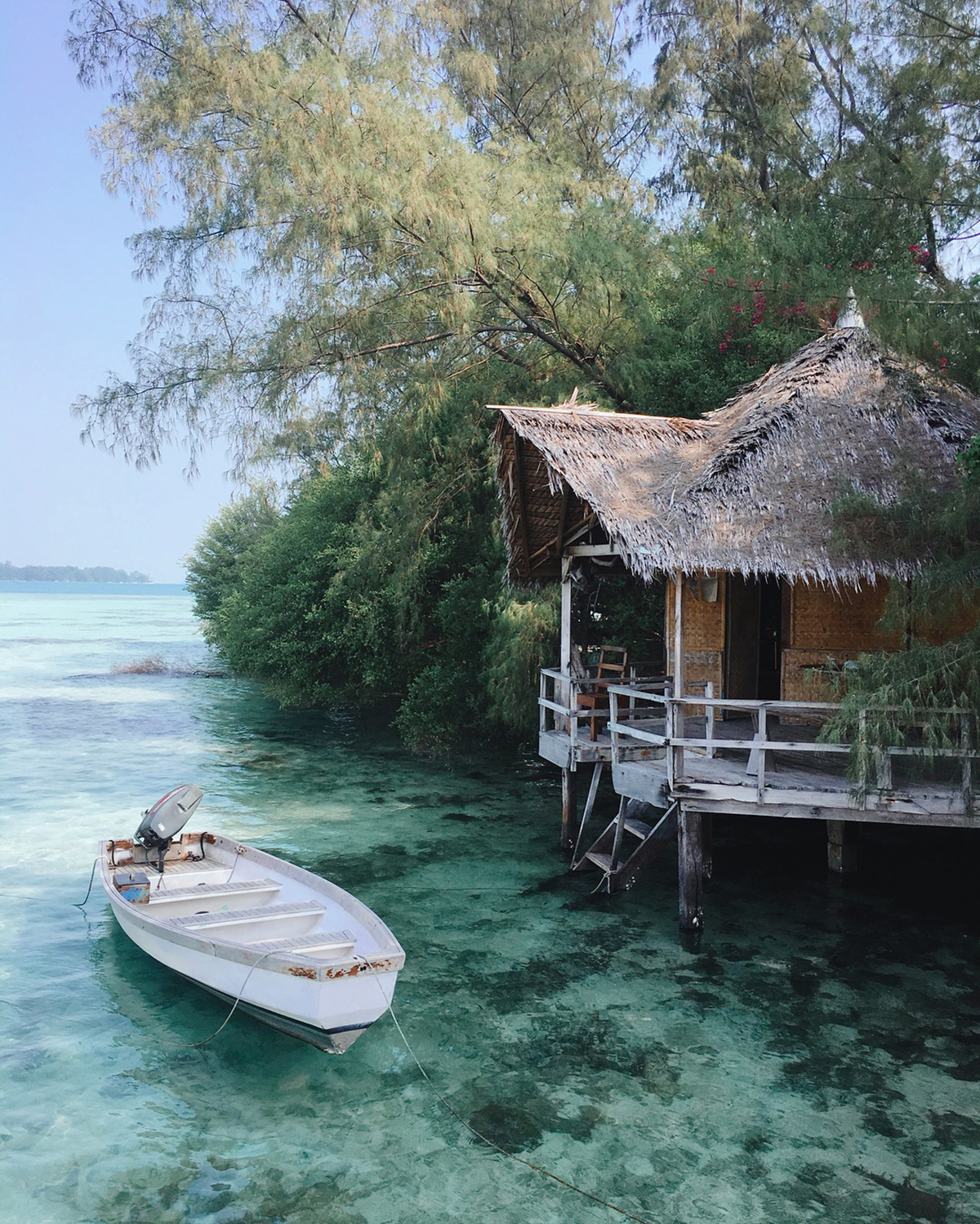 Image by mayfana

In the same Jakarta's Kepulauan Seribu, there is also Pulau Macan Eco Resort. What is interesting from this water villa is that you can enjoy the clear blue sea straight from your bed. Some villas are only separated by curtains with some mosquito net. You can directly jump into the sea! This eco-friendly resort also offers sports facilities like canoe, tennis, and bicycles.
5 | Kampung Sampireun Resort & Spa, Bandung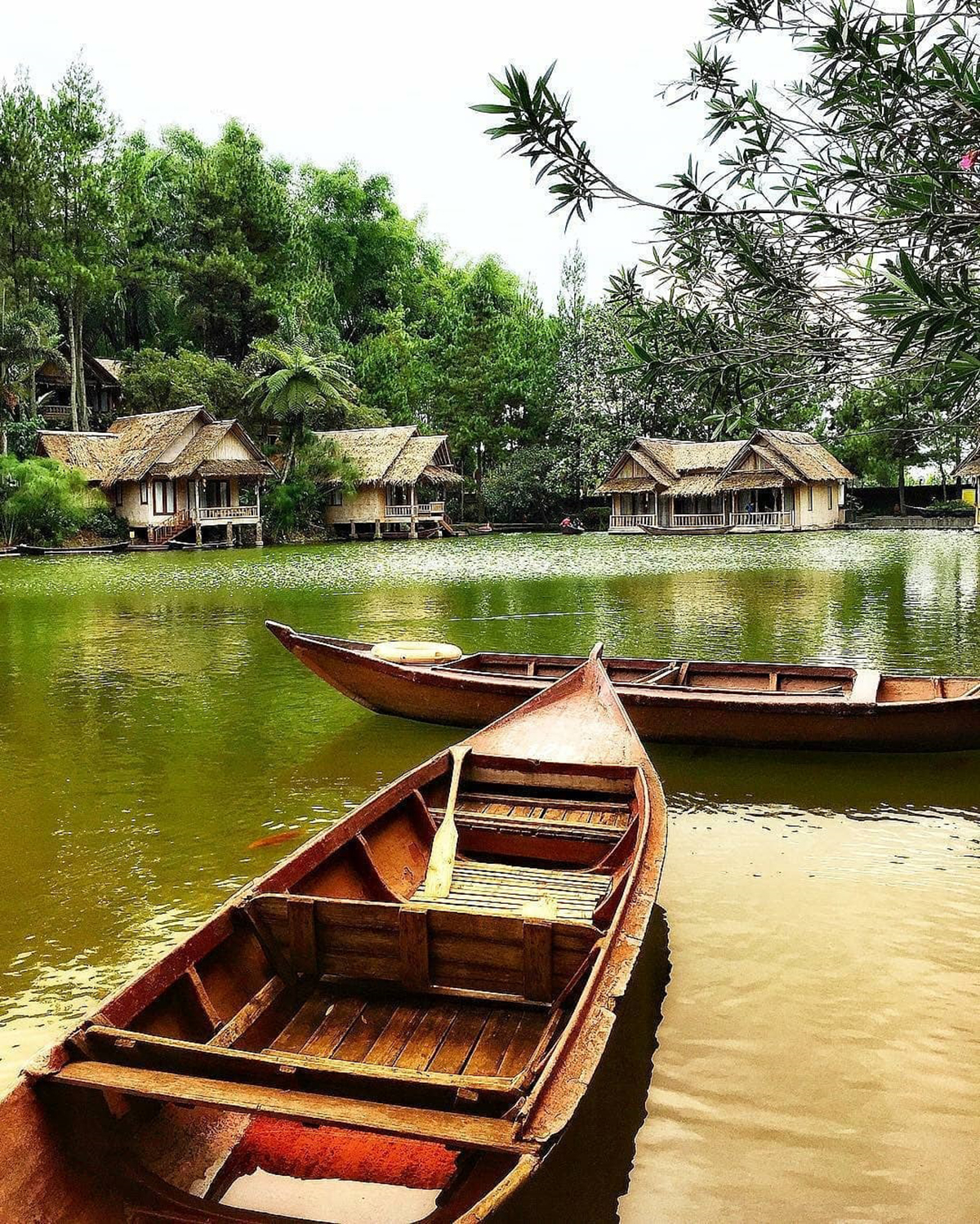 Image by enosoemardi
Kampung Sampireun is located in Ciparay Village, Bandung. This place features authentic Sundanese culture and offers luxurious wooden bungalows with a majestic mountain view. Moreover, the private units were built on a peaceful lake and accessible via canoes. All rooms in the bungalows feature decoration made from natural materials, such as bamboo and coconut. Not to forget, a unique semi-outdoor bathroom!
6 | Dusun Bambu, Bandung
Image by roastd_chestnut

Dusun Bamboo directly has a cool, relaxed and pleasant countryside ambiance. Getting into it, you will find triangle-shaped bungalows stand gracefully overlooking a large artificial lake. Apart from these cottages, there is also a camping area called Eagle Camp Ground. Despite the camping concept, the amenities are luxurious. There is a private bathroom with hot water, sleeping bags, and a fireplace for barbecue.
7 | Kampung Sumber Alam, Garut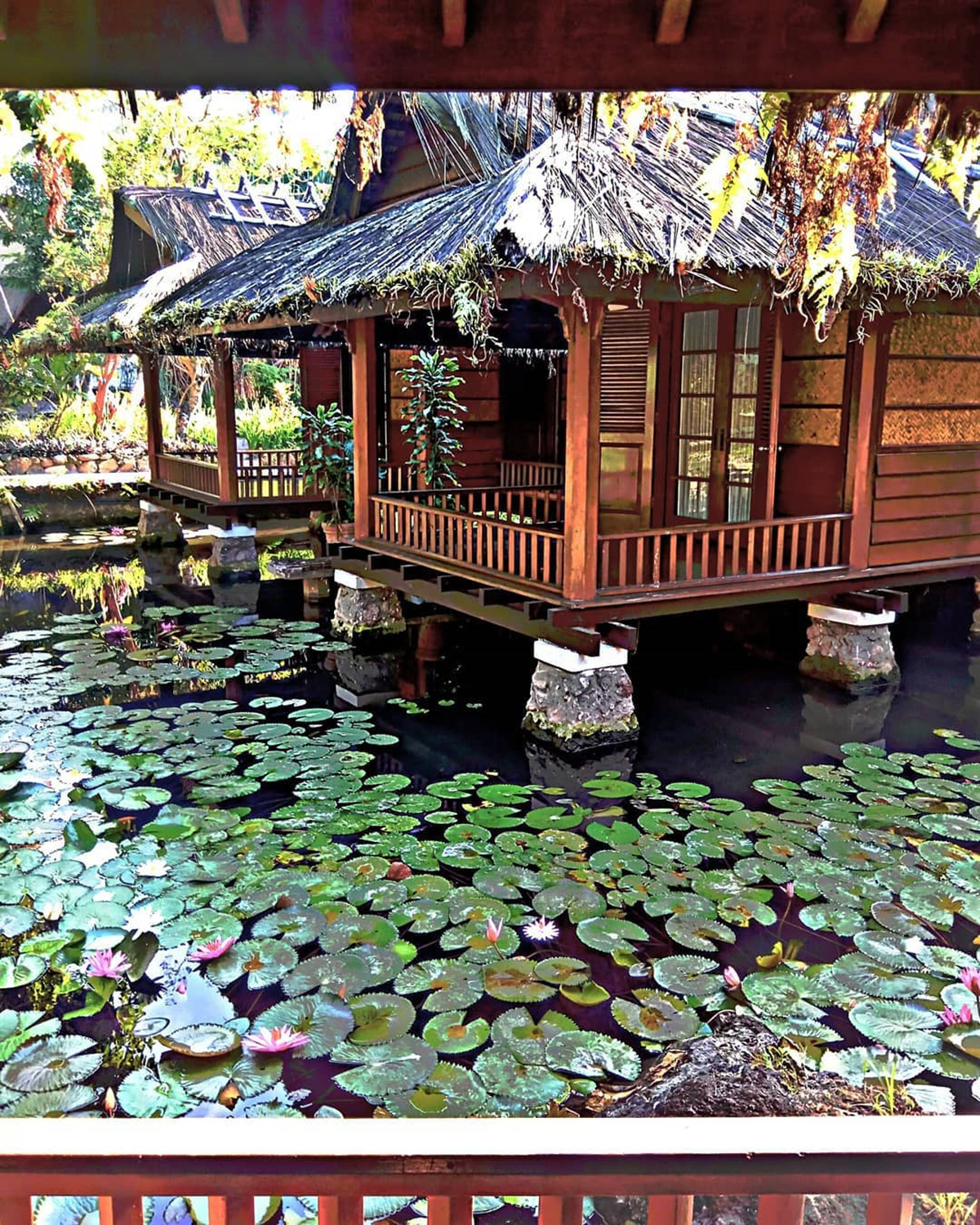 Image by ipunkbaik

Kampung Sumber Alam is a unique traditional resort with a typical Sundanese architecture. The most interesting part is the villas surrounded by lotus and other water plants. Inside the bungalows, it is equipped with a bath and shower. There, you can enjoy soaking in hot water sourced from the nearest mountain, Mount Guntur. Kampung Sumber Alam also has full-service facilities of traditional games that make children love the nature.
8 | Kamojang Green Hoten & Resort, Garut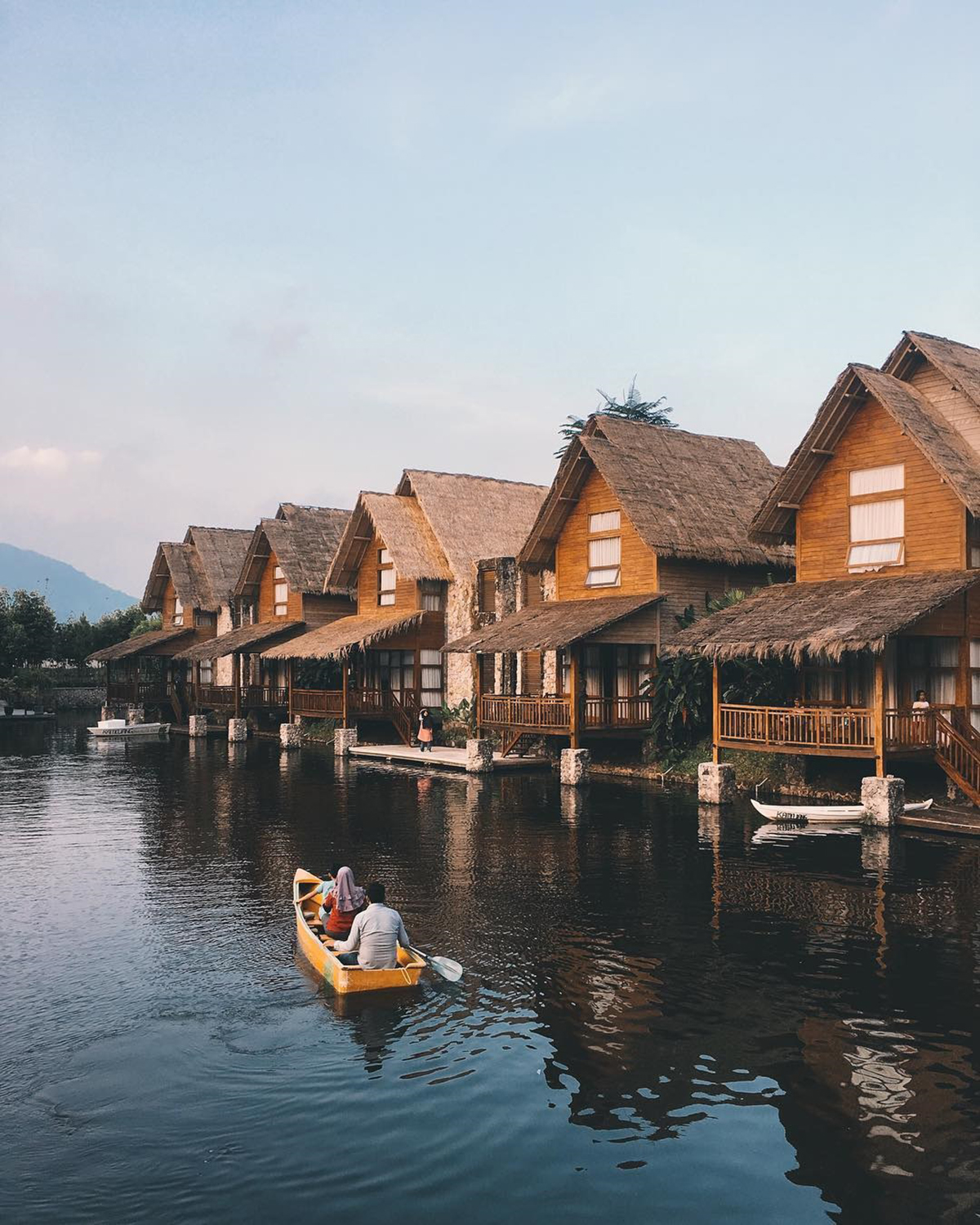 Image by ferzyaf

Kamojang Green Hotel & Resort is situated above a lake in Lisungbatu. There are a bunch of facilities such as outdoor pool, outbound tracks, and a lakeside restaurant. It is also nearby beautiful tourist sites. The famous Kamojang Crater is a 30-minute drive from the resort, while Cankuang Temple is an hour drive away.
9 | Lagoon Villa, St.Regis, Bali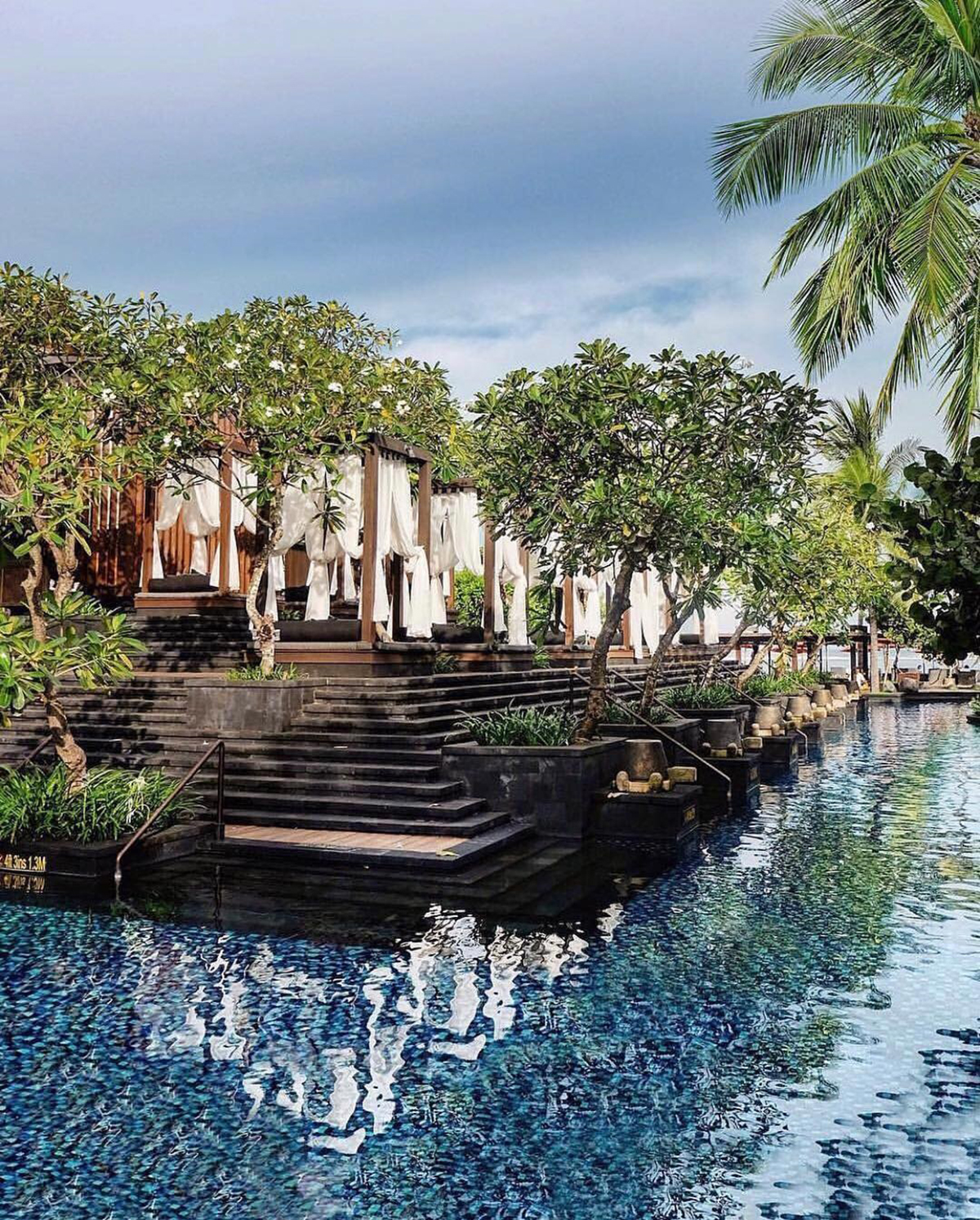 Image by awaywithrachel

This is where you will be treated like a king or a queen. Lagoon Villa of St. Regis provides bungalows completely surrounded by waters. You can eat your breakfast in the villa while enjoying the beauty of the Indian Ocean and a private attendant will assist you. How marvelous is that!
10 | Bambu Indah Eco Resort, Bali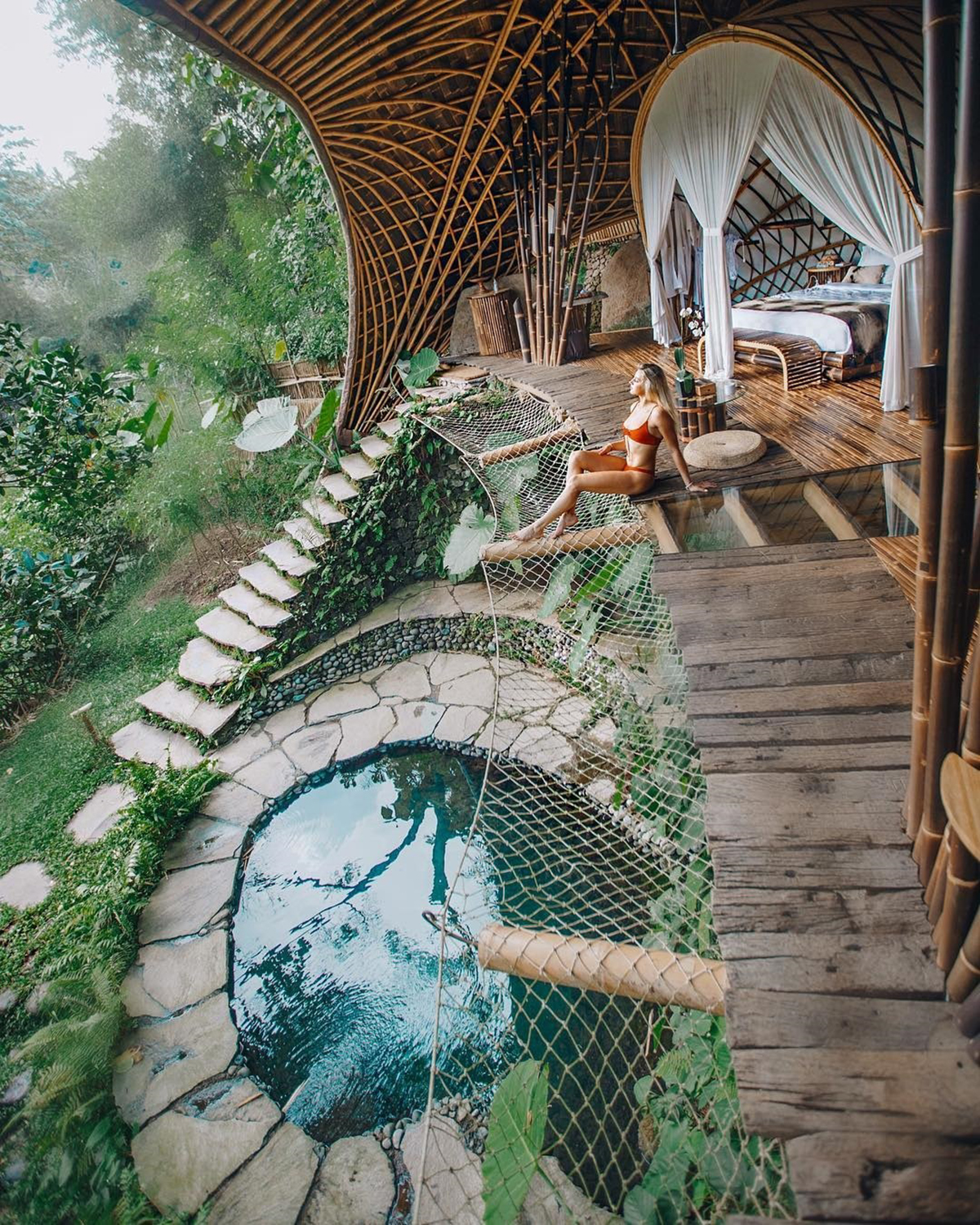 Image by celiasmith

If you are curious about living in the countryside, then Bambu Indah Eco Resort will make you happy. There are 13 homes with different traditional themes, from Old Java, Africa, Pagoda, to Sumba. There, you can climb up tree house to enjoy a beautiful view of the nearest valley! Hanging like Tarzan above the natural pool! Or, you may watch the sunset at the western horizon accompanied by a cocktail glass on an African-style terrace. You will be surrounded with a spectacular panoramic view of rice fields and mountains in the distance.
11 | Maratua Paradise Resort, Berau, East Kalimantan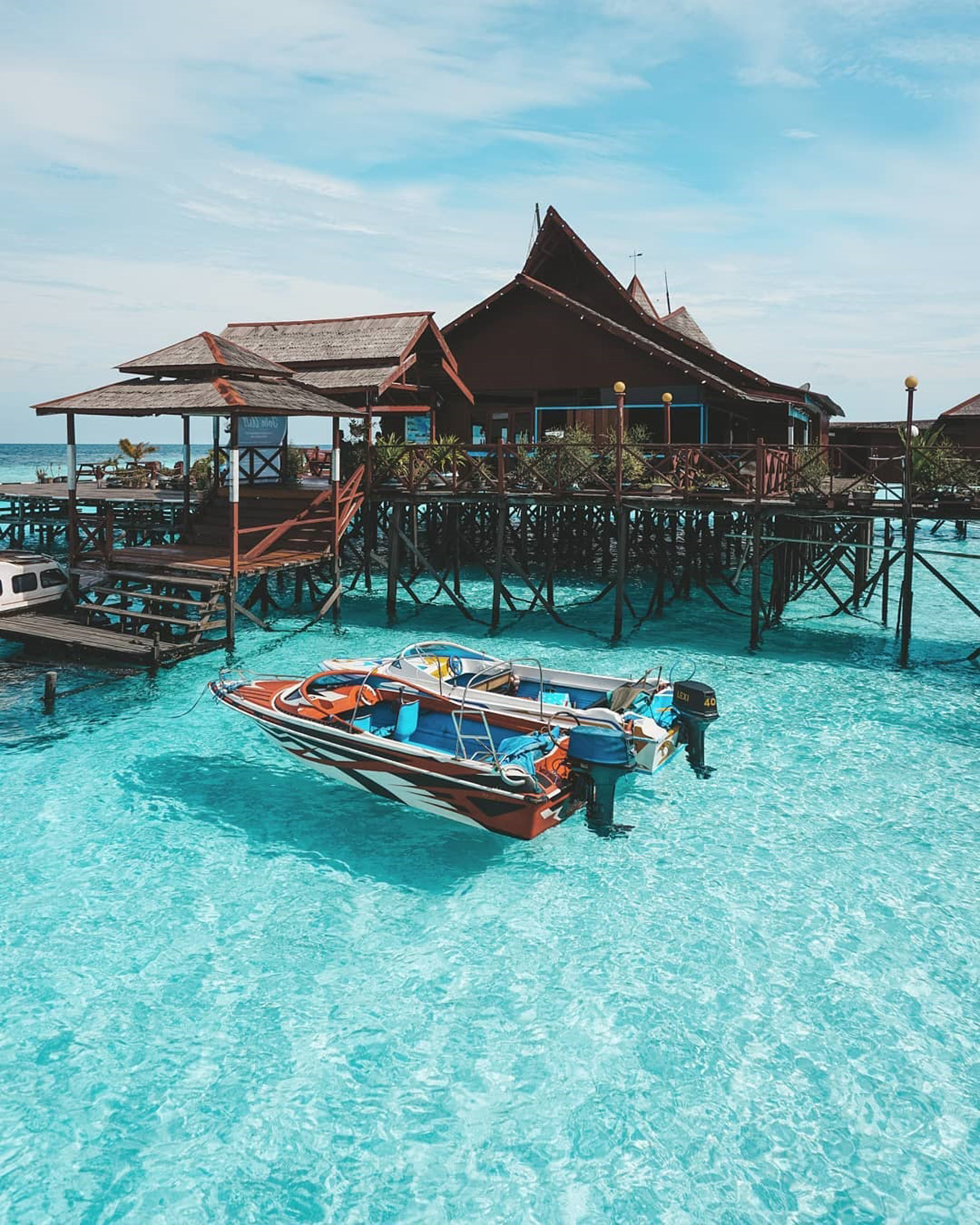 Image by reizhard

On the east coast of Borneo, lies Maratua Paradise Resort. It is such a heaven sent. Consisting of 5 water bungalows and 8 beach bungalows, this place is truly a beautiful retreat. If you are a snorkeling enthusiast, you will be happy to do it here. Or, without getting wet, you can still peek at the fish swimming under the dock – thanks to the crystal-clear seawater.
12 | Kadidiri Paradise, Togian Island, Central Sulawesi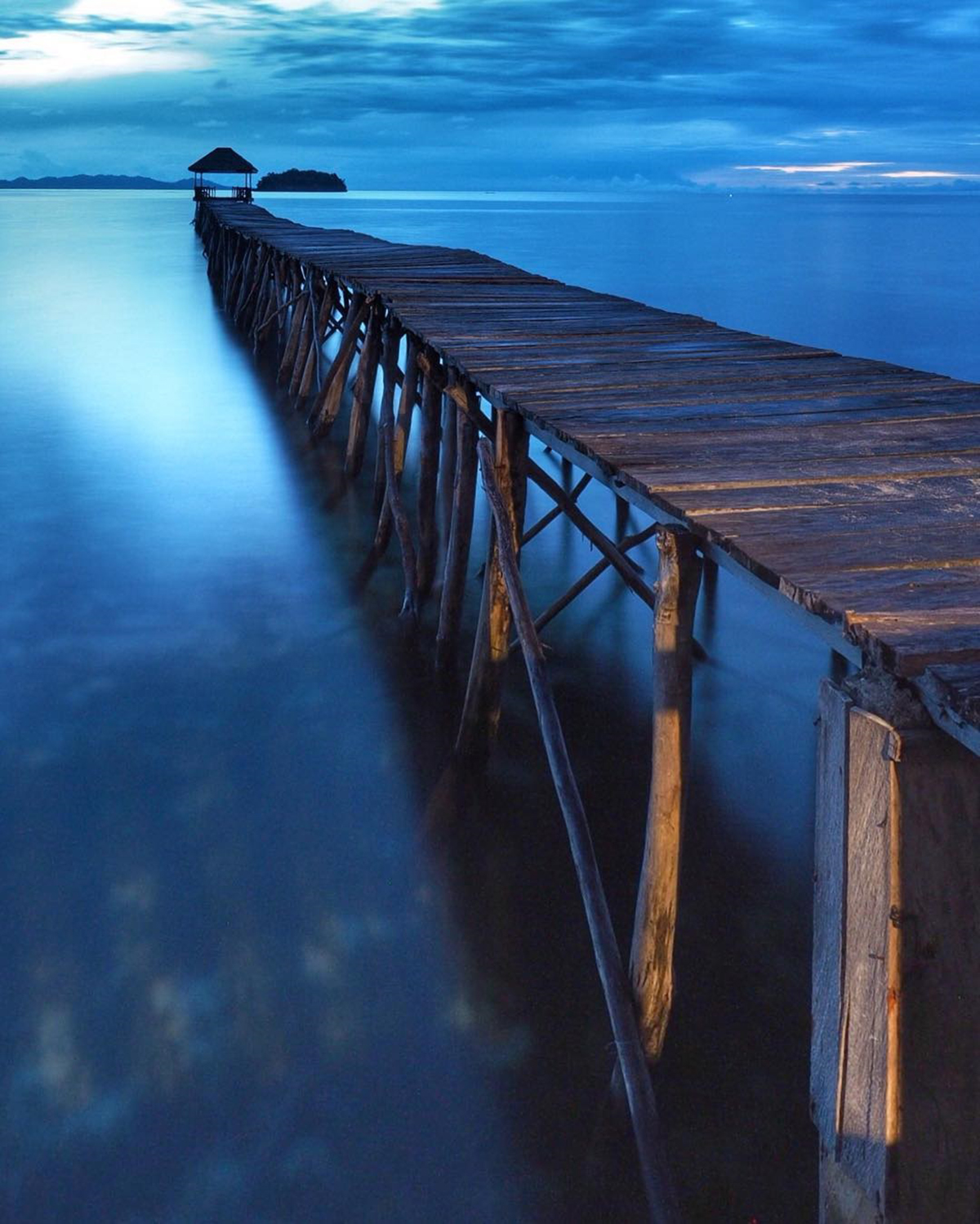 Image by amrazing

Kadidiri Paradise Resort is set right near a white-sandy beach. There are 30 bungalows made from local wood and all equipped with a hammock. This resort serves you meals three times a day and the food is cooked traditionally by using only the best and most fresh local products. The waters surrounding is also a safe place to dive. The accommodation provides dive masters who have a rich life experience for you.
13 | Pulo Cinta Eco Resort, Gorontalo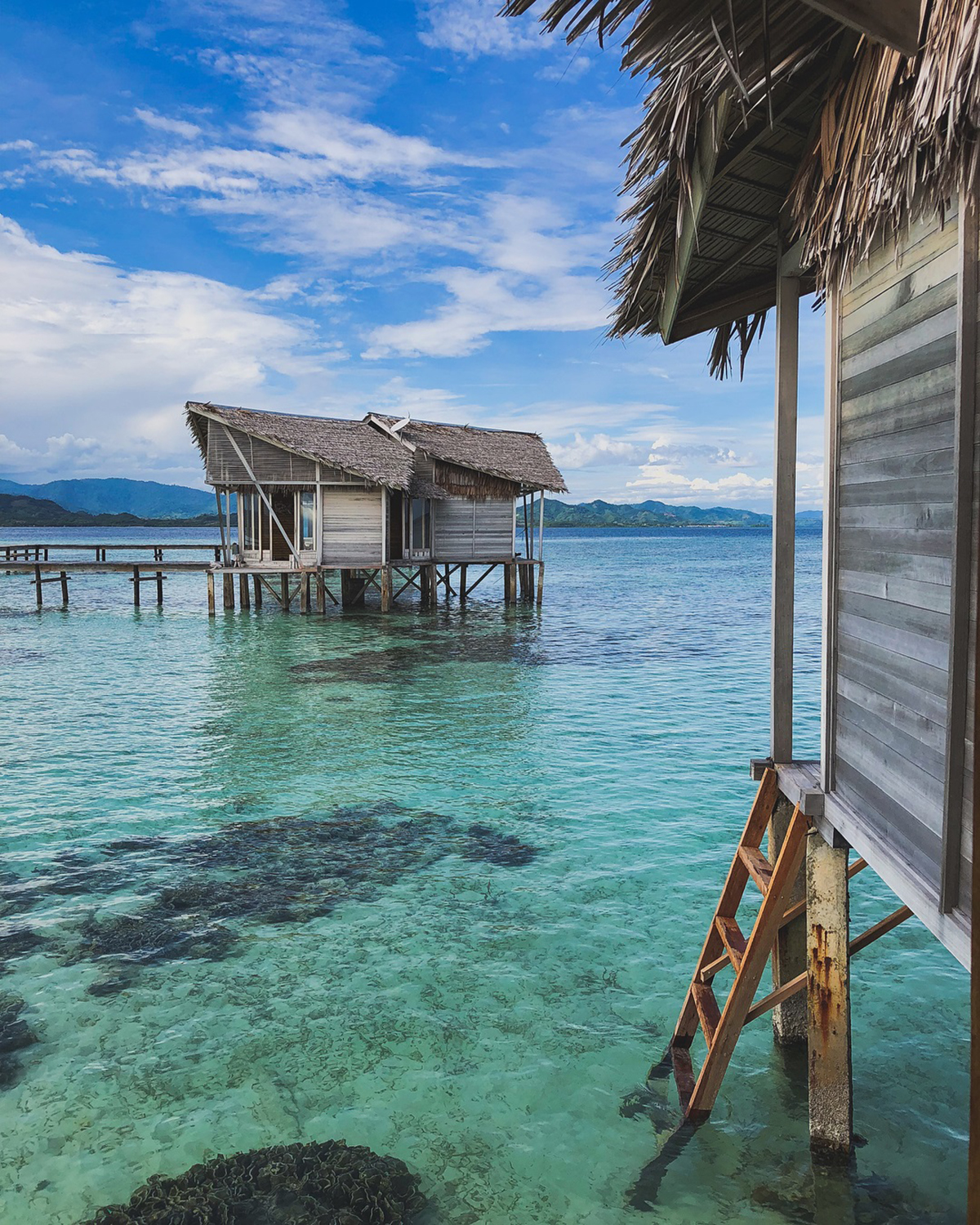 Image by erickkurniawann

In Indonesian language, Pulo Cinta means Love Island. Resembling the name, Pulo Cinta Eco Resort is built with villas arranged like a heart shape. Located in Tomini Bay, Gorontalo, North Sulawesi, Pulo Cinta is an alternative for travelers seeking serenity and peace within a scenic view. It is the place where you can release your stress from work by the sea. In the evening, you can see gazillion stars in the sky because the place, indeed, is far from busy places with too many lights and noise.  
14 | Ora Beach Eco Resort, Maluku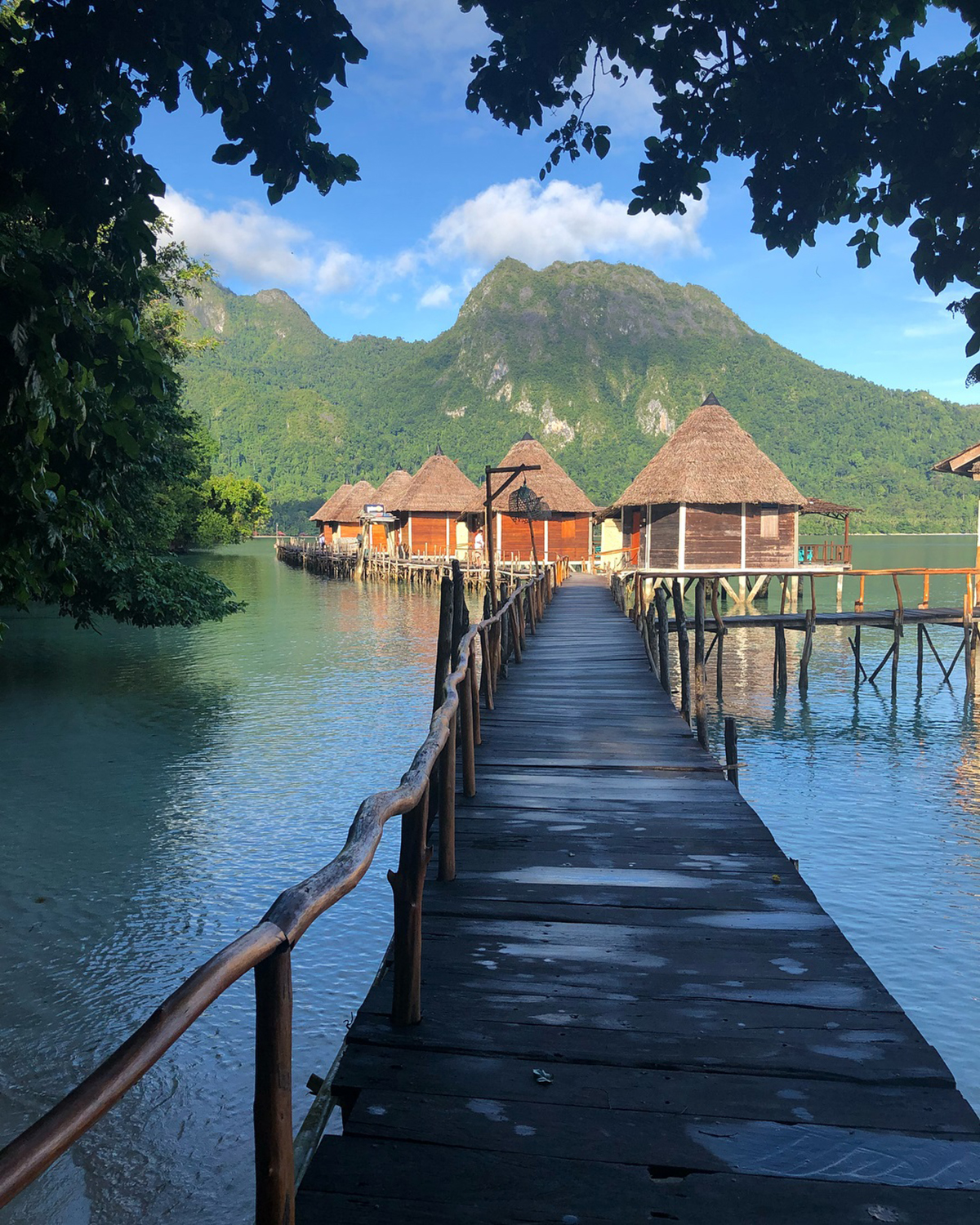 Image by ferment.works

To reach Ora Beach Eco Resort, you need to go through challenging road. Yet, this effort will be paid off, as the resort is a place that will make you squeal with joy. The resort is set on scenic hills with forest scenery in the background. Unfortunately, there are only 5 water bungalows here, so you have to make reservations in advance!
15 | Papua Paradise Eco Resort, West Papua
Image by blonde.travel

Papua Paradise Eco Resort will bring you back to a time where technology was a rare thing and happiness could be obtained through very simple things. The resort is well designed by local architects and uses only best raw materials from Raja Ampat, West Papua. The water bungalows are furnished with a spacious veranda overlooking the Pacific Ocean.
16 | Misool Eco Resort, West Papua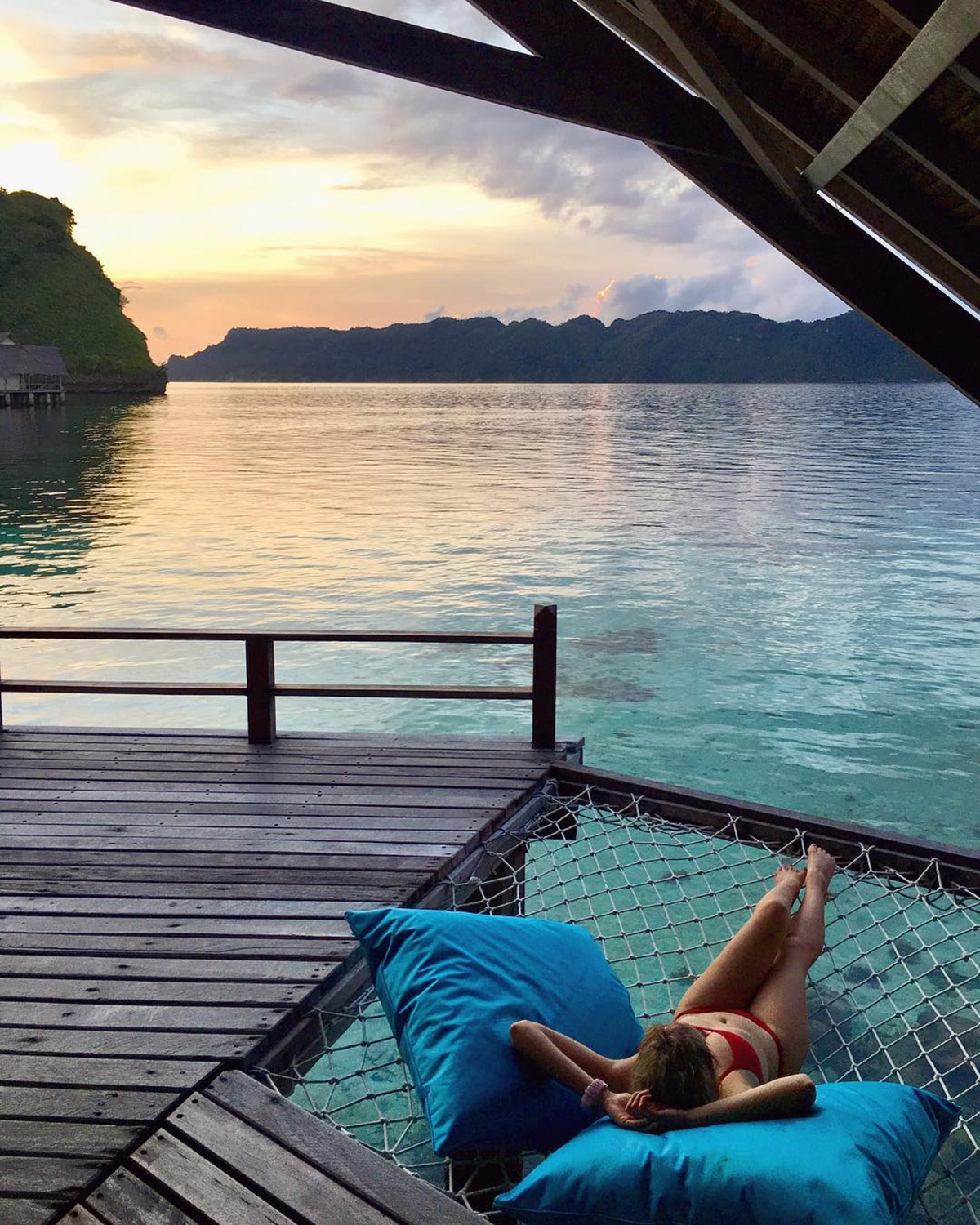 Image by megankanna

Misool Eco Resort is located in Raja Ampat Islands and lies between uninhabited islands. Renowned for its environmental conservation efforts, the resort is fully constructed of dried tropical timbers. The rooms are minimalist yet very comfortable. There is also an in-house therapist that provides in-room massage services upon request. You can also ask to arrange trips to the nearby mangrove forest and to the nearest pristine beaches.
Image Source of Header tarinaminusta