Many people can discover their creative talent by doing something they have never done before. Have you created something or do you want to try something new to impress yourself? We have some home décor ideas for you that are inspired by Batik designs.
Being one of the most iconic crafts of Indonesia, Batik is rich and inspiring due to its versatility. It was designated as a Masterpiece of Oral and Intangible Heritage of Humanity by UNESCO in October 2009.
Batik can be incorporated into many different works of art, including DIY home décor products that you can make yourself. Add an Indonesian flavor to your home by recreating these Batik-inspired décor items.
1 | Coasters ( inspired by Batik Mega Mendung Pattern )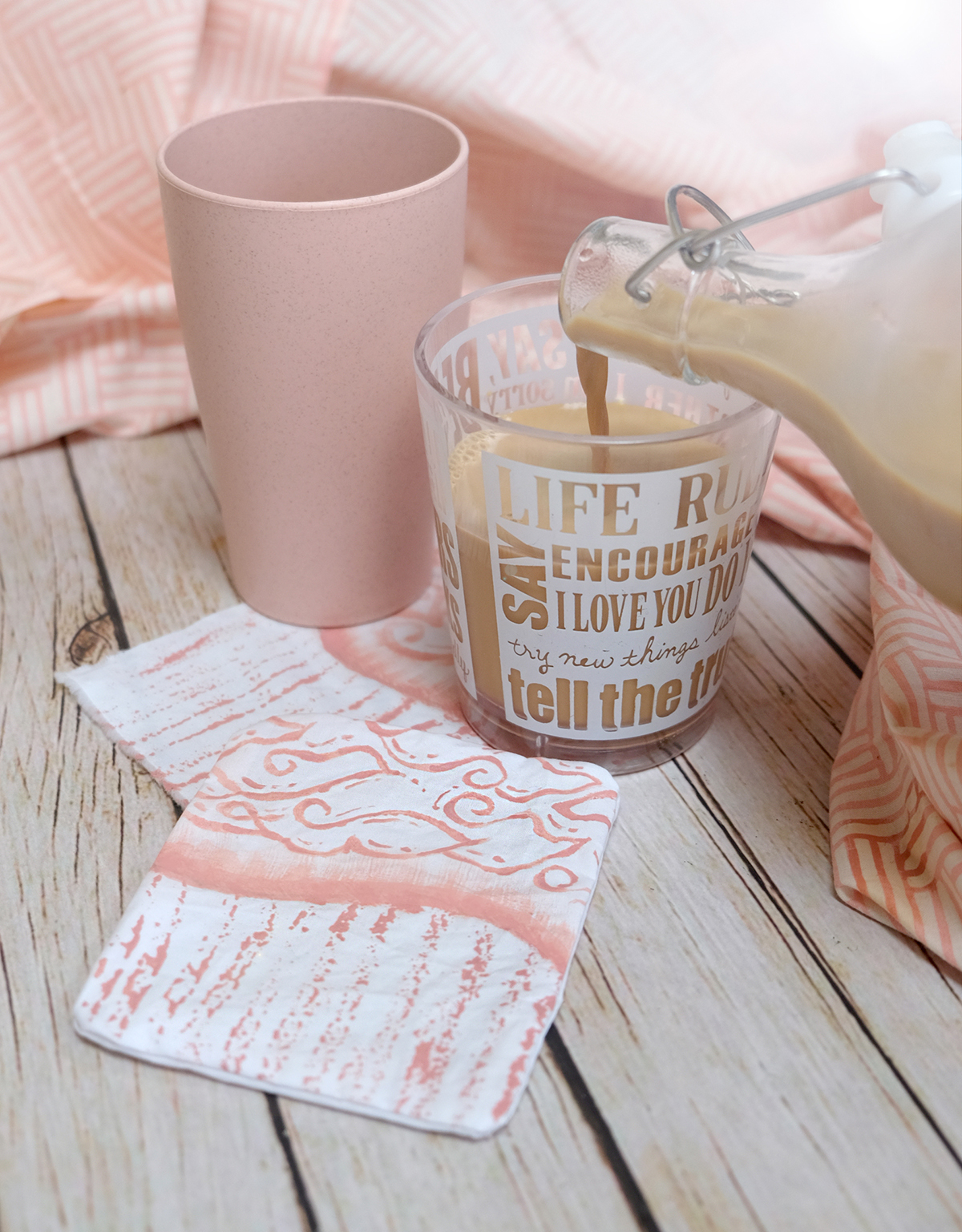 We do so many things at home now, including work-related stuff, relaxing, and associating with friends via video call. We need to drink coffee or other mood-booster beverages to help us stay productive, and while we are at it, why don't we make coasters as little decorations to motivate us? Here's the idea: you can apply a Megamendung Batik pattern on the surface of the coasters. 
Originating from Cirebon, West Java, the design of Megamendung Batik was mostly inspired by Chinese artworks pattern that came to Indonesia at the beginning of the 16th century. Megamendung Batik is rich in philosophy and has deep meanings related to patience and virtue. The pattern, which consists of seven color gradations ranging from dark blue to light blue, depicts the seven layers of the sky, which is no surprise because the Megamendung literally means 'cloudy sky.' Therefore, these Batik Megamendung coasters will not only inspire you to be more creative but will remind you to be patient and kind-hearted, especially during these difficult times.
How to make Batik Mega Mendung Coasters:
You need white cotton fabric, acrylic paint, a brush, and a water spray bottle. Cut the fabric into a square shape and prepare your design.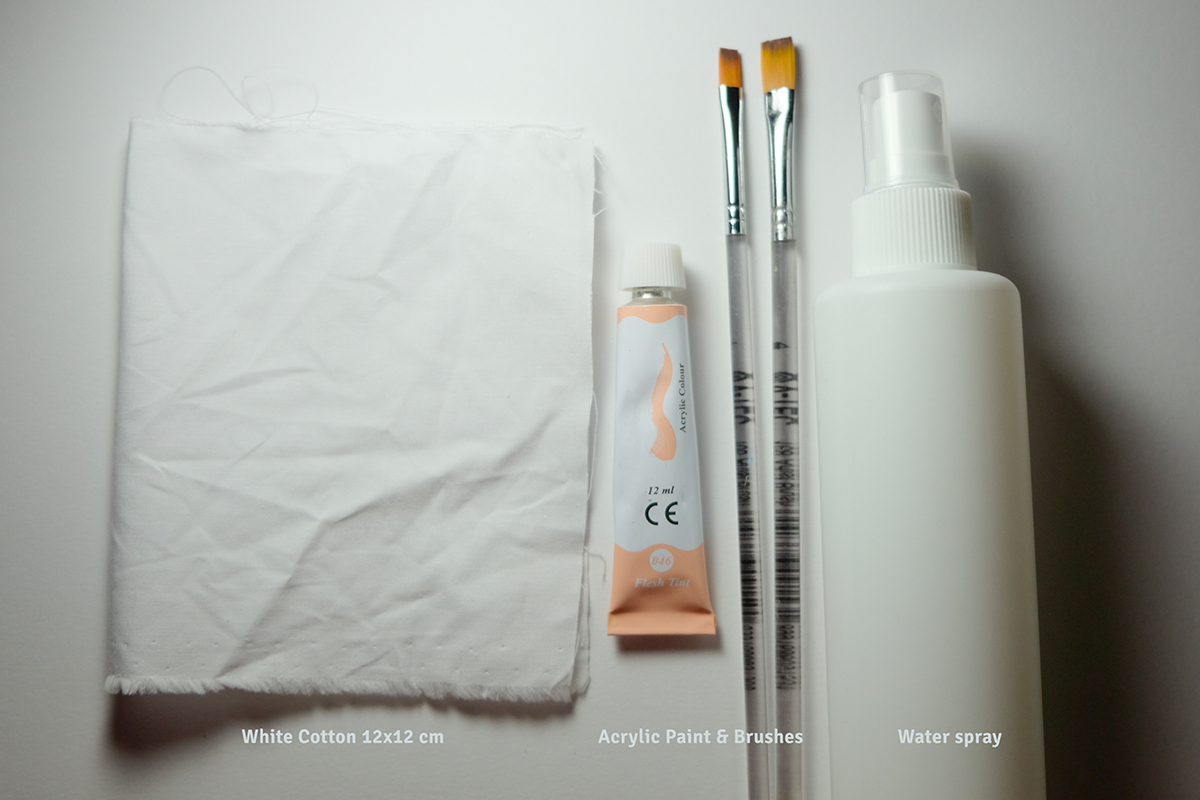 Wet the fabric with a light spray of water before you start drawing the pattern. Try different techniques like using a sponge to create dotted lines and experiment with the design patterns. Modern batik designs are minimalist and use lighter colors that can be more appealing to the younger generation.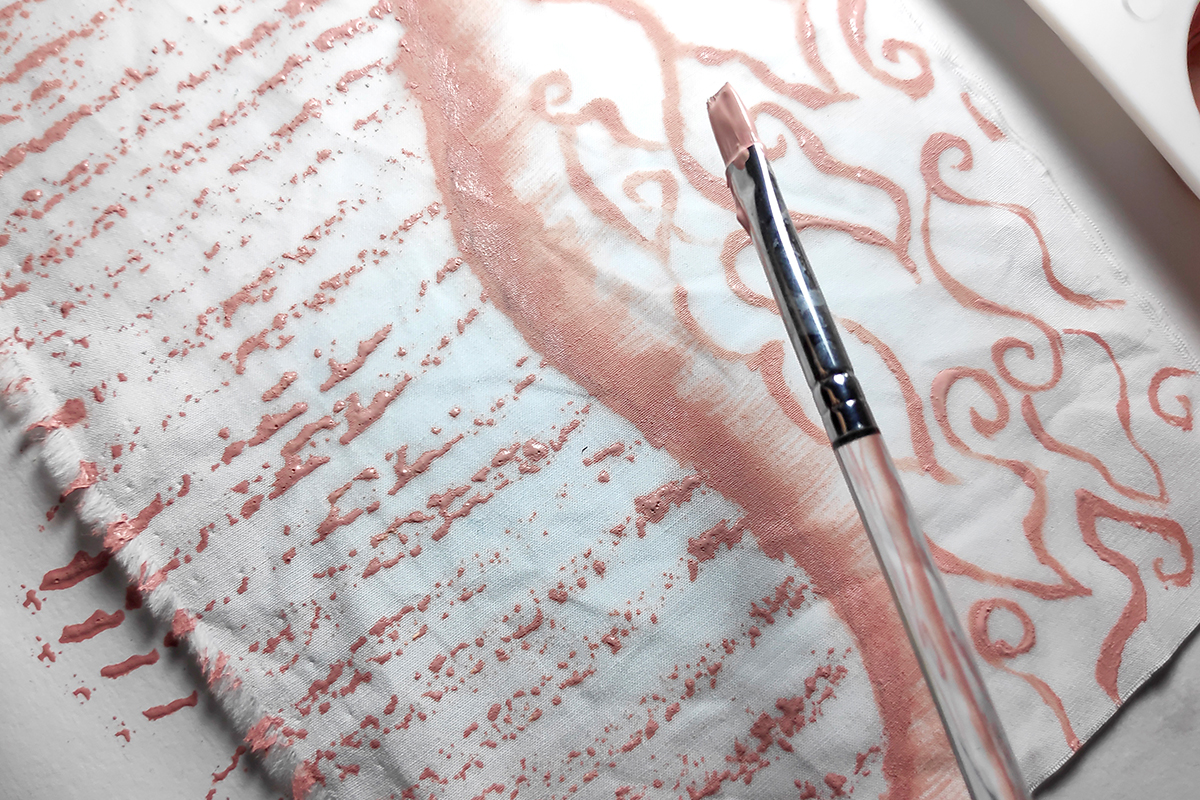 After drawing your Mega Mendung and other complementing patterns, let the paint dry. Then, sew the fabric into a coaster.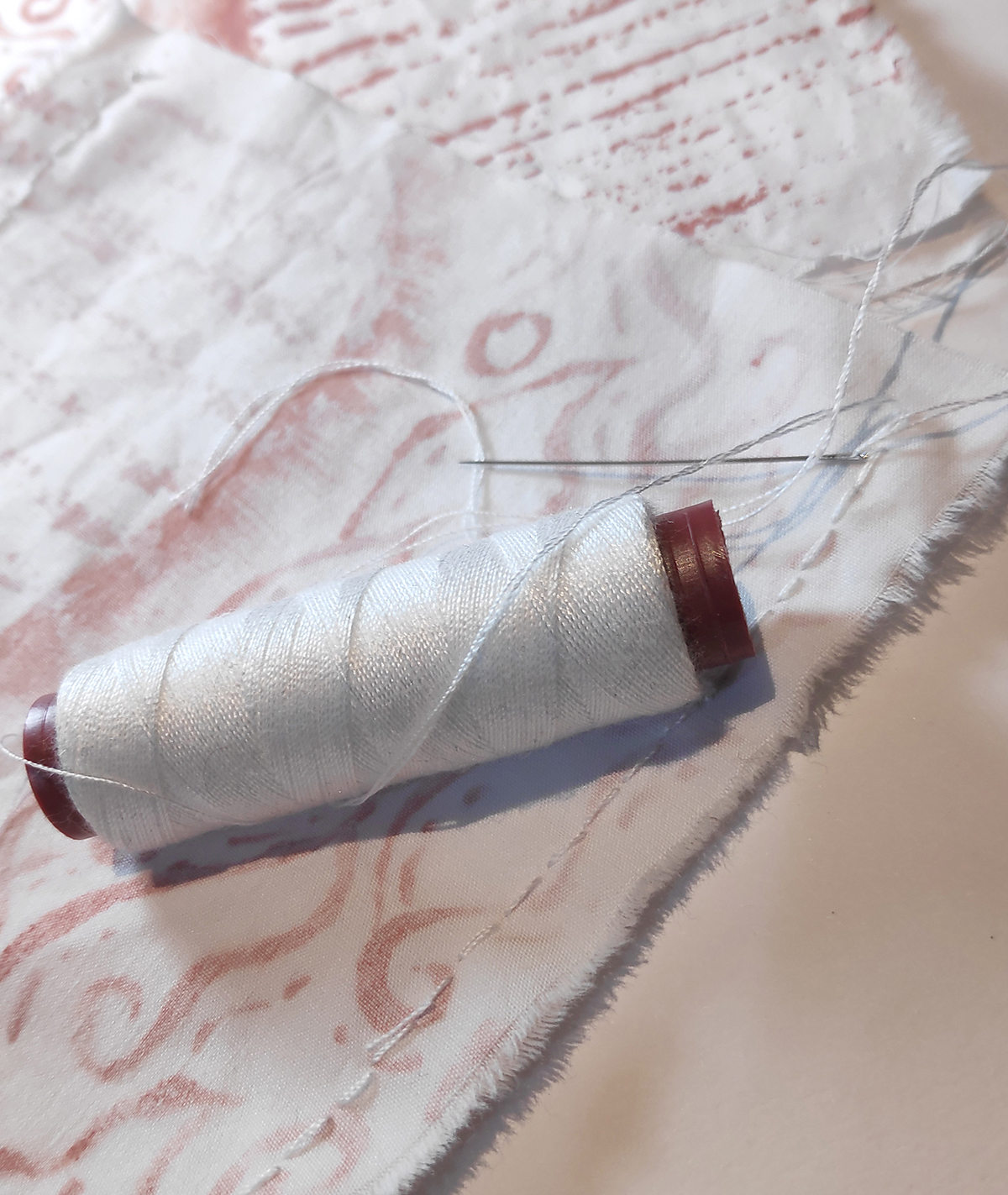 You can also experiment with more colors on your next coaster set!
2 | Planters ( inspired by Batik Parang Rusak )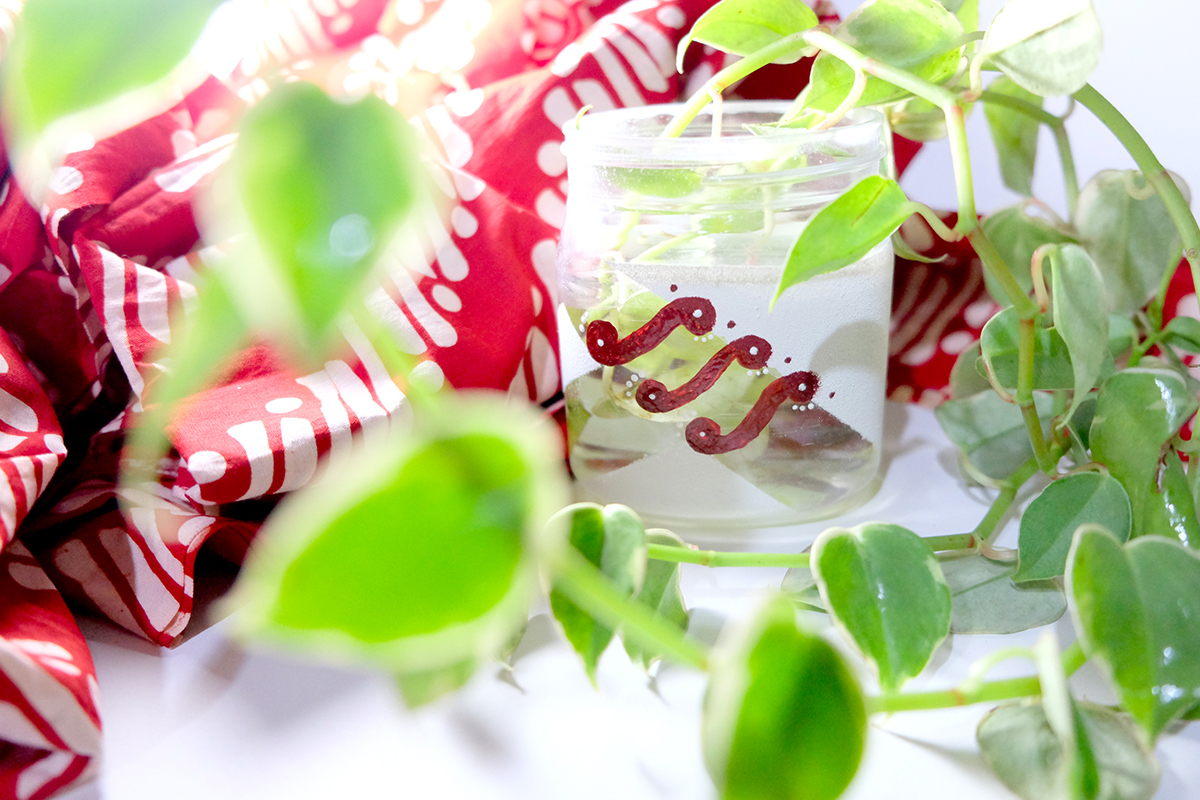 You must be spending most of your time at home, so why not do some indoor gardening and keep the air fresh? You can start with making your own planters and we highly recommend that you decorate them with the design of Batik Parang Rusak from Central Java. The name literally means 'broken machete' and yeah, it definitely sounds cool. The pattern is shaped like a row of the letter 'S' forming a diagonal line at a 45 degrees angle and is inspired by the symbol of victory that existed during the reign of Mataram. It is unclear who the first person to create this design was, but many say that Sultan Agung from Mataram came up with the idea during his meditation on the southern coast of Java Island at the beginning of the 16th century. There is a philosophy of courage, strength, and hereditary behind the design of Batik Parang Rusak. We hope that having a planter with Batik Parang Rusak design on its surface will inspire you to be brave and strong like the ancient warriors.

How to make Batik Parang Rusak Planters:
It's time to reuse jars, cans, and old containers for this project. We reuse a plastic chocolate jam container for this planter. You will need an old container, white spray paint, masking tape, a paintbrush, and acrylic paint with a color of your choice.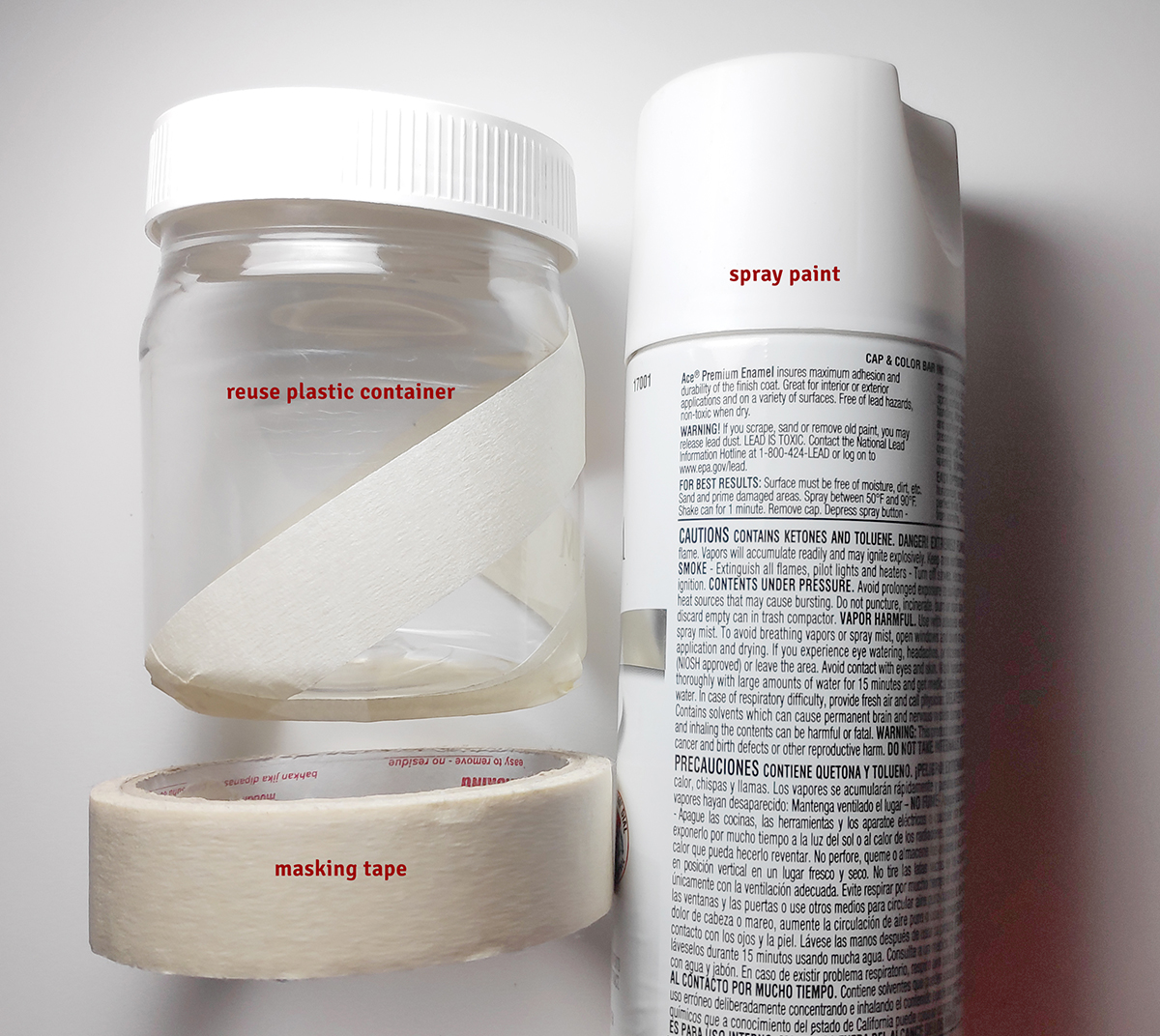 Start with cleaning the old container. Dry it before creating lines with masking tape. Then use the white spray paint to color the un-taped area. Put aside until completely dry.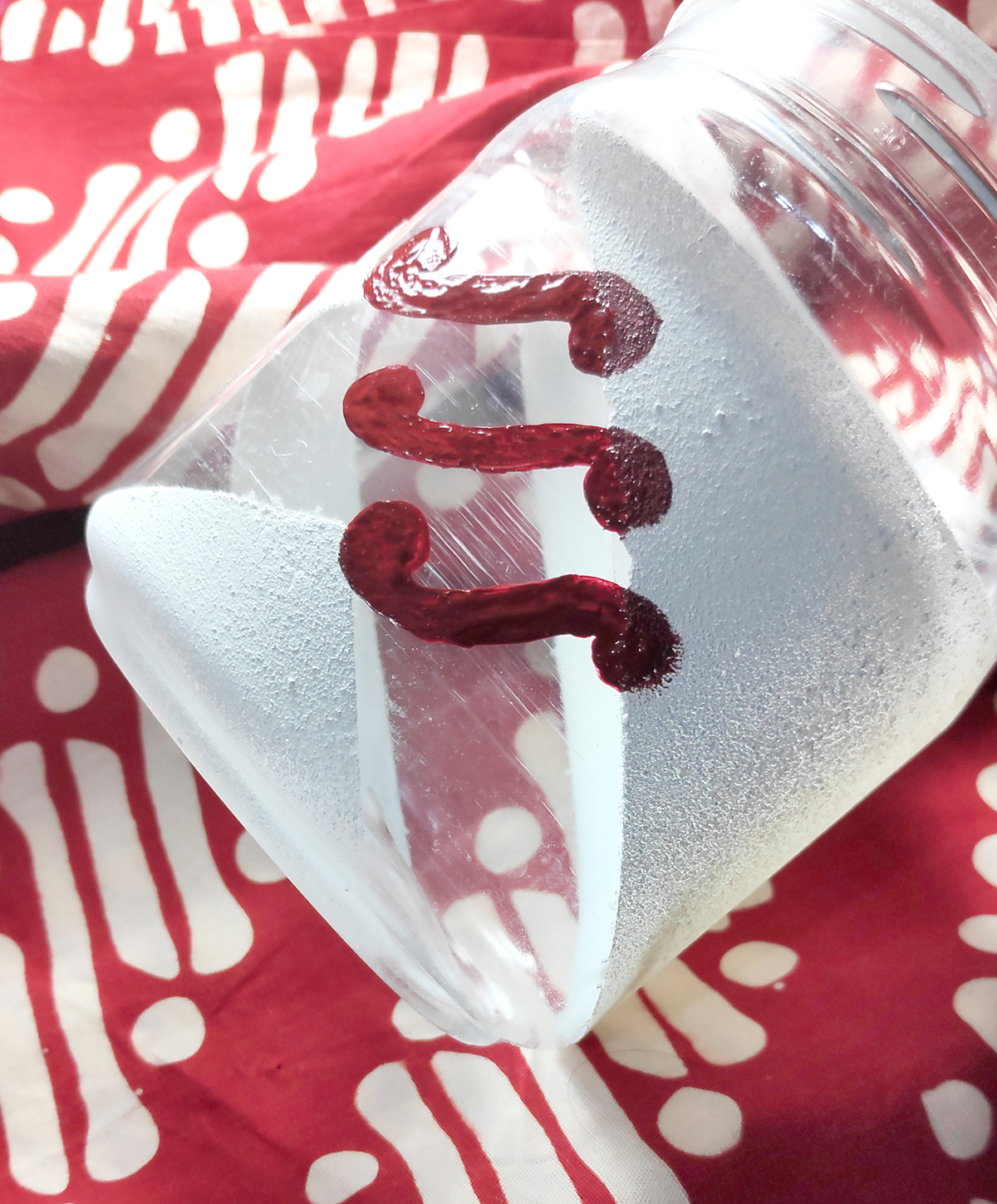 Peel off the masking tape and add a Parang Rusak-inspired pattern to the sprayed container. Here we have drawn a triple-S shape that connects the white area as an accent. You can then add in some water and place your favorite greeneries inside your new planter!

3 | Wall decor ( inspired by 6 variety of Batik Patterns : Mega Mendung-Parang Rusak-Truntum-Kawung-Pekalongan-Gentongan Madura )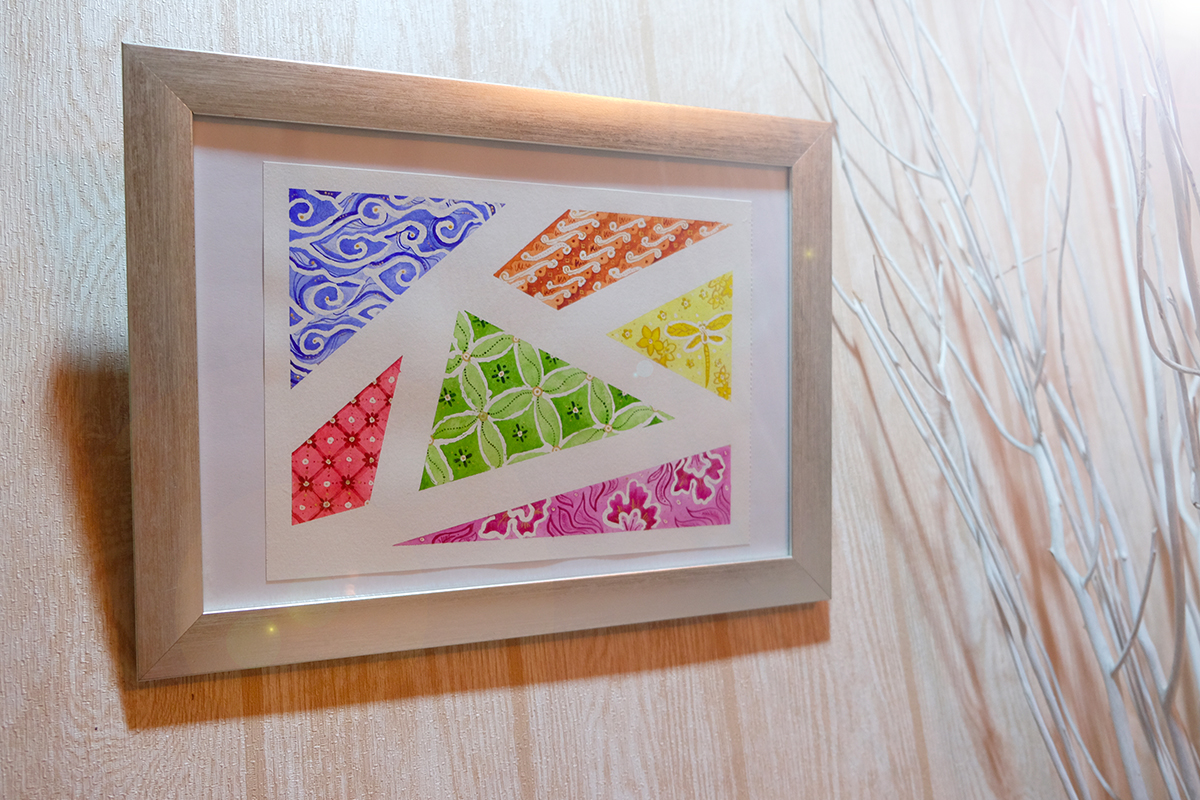 Looking for some 'real art' and creativity? Try to impress yourself; make a huge Batik-inspired collage and hang it on your bedroom wall. We recommend these 6 popular Batik pattern varieties of Indonesia: Megamendung, Parang Rusak, Truntum, Kawung, Pekalongan, and Gentongan Madura. These patterns not only display vibrant designs with plenty of contrast, but also present a meaningful philosophy with each design. Megamendung portrays patience, Parang Rusak portrays bravery, Truntum portrays affection, Kawung portrays wisdom, Pekalongan portrays progressiveness, and Gentongan Madura portrays freedom.

How to make Wall decor pieces:
You can use any of your favourite mediums to draw, like paper or canvas or draw digitally on your gadget to print out later. Here is an example of what to prepare if you choose to experiment with watercolor. Take a 300 g/m2 watercolor paper, a pencil, an eraser, masking tape, a paint brush, and your favourite watercolor shades and masking fluids to highlight some patterns. In the original batik-making process, liquid wax is used to draw and seal the original fabric color so that the specific pattern design stands out once it has gone through the color-dying process.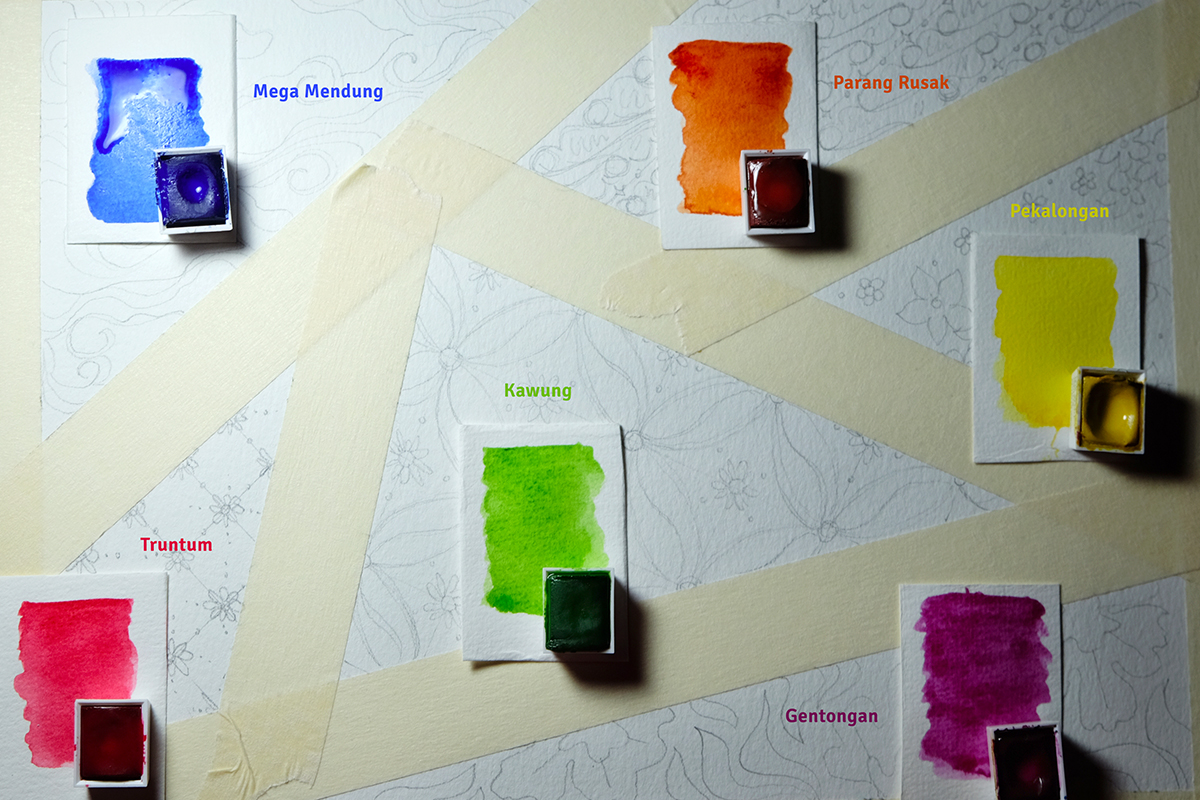 Attach the masking tape on the paper in whatever pattern you like. Here we have created 6 spaces to be filled with different batik patterns. Sketch the batik patterns with thin pencil lines and choose which color you want for each design.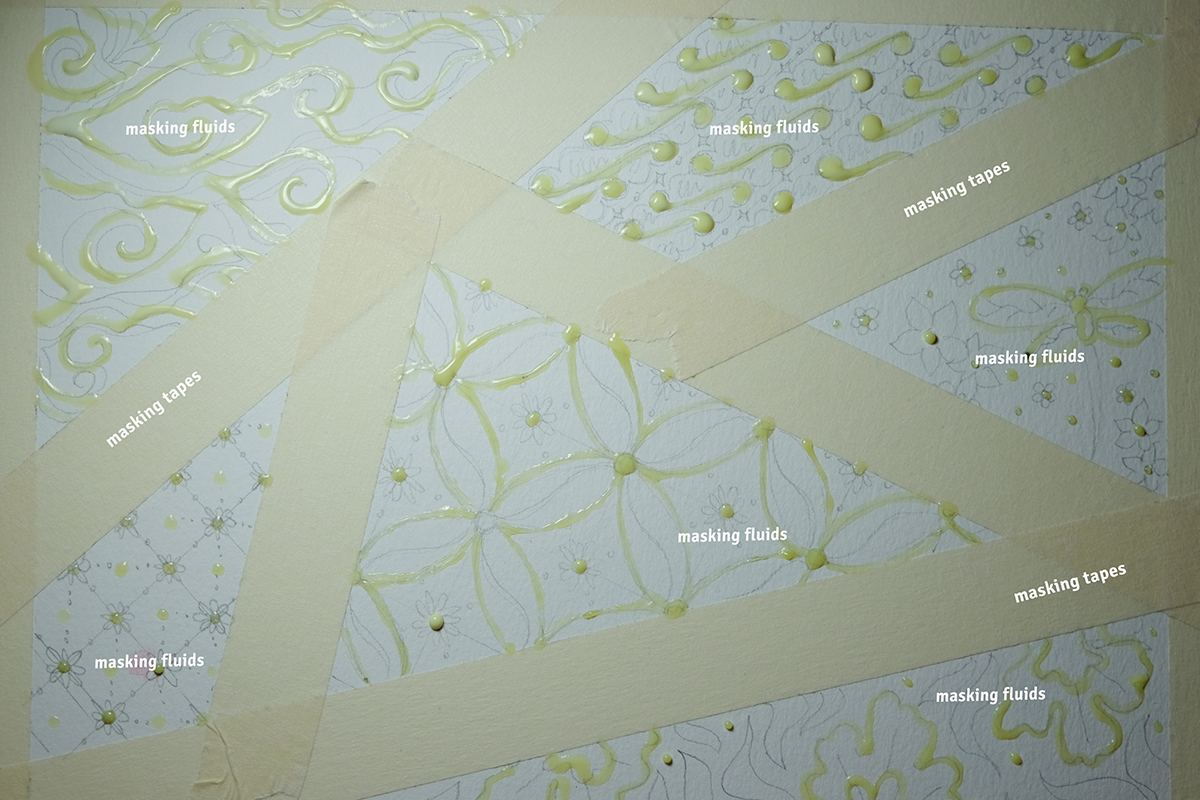 After pencil sketching is done, prepare the masking fluids and decide which patterns you would like to highlight. The masking liquid will protect the white paper from the watercolors, so that when it is dry, you can peel it gently and have your pattern look nice with the contrasting colors.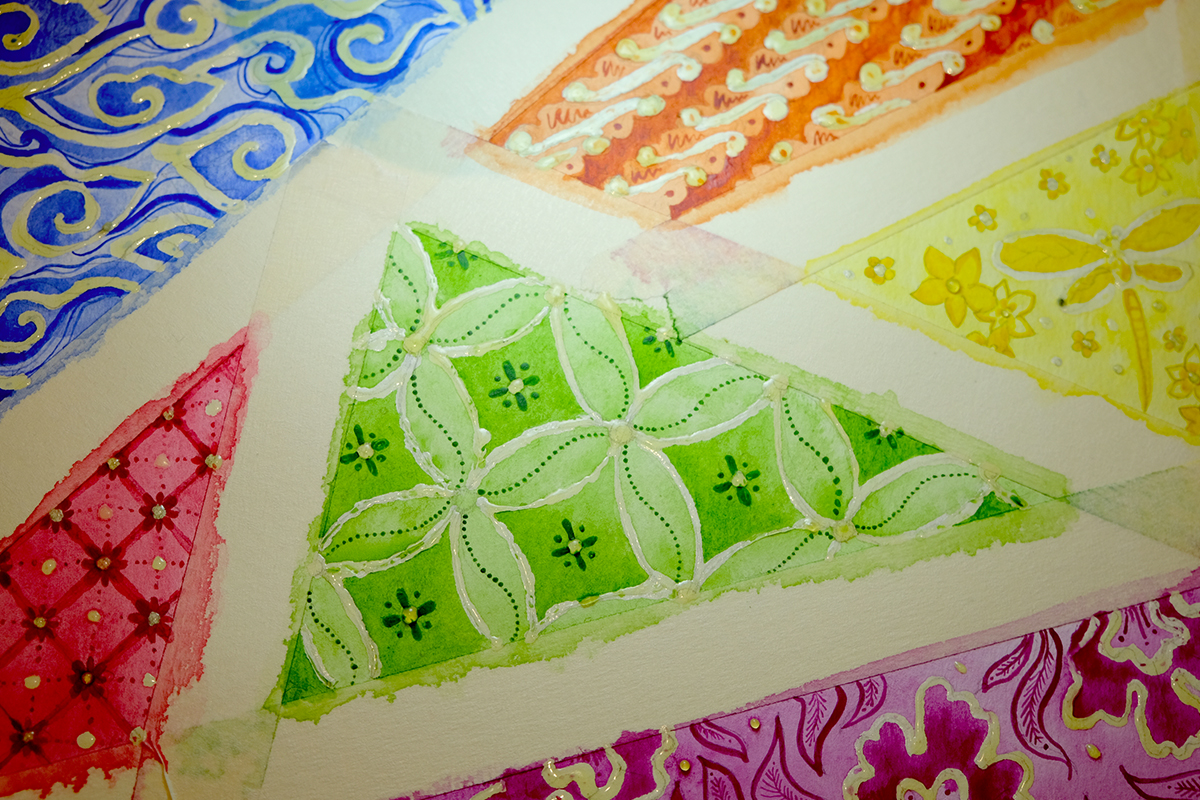 Then start to paint with your watercolor brush and fill the space. Let it dry and add more layers if you want to make it darker or add more details. Make sure to let each layer dry out before applying the next layer to avoid smudging. Take your time and enjoy the process. When everything is dry, you can gently start peeling the masking tapes. Then peel the masking liquids. You can use a pair of tweezers to peel the liquids, because some parts could be very sticky.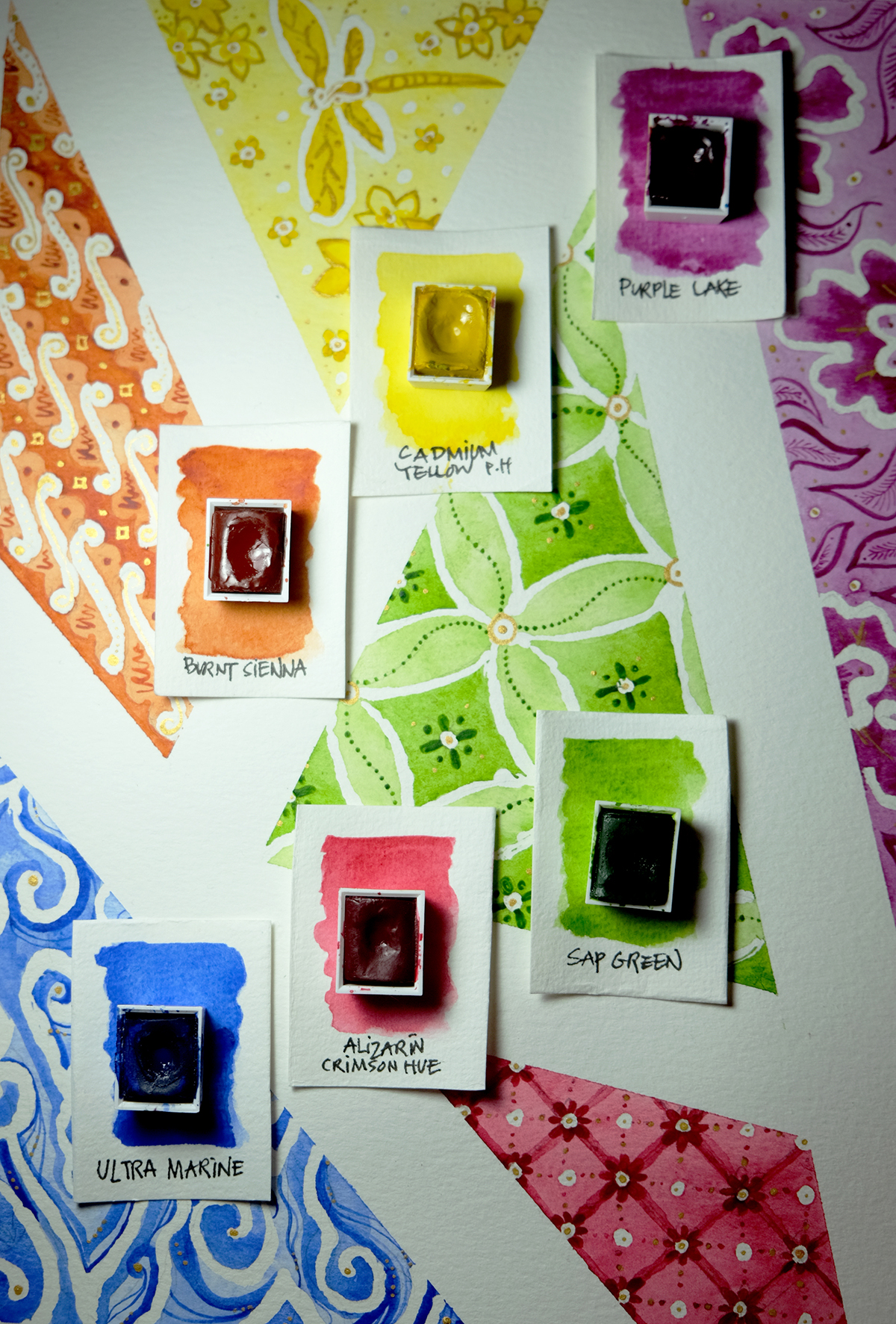 When you are done with peeling, then it is up to you to put some extra finishing touches, for example, a gold paint to highlight the pattern, or prepare a nice frame to hang it.

4 | Kitchenware ( inspired by Batik Kawung )

Many people have improved their cooking skills or have tried recreating traditional dishes during this stay-at-home period. Cooking at home is not only cheaper than ordering food, but also minimizes our physical contact with the outside world. Knowing that it's going to take a while before it's safe to go outside again, let's make cooking at home more fun and inspiring. Paint your kitchenware with Batik Kawung patterns, which are shaped like geometrically-arranged coconuts. According to research, the pattern of Batik Kawung has existed since the 9th century. However, it is said that Batik Kawung only began to develop during the era of the Ngayogyakarta Hadiningrat Sultanate in the 18th century. According to history, the philosophy of this pattern is about wisdom and self-control. Therefore, may the design of your kitchenware remind you to be more kind-hearted, wise, and self-aware.

How to make Batik-Patterned Kitchenware:
You can use an old wooden spoon or buy new ones and create a series of batik-inspired kitchen utensils. Here we have used a light-colored wooden spoon, acrylic paints, a paintbrush, and masking tape. Create a pattern by covering a few areas with masking tape and then prepare to paint the uncovered zones. To create an un-solid brush effect, you can try to dab your paint with a sponge instead of a paintbrush.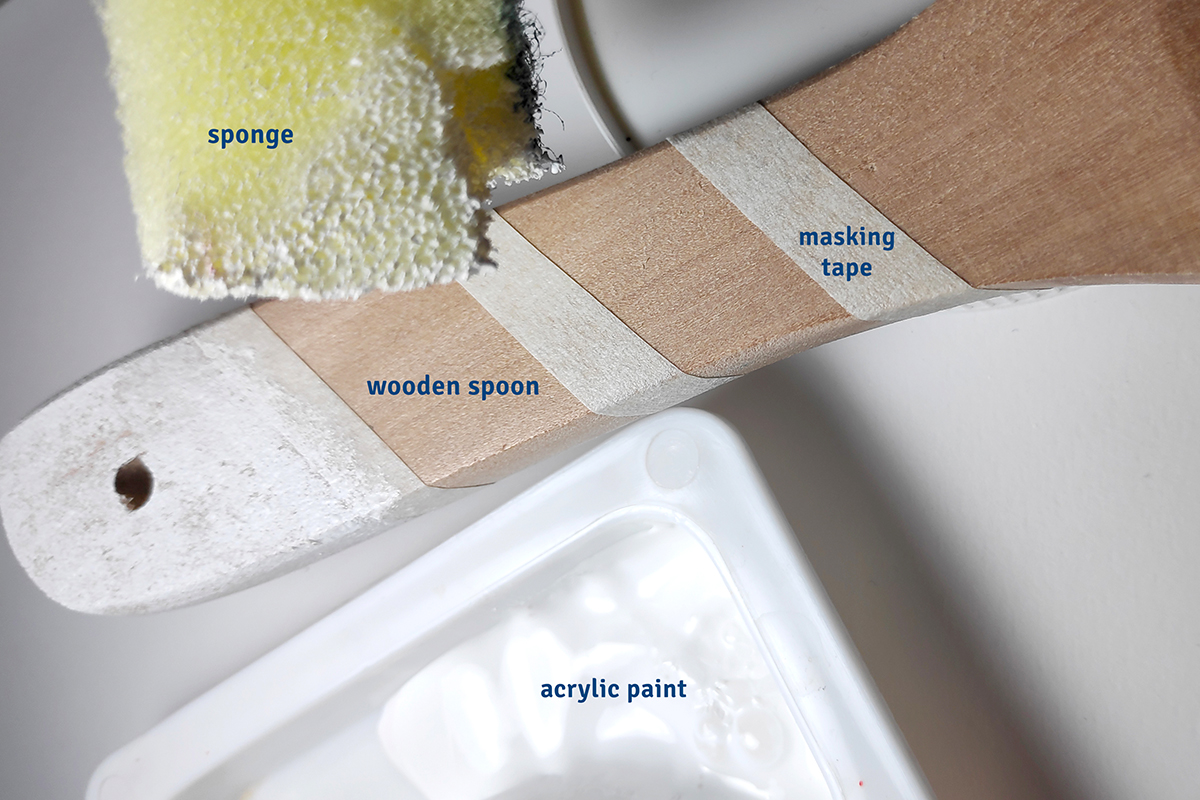 If you choose to paint using basic white and dark blue colors, you can mix them into light blue and create the third color for accent. First, paint the basic layer. Let it dry. Then continue to add the Kawung pattern as ornaments in the center of the lines. Leave to dry completely and peel off the masking tapes. Your decorated wooden spoon is ready to join the squad of your favorite kitchen utensils!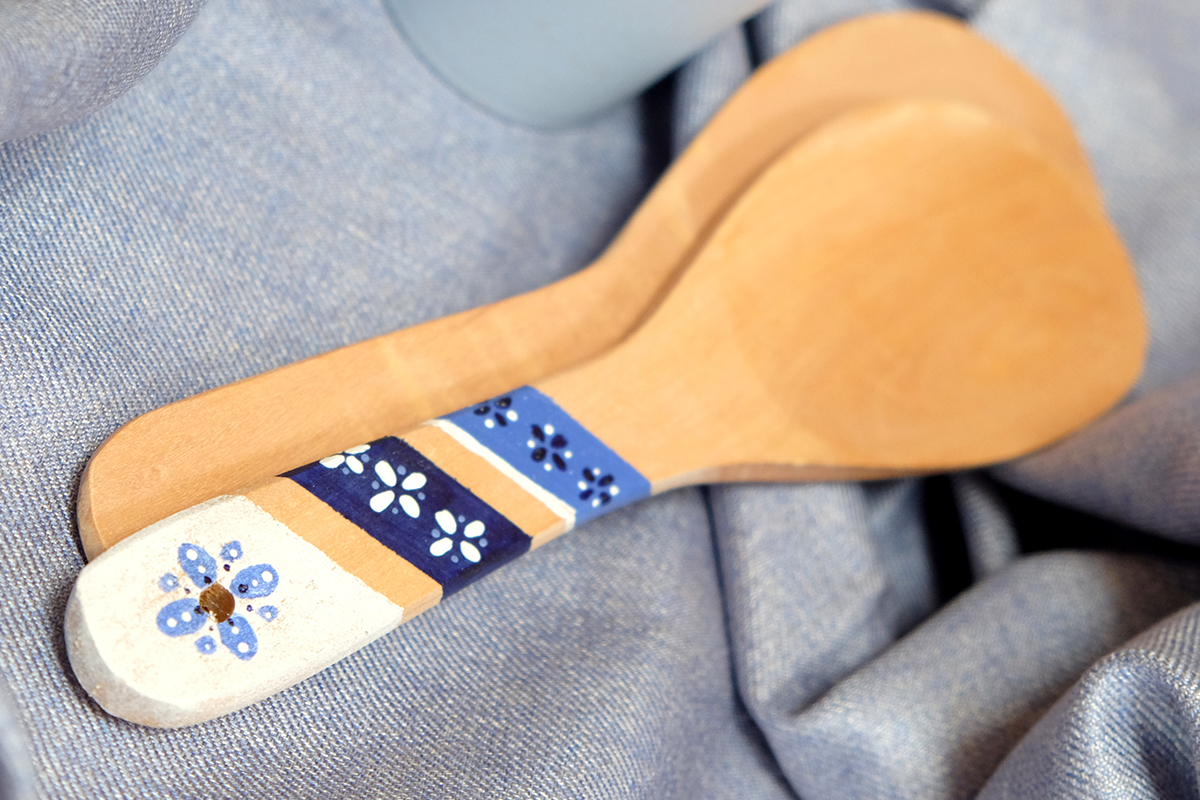 5 | Organizer ( inspired by the colorful Batik Gentongan )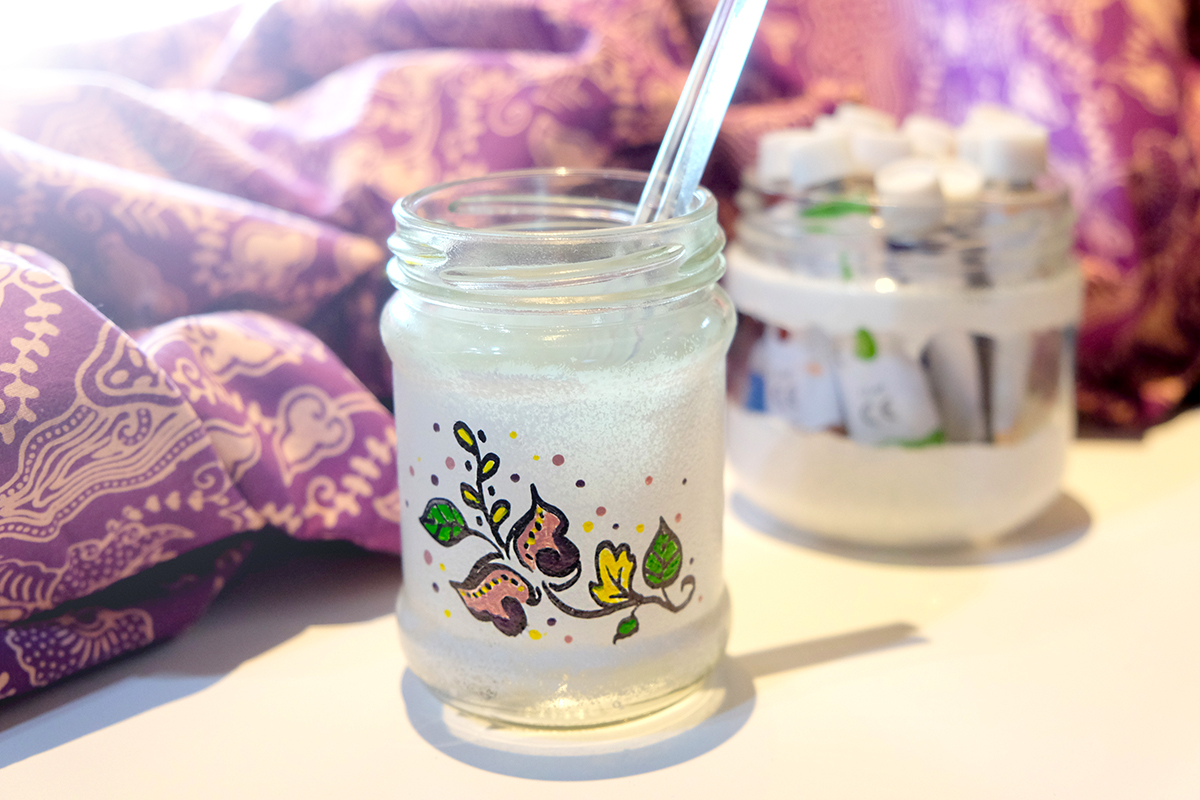 Organizing things to cut the clutter in your home makes you feel relaxed. With more space available, our house looks cleaner and we feel more comfortable. So let's get sorted! Start with the bigger stuff, and then arrange little things like stationeries, makeups, and souvenirs in mason jar organizers that you have decorated with Batik Gentongan patterns. Originating from Madura, it is different from other kinds of Batik because the pattern is made by using an old jar to soak the cloth. It's not known exactly when Batik Gentongan was created for the first time, but it's thought to be inherited across multiple generations. The philosophy of freedom and creativity behind the Batik Gentongan patterns on your mason jar organizers will inspire you to become more productive.

How to make Mason Jar Organizers:
So here's another repurposing DIY project using old jars. We can use old cookie glass jars to make a chic desk organizer for our craft supplies. Prepare the glass jars, acrylic paints, sponge, and paintbrush.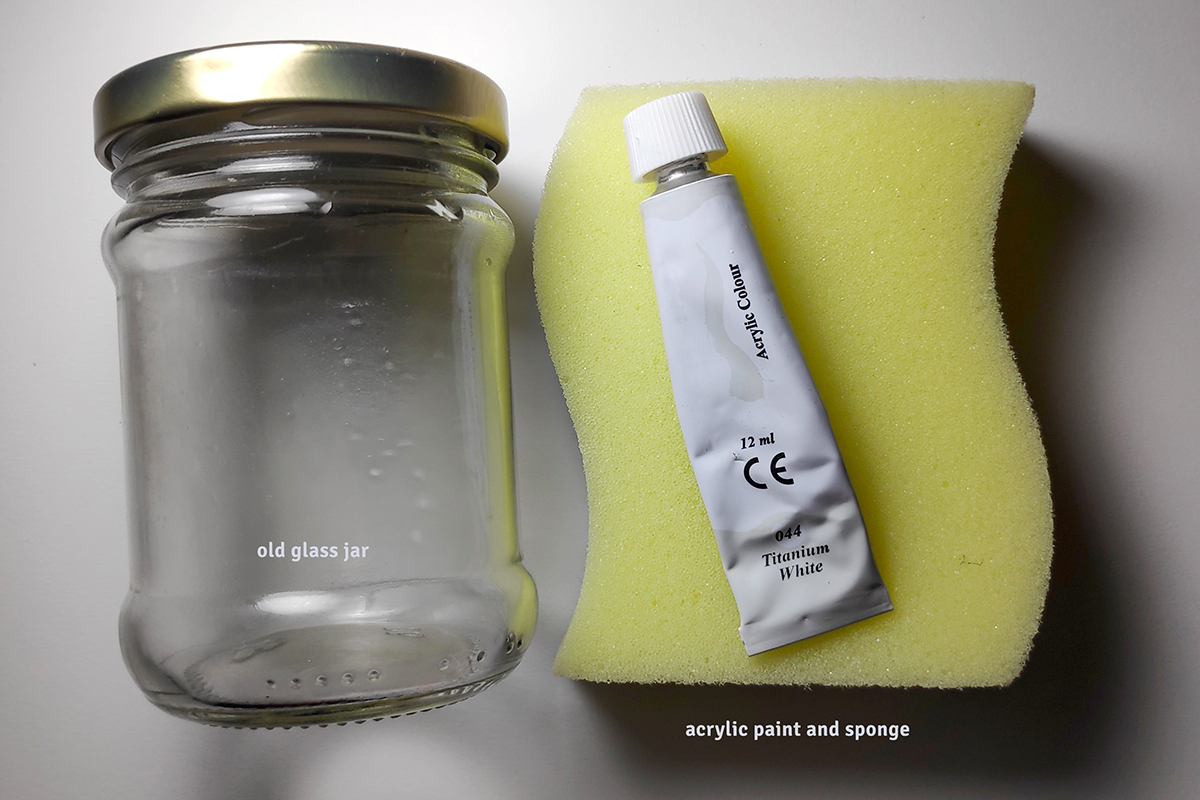 Clean and dry the jars before starting to dab white acrylic paint on them with the help of a sponge. This white acrylic paint will serve as the base color. Paint the areas you like or create zones by covering a few selected areas with masking tapes. Start making the pattern and use a black permanent marker or acrylic paint to draw. Then let it dry.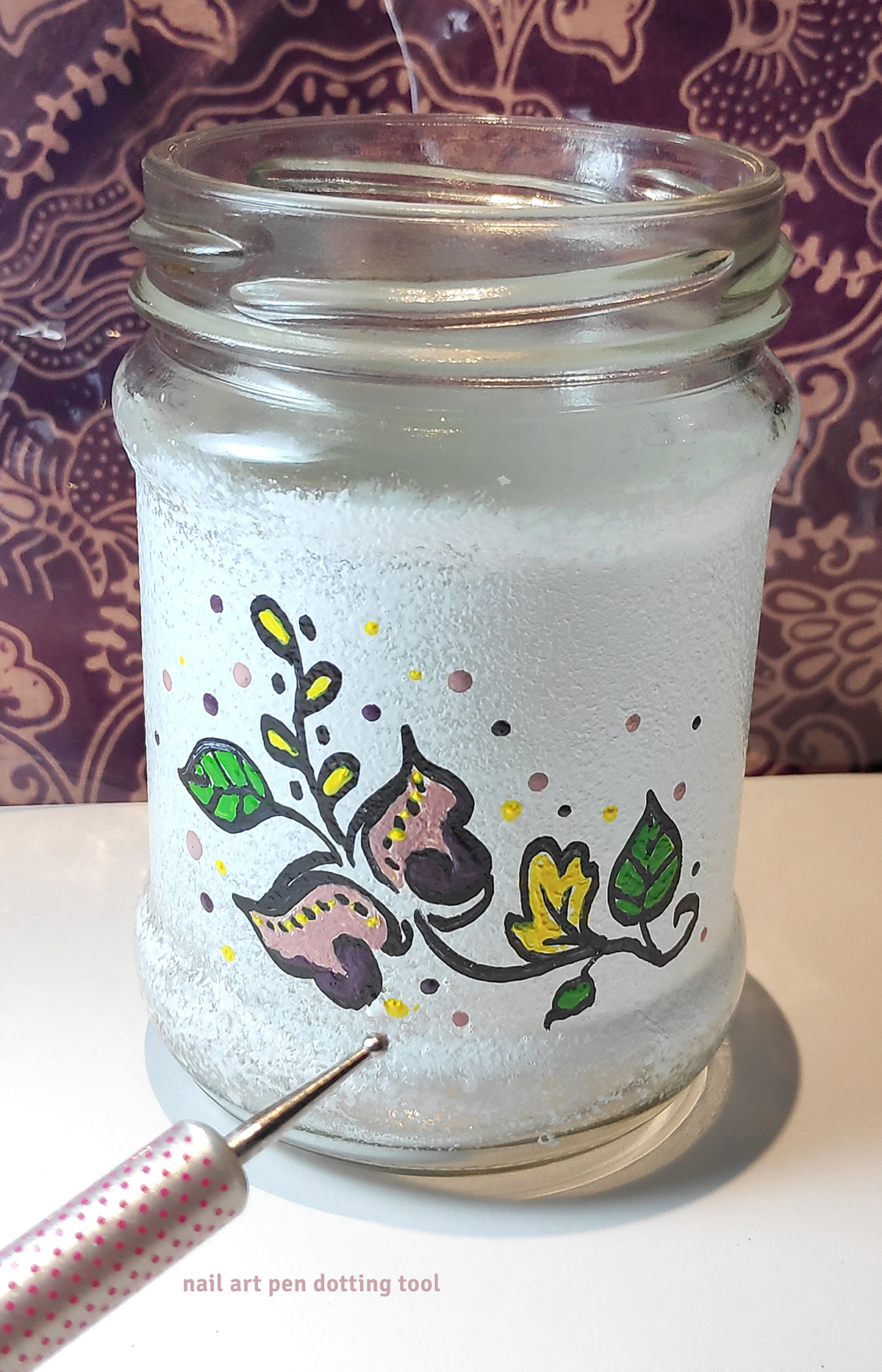 Now, prepare other colors to fill in your outlined pattern. You can even use a nail art dotting pen tool to easily fill colors on the surface of the glass and create perfect dots. Put aside and let it dry completely before it can be used for keeping your craft supplies.
Ready to bring an Indonesian atmosphere to your home with these Batik-inspired decorations? Try working on these DIY ideas one by one and don't put too much pressure on yourself to finish them, because you've got plenty of time. Don't forget to relax, breathe, and stay positive.
If you're planning to visit Indonesia in the near future, make sure to learn about the newest international travel regulation and comply with health protocol along your journey. Keep practicing healthy habits such as washing hands frequently, implementing social distancing, and wearing a mask in public places. Follow our social media channels in Instagram, Facebook, Twitter, TikTok, and YouTube for updated information regarding travel and creative economy in Indonesia.