BANJARMASIN is not just another city on the river. Located on a delta island near the junction of the wide Barito and Martapura rivers, this capital of South Kalimantan offers so much more than the iconic floating market. Visiting for business or vacation, these are 7 amazing places you need to visit when you are in Banjarmasin.
1 | Lok Baintan Floating Market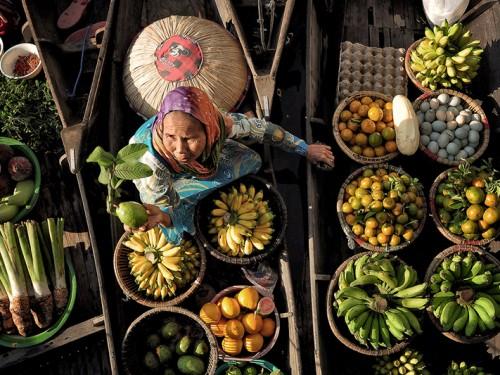 This is one of the highlights and the most popular destination in Banjarmasin. Located at the Sungai Pinang Village, Kecamatan Sungai Tabuk, this floating market was established in the Banjar Sultanate era. Alongside the banks of the Martapura River, you can see a convoy of colorful boats floating, where most of the traders, who are mostly women,  wear traditional head covers, called tanggui,  - ply a all sorts of goods from groceries, household equipment, hot meals to aromatic  hot coffee in the morning.
How to get there:
Take a trip on the Martapura River on a Kelotok Boat, around 30 minutes from the port
Or a 60 minutes' drive from the city, using private car or rented car
Opening hours: 6-9 am WITA (Central Indonesia Time)

Located on the banks of the Kuin River, the Sultan Suriansyah Mosque is a popular destination for those who are interested in religious travel. This is the oldest mosque in South Kalimantan, built about 300 years ago, during the reign of Sultan Suriansyah, the first Banjar King to have converted to Islam. Influenced by Banjar's pre-Islamic architecture, the layered roof of the mosque is very unique and distinguishes it from other mosques in Banjarmasin.

Address:Jl. Kuin Utara, Kuin Utara, Banjarmasin Utara, Kota Banjarmasin, Provinsi Kalimantan Sel. 70127
2. Wasaka Museum

https://www.indonesiakaya.com

For history buffs especially those into the fight for Independence against Dutch Colonialism in South Kalimantan, visit the Wasaka Museum. Located in  Kelurahan Sungai Jingah, Kecamatan Banjarmasin Utara, the Wasaka Museum, whose name derives from a Banjarese warfare motto, WajaSampaikaPuting,  meaning the fight (in the war against the Dutch Colonial Army) will not end until the last drop of blood of the Banjarese.  In this museum, you can find the collection of traditional weapons, basic  equipment used during the period, as well as paintings that capture heroic actions during the war.

Address:Sungai Jingah, North Banjarmasin, Banjarmasin City, South Kalimantan 70122
Opening hours: 7am – 12pm
3. Observation Tower on Martapura River

Image Source : http://banjarmasin.tribunnews.com
One of the latest addition to travel destinations in Banjarmasin, is a 21-meters high and four levels building of the observation tower located in the heart of Banjarmasin city. From the top of the observation deck, you can see the Martapura River coursing around the city, as well as the big statue of a Bekantan proboscis monkey. It is a well-designed masterpiece, where safety has always been of top priority, including for children and family.
Address:  Jalan Kapten Tendean No. 07, RT. 16/RW. 02, Gadang, Banjarmasin Tengah, Gadang, Banjarmasin Tengah, Kota Banjarmasin, Provinsi Kalimantan Sel. 70123
Opening hours:
Monday to Friday: 10 am to 9 pm WITA
Saturday: 10 am to 10 pm WITA
Sunday: 8 am to 9 pm WITA

4 | Banjarmasin Culinary Center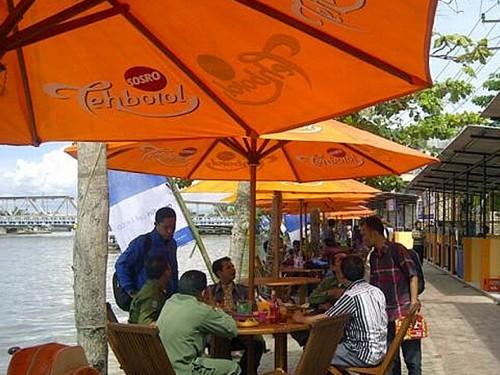 As an enthusiast of Indonesian local foods, during your visit to Banjarmasin do not miss the  Banjarmasin Culinary Center. Facing the Martapura River and surrounded by a green environment, the Banjarmasin Culinary Center is a go to place for food adventurers. You can try all the unique dishes from South Kalimantan, as well as delicious traditional snacks that you cannot find elsewhere.
Address:Kw. Wisata Mandiri, Kw. WisataMandiri,, Jl. JendSudirman No.7, Kertak Baru Ulu, Banjarmasin Tengah, Kota Banjarmasin, Provinsi Kalimantan Sel. 70234
Opening hours: 24 hours
5 | Sasirangan Village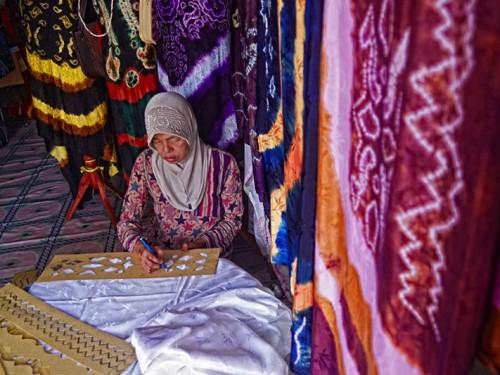 Image Source : http://www.amabeltravel.com
Looking for traditional souvenirs to bring back home?  Kampung Sasirangan or the Sasirangan Village is definitely the right place to go. Sasirangan is a traditional South Kalimantan fabric that is colored with a unique tie dye technique.   The range  of prices for the fabric itself  is very affordable, around IDR 85,000 to IDR 250,000 per meter. Aiming to make this area a travel destination, the local government is currently revitalizing the area. By painting houses within the village with bright colors, this area has now become very photogenic and suitable for all who wish to capture its beauty and post it on your Instagram account.
Address: Irma Sasirangan
Jl. Seberang Mesjid Rt.06, Banjarmasin, Seberang Mesjid, Banjarmasin Tengah, Kota Banjarmasin, Provinsi Kalimantan Sel. 70231
6 | PKK Banjar Bungas Agro Tourism Park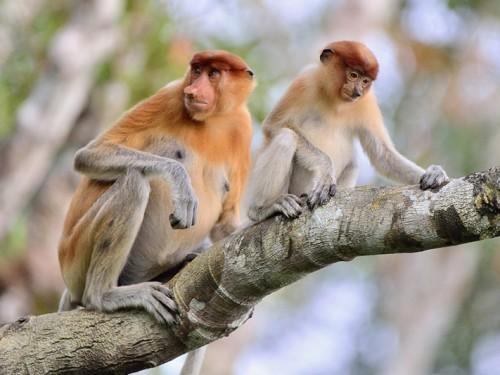 Not only preserving local trees and other plants, the PKK Banjar Bungas Agro Tourism Park is the perfect place to go for family edu-tourism. Covering an area of 1.5 hectares, here you can easily find a variety of flora and fauna, most of which can only be found endemic to South Kalimantan. Here are rare orchids and the iconic Bekantan proboscis monkeys.
Address:  Jl.  Jahri Saleh

Related articles: