This September, the alluring island of Bintan in the Riau Islands Province located just across Singapore, calls on avid golfers from around the world to enjoy its challenging and panoramic courses and compete in the Wonderful Indonesia Golf Challenge (WIGC) Bintan 2016 scheduled to take place on Sunday, 25th September 2016.
Featuring Bintan's amazing natural ambience, WIGC BIntan 2016 will take place in three of the island's finest golf courses: the Ria Bintan Golf Club, Laguna Golf Bintan, and Bintan Lagoon Resort. The tournament will take on the format of 36 strokes system where each course will have its own winner. Participation is limited to 350 golfers; the golfer lucky enough to land a Hole in One will receive the cash prize of IDR 100 million. There will also be other attractive prizes and lucky draws to be won.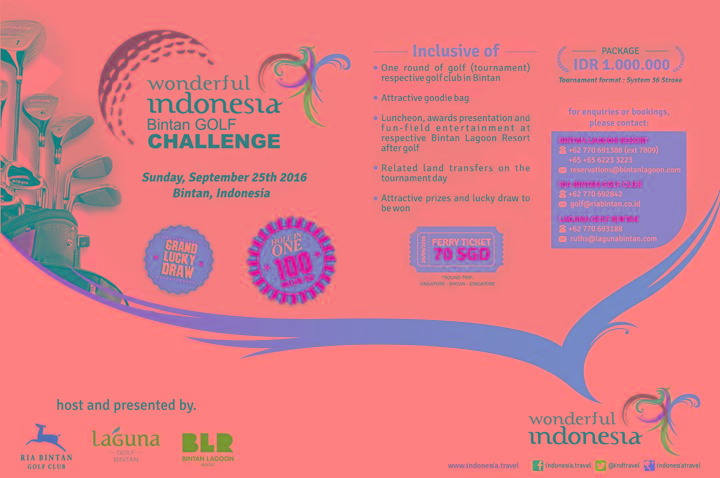 Following the tournament, all participants are invited to a joint luncheon, award presentations and a variety of fun-filled entertainment at the Bintan Lagoon Resort.

Situated just 45 minutes ferry ride across from Singapore, Bintan Island offers the ultimate getaway from the hustle and bustle of cosmopolitan business life. Her chief lure is the Bintan Resorts, a multi-award winning, integrated tropical beach resort destination which comes complete with world-class facilities and service. Bintan Resorts on the island of Bintan's northern coast offers top-class hotels, each located in over 300 hectares of land, featuring world class golf courses designed by internationally renowned golf architects. Bintan Resorts also offers plenty of beach activities and luxurious spas.
After golf take a romantic evening boat trip into the mangrove forest and watch thousands of fireflies glittering among and atop the canopy of trees.
For enquiries or reservations, please contact:
Bintan Lagoon Resort:
Phone: +62 770 691388 (ext 7809), +65 6223 3223
Email: resevations@bintanlagoon.com
Ria Bintan Golf Club
Phone: +62 770 69842
Email: golf@riabintan.co.id
Laguna Golf Bintan
Phone:+62 770 693188
Email: ruths@lagunabintan.com