On Saturday morning, 5 November, life in the capital city of Jakarta continued as per normal: roads were jammed and shopping malls across the city were filled with families and friends meeting, chatting, sipping coffee or buying groceries as though nothing had happened the previous day.
Overseas tourist offices reported that all tour packages from Singapore, Malaysia , Australia and Japan, to Indonesia, including to Bali, Bandung, Yogyakarta, Jakarta and other destinations remained undisturbed and have proceeded as per normal.
Tourism Minister, Arief Yahya, affirmed that Jakarta has immediately returned to normal mode even the next morning on Saturday after demonstrations the previous full day and night.
Last Friday, 4th of November, the heart of Jakarta, from the iconic Istiqlal Mosque to the Presidential Merdeka Palace and the entire Merdeka Square of 1 square kilometers with its central National Monument was the whole day packed with thousands of demonstrators demanding that incumbent Jakarta Governor, Tjahaya Purnama, be indicted for blasphemy against the Holy Qur'an. Demonstrators came not only from Jakarta but also from many other cities in Indonesia. After Friday prayers at the Istiqlal mosque, the throng moved to the palace, packing all surrounding roads around and crossing the huge Merdeka Square
As agreed with the Police, the demonstration would proceed peacefully in accordance with civil rights and rules and regulations, where the massive demonstration would disperse at 06.0 pm. On its part, the Police confirmed that it would not use any firearms as deterrent. And indeed, throughout the day the movement of the thousands of people proceeded very disciplined and actually quite amicably.
Unfortunately, at dusk, it became clear that the throng was not about to disperse and leave the place, insisting that they meet President Joko Widodo personally, - who happened to be on duty outside the city, - despite the fact that their delegation was already received by and met with Vice President Jusuf Kala, Coordinating Minister for Defence and Security, Commander of the Armed Forces, the Chief of Police and a number of Minsiters. In the evening at around 8.0 pm people in front of the palace began to throw stones at the police, and three police cars were burnt. Hereupon, the Police moved into action, sending teargas to the crowd and pushing the crowd away from the palace. This continued well past 10.0 pm. Unfortunately, in a separate incident, in North Jakarta, looters took advantage of the critical situation, throwing stones and looting supermarkets, thus forcing the police to also throw teargas at them.
Just before midnight President Joko Widodo's car finally succeeded to break through the crowds to reach the palace, where he immediately held an urgent cabinet meeting followed by a press conference.
In his speech, President Jokowi (more often called President Jokowi) thanked demonstrators for keeping to their promise to express their aspirations in a most orderly and peaceful manner until evening prayers. However, regrettably, this turned into violence as the night wore on. He especially thanked religious leaders for their full support and leadership in maintaining discipline and order among demonstrators.
"As a democratic country, Indonesia respects the process for the people to express their grievances and aspirations through demonstrations that are done in an orderly and peaceful manner following requirements as issued in the permit."
The President then confirmed that, in response to the demand, incumbent Jakarta Governor Tjahaja Purnama, popularly called Ahok, will be immediately investigated for alleged blasphemy, following legal procedure, to be implemented immediately, strictly in line with Indonesia's legal process and regulations, and done in a complete transparent manner. For this reason I urge you all to calmly return home," said President Jokowi .
The President, moreover, thanked the Police and the Army for ensuring and guarding the safety of both demonstrators and the general public. Meanwhile, the Police has confirmed that a number of people have been arrested for provocation and instigating violence.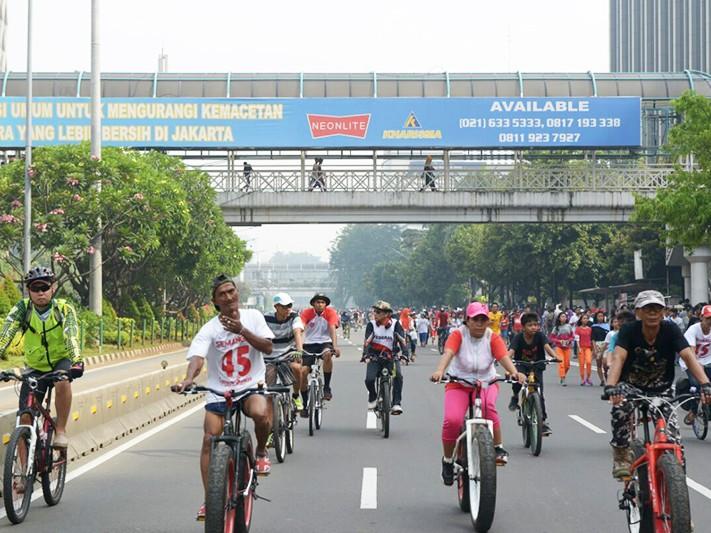 On Sunday morning 6 November which is Car Free Day in Jakarta, the same roads that on Friday were filled with demonstrators, were today filled with Jakarta citizens biking, jogging or walking even with babies in strollers as if saying: we are united here together regardless of age, race or religion. We are Wonderful Indonesia.