Over 100 yachts from Singapore are confirmed to join the Sail Karimata 2016 mega event, which will reach its pinnacle at the Riau Islands (Kepri) Marine Festival scheduled to take place from 20 to 30 October 2016. Participation of the 100 yachts from Singapore is a collaboration between the Singapore Power Boat Association (SPBA) with the ports of Bandar BentanTelani at Bintan Resorts, and the Nongsa Point Marina in Batam. They will meet participating yachts in the Sail Karimata that have sailed across the Indonesian seas for over 2 months in the Sail2Indonesia rally, coming all the way from Down under from Darwin, Australia.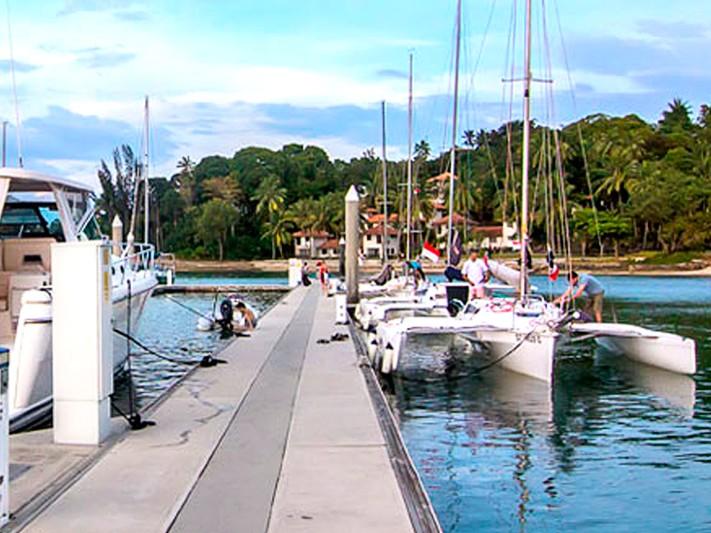 Image by nongsapointmarina
Highlight of the Kepri Festival will be the Carang River Festival when hundreds of gaily decorated traditional boats and participating yachts will make a sail pass witnessed by Indonesia's Vice President, foreign ambassadors, dignitaries and cheering crowds.
Cooperation between the SPBA and the seaports around Batam was woven since August 2016 when the seas of the Riau Islands became "the exotic playground" for yachters from Singapore. "We wanted the Kepri Marine Festival, which forms part of Sail Karimata 2016, to be even more vibrant. For this purpose, last August we invited SPBA to visit the Riau Islands. We opened our doors widely so they could inspect the waters from the yachts' entry channel into Bandar BentanTelani (BBT) port, to their exit. The response was fantastic, with the result that there will be at least 40 SPBA yachts docked at BBT during the event" said Abdul Wahab, Group General Manager (GGM) of Bintan Resort Cakrawala.
On his part, General Manager of Nongsa Point Marina, Erhard M Reuber revealed that with the commitment from SPBA to participate in the Kepri Marine Festival and Sail Karimata 2016, over 60 SPBA yachts will dock at Nongsa Point Marina for the event. "But at the moment, the number stands at 6o yachts" said Rueber.
Nongsa Point Marina & Resort offers 65 world class docking areas designed by Bellingham Marina. There are at least 2 docking areas that can accommodate 130 feet yachts and tens of berth areas for smaller yachts which are equipped with electricity and fresh water. The docks are also complemented with a center for diesel and gasoline fuel. "Our facilities are quite complete and are available all year round", added Reuber.
Aside from international standard-entry and exit points as well as offering world class events, the Riau Islands has an array of attractions to offer. There are 2,408 big and small islands with countless wonders within the province that can be explored by yachters that include the captivating underwater beauty that lie below the surface. From Anambas Islands, Abang Island, Petong , Hantu, to Labuan Island and more, the bewitching underwater splendors will definitely amaze anyone. "Want to dive and snorkel? No need to worry. There are more than enough spots here. The underwater beauty of the Riau islands along with their fascinating coral reefs and colorful unique sea creatures are open to explore" commented Rueber.
Meanwhile, Hong Seh Marine Singapore which is a company handling luxury boats in Asia has been appointed by the Ministry of Tourism of Indonesia to co-organize the Kepri Marine Festival 2016 in cooperation with the Tourism Office of Bintan.
Do not miss this spectacular October festival and watch the exciting convoy of yachts sailing to Batam, Bintan and Tanjung Pinang, and enjoy this 10 days event filled with a series of festivities, exhibitions and cultural shows! Be there.
Image Source: www.nongsapointmarina.com