Do you agree that we call Indonesia "country of treasures"? Among them are Labuan Bajo and the neighboring archipelago known as Komodo National Park in East Nusa Tenggara, which have been globally popular. The area is also well known for its island hopping. One of the islands in Komodo National Park that you must explore is Padar Island. Why must you put this island into your bucket list? You would soon figure it out.
Padar Island is a part of the cluster of Komodo National Park. This small island is as exotic as Labuan Bajo. Since this island is addictive, skipping a piece of happiness on this island is something you would regret. Therefore, you have to find out, at least, ways to reach there, what you can see, what you need to pack, and where to stay. So, let's start the journey!
If it feels expensive to rent a speedboat, the simpler way is you can benefit from a travel agent service providing a complete package to explore Labuan Bajo. Joining an open trip with other travellers could be considered as well. These ways make you less overwhelmed thinking about the transportation, accommodation, meals, and how to get around the island.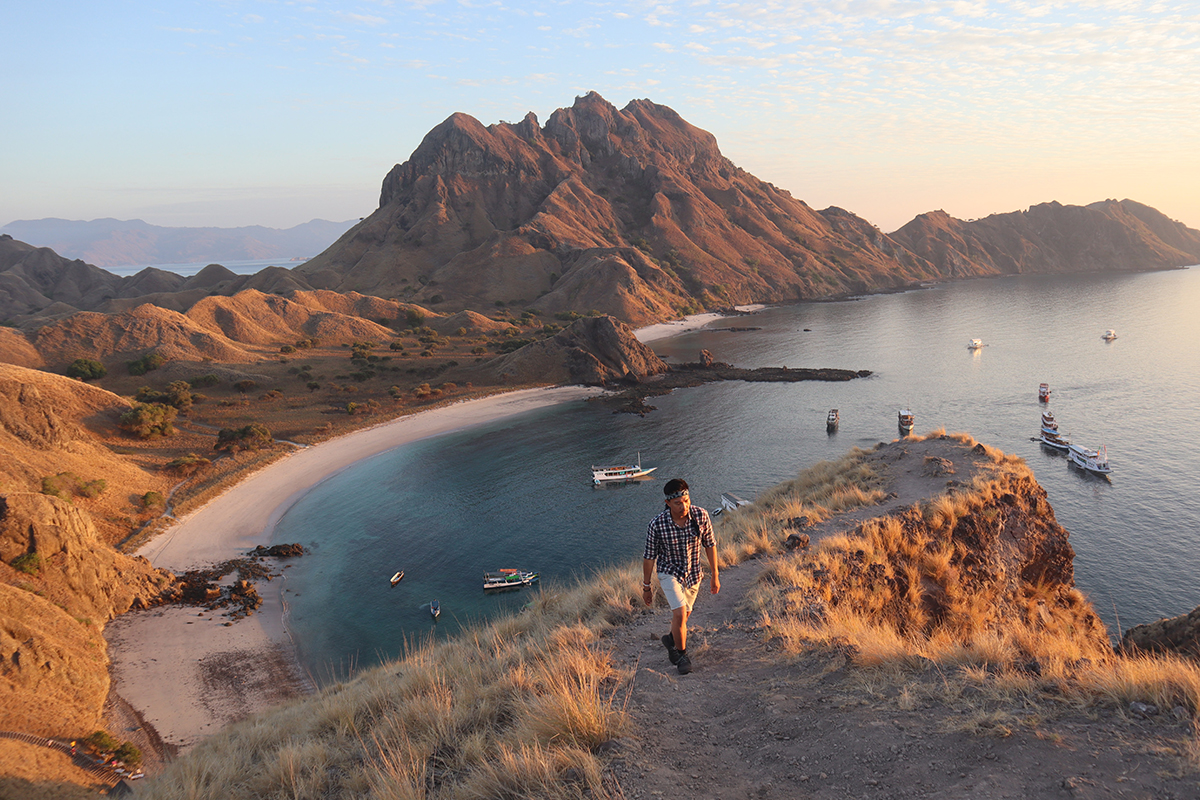 Image by first human

The pursuit to heaven is not done yet, by the way. When you finally anchor at the island, you have to hike to the peak to see the landscape in panoramic view. At this point, you would need around 30 minutes trekking to finish the 45 degree slope angle.
What is there in Padar Island?
Speaking of nature, exotism and satisfaction, this island offers them all. Although you need a little bit of effort on the journey, the end result would be so much worth it. You wouldn't regret the breathtaking view when you first arrive. As mentioned earlier, hiking to the peak of the hill lets you find out why it is called exotic.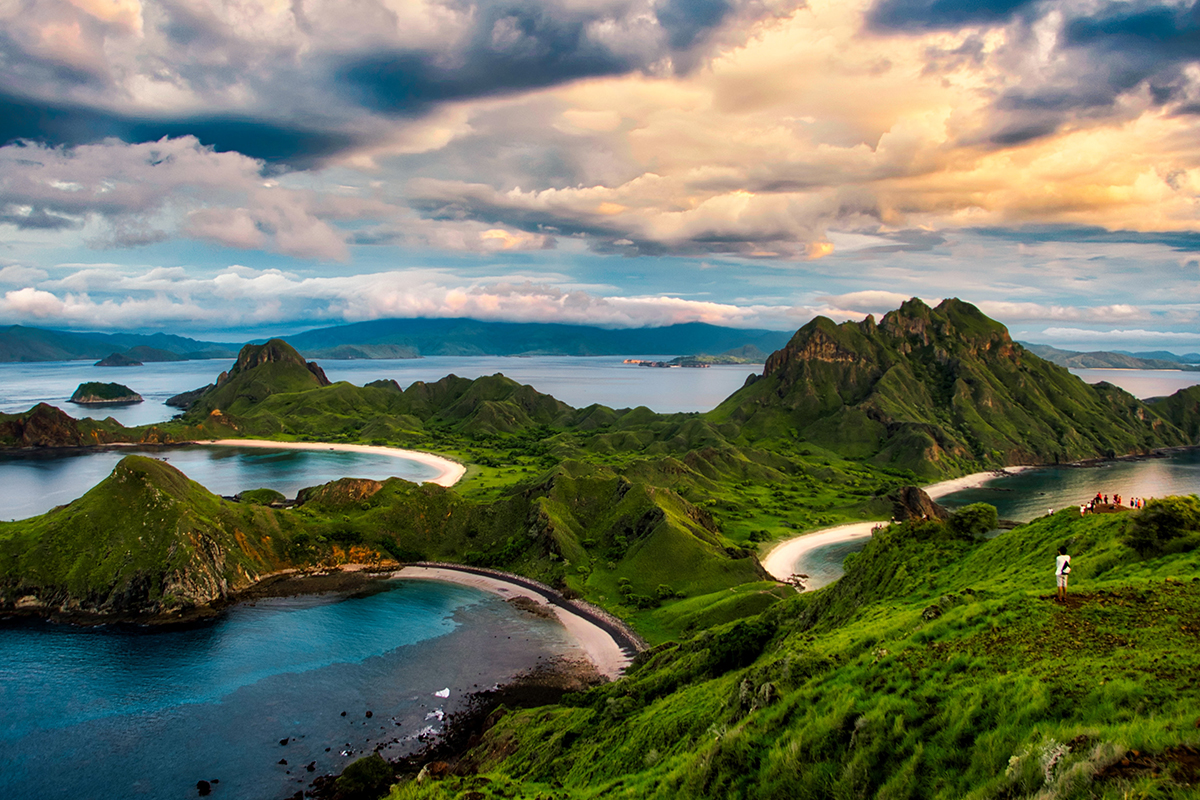 Image by fajruddin mudzakkir

The combination of hills surrounding the sea and the sea itself creates harmony. When you visit in the rainy season, the hills will be covered by grass and they will look green and blue creating a beautiful landscape. It is going to be totally different if you come in the dry season because the hills will be so dry that the green view turns into a sandy one, like a beautiful savana.
Both views spoil your eyes and soul in different ways. Besides, the beautiful orange sunset could be enjoyed there, if you plan to spend your time in the evening. It is also kind of the best moment when you come there very early in the morning waiting for the sunrise. Everything just feels so pretty. If you mind being exposed to the sun along your hiking, you might not want to visit the island at noon.
Let's move on to the sea surrounding the island. Imagine the blue and green color seen from the water with white, pinkish, and black sands on the seaside. Yes, what's so unique about Padar island is that it has several beaches with different colors. Amazing, right? If you are a sea person who loves to dive, this is the right place to do diving and snorkeling. This little paradise has wonderful underwater scenery with 42 attractive diving spots.
Things to Pack
The route and the trek to get to Padar Island is not too difficult but at the same time not that simple. Being fit physically is a must. Along with that, footwear choice matters. You had better wear sports shoes, non-slippery shoes, or you can also put hiking boots/slippers on. As for emergency rescue, packing first aid is a good thing.
Along the way trekking the hills, you wouldn't find any banister. If you want to have something to hold on to keep your balance, you can also bring a hiking stick. Since the slope is quite steep to get to the peak, it is better for you to bring a lightweight luggage on your back. This is significant to eliminate your load, and you will feel less exhausted. Lastly, bring some drinking water if you don't want to get dehydrated.
Where to Stay
Still and all, please put in mind that Padar Island is quite far. Don't be stressed out, there are some recommended lodgings not too far yet providing a nice staying experience. If you decide to stay in a resort, Ayana Komodo Resort would be one of the best. It offers you an amazing view directly to the sea with such a magnificent design. The resort creates a kind of bridge to hub a certain dining area so it is like you can walk across the sea.
In a different way, hostels have recently become travellers' favorite. They are simple and usually budget friendly. One of the popular ones is One Tree Hill Hostel. Despite the affordable rate, this hostel also pampers you with an aesthetic view to the sea. It is such a complete package for travellers.
How to Get There
You would need more time to enjoy the whole island and its beautiful neighbors. It is suggested to spend around four days exploring due to the route and journey. Starting from Denpasar, you would need to take a flight to Labuan Bajo first, and it would take approximately 30 minutes. After stepping onto Labuan Bajo, continue your trip by reaching Loh Liang dock in Komodo Island to get to Padar Island by speedboat in around three hours.
Can't wait to taste the appealing landscape of Padar Island? Remember, vacation is not only about visiting and staying in your destination. It's more about drawing on long-lasting memories. Check this article to discover more adventures in Labuan Bajo. This island hopes to see you soon as well.