Tana Toraja is located in the norhtern highlands of South Sulawesi province. It is home to an indigenous population residing in this mountainous region, who, although most have converted to Christianity, still faithfully follow ancient traditions especially its funerals rites which become large communal gatherings, and for visitors, an unforgettable experience of a rare and slowly disappearing culture. Europeans especially love to delve into this unique culture, but Asians on the whole prefer to shun the burial sites prefering to join its amazing landscape instead.

Image source: Shutterstock
Toraja is also blessed with magnificent fertile landscapes of steep mountains and deep valleys cut by rushing rivers. In fact, Toraja must be one province that has the most bridges, both made of steel, but many are still bamboo and wooden bridges. Toraja also produces the renowned aromatic Toraja Coffee, where tourists can trek through the plantation and watch coffee being prepared for brewing. You can of course taste this and bring home a packet.
For those not wishing to visit its more macabre attractions, Toraja offers exciting trekking tours, adrenaline pumping white water rafting, to the Toraja Marathon runs. Besides daily long distance buses from Makassar, there are now also regular flights from Makassar to Toraja. Please check your travel agent.
So, do plan to visit beautiful Toraja, the Land above the Clouds, for here are experienced tour operators and a wide range of hotels to serve you :
1 | The Toraja Heritage Hotel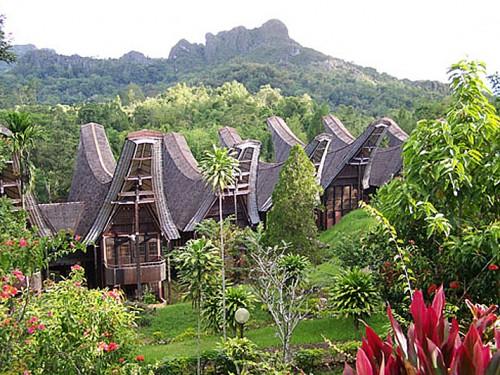 Photo source: www.toraja-heritage.com
Located in the heart of the town of Rantepao, not far from ancient burial sites and traditional megalithic villages, this hotel is one of the oldest in the area. Surrounded by mountains and natural forests at a high altitude, this luxurious four star hotel is designed to create the best of both worlds. Architecturally it resembles a Torajan style house, with elaborate geometric-shaped decorations, a horn shaped roof traditionally used for storing rice, but inside it offers modern day furnishing as well as a spa. Bridging both modern and classic, it is a perfect choice for those looking to travel in complete comfort, in addition it also includes airport services to ease your stay.
Price range: around IDR 1,200,000 a night
Contact Details
Phone: +6242321192
Email: info@toraja-heritage.com
Website: http://toraja-heritage.com/
Address: Jl. Ke'te Kesu, Po.Box 80 Rantepao,
Kabupaten Toraja Utara,
Sulawesi Selatan, Indonesia
2 | Toraja Misiliana Hotel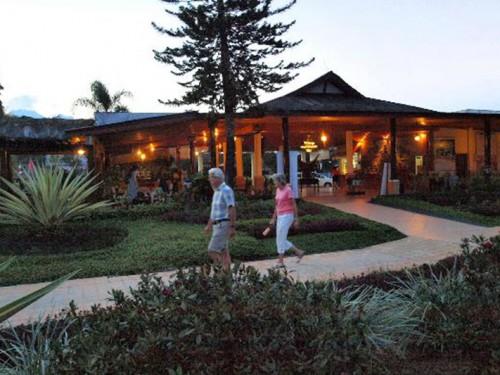 Photo source : www.tripadvisor.com/Toraja_Misiliana_Hotel
Owned by a local family and located 2 km away from Rantepao, Toraja Misiliana Hotel overlooks the beautiful Sa'dan river. Sa'dan river offers exciting river rafting. It is also close to points of interest in Toraja, that include cave burial sites and traditional villages, it offers a chance for tourists to easily access these local sites. Facilities offered are: a uniquely shaped swimming pool, fishing and an incredible restaurant with high ratings. Toraja Misiliana Hotel offers an atmosphere of local culture that should not be missed.
Price range: Around IDR 700,000 a night
Contact Details
Phone: +6242321212 | +624232157
Email: info@torajamisiliana.com
Website: http://www.torajamisiliana.com/
Address: Jalan Pongtiku No. 27 Rantepao,
Toraja Utara, Sulawesi Selatan,
Indonesia
3 | Luta Resort Toraja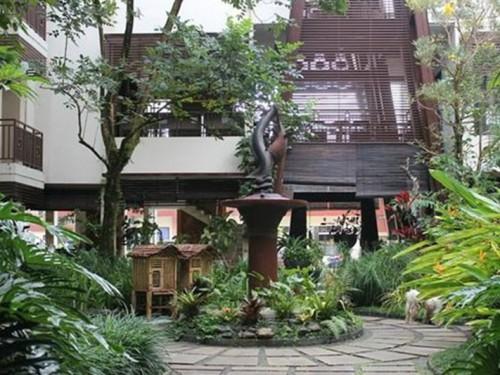 Photo source: www.indonesiaarchipelago.com
This resort is located in the center of Rantepao town, at an altitude of 700 m. It is surrounded by rice fields and is close to Kete Kesu Traditional Village and ancient sites. This resort also includes a spa, welcoming its guests to experience the sensations of Toraja's spices and health treatments — the absolute perfect choice for those looking to be pampered with massages and aromatherapy on their visit.
Price range: around IDR 1,200,000 a night
Contact Details
Phone: +6242321060
Email: info@torajalutaresort.com
Website: www.torajalutaresort.com
Address: Dr Ratulangi Street No.26,
Rantepao, North Toraja,
South Sulawesi, Indonesia
4 | Hotel Sahid Toraja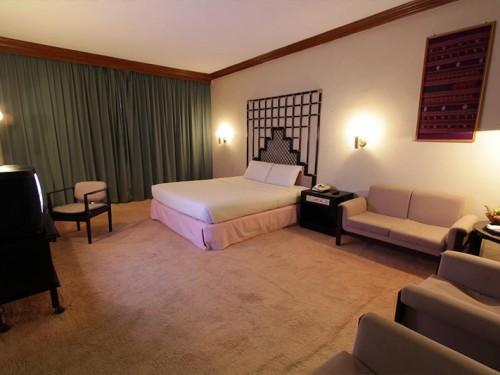 photo source: www.booking.com/sahid-toraja
A beautiful property, surrounded by fields and trees. Situated an hour away from the cultural centre of Toraja; it offers you a quiet, serene atmosphere. This hotel includes a swimming pool, a kids pool, a jogging track and business centre. Tours to Toraja are able to be set up within the hotel, with transportation. Enjoy your visit at this tranquil location on your holiday to Toraja.
Price range: around IDR 500,000 a night
Contact Details
Phone: +62 423 22400
Email: reservation@sahidtoraja.com
Website: http://www.sahidhotels.com/sahid-toraja/accommodations
Address: Jl. Raya Getengan No. 01 Mengkendek,
Tana Toraja, Sulawesi selatan 91811 - Indonesia
5 | Tongkonan Layuk Lion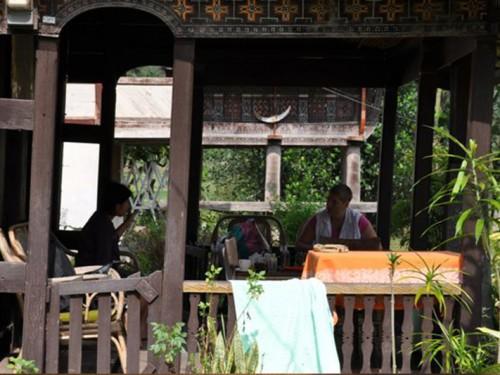 Photo source: www.layuklion.webs.com
Situated in the heart of Rempoa, overlooking lush green fields Tongkonan Layuk Lion offers you an experience of Torajan authenticity. With it's tour packages, river rafting commodities, airport services and its Torajan infused Balinese architecture, this hotel takes all the hassle out of your holiday. Enjoy a delightful meal prepared by the friendly staff, as you prepare yourself for an experience of culture you will always remember.
Price range: around IDR 1,200,000 a night
Contact Details
Phone: +62 (0)81342343977
Website: http://layuklion.webs.com
Photo source of header banner : www.layuklion.webs.com