Solo or officially known as Surakarta, located in the southern part of the province of Central Java, is the twin city of Yogyakarta, In history, both royal houses are direct descendents of the New Mataram kingdom but parted ways to build their separate seats at Solo and Yogyakarta. But, while, in Yogya the king is called the Sultan, in Solo the king is known as the Sunan or Susuhunan of Solo. And, whereas Yogya is a province on its own, Surakarta is an administrative city within the province of Central Java which has as capital the city of Semarang on the north coast of Java. It must be added that although the Indonesian islands are all united in the Republic of Indonesia, yet many royal houses continue to spread their cultural and social influences to this day.

Solo's royal heritage can still be felt throughout the city, and tourits should not miss the Palace or Keraton of the Sunan Solo as well as the Mangkunegaran Palace to get a glimpse of how Javanese royalty lives. Solo is loved for its special Batik industry that in the past used to cater dedicated to the royal household.
Whether you visit Solo as a tourist or on business, here are five of the city's best hotels that will give you that magical royal ambience: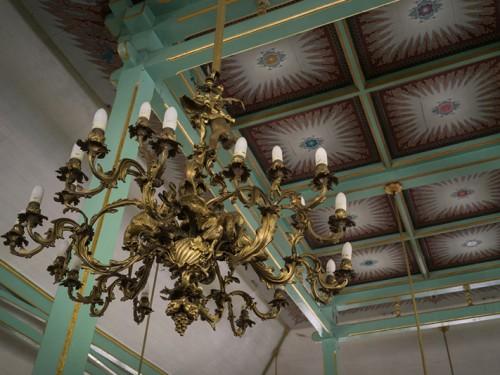 Image source: Shutterstock
1 | The Royal Surakarta Heritage Solo - MGallery by Sofitel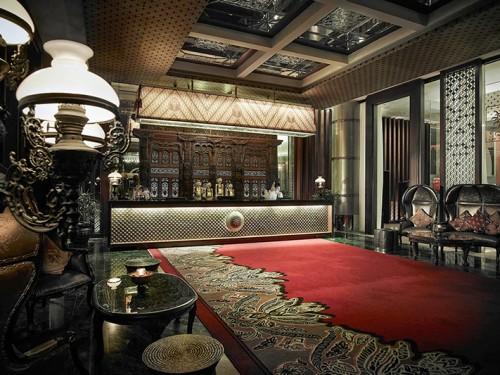 Photo source: www.accorhotels.com/the-royal-surakarta-heritage-solo
It is not that hard to locate this luxury hotel from the first step you take in this city. The Royal Surakarta Heritage Solo – Mgallery by Sofitel is located at Jl. Slamet Riyadi No. 6, is located in the middle of the busy area of the city. It's only a short walk from the famous Klewer Market, Kauman Batik Village, and Pusat Grosir Solo. Enjoy easy access to an array of fantastic shopping venues during your stay at this hotel. Or, grab a bite at nearby street food places, traditional foods, restaurants, and cafes which are easily accessible to meet your culinary wishes.
Need perfect rest after roaming the city? The hotel offers immeasurably comfort through its spacious and unique rooms. The Spa and pool are available for you to have enjoyable restful moments. When work needs to be done, hi-speed Wi-Fi connection is ready to connect you to the world. Restaurants and bar are available till late at night.
Location:
Jl Slamet Riyadi No 6. 57111 Solo
(0271) 666111
Website: https://www.accorhotels.com/gb/hotel-9239-the-royal-surakarta-heritage-solo-mgallery-by-sofitel/index.shtml
Prices start from Rp 600,000
2 | Alila Hotel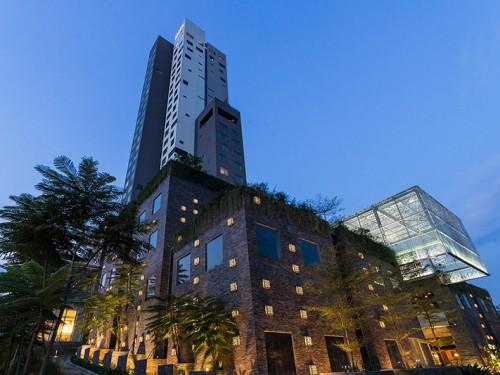 Photo source: www.alilahotels.com
Photo by: www.alilahotels.com/solo
Clean, luxurious, and comfortable are your first imporessions as soon as you enter Alila Hotel's main gate. Located near Solo Square, you can reach the Purwosari Train Station within a 15-minute walk. From here it is very easy for you to reach any part of Solo that you need to visit.
Its strategic location is not the only benefit from this hotel. Inside the hotel, you'll find a modern rooms and entertainment, and access to a wide range hotel facilities. Hi-speed Wi-Fi, flat wide screen TV, and sitting room are available including a rooftop bar, spa, gym, outdoor pool, or kid's club for your children. Staying the night here is an above average pleasure.
Contacts:
https://www.alilahotels.com/solo
Jalan Slamet Riyadi No.562, Jajar, Laweyan, Kota Surakarta, Jawa Tengah 57144
(0271) 6770888
Prices start at Rp 800,000
3 | Solo Paragon Hotel & Residences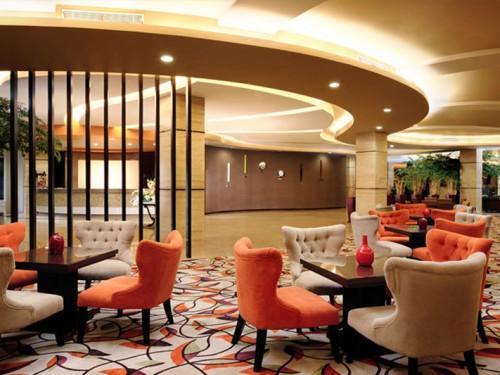 Photo source: www.klikhotel.com
Do you prefer to stay at a contemporary room full of modern living support such as Wi-Fi, TV cables, and 24/7 service? Then Solo Paragon Hotel & Residences is your best bet during your stay here. Located next to the Solo Paragon Lifestyle Mall, many kinds of transportation are available to take you anywhere.
The hotel provides 24-hour restaurant to make sure you'll get something to grab any time when you're in the hotel. An outdoor pool, fitness center, hot tubs, even kid's club are ready to access for your need. The Solo Paragon Hotel & Residences also provides meeting room facilities for business discussions.
Contact:
http://www.soloparagonhotel.com/rooms
Jl. Dr. Solo Soetomo, Mangkubumen, Banjarsari, Mangkubumen, Banjarsari, Kota Surakarta, Jawa Tengah 57125
(0271) 7655888
Prices start at Rp 450,000
4 | The Sunan Hotel Solo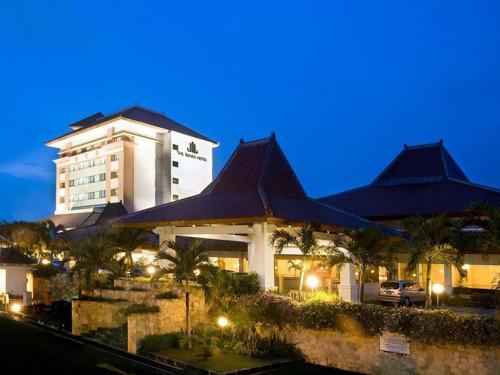 Photo source: www.misteraladin.com/the-sunan-hotel-solo
If you are a lover of luxury hotels, you may find The Sunan Hotel Solo quite magical. This hotel has rooms with magnificent design. If soaking in water is your most favorite pastime, you will be pleased by the large-sized swimming pool here.
The hotel is tucked away in a corner of Solo, some 4.9 km away from the Mangkunegaran Palace. But no worry, since taxis are easily available. More traditional yet exciting transportations such as becak and delman are also available if you want to experience the real Javanese culture.
Location:
Jl. Ahmad Yani No. 40, Solo, Kerten, Laweyan, Kota Surakarta, Jawa Tengah.
Phone: +6271 731312
Website: http://thesunanhotelsolo.com
Prices start at Rp 470,000
5 | Novotel Hotel Solo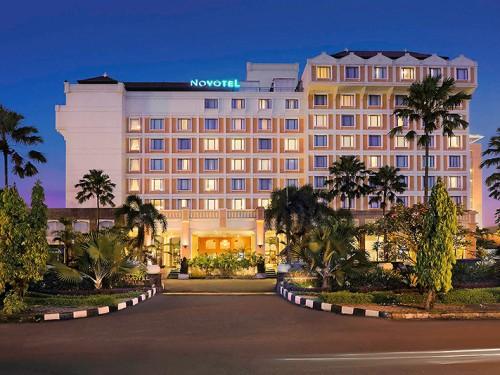 Photo souce: www.novotel.com/solo
Famous for its garden-front landscape, the Novotel Hotel Solo offers polished rooms with flat screen TVs and free hi-speed Wi-Fi connection. The hotel is great for family holidays as well as solo traveler's trip. Sauna, hot tub, and massage services are available to boost your energy. A bar with live music performance adds a lively night to your stay.
Located near Solo Balapan Station and the National Press Monument, you will have time exploring the wonders of Solo's cultural heritage at leisure. Since the location is near the city center, try roaming the city with a becak, for a memorable experience.
Contact:
https://www.accorhotels.com/gb/hotel-0545-novotel-solo/index.shtml
Jalan Brigjend Slamet Riyadi No. 272, Timuran, Banjarsari, Kota Surakarta, Jawa Tengah 57131
(0271) 724555
Prices start at Rp 480,000
Photo source of header banner: www.alilahotels.com