Approximately 50 km from Bandung, lies a dormant volcano, and tucked away in its crater is a magnificent blue lake, 2,430 meters above sea level. Beautiful to the eye but slightly pungent to the nose, Kawah Putih or White Crater is still worth the trip with your family. There are plenty things to do in this refreshing area, from taking pictures to hiking. Below, we have compiled a list of a few things that will elevate your holiday and give you that family holiday you've been needing.

1 | Ontang Anting & Taking Pictures (Kawah Putih)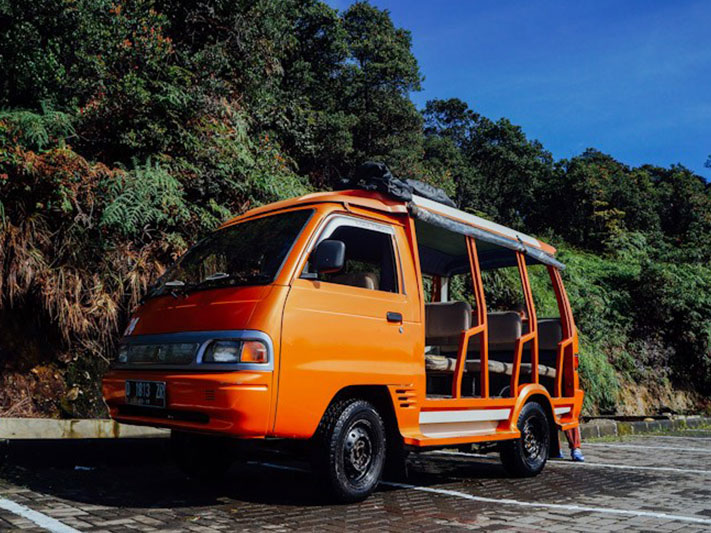 Photo source: www.i0.wp.com
One of the things to do in Kawah Putih is taking plenty of photographs of this mystical lake. The stunning clouds of mist lingering above the blue tinted waters make an unreal and mysterious background.
The excitement begins before you reach the lake; to get to the lake you need to take the orange minibuses called Ontang Anting (or loosely translated as bumpy ride). The ride up to the crater is a 15-minute drive through a forest on a winding and bumpy road. Kids usually love this open cabin ride. A two way ticket costs about IDR 15,000. Entrance into the Kawah Putih area requires a small fee of about IDR 20,000 - 50,000 and once you've arrived at the lake, it is wise to wear a mask as the smell of sulphur is rather pungent. A number of vendors are ready to assist you if you need to buy a mask or if you want to enjoy a few snacks. You can also pretend you're a cowboy and go horseback riding with your family around Kawah Putih area for IDR 15.000.
2 | Hiking Through the Forest of Mount Patuha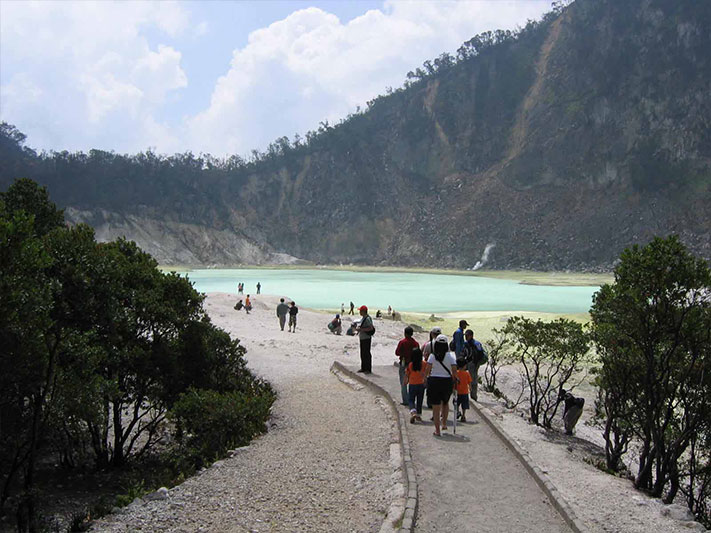 Photo source: www.explorebandungselatan.files.wordpress.com
Mount Patuha or "Pak Tua" translated as "old man", a name given as a form of respect towards elders. The mountain itself is rarely explored by tourists but there are several routes for your hike, and one of them is on the left side of the entrance to Kawah Putih. The path leads through a forest which leads to the peak of the mountain, roughly a two to three hour trek. This track may not be suitable for the younglings but you can do this with your partner. You can see ancient trees as well as the rawness of natural forest along the way, and once you've reached the top, you'll be able to see the view of the entire mountainous region as well as the Kawah Putih. 
3 | Dining, Camping, Strawberry-picking at Rancabali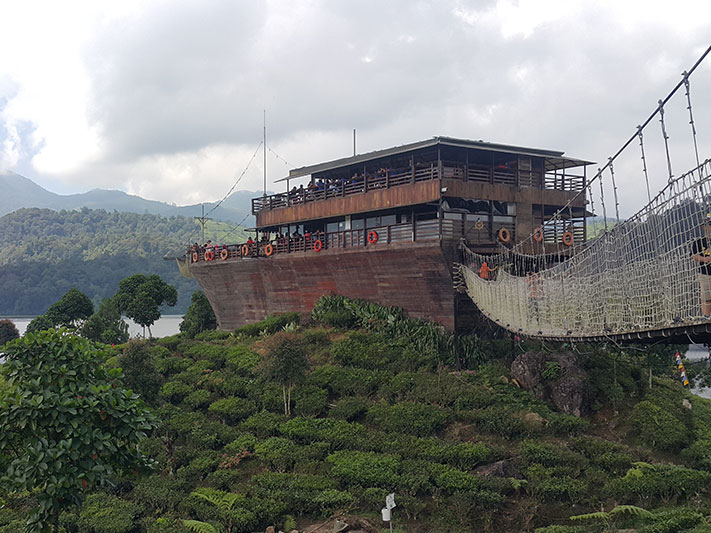 Photo source: Shutterstock
About a 30-minute drive away from Kawah Putih, is the famous Pinisi Resto Rancabali. This restaurant is perfect for those looking for a place to eat and enjoy the scenery with your family. The restaurant is a large boat-like structure, overlooking the Patenggang lake. In the nearby resort there are plenty activities for everyone in your family; you can go strawberry picking, playing with rabbits in the garden, stroll through the tea plantations, or go glamping (glamorous camping). You can teach your kids how to appreciate nature by becoming one with it. There is a small fee for every attraction, but the fun you'll have is worth every penny.
4 | Boat-riding in Patenggang Lake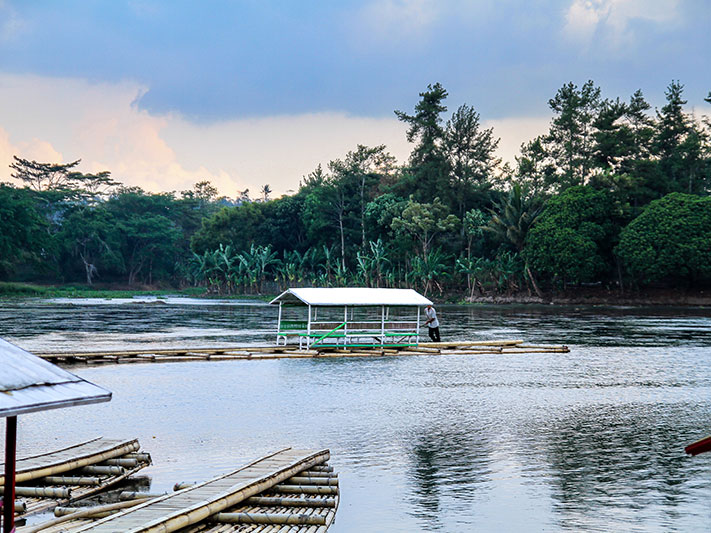 Photo source: Shutterstock
The Patenggang Lake, or Situ Patenggang, stretches across 45.000 hectares of land and water. The lake is located just 7 kilometer from Kawah Putih. The area is surrounded by tea plantations and rows of trees, making the air cold and fresh. Ticket for domestic tourists costs only IDR 20,000 but foreign tourist will have to spend IDR 135,000 (weekdays)-IDR 185,000 (weekend).
There are boat rides if you want to cruise around the lake with your loved ones. Ticket for the boat ride only costs IDR 20,000 each person per trip or you can rent a water bicycle for IDR 30,000-IDR 50,000 per hour.  A cruise around the beautiful lake is surely a fun activity for the whole family.
The lake is not just an ordinary body of water, it was believed to be a witness to the test of true love. Patenggang is a Sundanese word for "separated" and at this lake, a royal prince was able to meet his beloved, an ordinary village girl. Forbidden to wed, the couple from different social status, secretly met at a rock on a small island in the middle of the lake. The rock stands until today, and is known as Batu Cinta or Love Rock. Legend has it that those who come to the lake and circle the small island will have an everlasting love.
Photo source of header banner: Shutterstock