For the Asian Games 2018, which will take place in Jakarta and Palembang and start on 18 August 2018, the government has selected 3 among Indonesia's many unique wildlife as mascots, to simultaneously promote these for their protection and conservation.
Bhin bhin, the enchanting colorful Bird of Paradise that is endemic to Papua and Raja Ampat
Atung : the Bawean deer, that is now found only on this tiny island off the city of Surabaya, and
Kaka : the one-horned Javan Rhino, now only found in the protected Ujung Kulon National Park, at the east-most corner of Java.
Together they symbolize Indonesia's diversity in culture as well as in wildlife. Bhin bhin the Bird of Paradise stands for Strategy; Atung the Bawean Deer stands for Speed and a fighting spirit to never-give-up ; while Kaka the one-horned rhino stands for strength and power: all qualities expected in athletes competing in Asian Games 2018.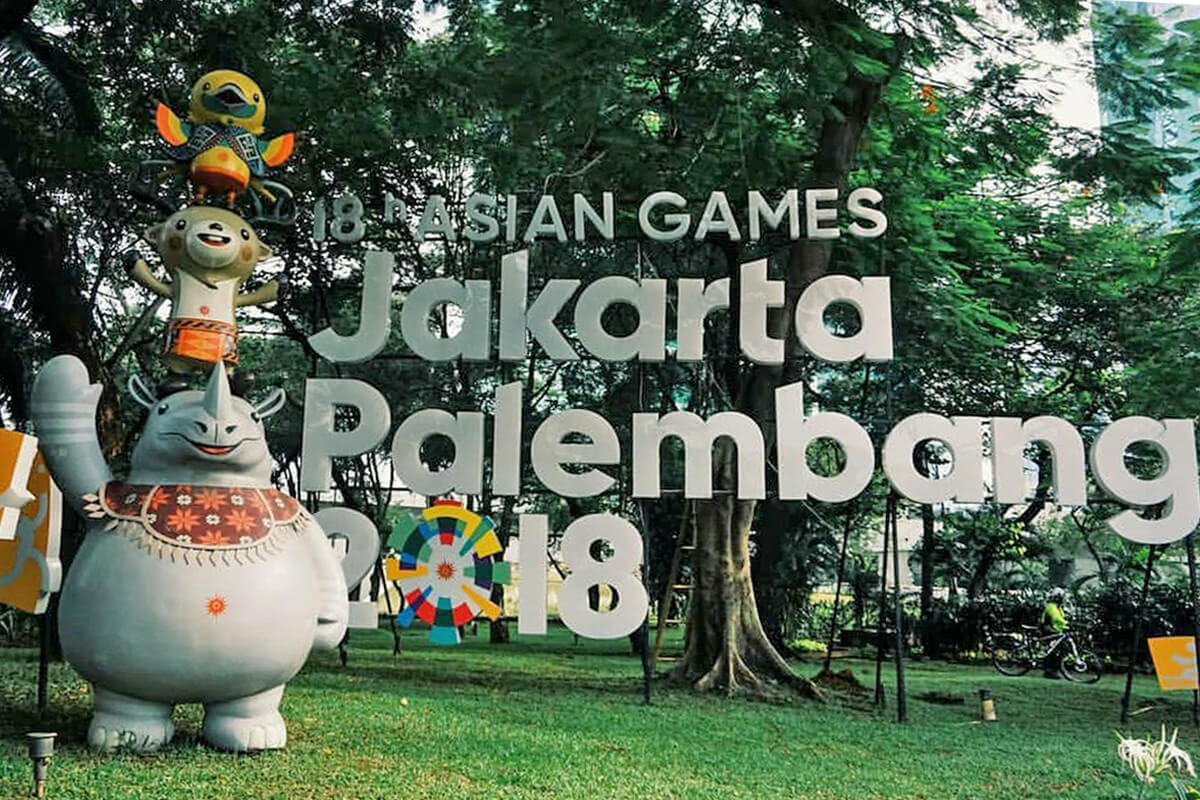 Image source: Media Darling

The bewitchingly beautiful Bird of Paradise
The stunning, colorful and bewitchingly beautiful Birds of Paradise are endemic to the eastern-most part of Indonesia, in Papua and the Moluccas. Of the 42 species found here, 40 inhabit Papua and 2 are in the Maluku Islands.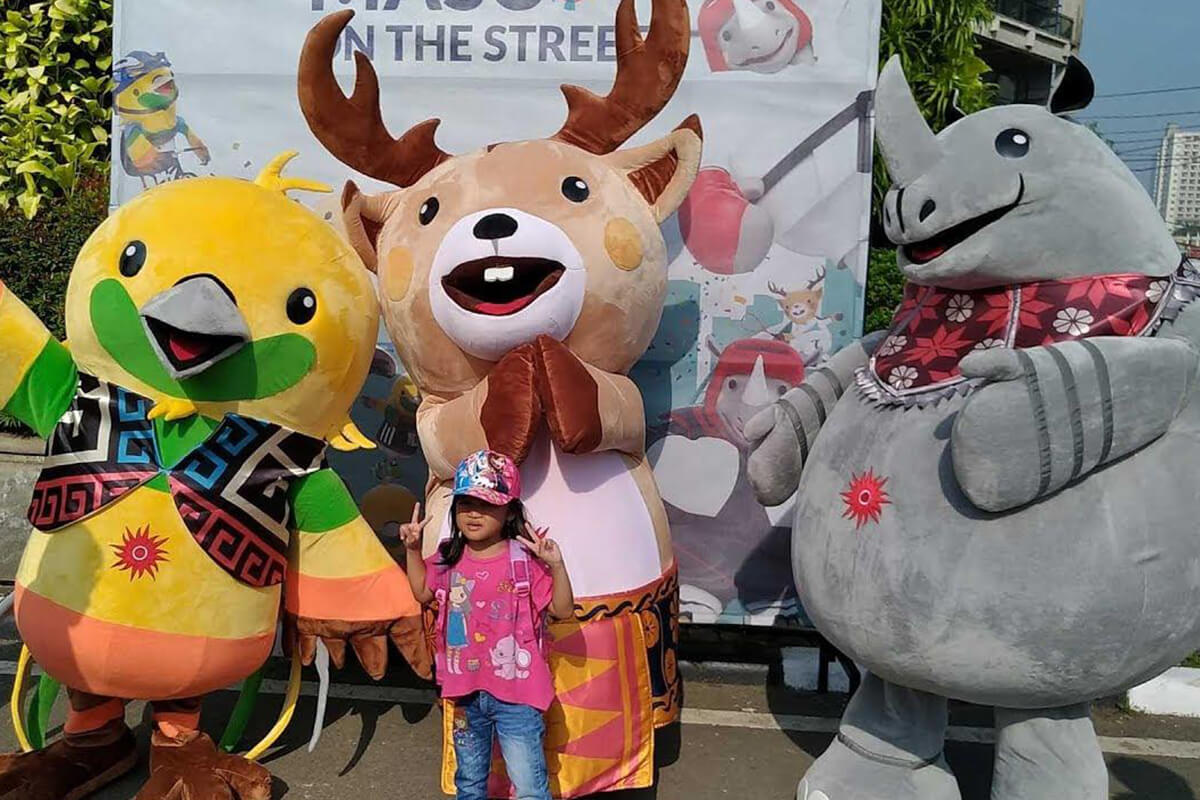 Image source: www.sportourism.id
Their regal plumes were at one time used by tribal chieftains to denote rank and power. Today, however, the Birds of Paradise are protected since their numbers are rapidly dwindling as their habitat in the deep forests are also being encroached upon.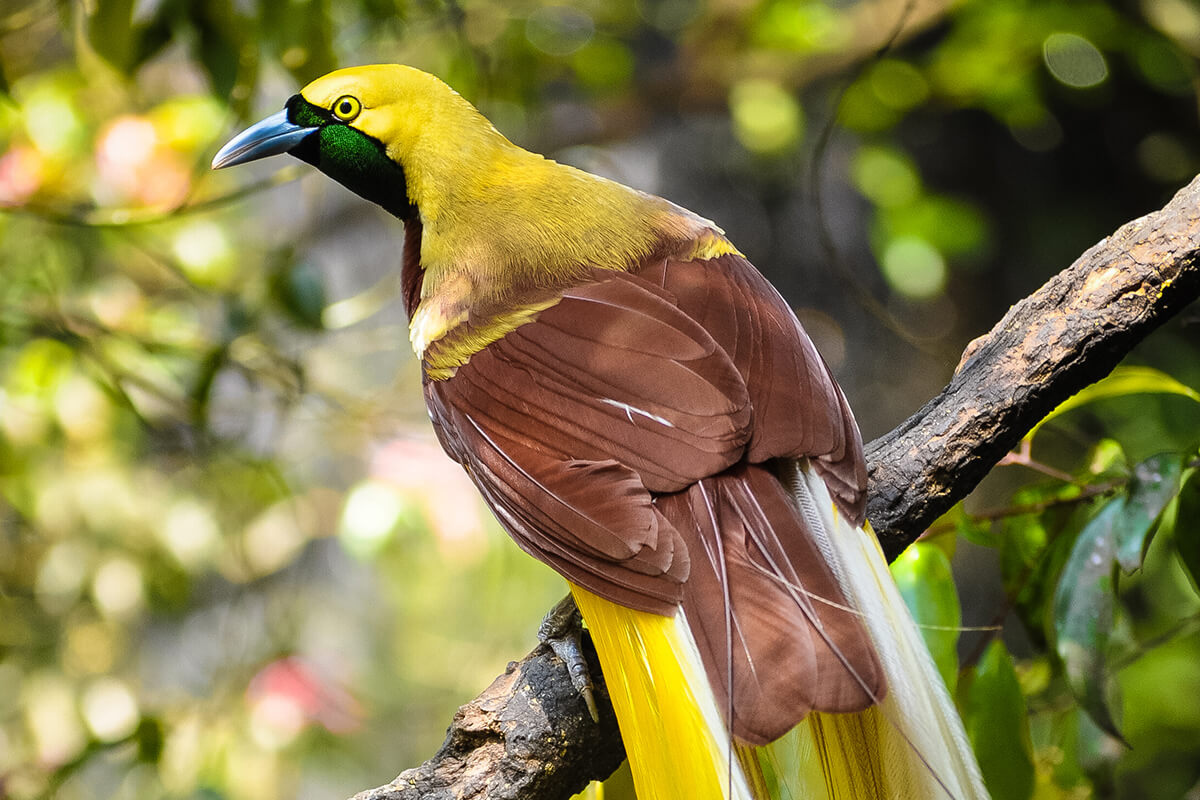 Image source: Shutterstock

The most well-known is the lesser bird-of-paradise with its distinct flowing yellow and white plumes. In Indonesia they are known as "cenderawasih". Others, like the 12-wired bird-of-paradise are no less amazing for their transcendent colors and long curled wires stretching out from their tail.
The male birds have resplendent plumage which has no other biological function except to attract the females in courtship, according to famed David Attenborough. The females, on the other hand, are brown and rather drably colored.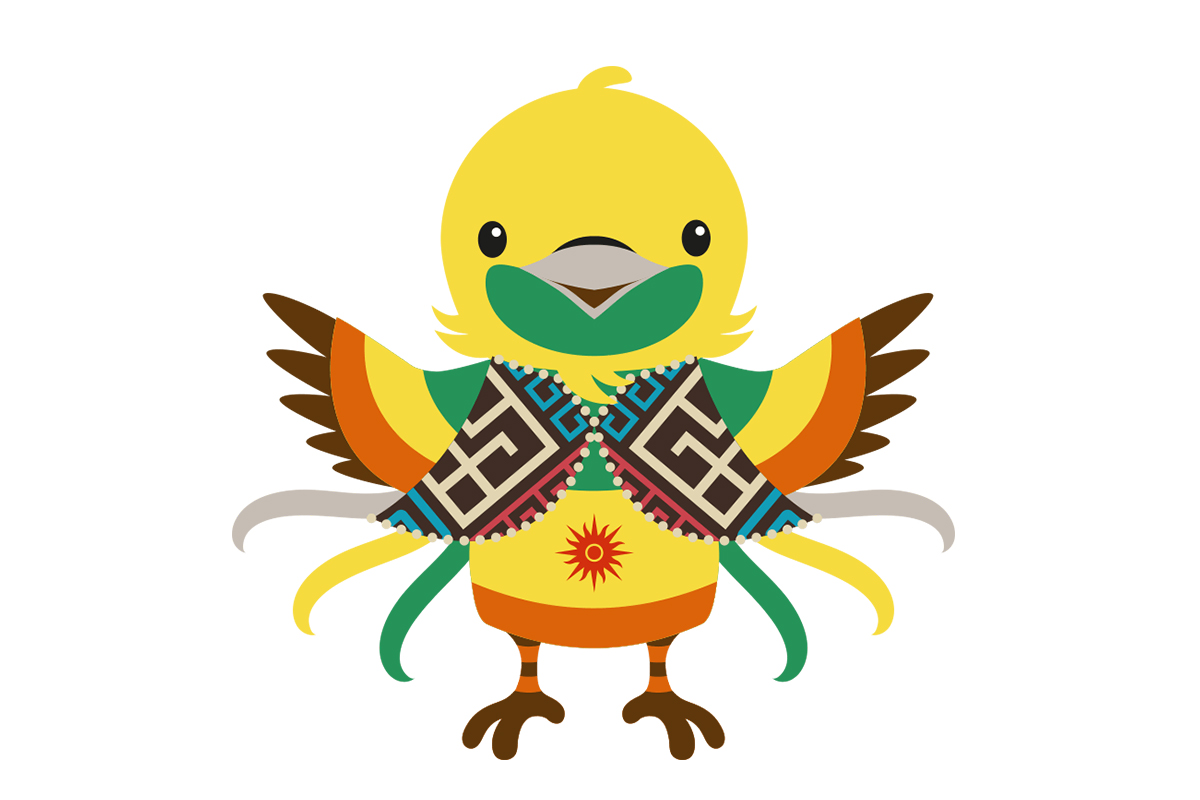 Image source: www.asiangames2018.id
To protect their habitat, a project is underway to have villagers near Sorong and Raja Ampat to build eco-villages, so that villagers will protect the birds and earn a living from tourism rather than poach these precious birds for sale.
The Bawean Deer
The Bawean hog deer (Axis Kuhli) is among the rarest in the world. This species is highly threatened and are found only on the island of Bawean, north of the town of Gresik in East Java.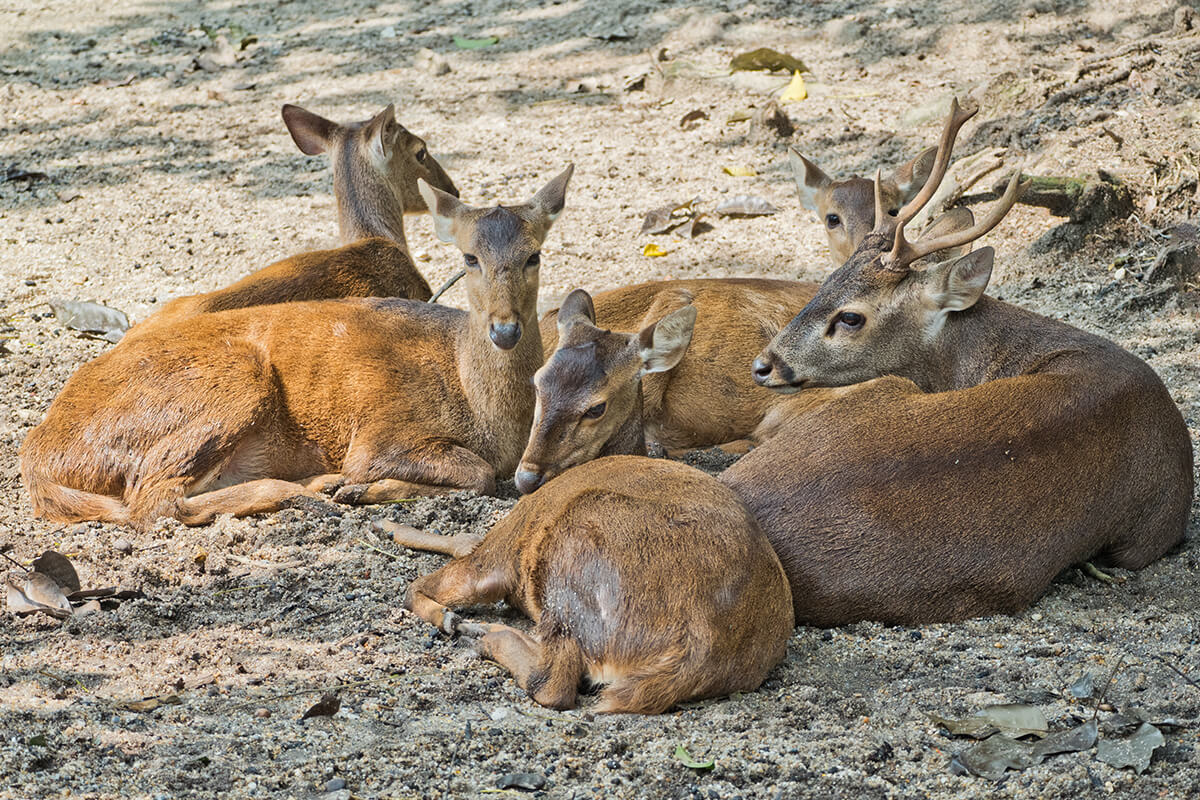 Image source: Shutterstock
The Bawean deer is brown, and stands at 70 cm at the shoulders, it has a white throat and is distinguised by a dark stripe down the middle of its back, and has a bushy tail.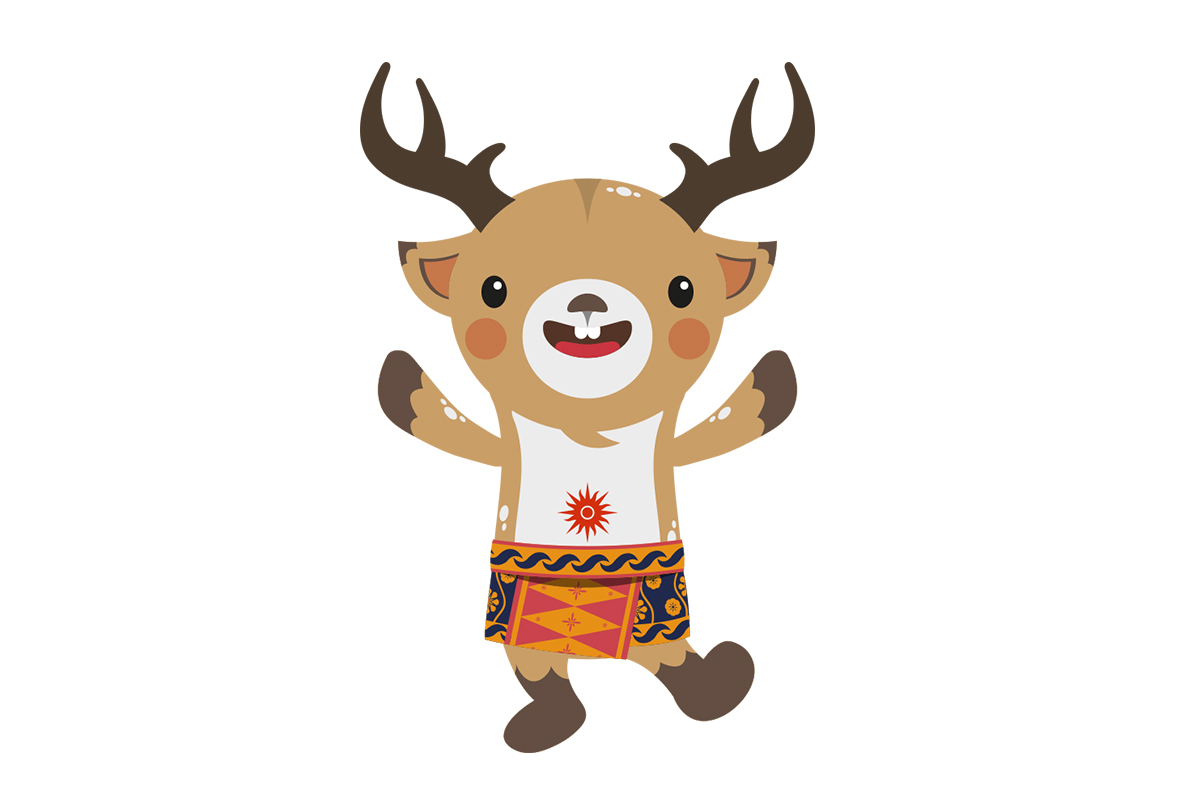 Image source: www.asiangames2018.id
They live in dense undergrowth and forests, roaming in groups of 4 or 5. These animals eat grass, herbs and cassave leaves.
Today there are only around 200-400 left in the world.

The one-horned Javan Rhino
The Java rhino (rhinoceros sondaicus) is the smallest among the rhino species, but even so, the adults still weigh a hefty 900 kg to 2,300 kg, and are the largest animals on the island of Java. There are only an estimated 60-68 alive worldwide, and these are today found only in the Ujung Kulon National Park, which has remained their sole sanctuary since 1931. Therefore these are critically endangered wildlife which need to be protected. They were once sought for their horns and for trophy hunting.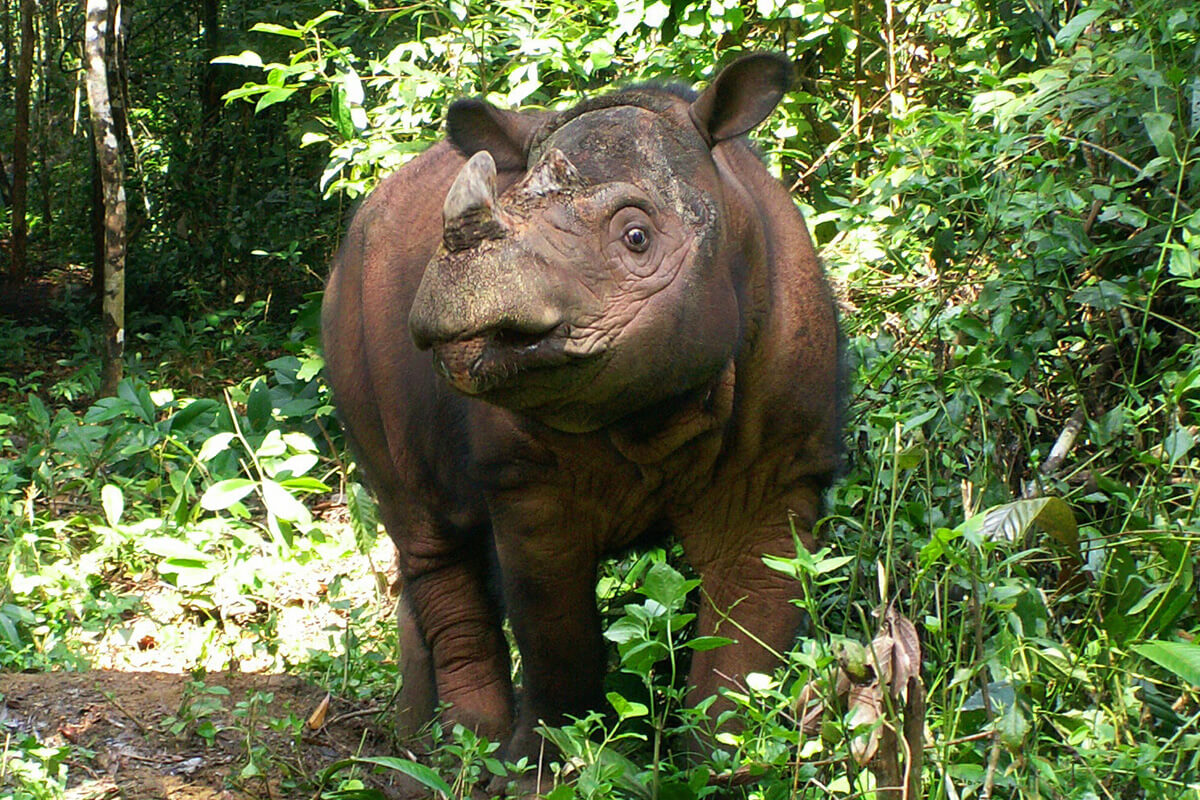 Image by: literasiekspresi.blogspot.com
The Java rhinos are very shy and are very difficult to detect since they prefer to wander deep in the jungle and come out at night only. Researchers are able to track them only through hidden cameras. A few years ago cameras captured images of three young rhinos, giving hope for their continued existence at Ujung Kulon.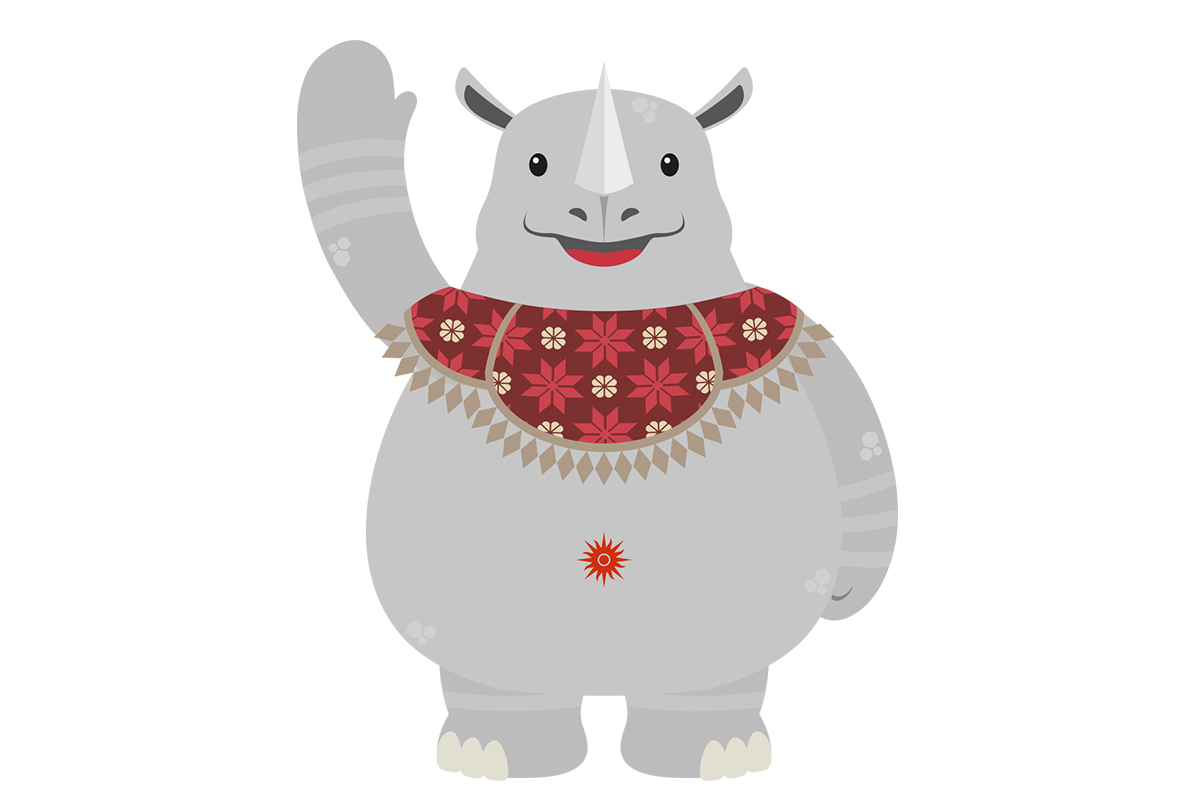 Image source: www.asiangames2018.id
The Javan rhinos are 3m to 3,2m in length and are only 1.4m-1.7 m high. Their sole horn is short at 25cm. Only the males have horns. They do love to wade through the mud and eat only plants, fruits and foliage.
Photo source of header banner: Shutterstock