Traveling to new destination would not be complete without trying the local mode of transportation.  Explore the country by trying the unique mode of transports for land, water, and air. So, prepare yourself to experience  some interesting modes of transport that people use to get around in Indonesia!
Unique water transportations
Rakit is a basic raft and can be found as a mode of transport used in rivers. They are usually made of composition of bamboo stems or barrels tied together with no engines. You can still find these rafts maneuvered manually by using a rope for guidelines to travel on the water. In Bintan, you can find rafts transporting people while having some lunch at one of the Kelongs.




Rakit, Image by Shutterstock


2. Sampan looks like a small boat and are also still used in certain times for travelling short distances. Sampan are also known in some area as perahu, operated by as set of rows and without engines. You may rent some of these to tour the serene lake near Ulun Danu Beratan Temple in Bali.



Sampan, Image by Shutterstock

3. Klotok is a small boat that uses diesel engine and it comes in various size, ranging from a simple small boat without roofing to a larger boat that can accommodates more than a dozen people. Klotok can be found in Kalimantan island, where you can experience riding it on a journey along the Sekonyer river.




Klotok boat in Kalimantan, Image by Shutterstock

4. Jukung can be found in Kalimantan and in Bali. According to the shapes and production process there are 3 types of Kalimantan's Jukung : Jukung Sudur, Jukung Patai and Jukung Batambit. You can find the festive panorama of these Jukung in the floating market of Lok Baintan, South Kalimantan. Balinese Jukung are slightly different in their shape, because they are build with outriggers attached on both sides of the hull and equipped with triangular sail. You can experience a Jukung dive trips around Amed in the north-eastern side of Bali.


Jukung, Image by Shutterstock
Unique land transportations
Unique Air Transportation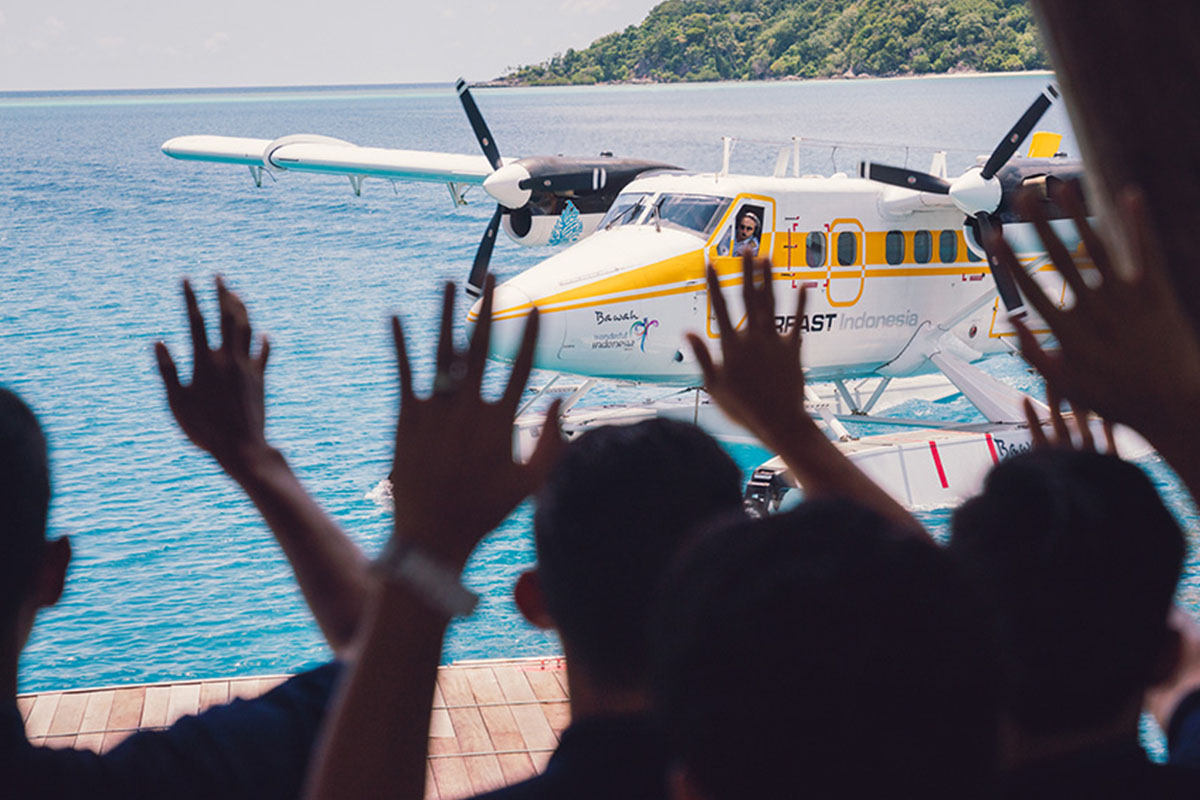 Seaplane in Bawah Island, Image by www.bawahreserve.com

Another comfortable and stylish way to enjoy Indonesia is to fly in a sea plane. You can ride one of these when you book a stay in the exotic Bawah Island.

Helicopter ride is becoming  more common to use in order to beat the traffic, especially during busy hour in the capital. You may rent them with private charter companies that you trust. There are also helicopter services in Bali that can help you to get a solid yes to your own private helicopter wedding proposal!




Helicopter, Image by Shutterstock

Come plan your next visit to Wonderful Indonesia and try as many unique transportation that you can find at your next dream destination! See you here!
Image of Header Banner by www.kabartravel.com