Through its magnetic beauty, the island of Bali never ceases to attract tourists from across the globe, leaving everlasting memories. Radiating a distinctly romantic aura, Bali was crowned the Best Honeymoon Destination of 2016 by Youku Travel and Sina Travel, the double platform big data websites of China.
The award reconfirms the island of Bali as the ultimate honeymoon destination of the world, since the island was also named among the Top 5 Best Honeymoon Destinations 2016 by the international travel magazine, Travel & Leisure. "Kicking off the year 2017, Bali has yet again gained another recognition as The Best Honeymoon Destination 2016. We are very proud of this achievement, which definitely boosts our confidence", said Deputy for International Marketing Development of the Ministry of Tourism, I Gede Pitana on Tuesday, 24th January 2017.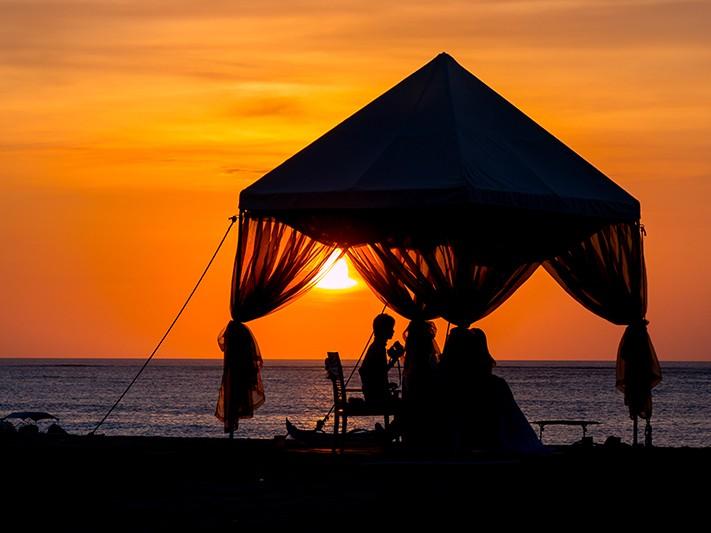 Through its enchanting natural landscape, enduring arts, culture and traditions, as well as its unbelievably romantic atmosphere, Bali indeed has everything it takes to make that perfect honeymoon experience, said Vinsensius Jemadu, Assistant Deputy for Asia-Pacific market Development of the Ministry.
This can be seen from the growing number of international celebrities who spent their honeymoon in Bali. In 2005, pop star Christina Aguilera and Jordan Bratman spent their honeymoon at a private villa facing a breathtaking sunset at Jimbaran Beach. While Ashton Kutcher and Mila Kunis also chose Bali for their honeymoon in August 2012. After exchanging wedding vows in August 2014, Ashlee Simpson and Evan Rose also flew straight to Bali to enjoy their intimate honeymoon. In March last year, it was Taiwan's top artists Nicky Wu and Cecilia Liu who selected the romantic ambience of Bali for their honeymoon.
The most recent celebrity couple who decided to choose Bali for their honeymoon destination was Korean Superstar Rain and Kim Tae Hee. The couple is currently enjoying their honeymoon here since Sunday, 22nd January 2017. But not only celebrities chose to spend their honeymoon in Bali. Throughout the year 2016 at least 100 couples from China also staged their romantic wedding on the island.
It is no wonder that many lovers fall in love with the charm of the island. A striking sunrise, the intimate sunset, serene white beaches, lush green rice paddies, tranquil traditional villages, artistic temples, welcoming people and photogenic panorama, the island has it all and a whole lot more. For those who enjoy a romantic stroll for two on the beach there are Kuta Beach, Sanur Beach, Nusa Dua Beach, Jimbaran Beach, Pandawa Beach, and more. While those who long for a serene walk through Balinese traditional villages or wish to enjoy Elizabeth Gilbert's "Eat, Pray, Love" experience, then Ubud is the place to be.
Bali also boasts first class service in various luxurious resorts, hotels, and villas. With world class facilities and services, the cost of a honeymoon in Bali is relatively lower compared to other destinations in the world. The island also never runs short of entertainment or attractions that are best enjoyed by couples. "Access to the island is also easy and does not take much time," explained Vinsensius Jemadu.
A flight from the capital city of Jakarta to Bali only takes one and a half hours. From Singapore it is only a 2.5 hours flight and from Perth Australia about 3 hours. Meanwhile from Hong Kong, your flight is about 4.5 hours, and from Sydney or Melbourne (Australia) about 5.5 to 6 hours. Starting 2016, Garuda Indonesia has also operates direct flights from London to Jakarta , connecting directly to Bali.