Famous for its pristine beach lines and exotic islets, Lombok Island is undoubtedly the most famous tourist destination in the West Nusa Tenggara province of Indonesia. Its luxuriant nature cradles many scenic panorama that you'll never forget.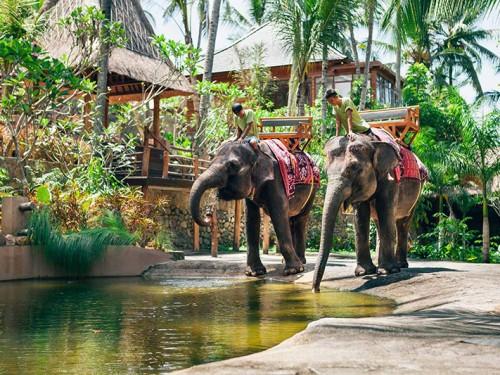 Photo source : www.lombokelephantpark.com
In the spirit of celebrating the integrated relations between man-animal-nature, today the newly established Lombok Elephant Park has become the playground for animal lovers. As the name suggests, the park emphasizes on delivering experiences to anyone to enjoy around elephants, as well as being an animal sanctuary and conservation site.  Several programs are carried out daily to spur curiosity about these gentle giants.
"Elephant Meet and Greet" program gives you a chance every day to get up close and personal with these mighty mammals and amicably interact with them. Four elephants have been brought in from the Way Kambas reserve in Lampung, at the southern tip of Sumatra.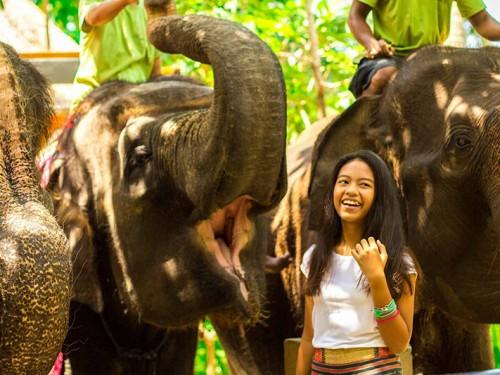 Photo source : www.lombokelephantpark.com

You can also follow their daily routine being fed and bathed, or you can watch an educational show to learn about their natural habits. Did you know that elephants also use their feet to listen and feel, aside from through their large ears? They pick up subsonic rumblings made by other elephants and feel the vibrations on the ground.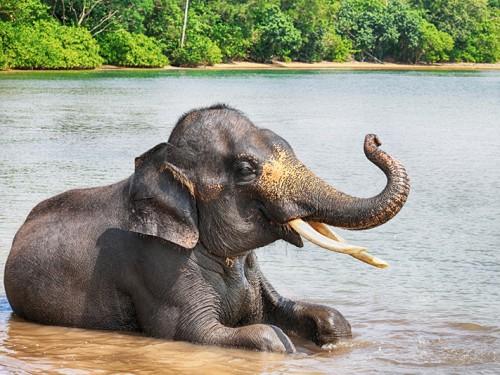 Image source : Shutterstock
The park also offers you a Safari Ride (with additional cost) where you can have a 15-minute stroll with the largest land animals in the world. Tell your children not to worry about falling off, because elephants are the only mammals that can't jump.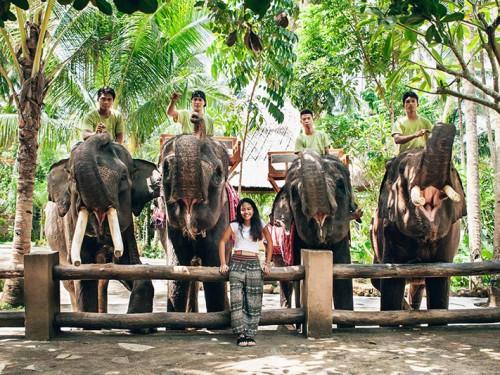 Photo source : www.lombokelephantpark.com
The Lombok Elephant Park has nurtured other fascinating animals of the tropics. There are about 10 more species showing off their characters other than the trunked ones. You will get a chance to take great pictures with some of the loveliest birds with their colorful feathers. Find Bagong the Black Palm Cockatoo, Yacob the Cockatoo, Lauren the Eclectus Parrot and many more of their feathered friends. The siamang monkey is probably the one who will make your head turn, as he dangles from tree to tree while making loud calls or screeches.
The Lombok Elephant Park is aiming to become a new fun leisure spot to head to when you visit West Nusa Tenggara — along with Sembalun, Mandalika, and the three Gilis:  Gili Trawangan, Gili Meno and Gili Air.
How to get there
The park is located around 25 km from Mataram City. The route to drive from the provincial capital of Mataram is – Gunungsari – Pusuk – Pemenang – Sigar Penjalin – Lombok Elephant Park.  Or another route is from Mataram – Senggigi – Pemenang – Sigar Penjalin – Lombok Elephant Park.
Public transportation is available, but you will need to walk up to the park around 2.5 km after you hop off.
The official address is:  Jl. Tanjung Sire, Sigar Penjalin, North Lombok, and for more information you may check out their website on http://lombokelephantpark.com.
Photo source of header banner : www.lombokelephantpark.com
Related articles :
1. Lombok's Wonderfully Refreshing Waterfalls
2. 6 Best Places to Practice Yoga in Lombok
3. Follow the Action on Gili Trawangan
4. Homestays on Fascinating Flores, Sumba and Timor Island