As Indonesia's Capital City , JAKARTA is not only the center of government, business, and entertainment, but  it is also a melting pot where different peoples, cultures, and –not the least important- sense of flavors converge from all across the archipelago and beyond. When it comes to cuisine, these different influences have fused remarkably well with Jakarta's own distinct flavors, creating a scrumptiously unique taste of the city that will leave you craving for more.
A complete culinary experience in Jakarta also means an adventure across the many different parts of the city. For, these culinary treasures are found in all parts of the city, from food carts, street side tents, laid back cafes, to fine dining restaurants.

So get ready to find the many scrumptious culinary experiences that await in Jakarta. Check these out:
1 | Laksa Betawi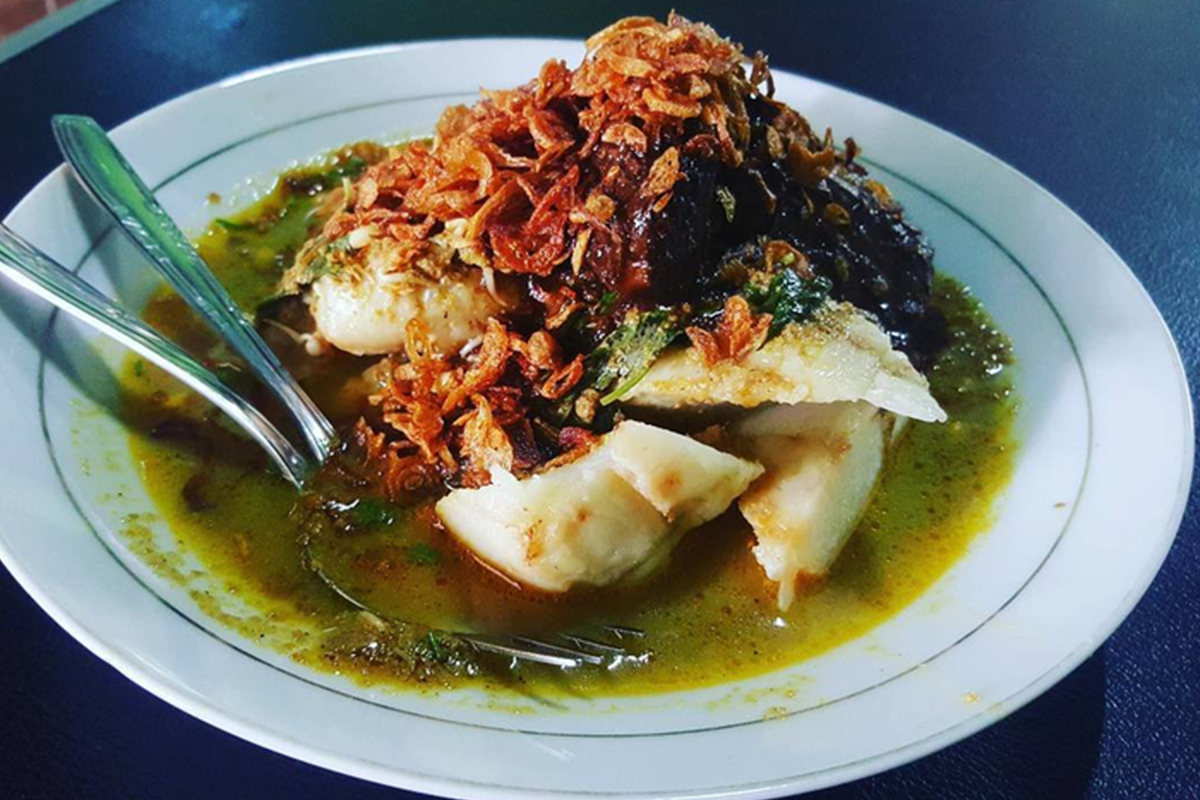 Image by https://www.qraved.com
The spicy noodle soup Laksa is a popular Peranakan (Chinese-Malay mix) cuisine that is also found in Malaysia, Singapore and Southern Thailand. However, Jakarta with its Laksa Betawi has its own distinct flavor since it uses ground rebon or ebi (dried small shrimps) to give its unique taste.
The dish contains ketupat(compressed rice cake wrapped in young coconut leaf), bihun (rice noodle), tauge (bean sprouts), kemangi (Indonesian lemon-basil leaf), and boiled egg, sprinkled with bawang goreng (fried shallot) and often topped with emping crackers.
One of the best Laksa Betawi you can find is at Laksa Betawi Assirot at JalanAssirot No.2, Kebayoran Lama, and South Jakarta.
2 | Lontong Sayur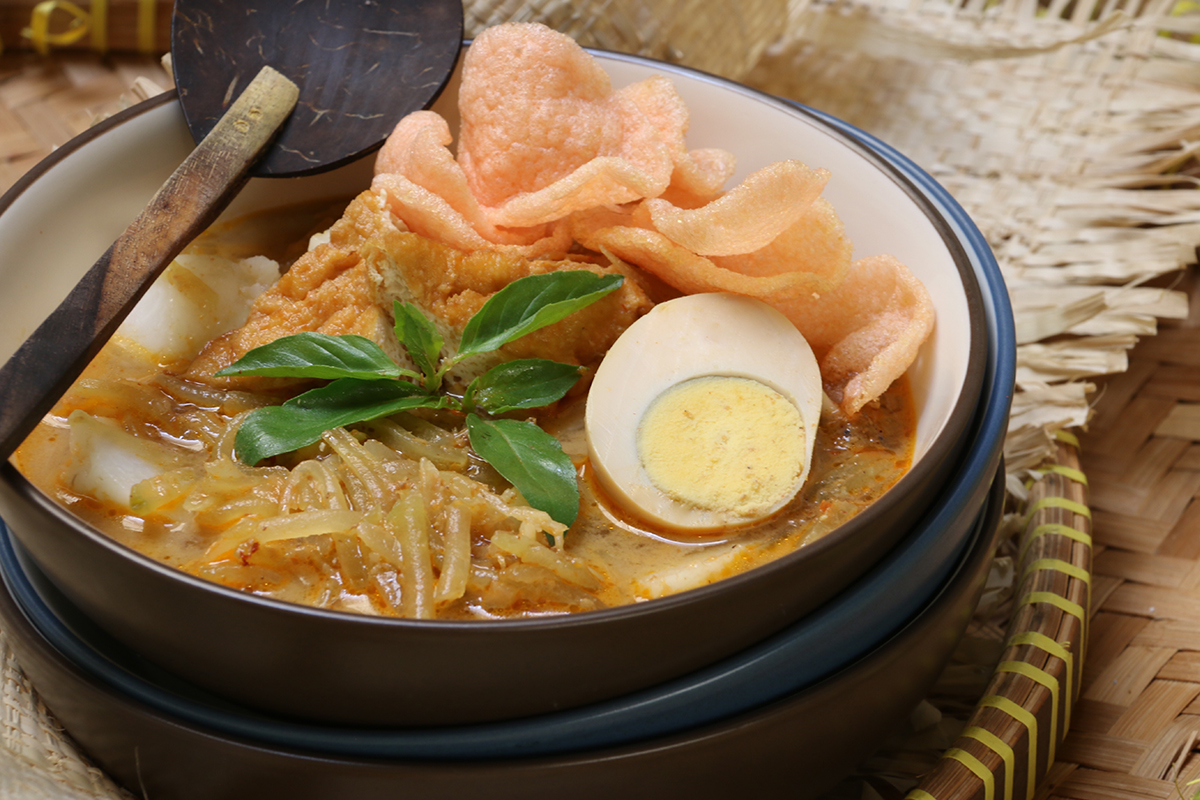 Image by Shutterstock
One of the most popular breakfast menus of the Jakartans, the dish consists of pieces of Lontong (rice cake wrapped in banana leaf) served in coconut milk soup with shredded chayote, tempeh, tofu, hard-boiled egg, sambal (chilli sauce) and kerupuk (crackers).
Initially, the dish was served only at religious celebrations such as during Eid Al Fitr and Eid al Adha celebrations, however, nowadays it can also be ordered in numerous restaurants, cafes and warungs (food stalls) across the city.

Among the many available, try Lontong Sayur at Café Betawi at Plaza Indonesia, Jl.MH Thamrin, Central Jakarta; Ketupat Sayur Mandala at Jalan Mampang Raya; and H.Mahmud Ketupat Sayur Restaurant at Jalan Raya Kebayoran Lama.
3 | Soto Betawi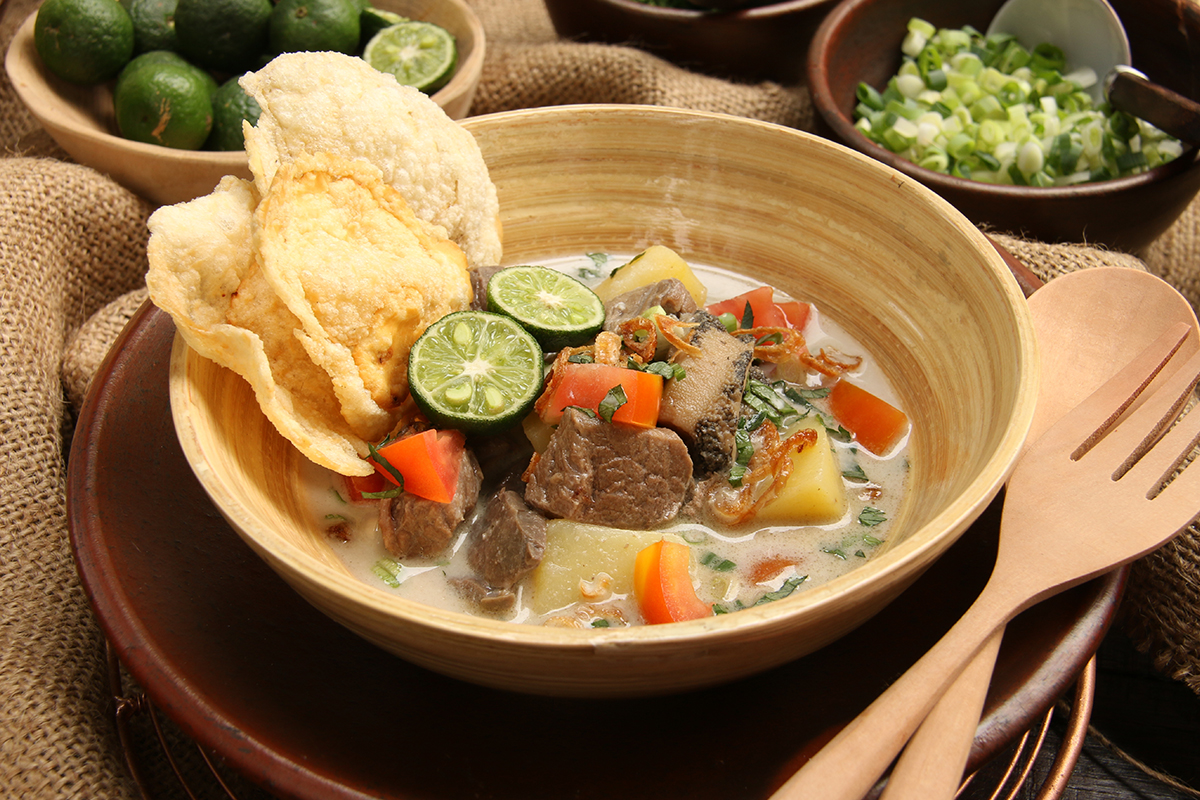 Image by Shutterstock
Probably the most distinct traditional soup of Indonesia, Soto is an iconic dish that you can find almost everywhere in the country in a wide range of variations. The Betawi people of Jakarta also have their own distinct Soto which is simply called Soto Betawi.
Soto Betawi is made up of beef and beef offal/innards (jeroan), fried potatoes and tomatoes, garnished with fried shallots and kerupuk. The broth is made of coconut milk and cow milk to enhance its flavor.
This dish is typically eaten with rice, perkedel(fried mashed potato), sweet soy sauce, sambal and lime juice.

Soto Betawi can be found at Soto Betawi Sambung Nikmat, Jalan Ciputat Raya No.2, Pondok Indah, South Jakarta; Soto Betawi Afung, Gang Gloria, Glolok, West Jakarta; Soto Betawi H.Ma'ruf, Jalan Cikini Raya No.73, Taman Isamil Marzuki, Central Jakarta; and more.
4 | Kerak Telor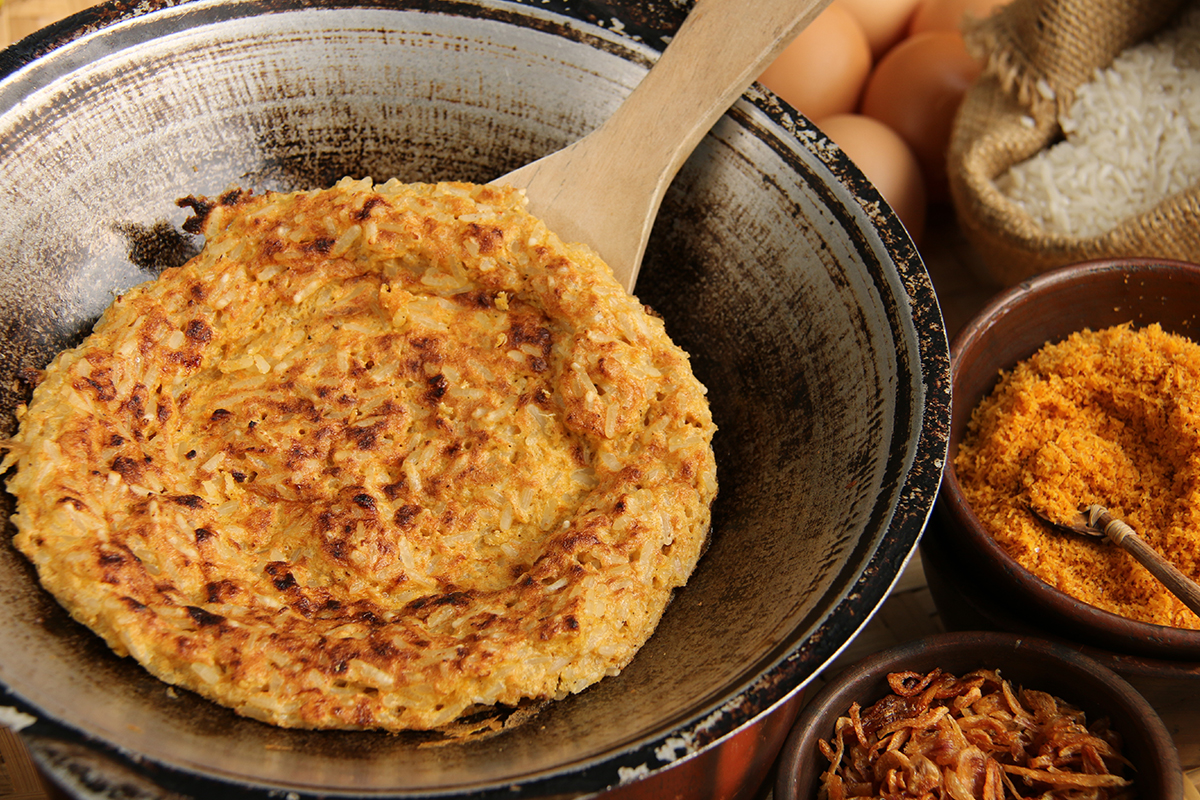 Image by Shutterstock
The undisputed culinary icon of the capital city, Kerak Telor is probably the most favorite snack for Jakartans. Simply translated as Egg Crust, Kerak Telor is traditional Betawi's omelette made from glutinous rice cooked with egg and served with serundeng (fried shredded coconut), fried shallots and dried shrimps as topping.
Aside from its mouthwatering flavor, the cooking process is also fun to watch. Each portion is made on order. The kerak telor vendor puts a small amount of ketan (English: sticky rice) on a small wok pan and heats it on the charcoal fire.
He adds an egg (chicken or duck), and some spices then mixes it. The dish is then fried on a wok without cooking oil so the omelette will stick onto the wok so as to enable it to be laid upside down straight against the charcoal fire until it is done.
The spicy serundeng (sweet grated coconut granule) with ebi (dried shredded salted shrimps) and fried shallots are then sprinkled on the omelette.
Kerak Telor can be found in almost every part of the city and it's the most popular snack at the annual Jakarta Fair.
You can also taste Kerak telor at Bang Sape'I Kerak Telor at Jalan Kebagusan II No.97, Pasar Minggu, South Jakarta; Kerak Telor Lenggang Jakarta at Jalan Medan Merdeka Selatan, Central Jakarta; and Kerak Telor Bang Aris at Pasaraya Grande Dapuraya, South Jakarta.
5 | Nasi Uduk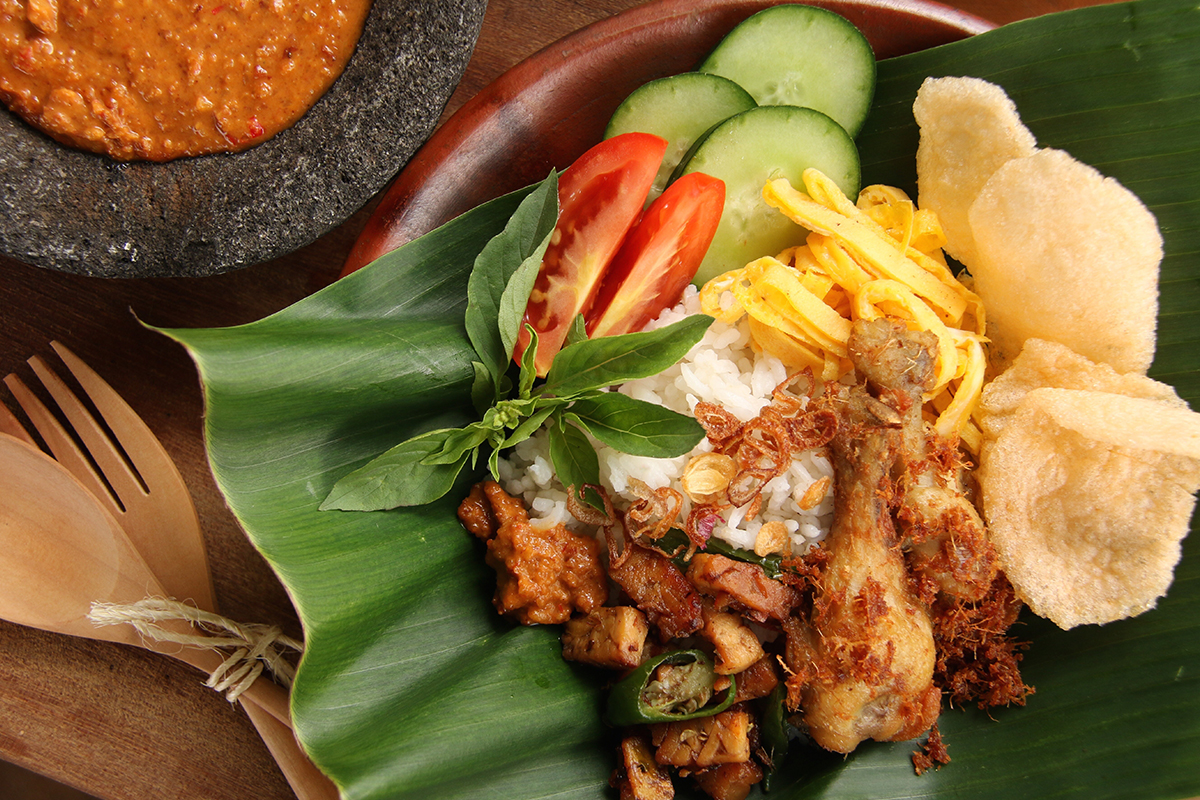 Image by Shutterstock
Another culinary icon of Jakarta that has spread across the country and even beyond, Nasi Uduk is a Betawi style steamed rice, cooked in coconut milk dish. Nasi uduk literally means "mixed rice" in Betawi dialect, related with Indonesian term aduk ("mix").
The name describes the dish preparation itself which requires more ingredients (coconut milk, clove, lemongrass, cinnamon, and pandan leaf) than cooking common steamed rice served with additional side dishes.
The common side dishes for Nasi Uduk usually consist of tempe orek (tempeh stir fried with sweet soy sauce), teri kacang (anchovy with peanuts), and shredded omelette, with sambal kacang (peanut chili sauce).
Nasi Uduk is usually also accompanied with fried chicken, Jeroan(offal, including tripe, cow lungs, liver and gizzards), and Empal (Fried Beef).

Among the many available, try Nasi Uduk Gang Buni at Jalan ManggaBesar 1.No.42C; Sederhana H.Saman Fried Chicken and Nasi Uduk Restaurant at Jalan Joglo Raya, Kembangan, West Jakarta; and Nasi Uduk Kebon Kacang Ibu Ida, at Jalan Bintaro Utama No.8, Bintaro.

6 | Café Batavia at the Old Batavia Complex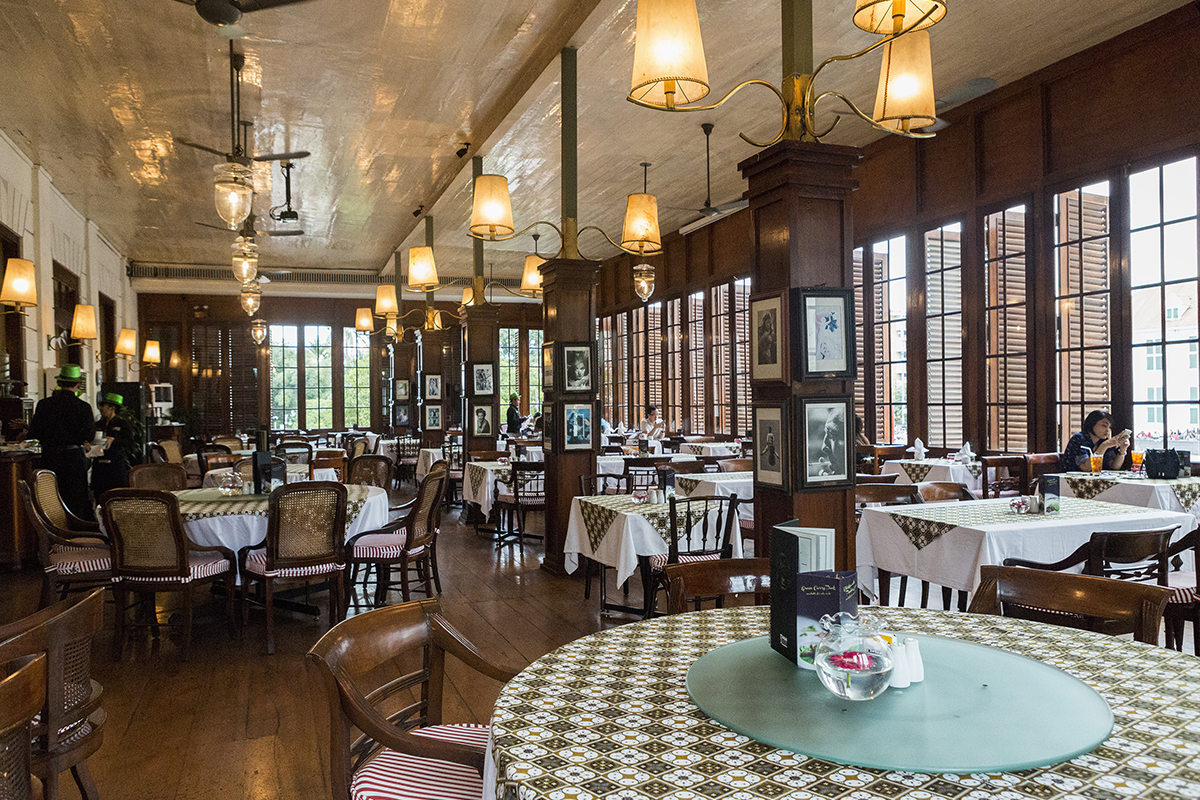 Image by Shutterstock
Offering more than just exquisite taste of Indonesian, Asian, and European Cuisines, Café Batavia offers an authentic classic atmosphere as one of the colonial landmarks that face the Fatahillah square, the centerpiece of the Old Batavia Complex.
Having undergone massive renovations at the start of the '90s, Cafe Batavia has now returned to its former grandeur and elegance. The ground floor features a lounge with sofas, a bar and a stage for live music entertainment.
Here, people can sit at the so-called Winston Churchill bar — Cafe Batavia was named "The World's Best Bar" by Newsweek International in 1996 after all — or on comfortable sofas.

More on Café Batavia log on to: http://www.cafebatavia.com/
7 | Tugu Kunstkring Paleis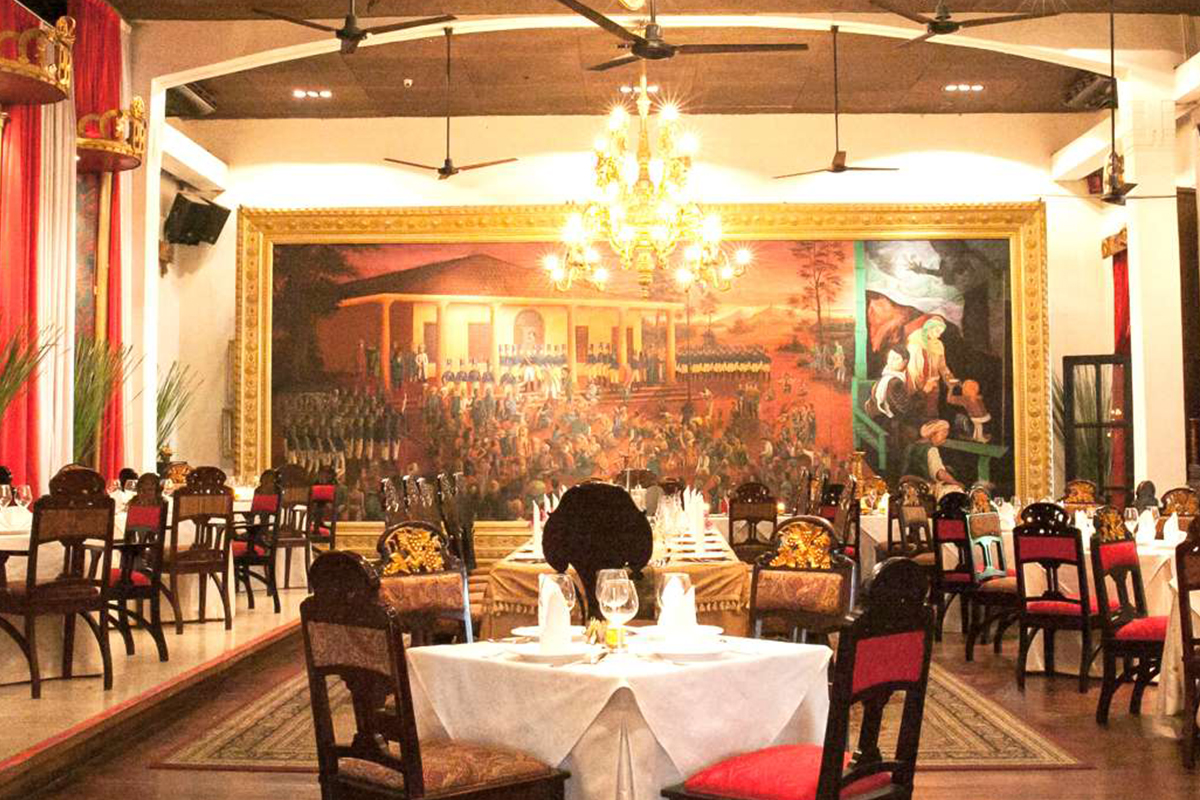 Image by https://www.tuguhotels.com
Reopened in April 2013, this legendary building of the Bataviasche Kunstkring has been brought to life by the Tugu Hotels & Restaurants Group. A beautiful palatial architectural structure, majestic interior and a vast collection of beautiful artworks, together they create an atmosphere that represents Tugu's mission: the art, soul and romance of Indonesia.
It is a proud center of art exhibitions, as well as other events for those who have high appreciation for arts and history. The building also comprises a large space for events with a capacity for up to 1,000 persons, a gallery of beautiful artworks, jewelry, lifestyle products, designer items, a fine restaurant, a grand elegant lounge and a lovely tea house.
They also offer a one of a kind experience for traditional fine dining of the elegant Old Batavia era: the Betawi Rijsttafel (translated as the wellknown Rice Table).The composition of the menu consists of dozens of flavors and presentations mainly from the island of Java.
Each dish contributes to the Grand Rijsttafel each served by one waiter, adding up to an impressive total of waiters uniformed in colonial style clothing, who  are led by the maître d'hôtel, all lining up and serving their part extravagantly for every single guest.

More on Tugu Kunstkring Paleis log on to: https://www.tuguhotels.com/restaurants/jakarta/kunstkring/
8 | Ragusa Italian Ice Cream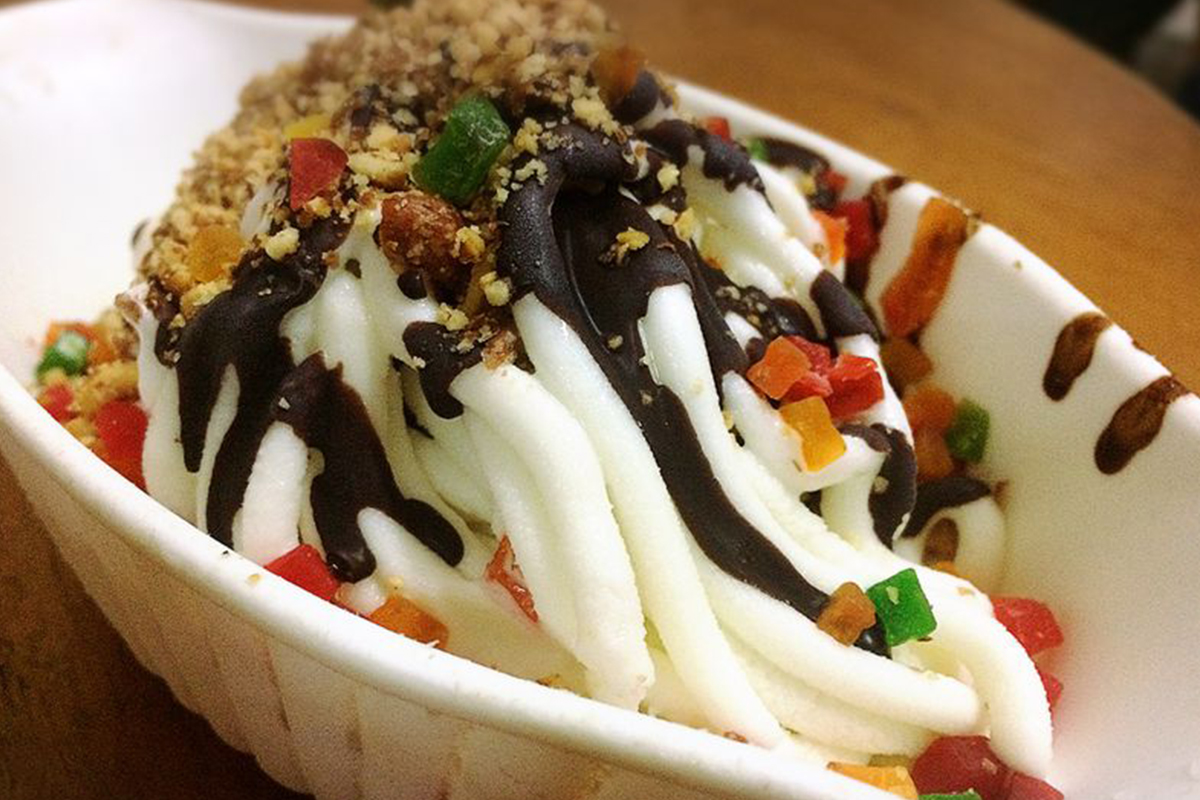 Image by  https://www.foody.id
Open since the Dutch colonial era in 1932, Ragusa Es Italia (Italian Ice cream) is one of the oldest Ice Cream Parlors in Jakarta. Maintaining its original flavors for over 60 years, Ragusa Es Italia serves classic portions of vanilla, chocolate and strawberry ice, but they are most famous for their nougat and spaghetti ice cream.
The "spaghetti" is made up entirely of ice cream, topped off with dark chocolate and dried fruit bits. Here, the ice cream is smooth and creamy, but also very light, thus those with sensitive throats do really love it.

Ragusa Es Italia is located at Jalan Veteran I No 10, Central Jakarta
9 | The Street Food Center of Pecenongan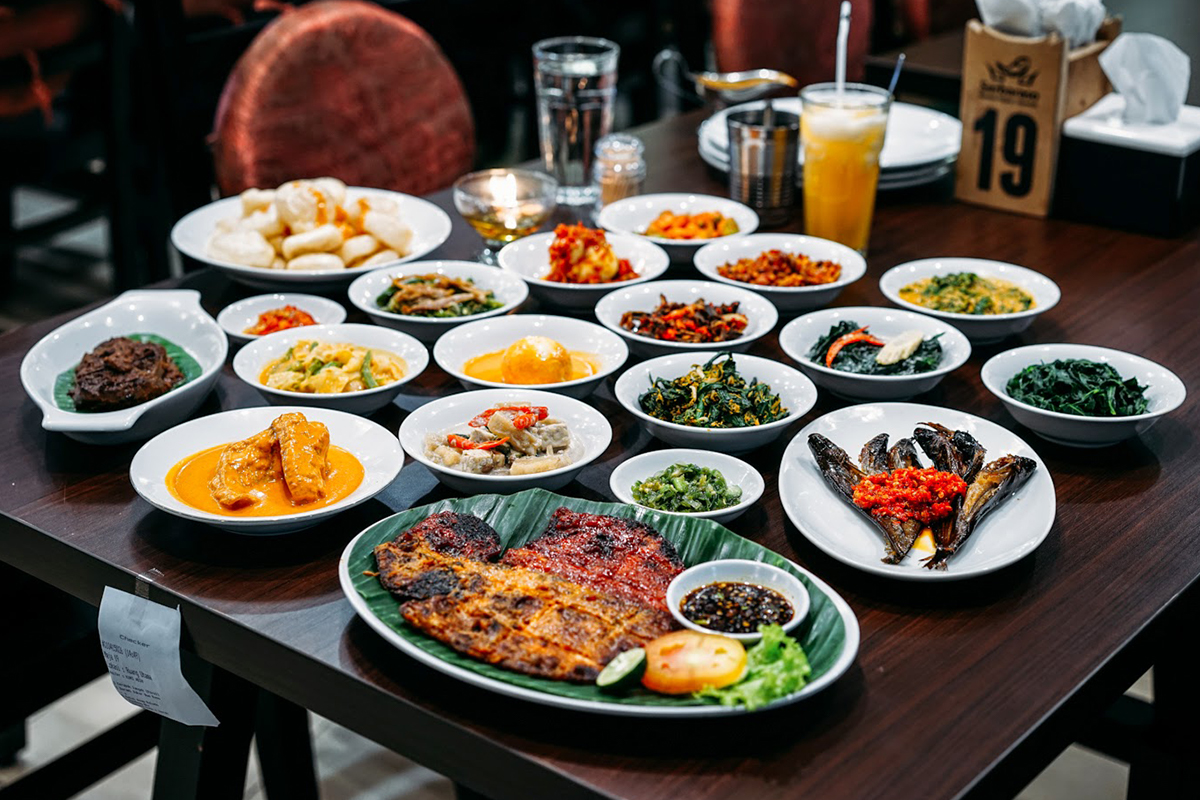 Image by  http://dining.grivy.com

If you wish to explore the street food scene of Jakarta, then Pecenongan is the best place to be. It looks just like any other busy street in Jakarta during daytime, but just as the dusk starts to fall and businesses close for the day, you will notice mobile carts with all their attributes (stoves, pans, tables and chairs, etc) start to settle themselves at each designated spot.
Here, Sop Kaki & Sate Kambing Krekot (goat leg soup and goat satay) are also famous with its Soto Betawi. The savoury coconut-milk broth will make you want for more! There is also Martabak 65A or more familiarly known as legendary Martabak Pecenongan.
Many consider Martabak 65 as the pioneer of modern flavors of martabak (a type of pancake) that uses Ovomaltine and Nutella for chocolate spreads.

10 | Eddy Grilled Toast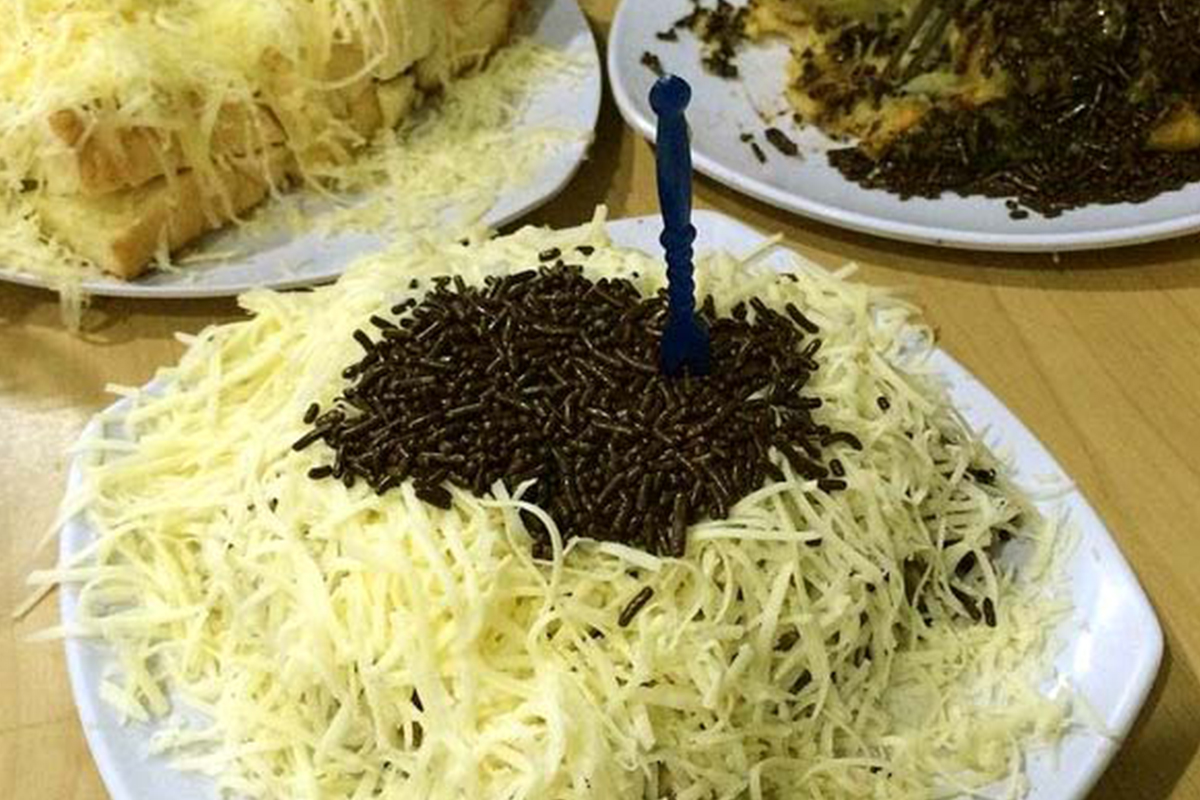 Image by  https://www.dagelan.co

For a quick, relatively cheap, latenight bite, the best option will be Roti Bakar Eddy or Eddy's Grilled Toasts. Serving around 500 grilled toasts a night, Roti Bakar Eddy has become a favorite among street food lovers. Here you choose from a wide range of flavors from cheese, chocolate, peanut butter, to sweetened condensed milk, and more. Aside from grilled toasts, the place also offers Chicken Porridge, Fried rice, Lamb Satay, and Noodles.
Image Source of Header Banner: https://inisayadanhidupsaya.wordpress.com