Located between the islands of Sumbawa and Flores in the East Nusatenggara province,  sits the vast and impressive Komodo National Park.. The Komodo National Park encompasses a total of 29 volcanic islands (including the 3 major islands Rinca, Padar and Komodo) and is home to approximately 2,500 Komodo Dragons and other terrestrial fauna such as various species of reptiles, birds, and mammals. The park's terrain is uniquely diverse, consisting of a mountainous hillside, tropical rain forests, grass-woodland savannah, and pristine white sandy beaches that harbor rich marine biodiversity. The marine environment in the Komodo National Park is one of the world's richest in flora and fauna and is still relatively undiscovered.  The 2,000 km2 park (which includes protected land and water), is recognized as a global conservation priority area and has an array of natural attractions. 
For the first time travelers to this wonderful piece of Indonesia, here are 10 tips to help you explore this great National Park.
 
1 | The Komodo Dragons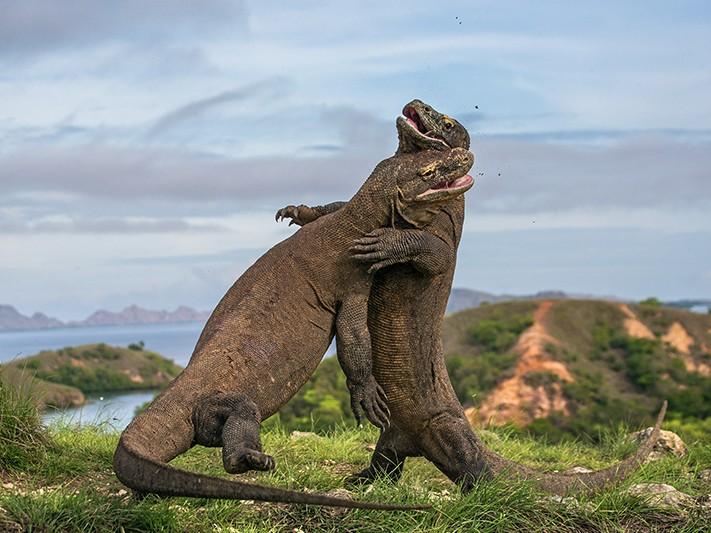 Approximately reaching 3 meters in length and weighing over 70kg, the Komodo Dragon (or otherwise known as Varanus Komodoensis), is the world's largest lizard and reptile. The dragons are identified by their massive size, flat heads, bowed legs, long thick tails, and fork-shaped tongues. Komodos can run and swim up to 20kph and have an excellent vision where it can see objects from 300m away. A fierce predator, these reptiles are carnivores and can eat 80% of their weight in one feeding. The Komodo can consume very large prey such as water buffalo, deer, carrion, pigs and even humans. It has a unique way of killing by biting its prey - especially when it is a large water buffalo, - surrounding it in a group then wait patiently until the poison in its saliva has slowly killed its victim.  After which it completely shreds apart and devoured with bones and all.  If the prey escapes, it will usually die within 24 hours due to the poisoning of the blood that comes from the venomous and bacteria-ridden saliva.
Only found in the world within the Komodo National Park and the surrounding Flores island, these Jurassic and majestic creatures are the park's star attraction. Although awesome to see, visitors are urged to keep a distance and exercise caution.  Always be accompanied by a ranger and follow all the ranger's instructions when in the proximity to these dangerous lizards, although they may look pretty docile,
2 | Climate and Geography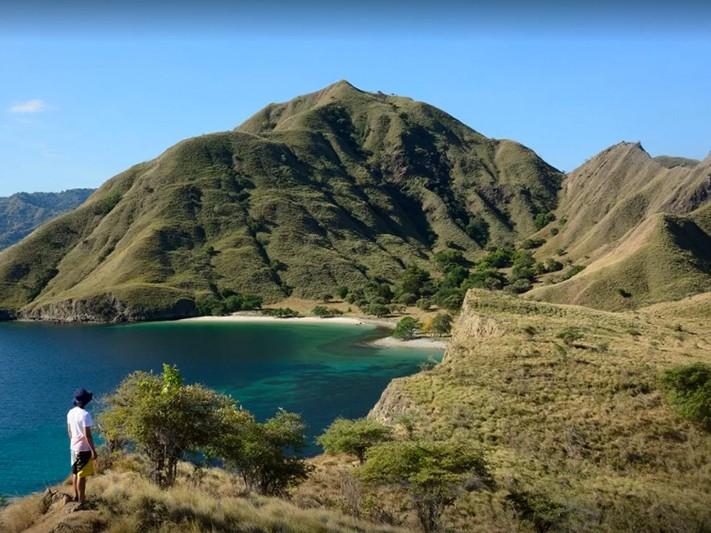 Image by Shane Dallas
The climate in the Komodo National Park is one of the driest in Indonesia. The national park experiences little to no rainfall for approximately 8 months of the year and is heavily impacted by monsoonal rains. Daily temperatures during the dry season between May to October average around 40. Due to this dry climate, the land is rough with stony hills and plant species are limited to grass, shrubs, orchids, and trees. In contrast, the marine area has a rich and colorful landscape. The national park falls within the Asia Pacific Coral Triangle and is full of a variety of seagrass beds, colorful coral reefs, and dense mangrove forests.
3 | Land and Marine Fauna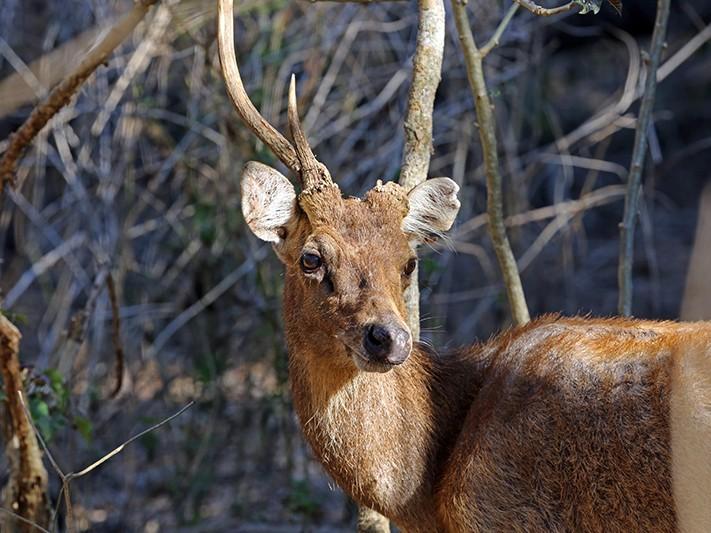 Aside from the magnificent Komodo Dragon, The Komodo National Park is the habitat of various other land and sea creatures. Visitors can witness these intriguing animals roaming freely in their natural outdoor settings.
Terrestrial fauna that can be found here includes a diversity of reptiles, mammals, and birds. This includes but isn't limited to 12 snake species, 9 lizard species, various frogs, the Timor deer (the main prey of the Komodo), horses, water buffalos, wild boars, the endemic Rinca rat, fruit bats, the orange footed scrub fowl and over 40 species of birds.
The marine fauna is astonishingly diverse and includes over 1,000 fish species, 70 types of sponges, 10 types of dolphins, 6 types of whales, dugongs, green turtles and various types of sharks, huge manta rays, stingrays, marine reptiles and crustaceans and occasionally migrating whales.
4 | Dynamic Diving Sites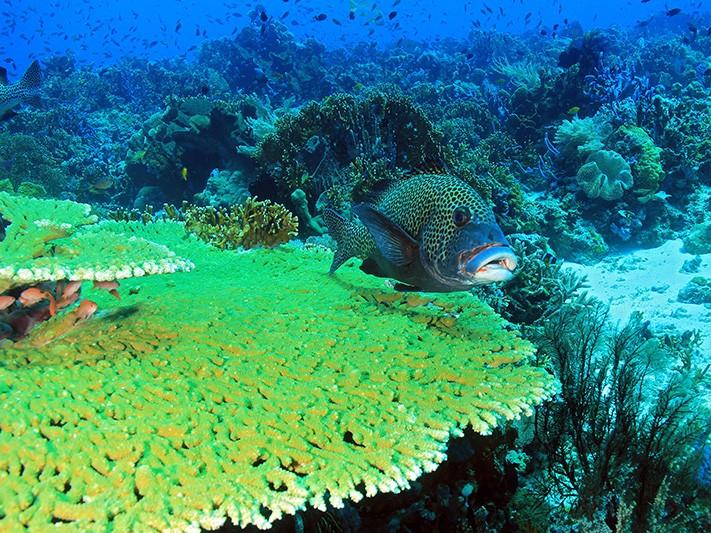 Komodo National Park conveniently sits in the heart of the Asia Pacific Coral Triangle and is home to one of the world's richest marine environments.  Divers, scientists, and photographers from around the world come to this national park to experience the astonishing biodiversity which can be found in one of the many dive sites – the larger islands of Rinca, Komodo, and Padar, together with the smaller islands that surround them, make up at least 100 world-class dive sites.
The area is famous for its fierce currents, riptides, and whirlpools which bring in rich nutrients from the depths of the Indian Ocean to create ideal conditions for thousands of species of tropical fish and corals to flourish.      
Diving sites range from challenging blue water current dives with a chance of glimpsing manta rays, sharks and dugongs, to low visibility muck dives where divers can discover rare invertebrae closer shore.
Diving in the Komodo National Park will bring you to the heart of the most dynamic marine environments in the world.
Because of the strong currents that can carry divers right into the wide-open Indian Ocean, as well as the huge sea mammals passing here, visitors are strongly advised to engage reputable and experienced diving operators and avoid those that lack basic safety measures.  
5 | Hiking up Padar Island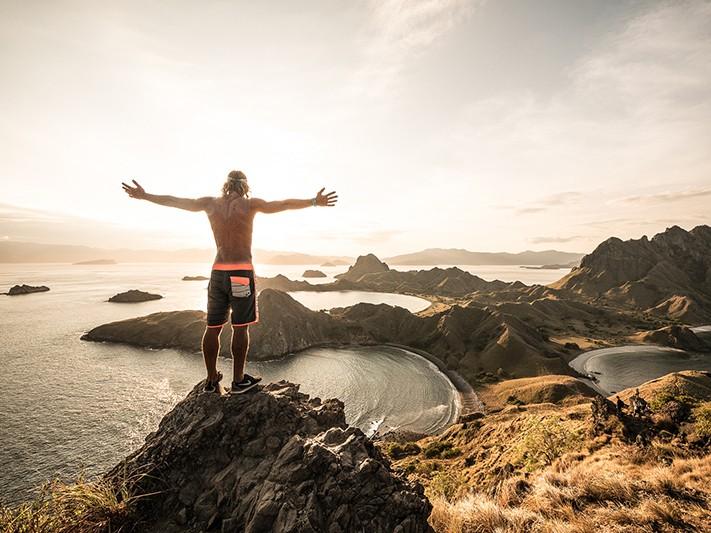 Image by Rob Mulally
The breathtakingly beautiful landscape on Padar Island is second to none. This island is the perfect place for a scenic hike and spectacular photos. As you ascend one of the many grassy hills, you will be swept away by the surrounding gorgeous green, white and blue hues. The vantage point from the tallest peak will give you a stunning view of four crescent-shaped sparkling beaches and an abundance of photos to make your family and friends green with envy. A hike up the main peak of this mountain will approximately take 2 to 3 hours. Be prepared and bring comfortable shoes, clothing, water, and sunscreen as the sun can get scorching hot.
6 | Pink Beach on Komodo Island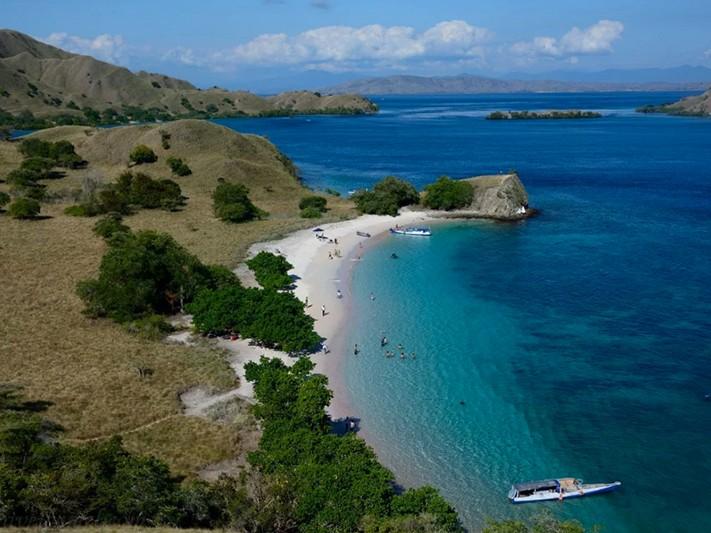 Image by Shane Dallas
Due to the degradation of red coral in combination with the pristine white sand, this unique and charming beach got its name. Also known as Pantai Merah, Pink Beach is one in seven in the world to have a glowing soft pink tinge. The panoramic views of the luscious green hills, pristine turquoise waters, luminous pink sand, and azure blue skies will surely take your breath away.
Pink Beach also offers some spectacular snorkeling and diving spots. The pristine marine landscape is densely decorated with a vast variety of biota. The underwater garden is home to hundreds of species of soft and hard corals and reefs bustling with various species of marine fauna.
As Komodo Island is still inhabited by the Komodo Dragons, visitors should exercise caution on the beach and in the water. It is highly recommended to come here with an authorized guide or ranger.
7 | The traditional village on Mesa Island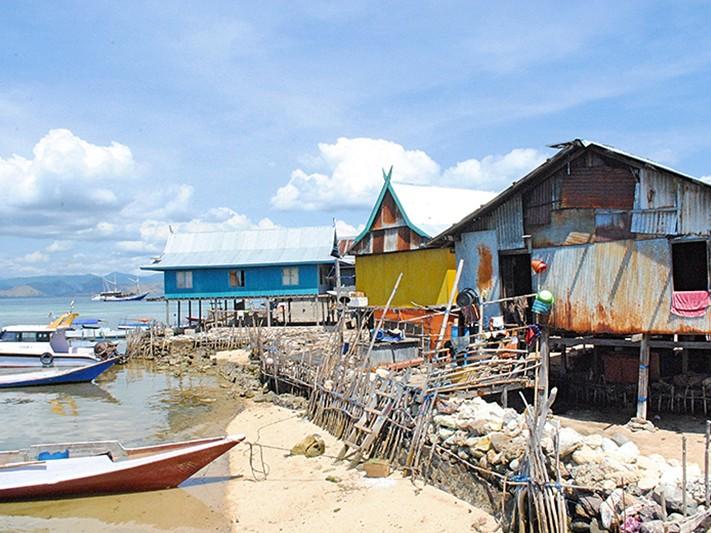 Image by Luke Marlin
Mesa Island is the perfect destination for visitors to get a glimpse of the traditional life led by the remarkable sea gypsies (otherwise known as the Bajau people). This laid back fisherman village has a population of approximately 1,500 residents and visitors can witness locals engage in their daily tasks such as drying cucumbers, processing shell fish and preparing various seafood. The residents of Mesa Island are very friendly and children often flock to greet new faces. Visitors will also be able to see the charming traditional stilt houses that hover above the sand and shoreline.
8 | Snorkelling at Kanawa Island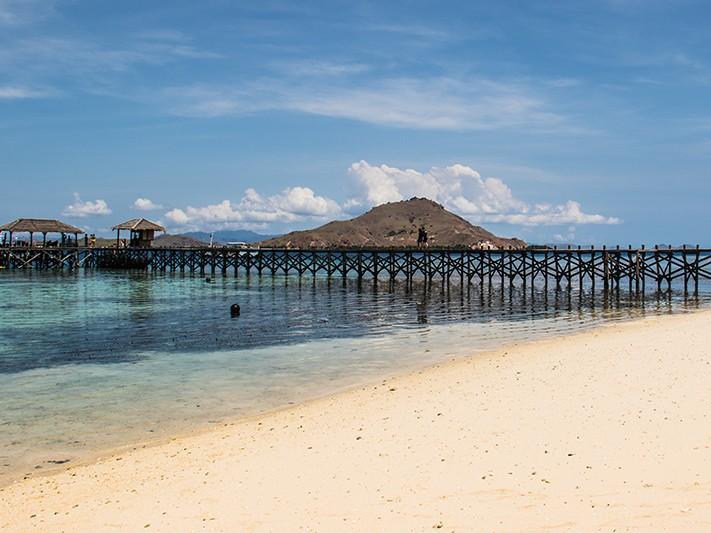 Image by Skye Gilkeson
Visitors come to Kanawa Island to relax, swim and experience the fabulous snorkeling spots. The visibility of the water is crystal clear and it is even possible for visitors to see the prolific sea life from above the water. Snorkelers can begin their underwater adventure right from the jetty as the sea is very calm and strong waves are protected by the surrounding coral reefs. Be prepared to be mesmerized by the colorful schools of tropical fish, mystical corals and unique marine fauna such as stingrays, dolphins and turtles.
The island has weak phone and internet reception and transactions on this island is strictly on a cash basis. Visitors to this island are encouraged to bring an adequate amount of cash to cover all necessary expenditures.
9 | Sunset at Kalong Island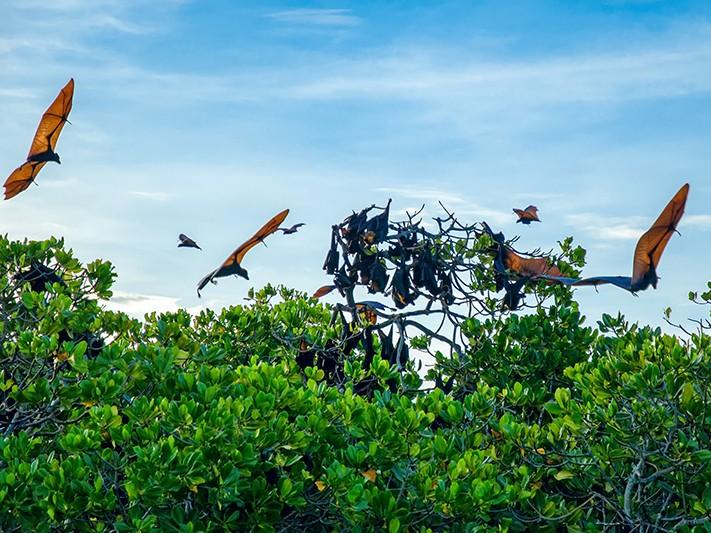 The name of this unique island, Kalong, comes from the local language for giant flying fox bats. The bats, which are the main attraction of this island, create an enthralling sunset spectacle unlike any other. As the day approaches dusk, visitors are invited to witness thousands of these mystical creatures migrate from the island to the backdrop of awe-inspiring sunset hues. The resounding flutter and noise of these bats as they escape the mangrove forest and soar into the sunset will leave a hauntingly beautiful lasting memory.
10 | Komodo spotting on Rinca Island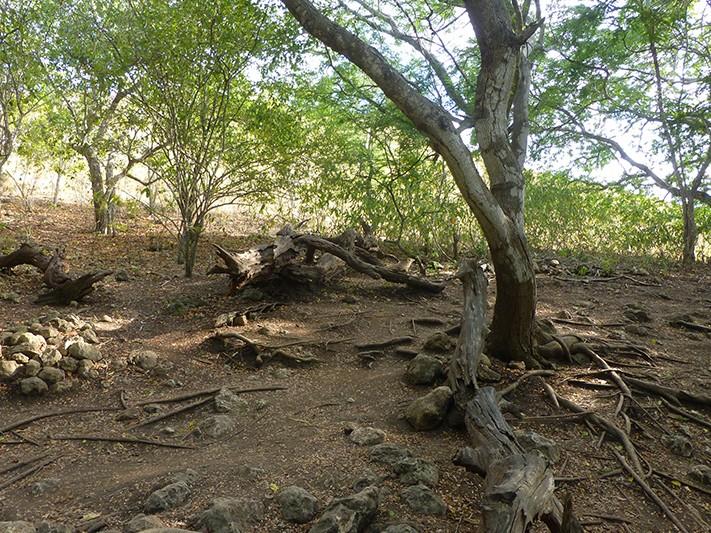 Due to the purposely undeveloped nature of this island and sparse foot traffic, Rinca Island is the perfect spot for those looking to catch a glimpse of the exotic Komodo Dragon. Visitors will disembark on the dock of Koh Kima and be taken to the campsite of Loh Buaya, where sometimes Komodo Dragons can already be spotted. A trek across the island will show dense forest give way to grassy fields and a few scattered watering holes where the Komodo Dragons hunt for prey. If fortunate enough, visitors will be able to see other terrestrial fauna such as the wild water buffalos, Timor deer, wild horses and various species of tropical birds.
Due to the fierce nature of the Komodo Dragon, visitors who come here must hire the service of an experienced ranger. Prepare cool clothing and sunscreen as the climate on Rinca Island can be quite dry and very hot.