Tanjung Pinang is the capital city of the Riau Islands. It's not surprising to encounter a lot of diversity here because of the varied ethnic communities, such as Malay, Bugis, Java, and Sumatran. You will feel like visiting a heaven of seafood while you are here because of the rich types of, obviously, seafood. However, if you visit the city during Ramadhan, you may need to hold your appetite until iftar. 
In the meantime, we recommend you to have an enjoyable trip in Tanjung Pinang during the fasting month.
1 | Explore the city center for local souvenir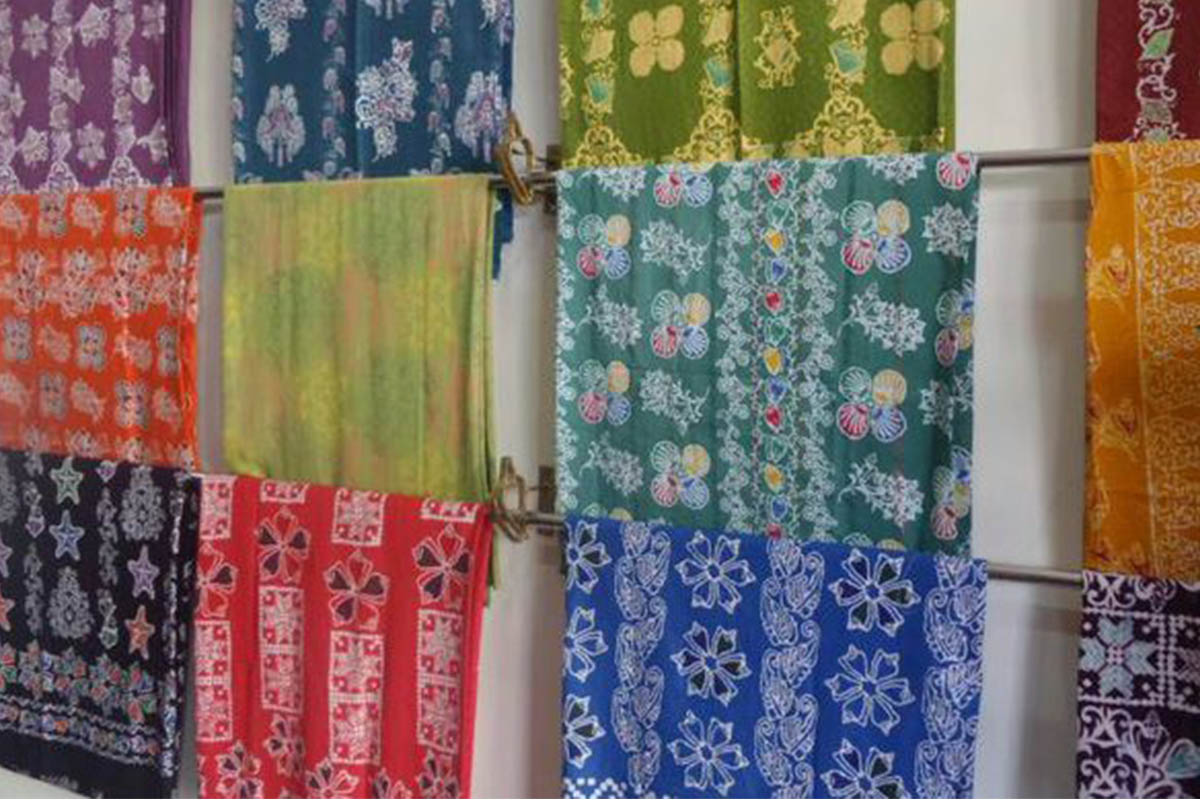 Image source : https://travel.kompas.com
First of all, make yourself comfortable by strolling around the city. You may need to check some local souvenirs for yourself or your closest ones, for instance, Gonggong Batik.
Gonggong is a small sea snail that has been an icon of Tanjung Pinang city. Gonggong Batik is actually a colorful fabric which is decorated with the snail's shape. The price of this fabric is varied, from IDR 140K to IDR 950K.
Address: Batik Gonggong Selaras, Ruko Metro Garden No. 4, Jl. R.H. Fisabilillah Km. 8 atas, Tanjung Pinang
Contact: +62 813 6441 1901
2 | Visit the Gonggong Building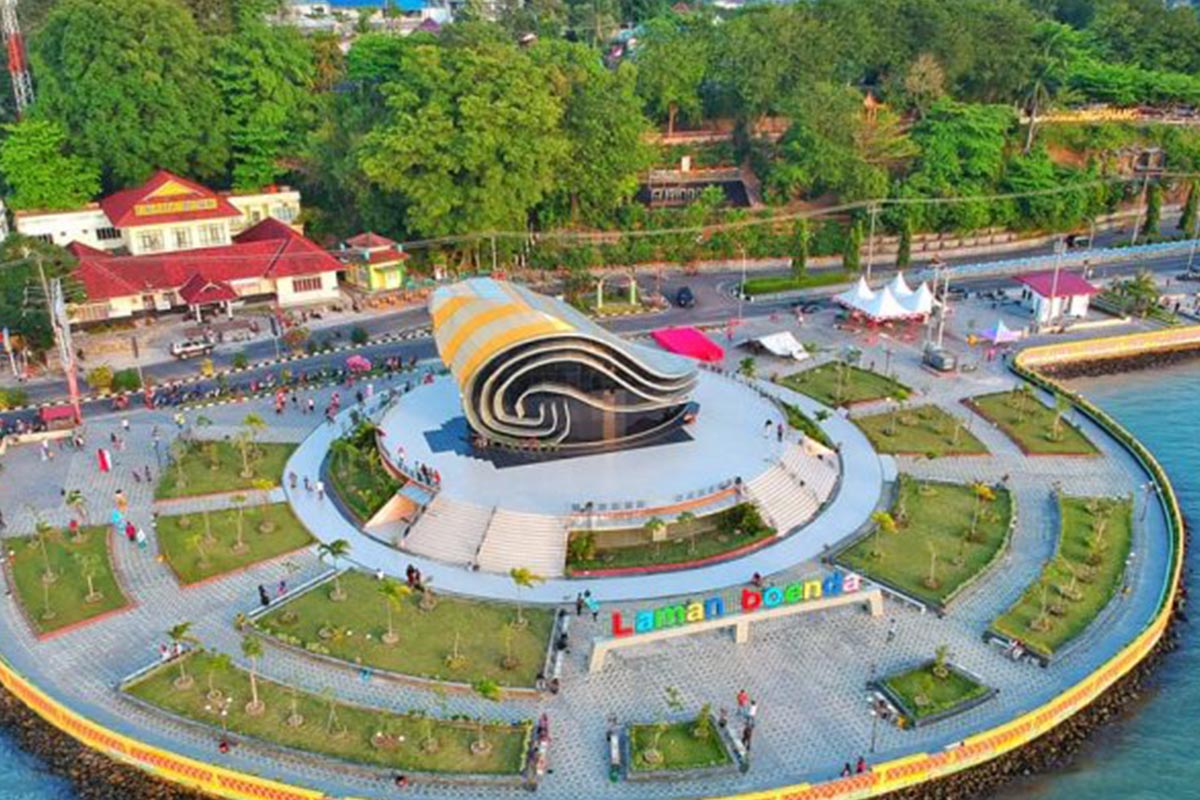 Image source: http://batam.tribunnews.com
An unique souvenir of Tanjung Pinang? Checked. Now, you need to visit another icon of this city called Gonggong Building that snail man-made building.
The building is situated by the sea and has two stories. You can find goods and foods of Tanjung Pinang on the first floor, and you can explore more by looking at the little museum on the second floor.
3 | Aboard a Pompong to Penyengat Island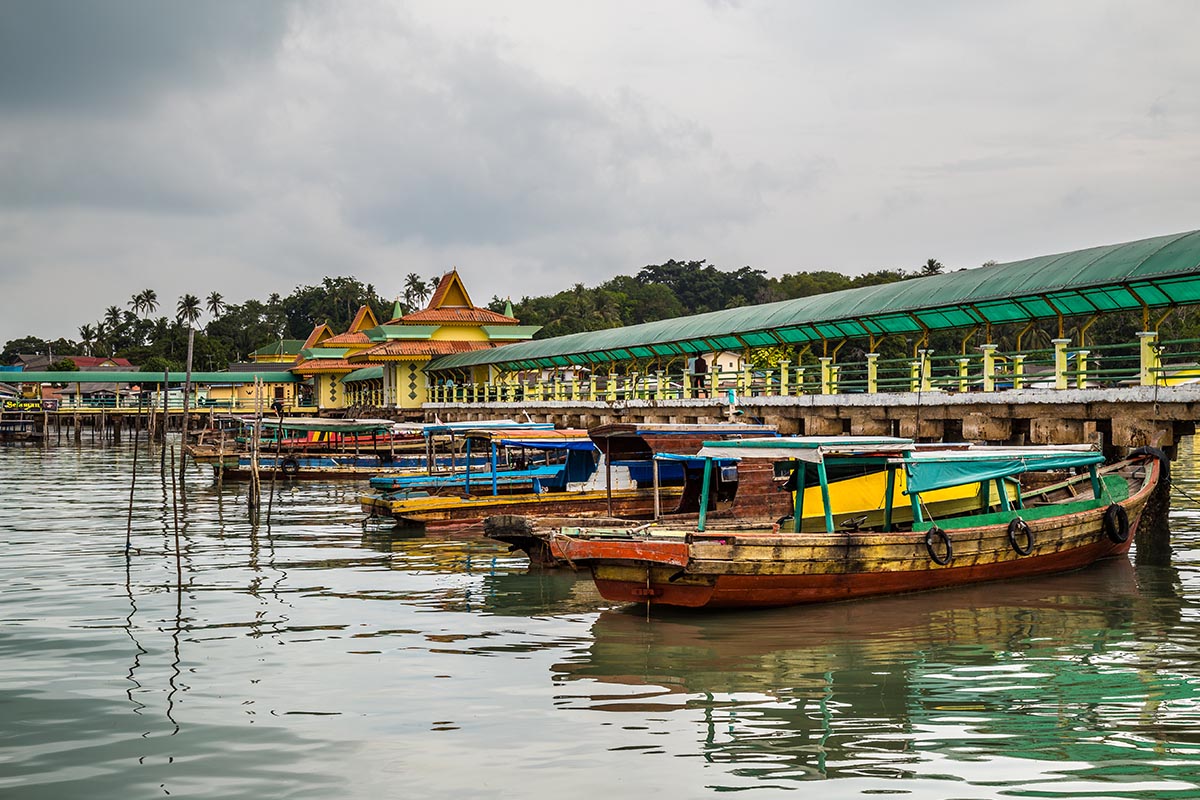 Image source: https://www.halaltrip.com
Hop on to a small boat called Pompong to a historical island named Penyengat. Due to the size, this boat can only accommodate 15 passengers at the maximum. 
You need to pay IDR 7K to a board on Pompong boat or IDR 200K if you want to rent it only for your group. It departs every day from morning to night, and it only takes about 10-15 minutes to arrive at Penyengat Island from Tanjung Pinang.
4 | Get a motor taxi ride around Penyengat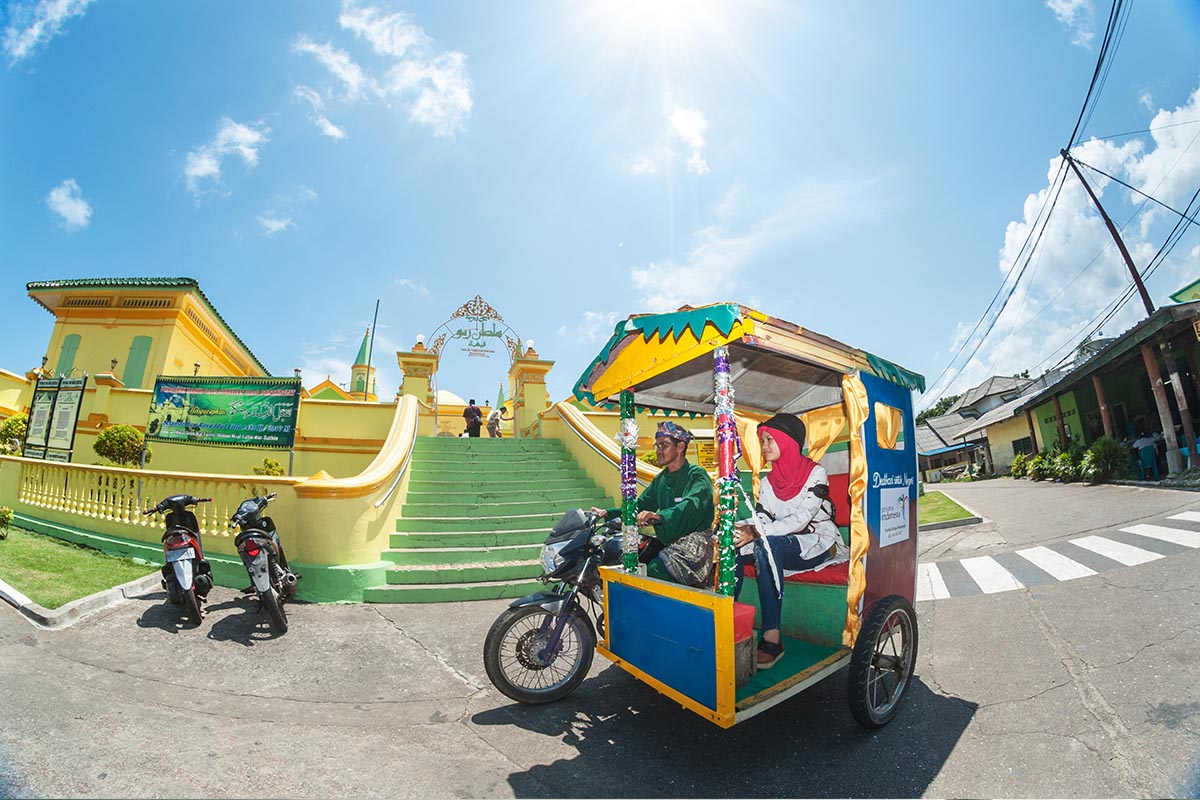 Take a look at historical objects around Penyengat Island by taking a motor taxi ride called becak motor. The vehicle is basically a pedicab that is combined with a motorbike, and it can accommodate a maximum of three passengers. It takes approximately 1-2 hours to take a look around this small island. The driver will charge you IDR 30K to 40K for a one-hour ride.
During your stroll in Penyengat island, you can observe the grave of Abdurrahman King at the royal burial complex. He ruled the area around Riau Islands from 1832 to 1844. You can also explore a replica of Malay traditional house at Balai Adat.
5 | Spend time to pray at the historical Sultan Riau Grand Mosque
While you are at Penyengat Island, make time to visit Sultan Riau Grand Mosque for praying. It was believed that the mosque was built using egg whites, the reason behind its strong construction.
However, at first, the mosque was a modest building made of woods for the walls and bricks for the floors. But as time went by and the congregation got larger, the King of Riau decided to renovate the mosque. People sent construction materials and foods until they were oversupplied, including the egg whites. After that, the workers got an idea to mix egg whites with sand and chalk as an adhesive to strengthen walls. Probably the egg whites are the reason why the mosque stands as the only remain from the RiauLingga Kingdom.
6 | Break your fast with some local cuisines: Lakse, Roti Kirai, Nasi Dagang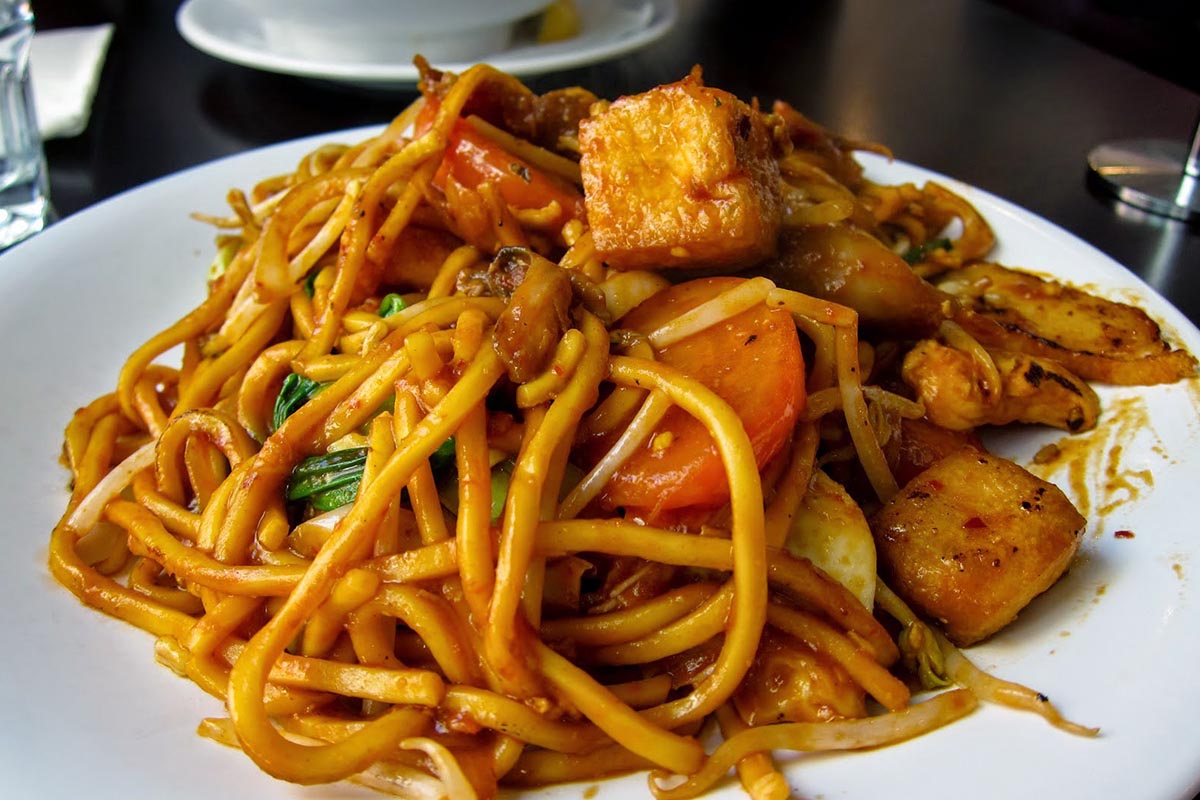 Image source: http://kulinermakanannusantara.blogspot.com
When the dusk is near, you know it's time to break your fast. Since you are in Tanjung Pinang, don't lose a chance to taste its exceptional cuisines. You can try Lakse, a bowl of noodle with coconut milk soup and fish or Nasi Dagang, steamed rice cooked in coconut milk with curry soup and cob fish. If you want a lighter dish, you can try Roti Kirai or net bread served with curry soup.
Address: Restaurant Singgah Selalu, Jl. Basuki Rahmat, Tanjung Ayun Sakti, Bukit Besari, Tanjung Pinang
Operating hours: 7am-6pm, closed on Sunday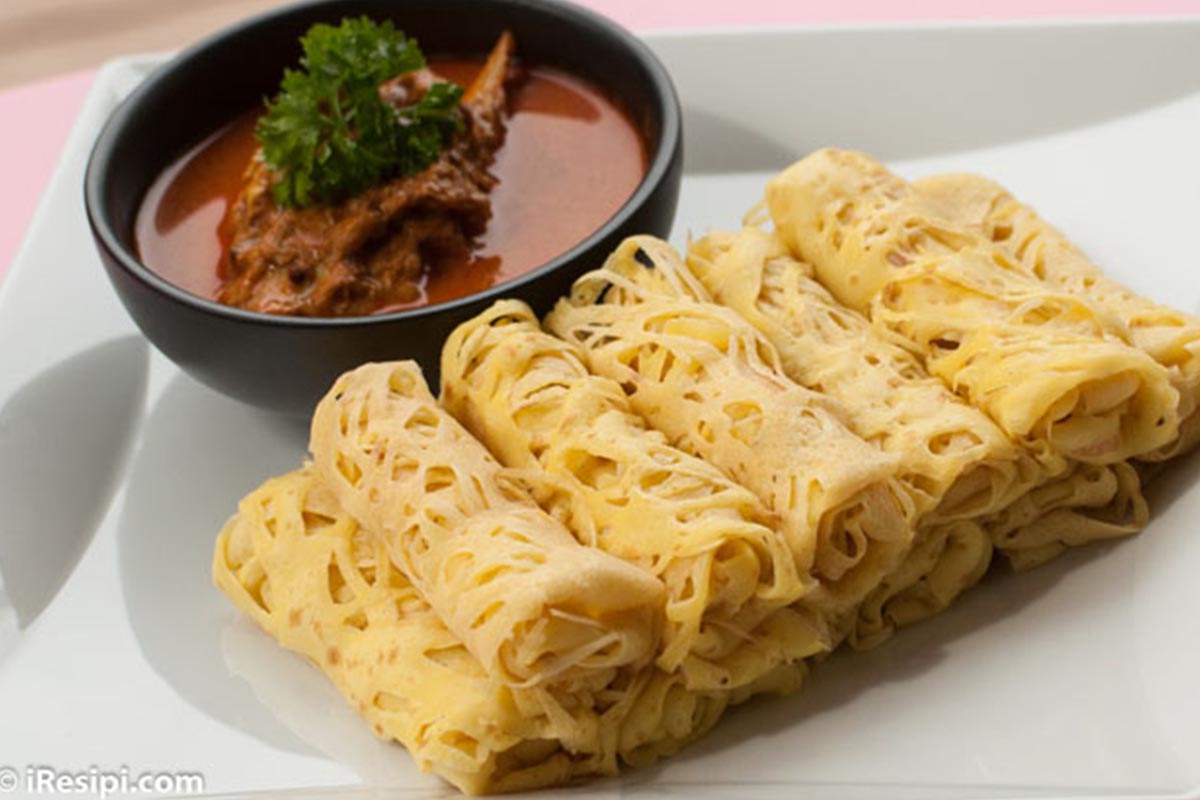 Image source :  http://top10resepmasakan.blogspot.com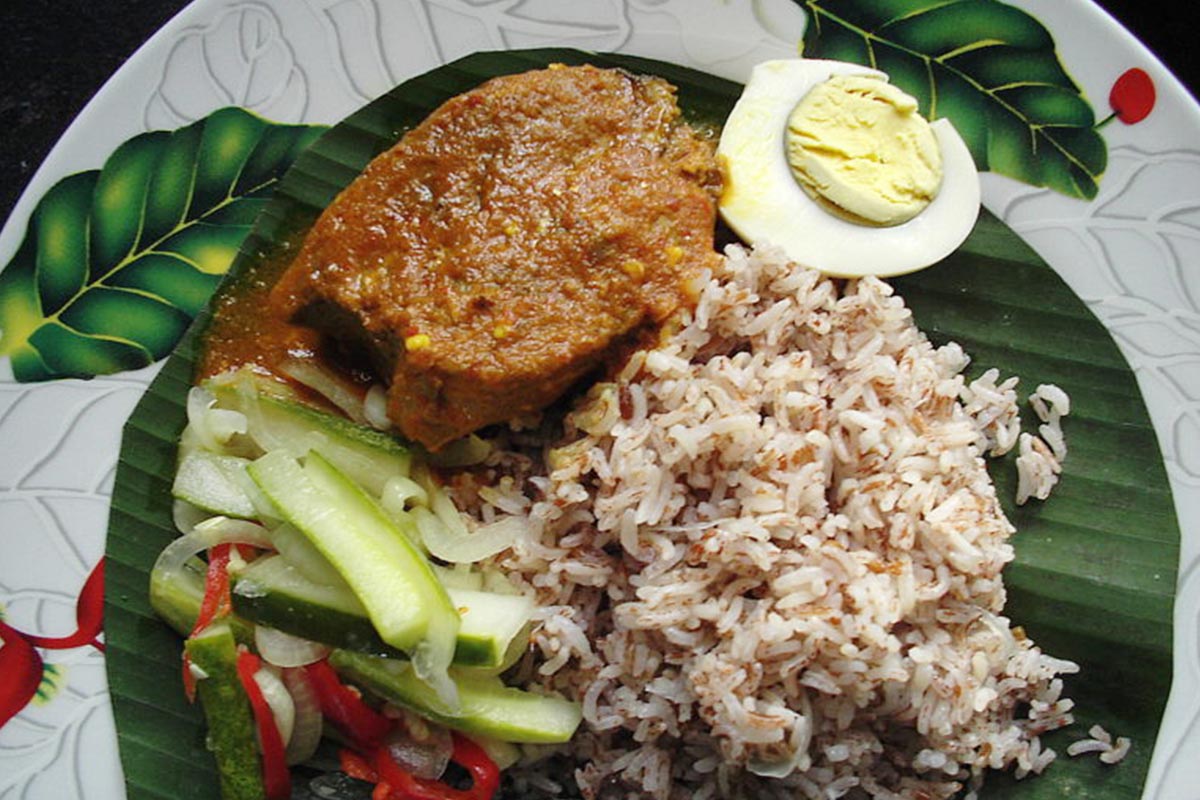 Image source :  https://phinemo.com
7 | Ride along the Dompak Bridge and its Nur Ilahi Grand Mosque for Taraweeh prayers by the sea view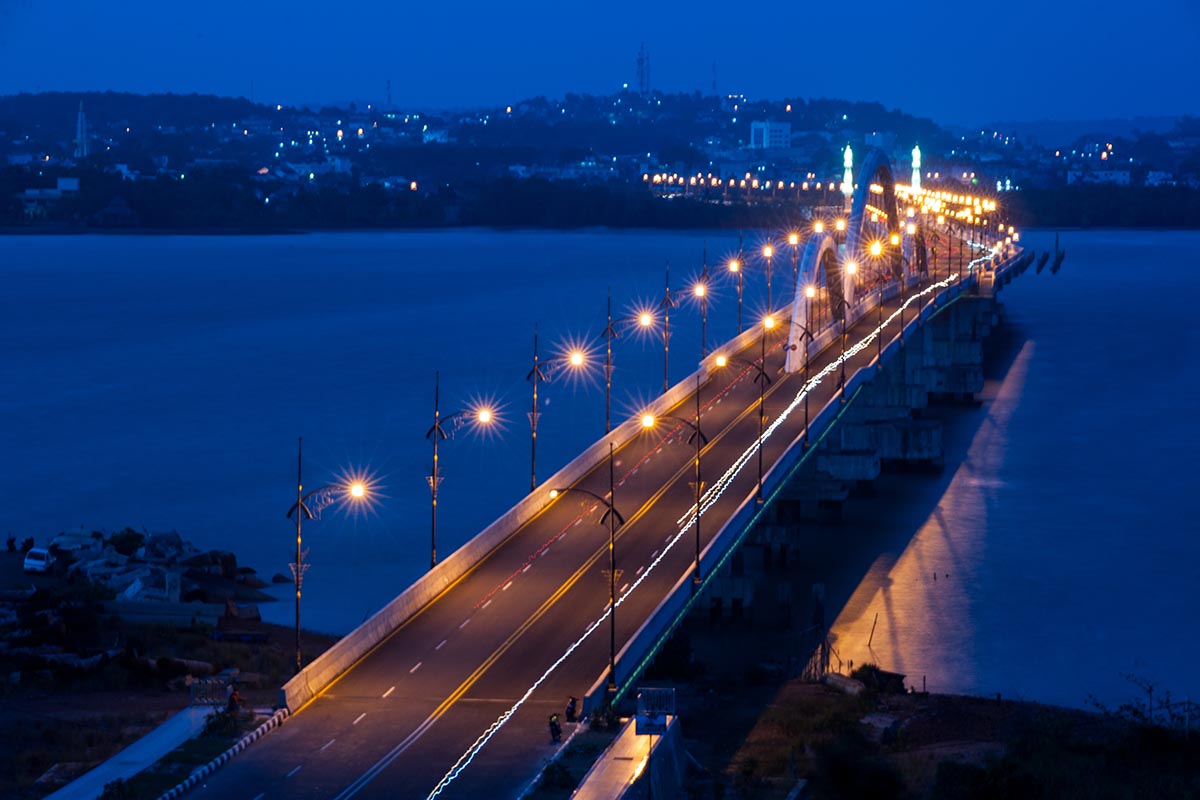 End the day by attending Taraweeh prayers at Nur Ilahi Grand Mosque. The mosque is located on Dompak Island, an island separated from Tanjung Pinang, that's why you need to cross Dompak Bridge which connects the two islands first. Since the mosque is situated on top of a hill by the sea, it will look like a massive building standing in the middle of a watery area.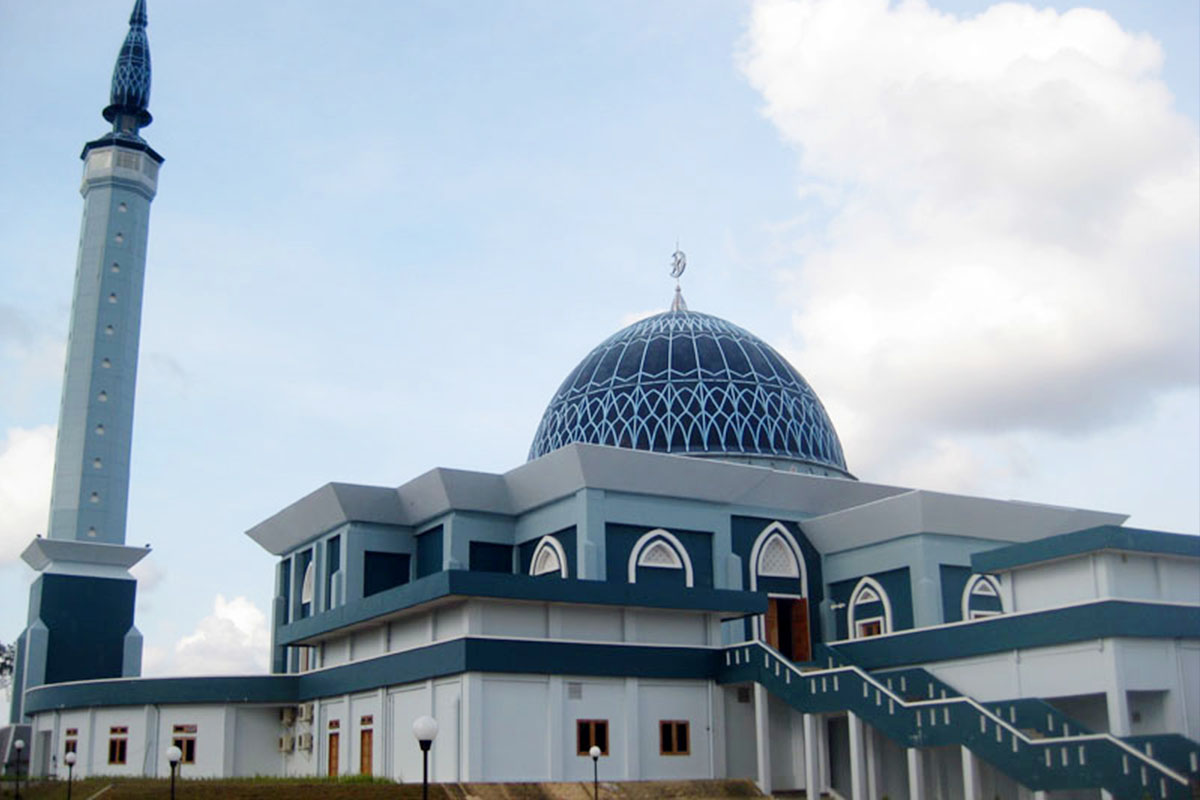 Image source : http://www.skyscrapercity.com
Image source of header banner: http://simas.kemenag.go.id