Who doesn't love the stories of knights, kings and princesses? These stories have captivated many hearts for centuries in many parts of the world, whether in the form of theatre, dance, chants, music, repeated body movements or an entertaining puppet show.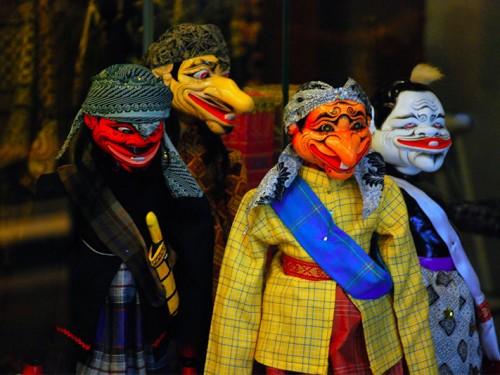 Photo source : www.sonces.blogspot.co.id
Here in Indonesia, we have Wayang! Drama performances which can be played by a group of actors or by a skilled puppeteer accompanied by a Javanese gamelan orchestra. There are more than one kind of Wayang, namely the Wayang kulit, Wayang Wong, wayang gedok, wayang Golek, wayang beber, wayang klithik, wayang sadat and wayang wahyu, and many more. Each of which has different forms, thereby creating different ways to showcase this ancient art form.
The Origin of Wayang
The oldest written inscription that mentions the Wayang dates back to the 9th century, discovered on Java Island. The development of this art was indeed centered here, and wayang has since been an iconic artistic and philosophical expression in Javanese Classical Fine Art. The stories are usually taken from the Hindu epic poems of the Mahabharata and the Ramayana,and Javanese history, bringing forth classic tales, comparable to Shakespeare's dramas. The deities, knights, kings, queens and princesses are the main heroic characters who anchor the scenario.
Who are the Punokawan?
If in European dramas there are invariably court jesters, whose function it is to entertain and make everyone laugh and happy, in Wayang, this role falls to the figures of the Punokawan, known as servant-clowns. The word Punokawan comes from the ancient Javanese language meaning "friends who understand". They serve to tint the stories with humor and philosophical interludes that highlight the message of each performance.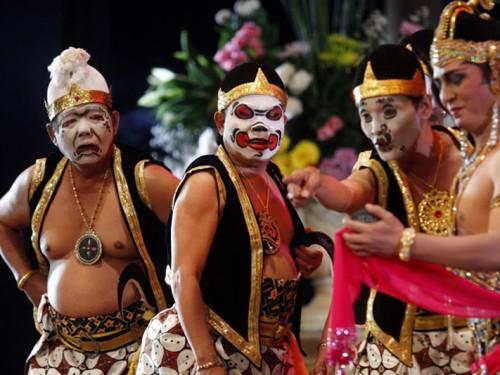 Photo source : www.globalisasibudaya.blogspot.co.id
There are four characters in the Javanese Wayang, these are: Semar and his three sons Gareng, Petruk and Bagong. Semar is the incarnation of a deity, which according to Javanese mythology, had to manifest himself into an ugly human figure to blend in with earth's humans.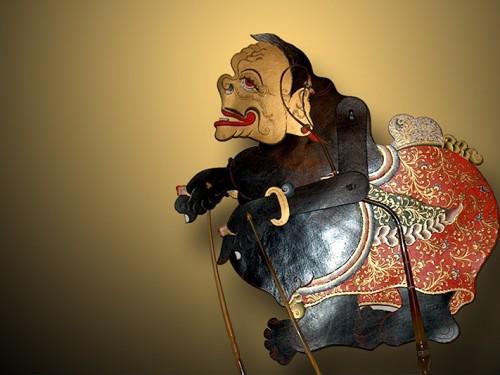 Photo source : www.kerjaanrimba.files.wordpress.com/semar
Semar is portrayed as an old wise soul with a flat nose, protruding lower jaw and bulging rear figure. Some people believe that Semar is the human incarnation of Sang Hyang Ismaya.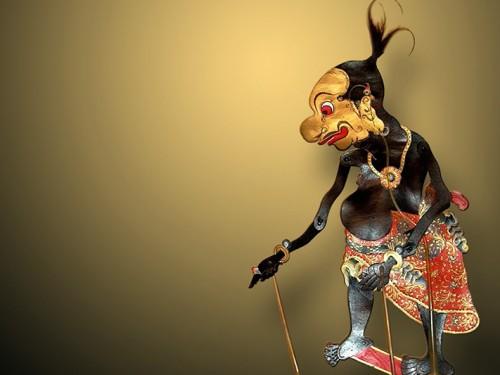 Photo source : www.2.bp.blogspot.com/gareng
Gareng is the eldest son, who is limp and has a crippled arm, That symbolizes his virtue of making careful moves and never seizing the rights of others.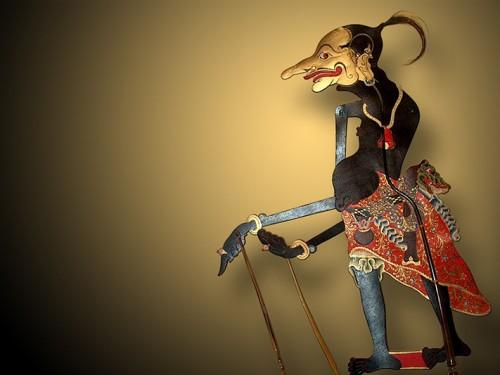 Photo source : www.kerjaanrimba.files.wordpress.com/petruk
Petruk is the middle child depicted as tall and lanky, who has a distinct long nose. But, unlike Pinochio, his long nose does not indicate that he has been lying.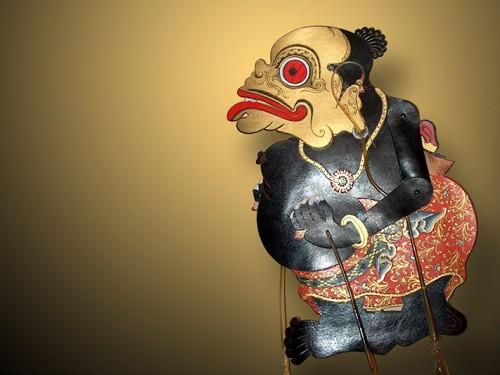 Photo source : www.kerjaanrimba.files.wordpress.com/bagong
Bagong is the youngest child. He is a chubby figure, with big round eyes, thick lips and naïve behavior.
Their appearance in a wayang show is always well anticipated as they lighten up the stage with humor and funny gestures. Their jokes often touch on, and criticize - present political issues, which becomes pretty hilarious. Their language is, therefore, anachronistic to the play, both in content and in style, - but the audience accepts this as an inseparable part of the drama. Similar characters can also be found in Sunda (West Javanese) and Balinese wayang stories, only with different names.
Where to buy Wayang Punokawan in Yogyakarta
There are plenty of art shops and souvenir centers that sell all kinds of wayang characters. The Punokawan are also sold in numerous shapes and styles.
In the ancient city of Yogyakarta, the Sagio Puppet studio opened in 1974, as a result of Sagio's lifelong devotion to the art of leather puppets which he learned since childhood from his father Jaya Perwita in 1963. His works have been used by many famous dalangs – master puppeteers - and even collected by Indonesia's former presidents Megawati and Abdurrahman Wahid.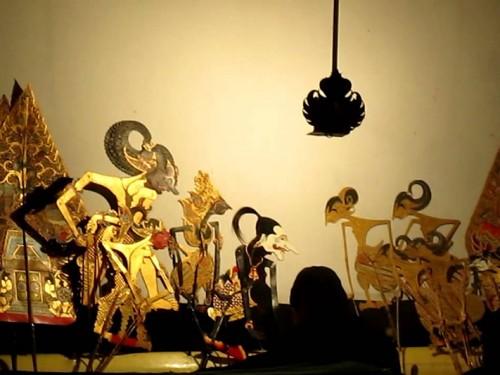 Photo source : www.tourdeasean.blogspot.co.id
The price ranges from as low as Rp 5,000 for souvenirs to an amazing Rp200 million (for a set of special and meticulously crafted wayang characters). Here at his workshop, anyone can learn and see upclose the creation process, along with their stories and philosophy. Sagio uses local materials found around Yogyakarta area.
You can visit his one and only workshop in Jl. Gendeng, RT. 04 RW. 02, Bangunjiwo, Kasihan, Bantul, Bangunjiwo, Kasihan, Bantul, Daerah Istimewa Yogyakarta 55184.
Photo source header banner : www.boombastis.com
Related articles :
1. 5 Things You Can Learn in Yogyakarta While Traveling
2. 5 Handicraft Shopping Spots in Yogyakarta
3. 5 Remarkable Sites to Visit Around Imogiri
4. 8 Beautiful ​Hotels Closest to Magnificent ​​BOROBUDUR
5. The Riveting WAYANG KULIT SHADOW PUPPET SHOWS of Java and Bali