Yogyakarta has a unique old-town charm. The growing urbanization blends well with the rich Javanese culture. You can explore many things, from cultural heritage, and historical remains, to beautiful landscapes in Indonesia's former capital.
If your time is limited, then consider this conscise list of ways to spend your weekend in Yogyakarta.
Start on Saturday!
1 | Sign up for a lava tour in Merapi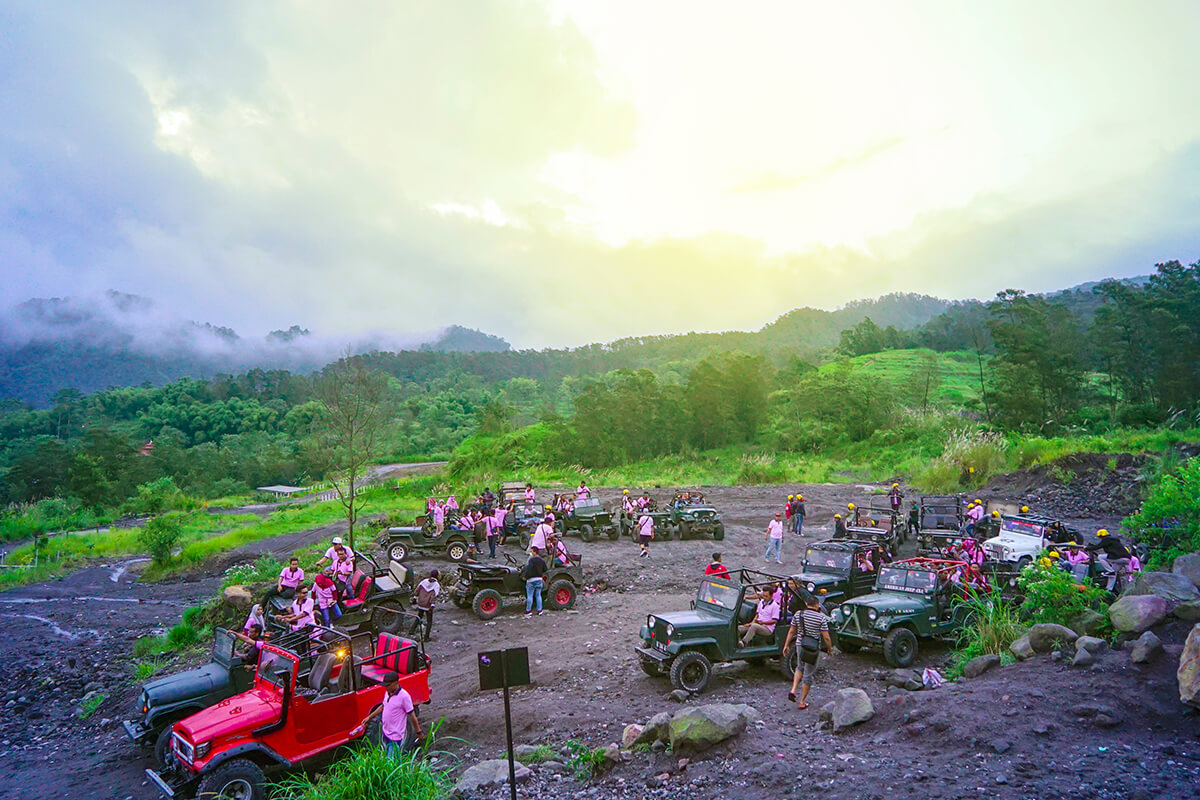 Image source: Shutterstock
This tour will enable you to explore the channel where cold lava usually flows from Mount Merapi. Use a 4 man Jeep to travel the dusty, windy roads. If you have children consider aquiring safety equipment before departing as some roads are quite steep and bumpy, which can accommodate maximum of four people to go through the dusty road. If you have small children, you might want to check with the jeep organizer regarding safety kit, because some routes are rocky, steep and bumpy. There are three types of tours that you can choose from. A short tour of 1.5 hours, meduim tour of 2.5 hours or the 4 -5 hour option.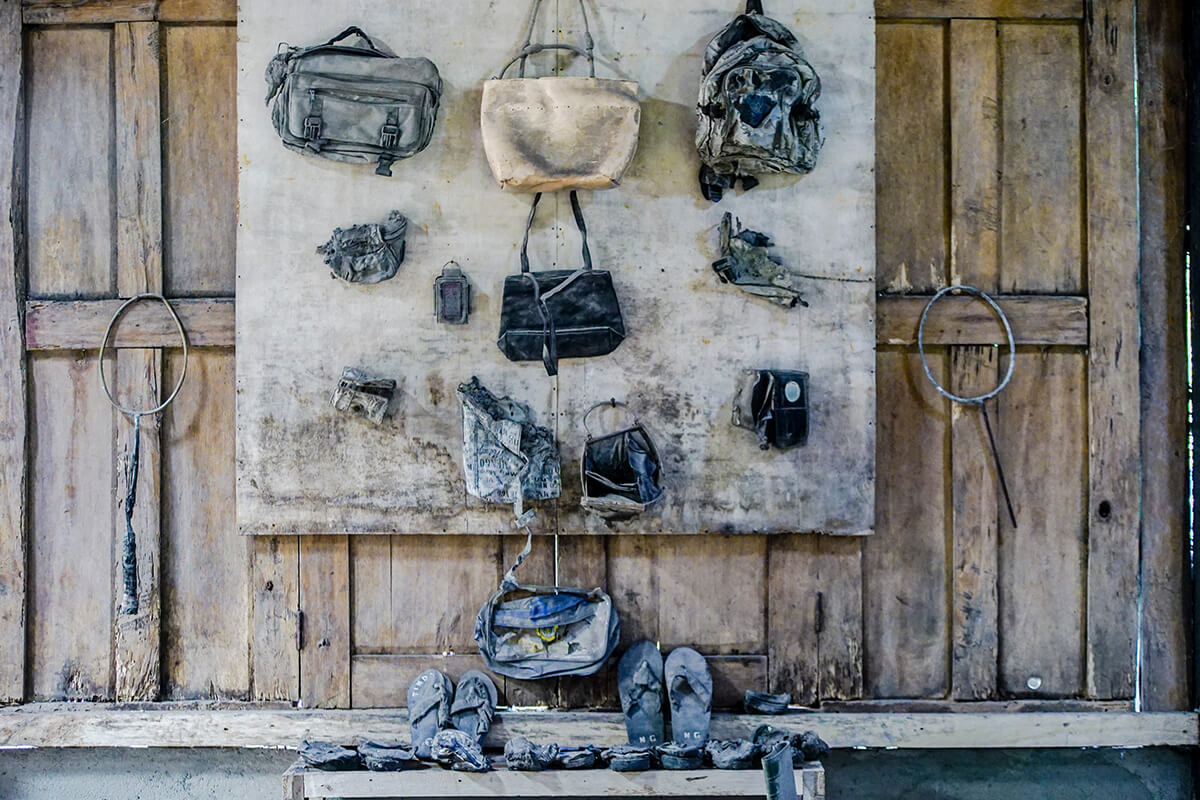 Image source: Shutterstock
Some places that will attract your interest while on this tour are Sisa Hartaku Museum (My Remaining Treasure Museum) and Kaliadem Bunker. Both these places are witness to Mount Merapi's eruption which destroyed the villages on the mountain slope and killed number of people.
2 | Come by to Pentingsari Village and learn new skills
After finishing your exciting lava tour, visit this small village which is situated on the slope of Mount Merapi as well. At Pentingsari village which is located at 700 meters above sea level, you can explore its fantastic nature and cultural wisdom.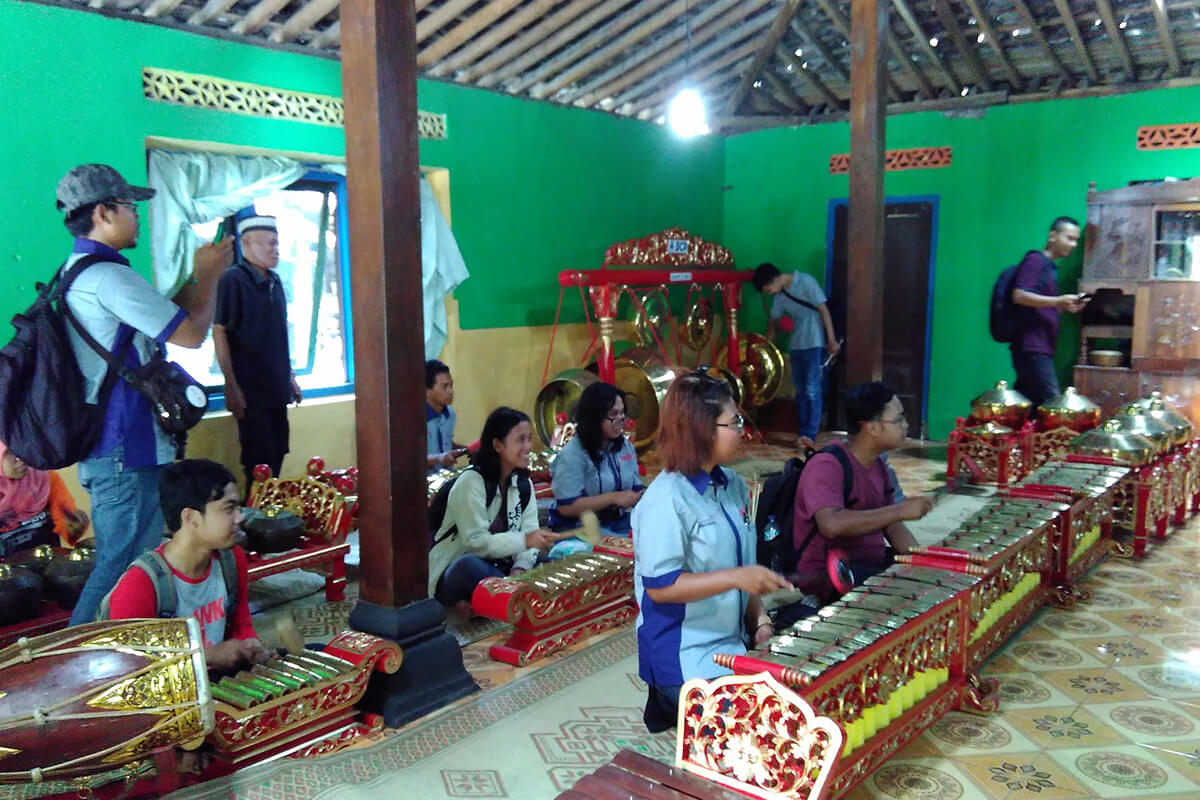 Image source: www.achmadmuttohar.web.id
You can learn new skills on Yogyakarta's traditional culture and arts in this village. For instance, you can put your toes directly to the muddy field and learn how to plant rice. If you prefer something artsy, you can also go ahead to learn how to make batik with your own hands. Learning gamelan and some traditional Javanese dance are also something you can try in this lovely village. You can also interact with locals in their home, and visit some home industries that produce coffee, cassava chips and mushroom delicacies.
3 | Stroll the night away at Malioboro
Wrap up your day's adventure by strolling around the Malioboro Street, which is named after a British colonial named Marlborough. There are many street sellers along this street who display a wide variety of goods, ranging from summer dresses to t-shirts, jewlery and leather crafts.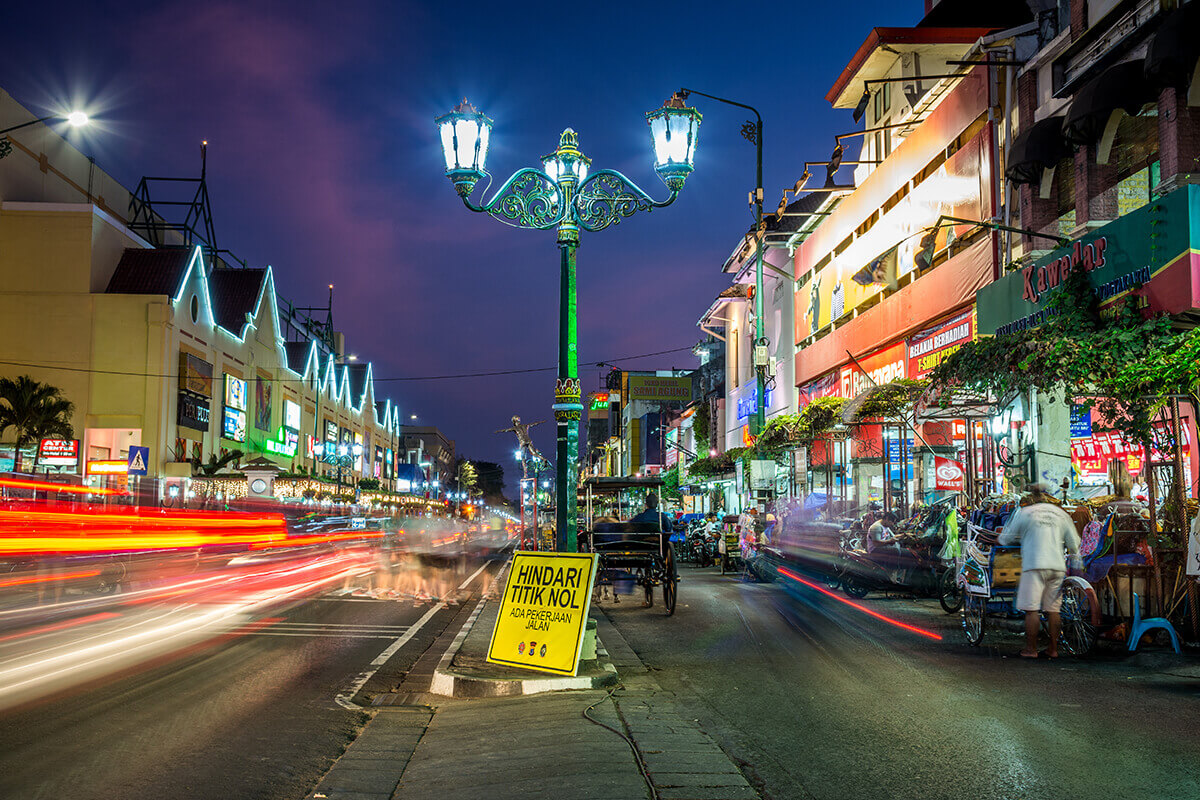 Image source: Shutterstock
At night the crowded street comes to life with street performers dancing and singing for the people's enjoyment. It's easy to get lost for hours in this unique environment.
Fun and easy Sunday
1 | Begin with a city tour by Becak!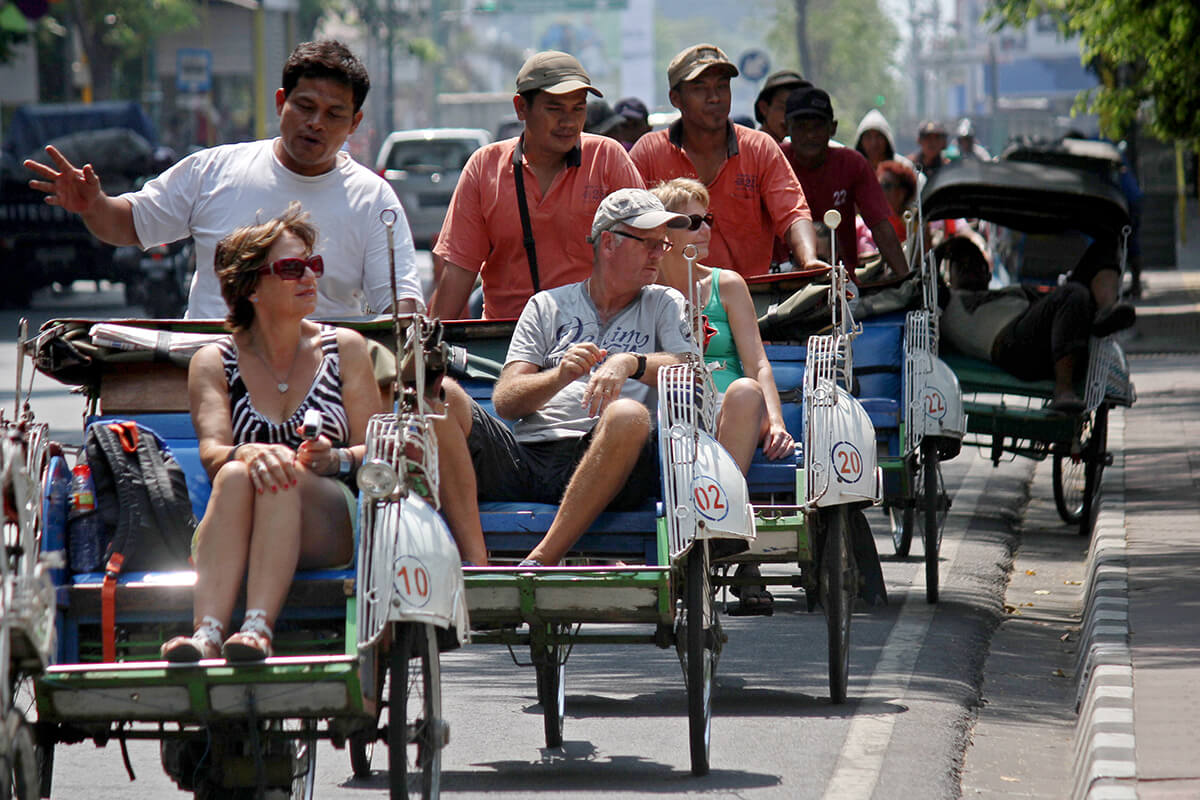 Image source: www.suaramedianasional.co.id
Explore downtown Yogyakarta with a three-wheeled cart in the fresh morning breeze. Before going, you can consult with your hotel owner to arrange routes and prices with the drivers. If you are confused or have a little information about where to go, you can always consult with travel agents on Prawirotaman Street that offer affordable city tours.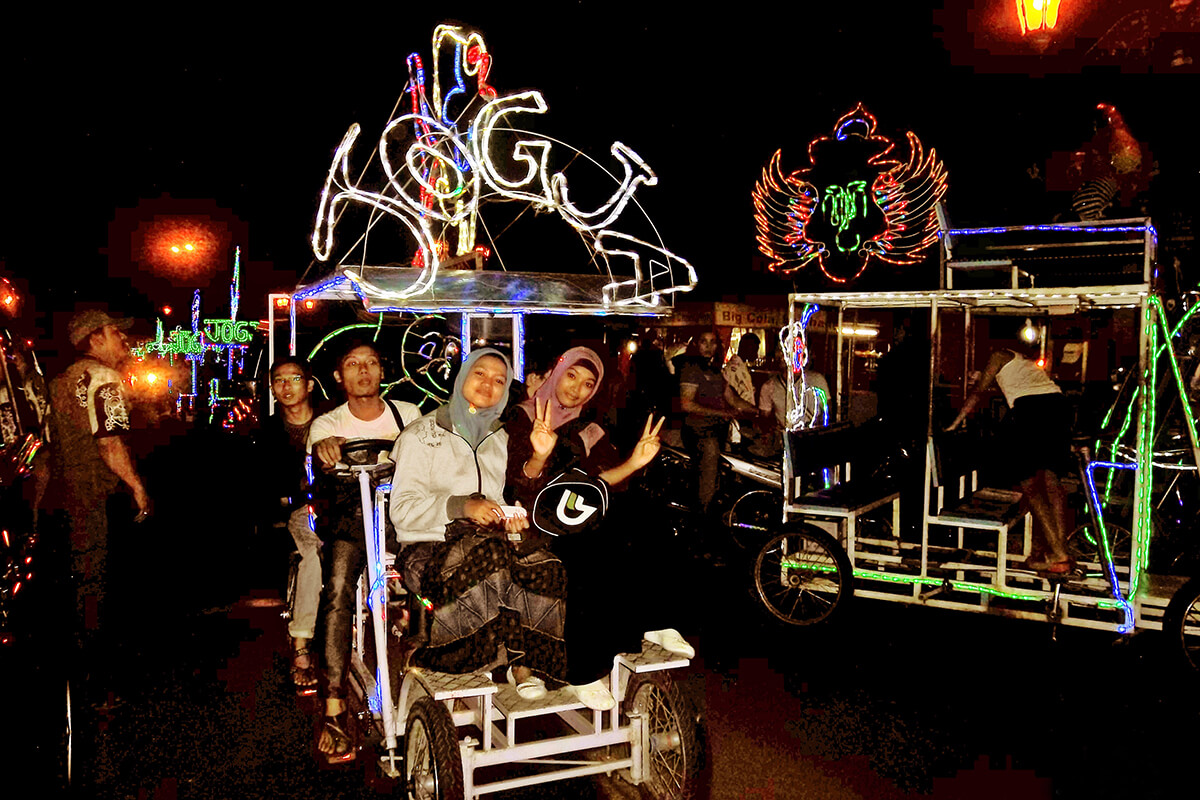 Image by: tempatwisatadijogjaku.wordpress.com
Normally, the tour covers places like Southern Square (Alun-Alun Kidul), Community Village on the side of Code River, and Kotagede, the center of silver jewlery.
2 | Visit the Royal Palace and the Taman Sari area
This palace, locally known as "keraton", is a compound which was built in 1790 to reflect the Javanese cosmos. For Yogyakartans, the palace has spiritual relation with the mythical Queen of the South Seas Kanjeng Ratu Roro Kidul and the majestic Mount Merapi.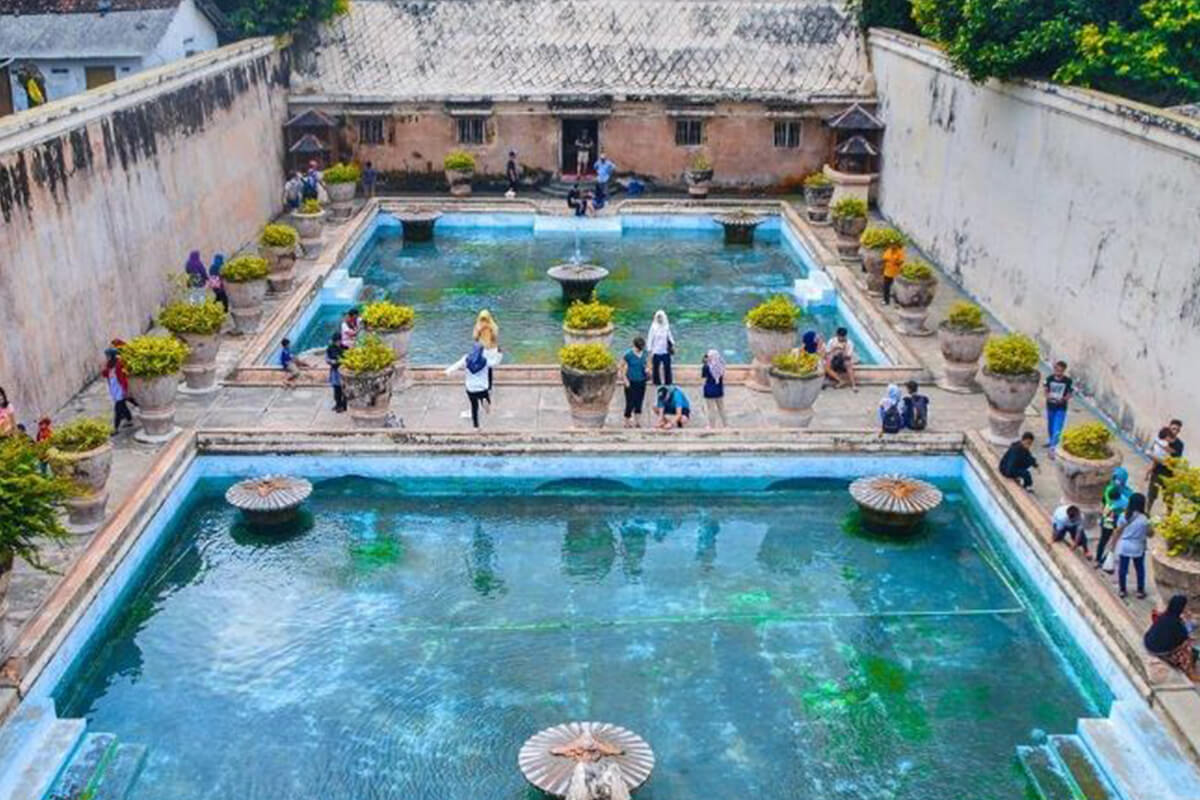 Image source: wisatapedi.com
You can explore historical and cultural pieces of Javanese heritage. The palace is also home to the king, Sri Sultan Hamengku Buwono X, and his family, so there are some restrictions that you need to obey while visiting the keraton. The palace is open for all visitors from 08.30 am to 12.30 pm, except on Fridays and Saturdays because it closes at 11.00 am.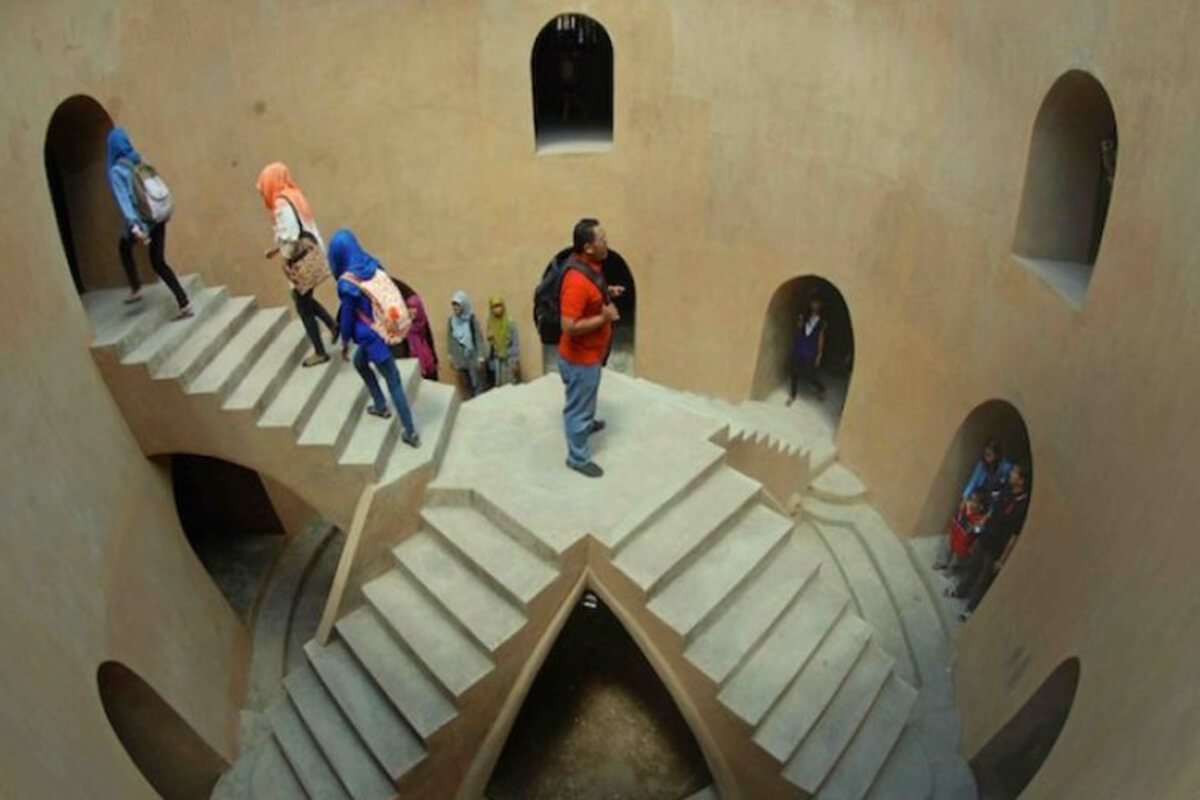 Image source: www.travelerindonesia.net
If your time is up at the Royal Palace, you can continue to Taman Sari area that is actually still inside the keraton territory. Taman Sari was once a palace for the king if he wanted to find some time to relax. It has plenty of pools and is thus named the Taman Sari Water Palace.
In this area, you can also find a unique site called Sumur Gumuling. The name Gumuling is derived from a Javanese word meaning 'rolling or circular' and Sumur means 'a well'. True to its name the ancient mosque has a circular layout with a well in the center. You can only access this building by walking through an underground passage, before you get to the main chamber. There are five stair cases in the center, symbolizing the 5 pillars of Islam. The circular layout was actually for acoustic purposes, so that sound can be heard clearly from any place within the building.
You can visit Taman Sari area everyday from 8.00 am to 2.00 pm.
3 | Have lunch in a Javanese Home
After exploring the palace, you'll need to recharge your energy with some delicious lunch! Beside the iconic Gudeg, you can try The Gadri Resto, where you can enjoy hearty menus inside an original Javanese home, filled with antiques and royal details.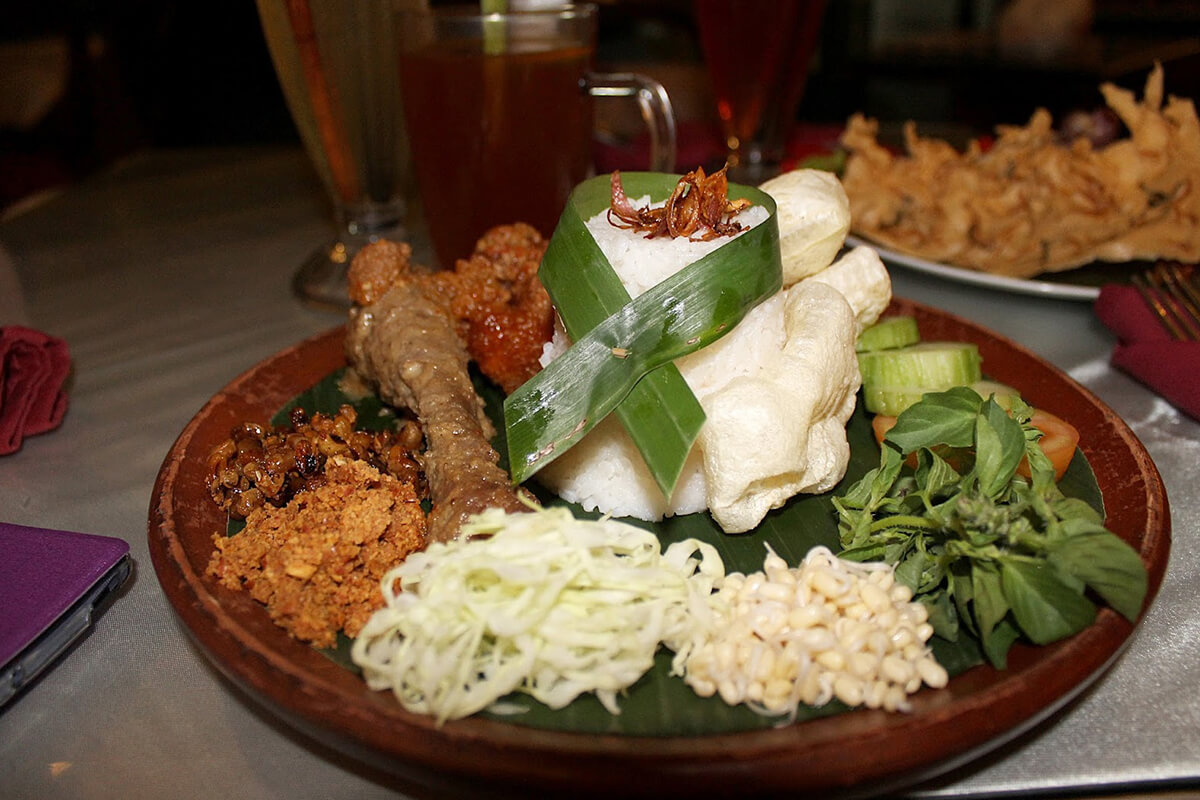 Image by: sonsab.blogspot.co.id
GBPH Joyokusumo, the founder of this restaurant, is a brother of then, Yogyakarta King Sri Sultan Hamengku Buwono X. He established this restaurant in 1984 with an aim to preserve the taste of traditional food. As the royals inherited the recipe and kept the purpose of this restaurant, it is still serving the traditional culinary of Yogyakarta.

Image by: ibenimages.files.wordpress.com  
Some of the recommended menus at this restaurant are Nasi Blawong, Nasi Langgi and Nasi Punar. The Nasi Blawong or "Blawong Rice" itself is said to be the king's favorite. This dish comprises of white rice cooked with herbs and spices, meat with chilies, fried galingale chicken and Javanese braised fried egg or telur pindang.
4 | Shop for special souvenirs
To remind you of your adventure in the wonderful city of Yogyakarta, there are many authentic goods that you can take home, from snacks and clothes, to trinkets and jewlery.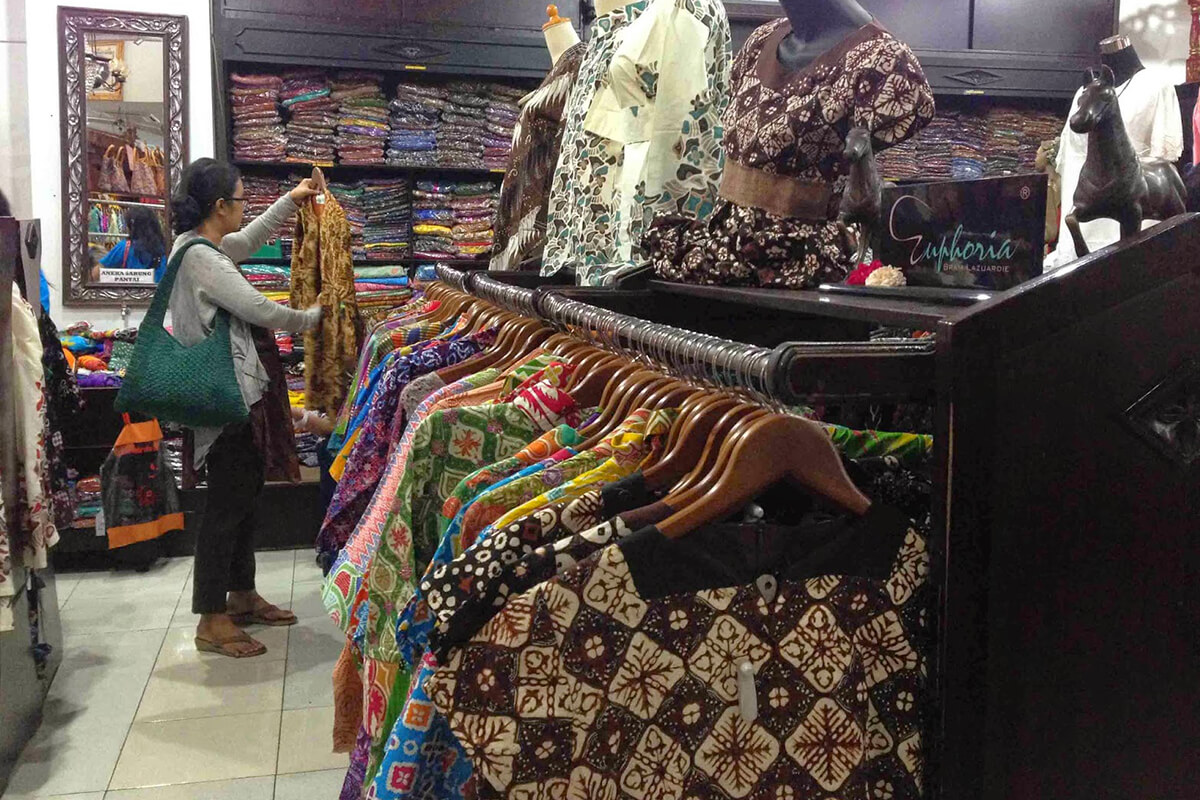 Image by: idangrasyida.blogspot.co.id
You can find various such goods at the one stop shopping center named Hamzah Batik. This shop was popularly known as Mirota before it changed its name and provides a full moon-shaped pastry filled with mung bean called bakpia, Monggo chocolate, batik, leather crafts until dagadu T-shirt. You can also find some interesting Javanese antiques and Yogyakarta's traditional accessories here.
The shop is situated near Fort Vrederburg Museum, on the side of Malioboro Street, so it is relatively easy to find. You can visit this shop from Monday to Sunday at 8.00 am-9.00 pm.
Photo source of header banner: destinasiwisatadomestik.blogspot.co.id