Indonesia is blessed with vast archipelago surrounding by sapphire-blue waters. As much as thousands islands across the country resonate paradise, with a mesmerizing horizon of seas, full of magical underwater corals and animals. These are what have taken Indonesia to the world's eyes.
One of the majestic islands is located in Riau Islands, which is close to neighbor countries Malaysia and Singapore. Hence, it has become a prominent stopover for travelers doing so-called country hopping. Among all its beauties, Kepulauan Riau has Treasure Bay Bintan, which is claimed as the largest man-made lagoon in Southeast Asia.
The place is often in travellers' checklist because it offers not only the huge pool with crystal clear water but also numerous other activity options to explore.  Here are 7 things you can try in the Treasure Bay Bintan:
1 | Crystal Lagoon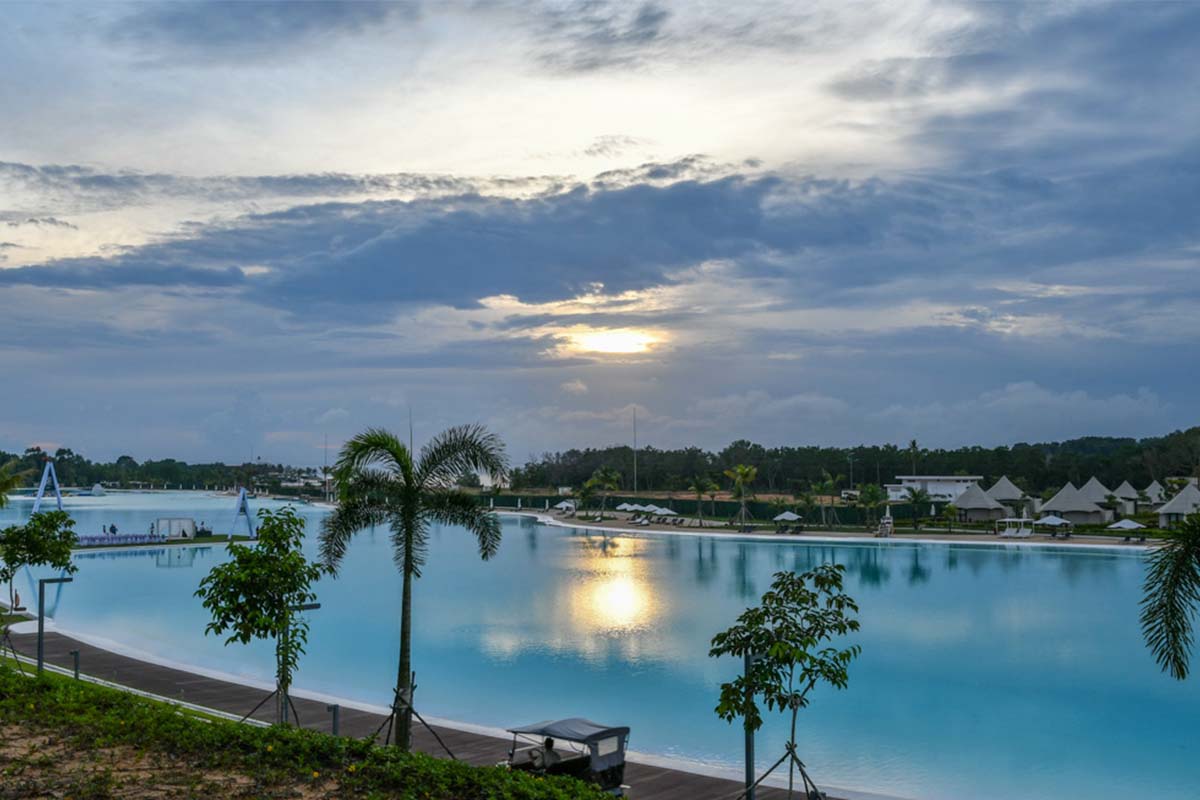 Image Source: https://asia361.com
The 6.3-hectare man-made saltwater lagoon called Crystal Lagoon that is artificial sea consists of turquoise and crystal clear water. Soothing breeze, and high exposure to sunlight that makes you feel just like hanging out on the sea.
The lagoon only features real beach sand on its edge and slopes. Moreover, the ground is covered by sandy-look white fiber that feels so soft once your feet step on it.
2 | Segway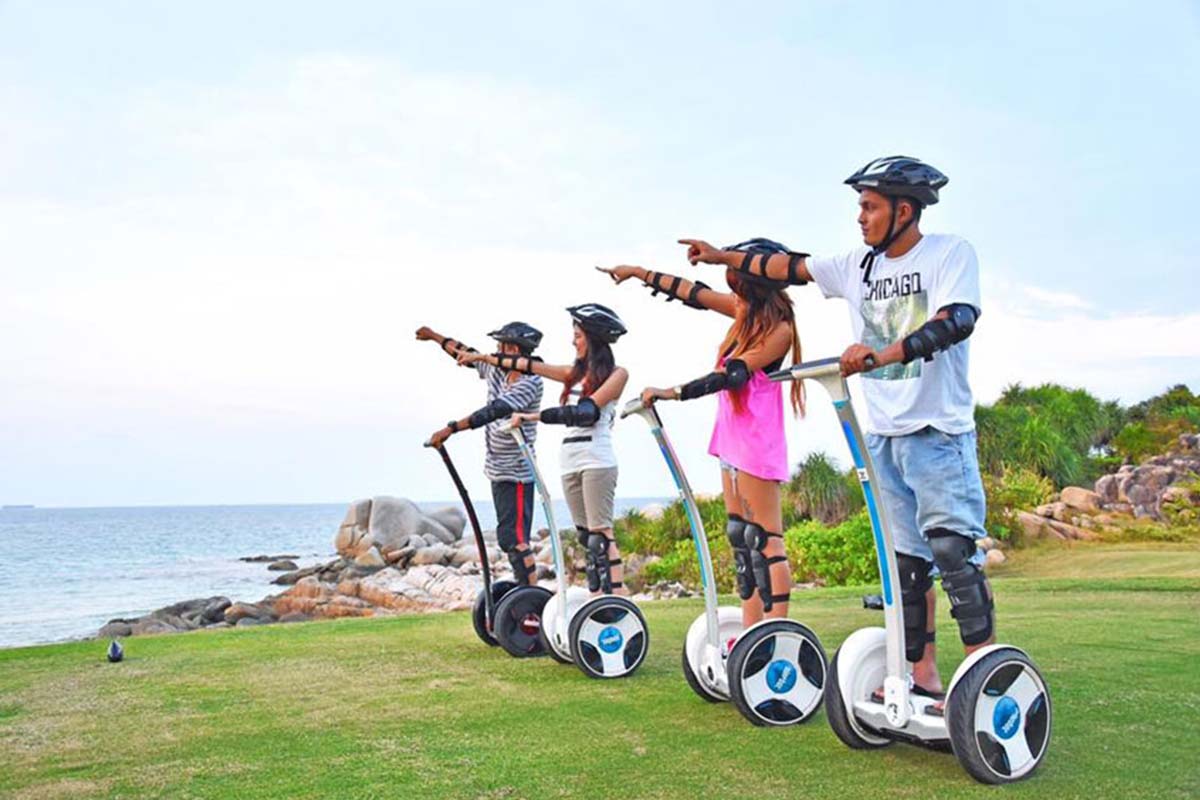 Image Source:  https://www.bintanlagoon.com
There is a path for pedestrians along the lagoon side. You can definitely stroll around to enjoy the summer breeze. However, this gigantic park provides two-wheeler personal transportation, called Segway. You can rent some Segway to explore the stunning lagoon effortlessly.
Apart from Segway, the Treasure Bay Bintan also rent scooters and also Ford buggy rides for such challenging activity. The good news is the rides, including the Ford buggies, are environmentally friendly!
3 | Kayak and paddle board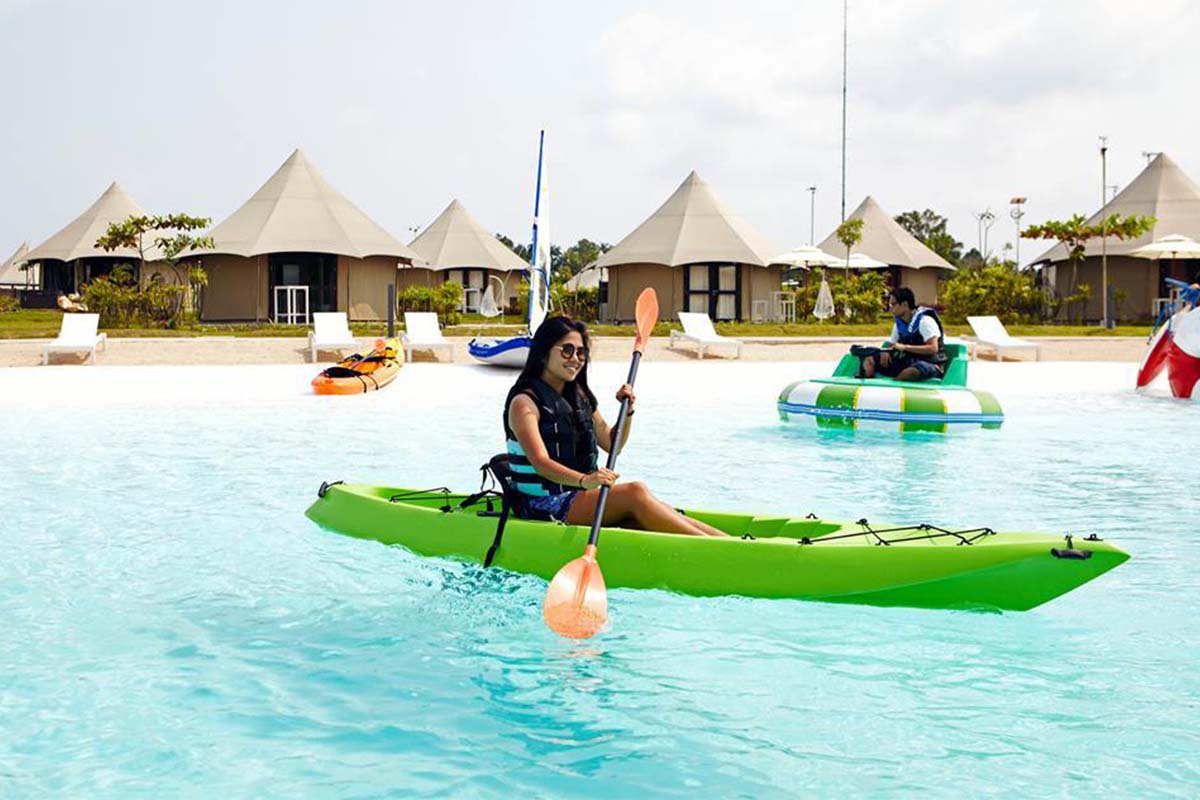 Image Source: https://www.justgola.com
The Treasure Bay Bintan wishes you to have fun to the fullest so they provide adventurous ride yet safe for you. You should not be worried about jellyfish stings, sea urchins, or other unfriendly sea creatures.
The available water sports are kayaking and paddle boarding. If you look for more, you might want to feel the sensation of a flying superhero by riding a flyboard. These rides are rent with various rates, ranging from IDR 40,000 to IDR 300,000.
4 | Solar Boat Ride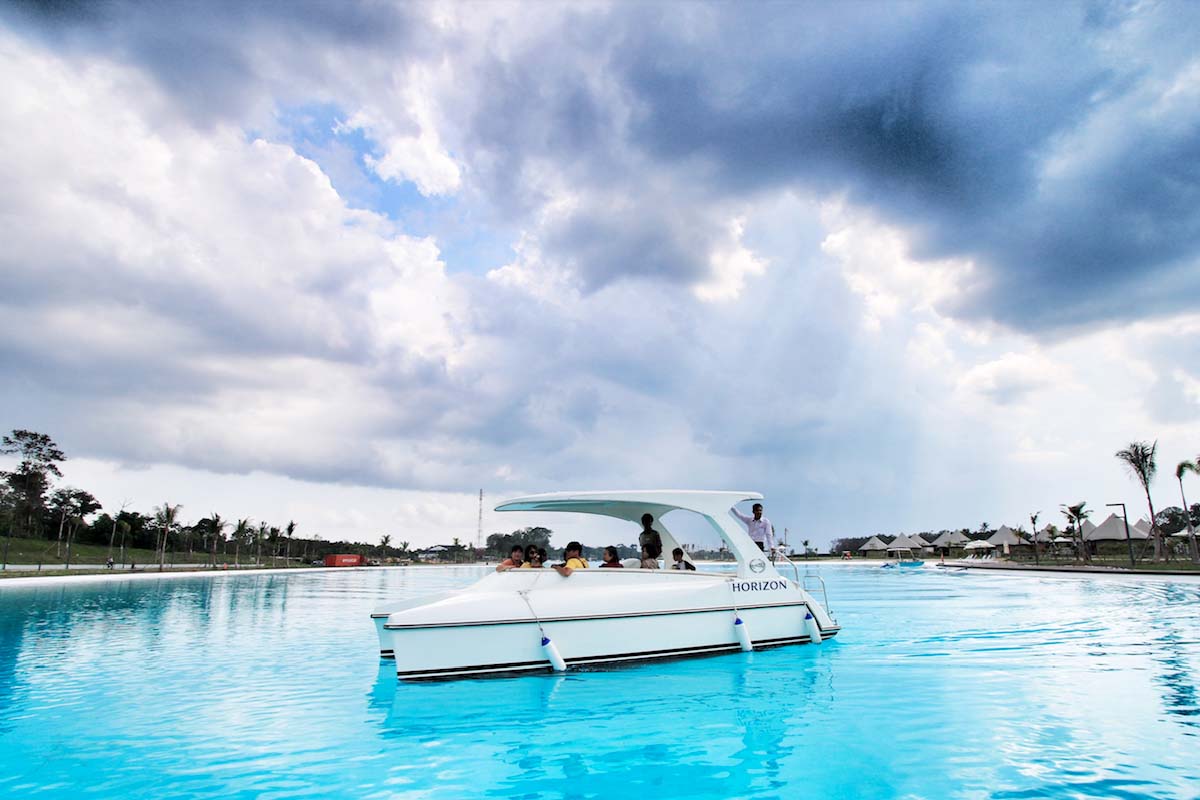 Image Source: https://www.treasurebaybintan.com
If you go to this recreational site with family and wish to explore the lagoon in a group, you should try the solar boat ride. The solar-power boat will take you and your family cruising along the lagoon. You must pay IDR 60,000 per person to take this ride.
Apart from the solar boat ride, you can also take a closer look at the entire lagoon by water tricycle. The ride accommodates two people. It is suitable for adults or even children. To get into this ride, you should spend IDR 190,000 per person for a 15-minute ride.
5 | Off-Road Adventures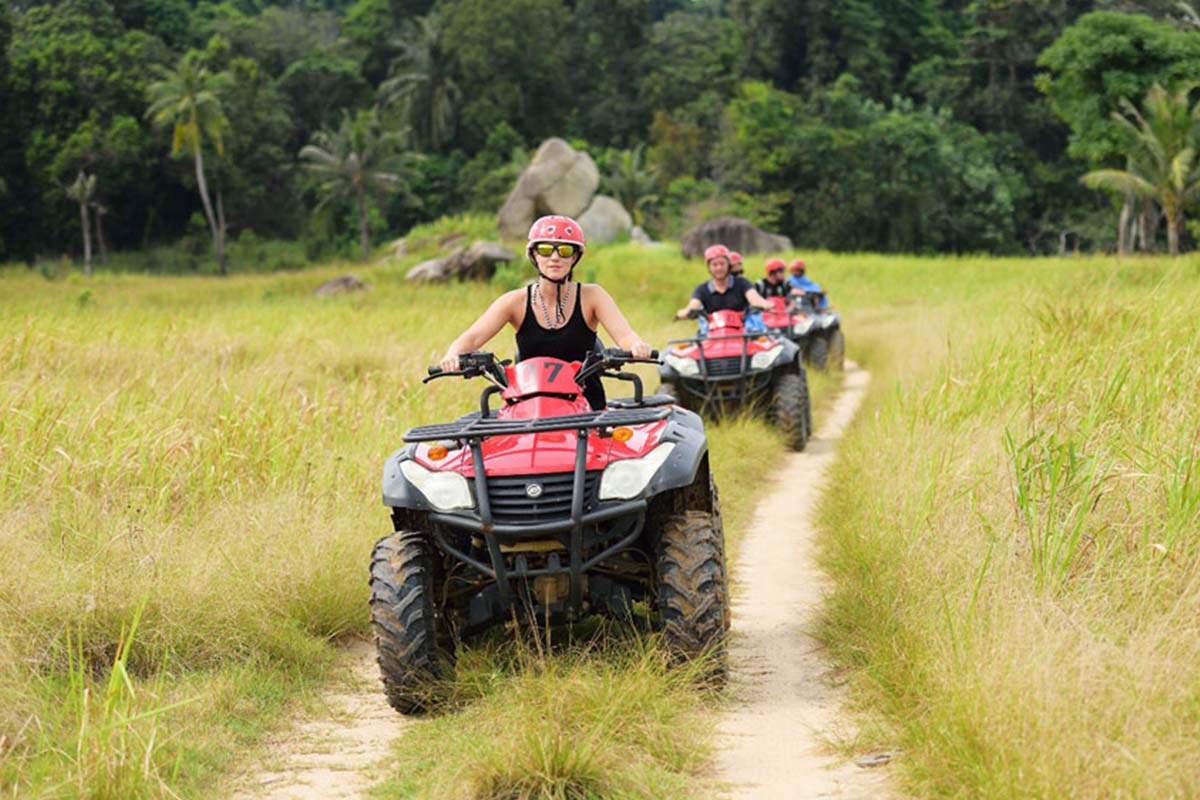 Image Source:  https://www.bintanlagoon.com
If suddenly the free-spirited version of you is calling and the lagoon is not enough to release the urge, you should jump onto the site's UTV rides. You can just go trekking through its private jungle. Looking at the green scenery combined with the engine roar will bring you a wild-life and soothing sensation. To get this atmosphere, you must spend IDR 450,000 for 40-minute bumpy yet fun trip.
You might also want to get the thrills of being a soldier by playing airsoft gun in the Treasure Bay Bintan. The role-play is so authentic with weighted airsoft weapons The airsoft gun is available at IDR 80,000 per 30 bullets.
6 | The Canopi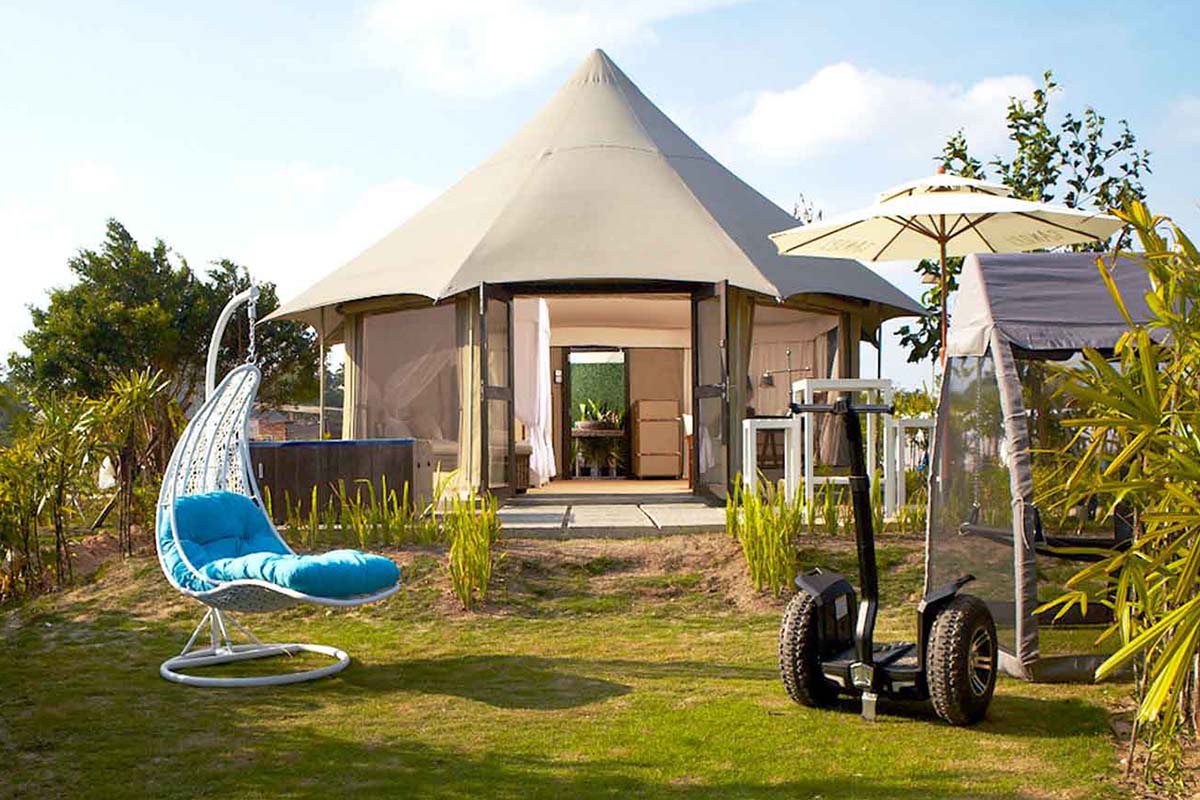 Image Source:  http://scenictravel.com.sg
You can experience the wonderful yet fancy nuance of camping by the sea in The Canopi. The Canopi is an eco-resort in the Treasure Bay Bintan. It has dozens of cone-shaped resorts standing along the Crystal Lagoon. They are offered in six different types: tents, garden tents, safari tents, lagoon view tents, lagoon view deluxe tents, and glamping (luxury camping) deluxe tents.
If you look for serenity, you should treat yourself with the glamping deluxe tents. It has a private patio and even private whirlpool bath. In addition, with any room type, you will get free tickets for any rides in the Treasure Bay Bintan.
7 | The Patio Bar and Restaurant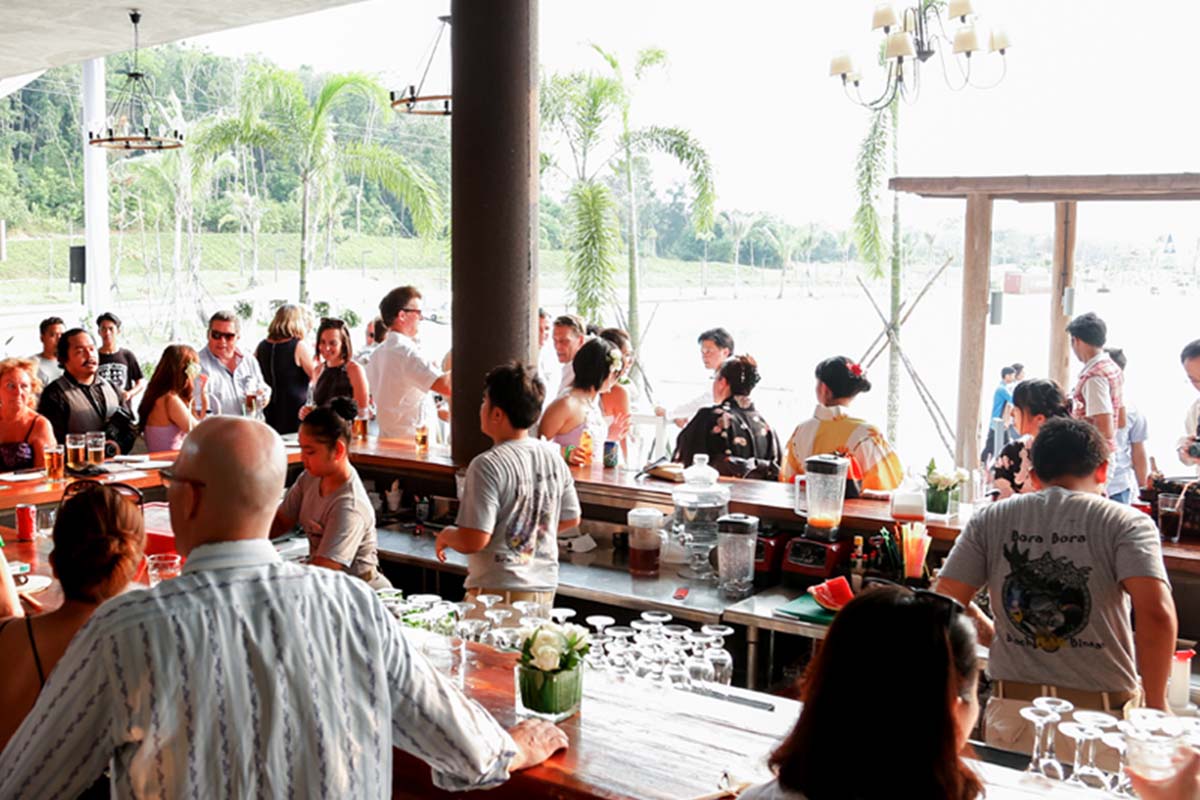 Image Source: https://thecanopi.com
All the luxuries above will not be completed with a delicacy by the Patio Bar and Restaurant. The eatery overlooks the Crystal Lagoon and serves an all-day dining menu with a selection ranging from local cuisines to international masterpieces.
Whenever you take your seat there, you should try their signature cocktails so will make your dining experience by the pool to the fullest. The Patio Bar and Restaurants also enables service for self-service barbeque in your private garden at The Canopi.
Image source of header banner: Shutterstock