"It is only with the heart that one can see rightly; what is essential is invisible to the eye." ~ Antoine de Saint-Exupery
Love is in the air! This is the month where the whole world will celebrate their love for their significant other. Flowers, chocolates, romantic escapades and so much more will flood the activities of lovebirds on 14th February. If you're not good at thinking of out-of-the-box activities to do with your loved one during this special day, then think simple and take your partner out on a romantic candlelight dinner. This is always a safe and pleasant option for two people who want to celebrate their love for each other.
Well, we've come up with a list of the most romantic places where you can have the ultimate Valentine's Day experience in Bandung!
1 | The 18th Restaurant and Lounge – Trans Luxury Hotel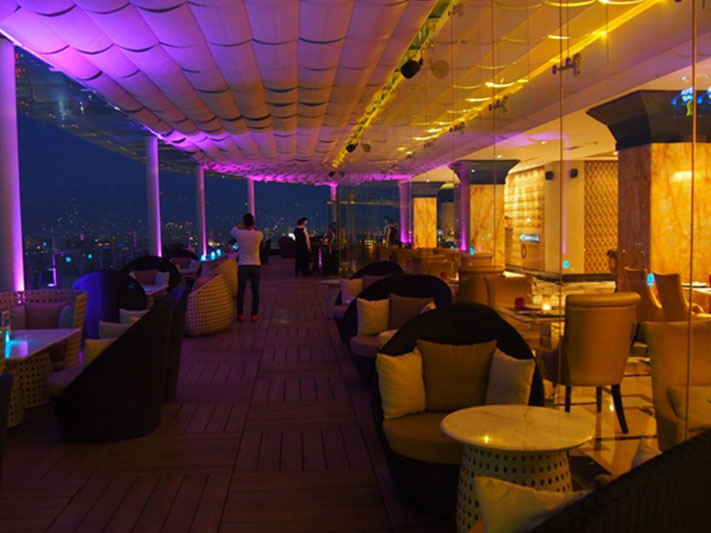 Image source:  https://yudasmoro.files.wordpress.com

There is nothing more romantic of enjoying the dreamy view of city lights while savoring a mouthwatering meal. This restaurant offers a fantastic view of Bandung from the 18th floor of the Trans Luxury Hotel and an elegant dining experience that will surely be unforgettable. Come and relish in a delightful set dinner for two prepared by the talented Chef de Cuisine Lukman Hakim, who will create the "perfect recipe" to celebrate this special night. 
Price: starts from IDR 1,200,000++/ couple
Address:
Trans Luxury Hotel
Jl. Jendral Gatot Subroto No. 289
Cibangkong, Batununggal
Kota Bandung, Jawa Barat 40273
Telephone:
(+62) 022 8428 8288
+62 811 2333 419 (Whatsapp)
Website:
https://www.the18th.co
https://www.the18th.co/valentine-dinner/ (menu for Valentine's Day dinner)

2 | Apsara – Gedong Putih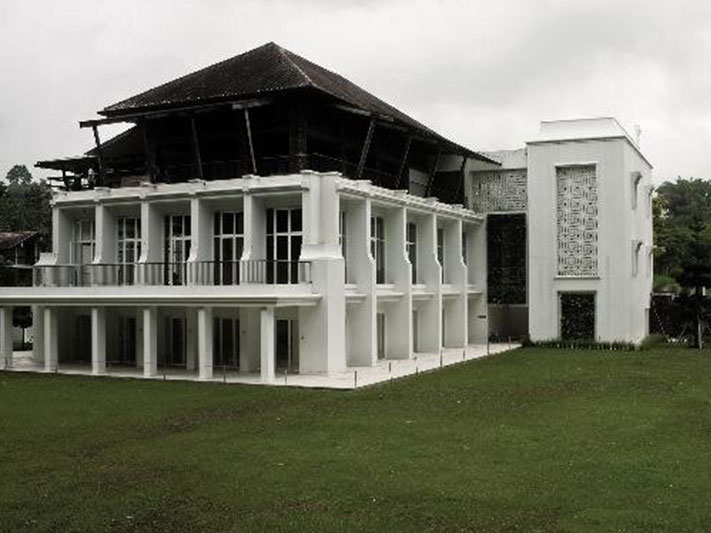 Image source: https://pbs.twimg.com

If you adore Thai food, then you must dine in Apsara, a restaurant nestled on the ground floor of the Gedong Putih venue in Bandung. Gedong Putih is a venue often rented out for weddings and other occasions so you know you'll be greeted by a pleasant view upon your arrival. This restaurant offered scrumptious Thai meals in a wooden Thai design ambiance. The name is derived from the word "Apson" in Thailand, which are described to be "beautiful and ethereal beings who inhibit the skies and may be compared to angels". This will ensure a magical date with your loved one on this special night.
Price: approx. IDR 250,000 for two
Address:
Gedong Putih
Villa Triniti
Jl. Sersan Bajuri KM 4.7, No. 88
Parongpong
Kabupaten Bandung Barat, Jawa Barat 40559
Telephone:
+62 822 6269 6177
Website:
http://www.gedongputih.id/restaurants/apsara

3 | The Restaurant – Padma Hotel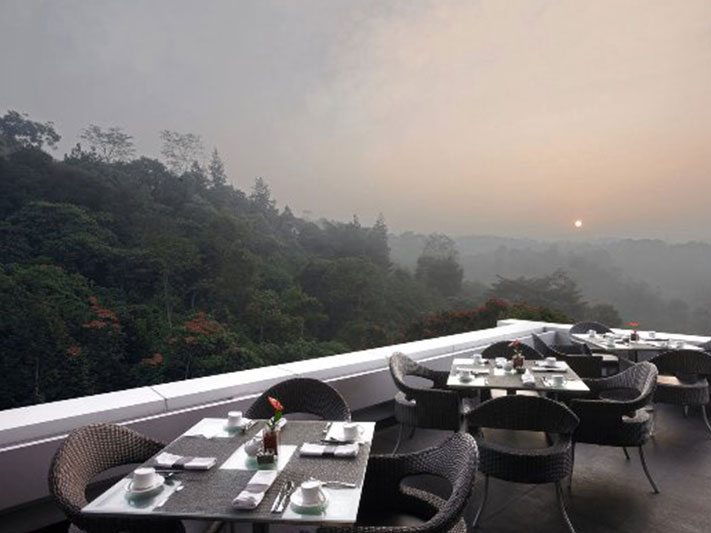 Image source:  https://media-cdn.tripadvisor.com

Here is where you can revel in a refreshing dining experience overlooking the view of this quaint city from the top of one of Bandung's most luxurious hotels, the Padma Hotel. This romantic open-air restaurant offers a cozy ambiance where you can enjoy fine Asian and European cuisine. This year, The Restaurant is offering a unique Valentine's Set Menu Dinner on 14th February 2018 serving an elegant package comprised of a 5-course degustation meal, chocolate pralines, and live soothing Jazz tunes to make your night more memorable.
Price: IDR 2,100,000 nett/ couple
Address:
Padma Hotel
The Restaurant
Jl. Ranca Bentang No. 56-58
Ciumbuleuit, Cidadap
Kota Bandung, Jawa Barat 40142
Telephone:
+62 22 203 0333
Website:
http://www.padmahotelbandung.com/dining/the-restaurant.php

4 | Lutung Kasarung – Dusun Bambu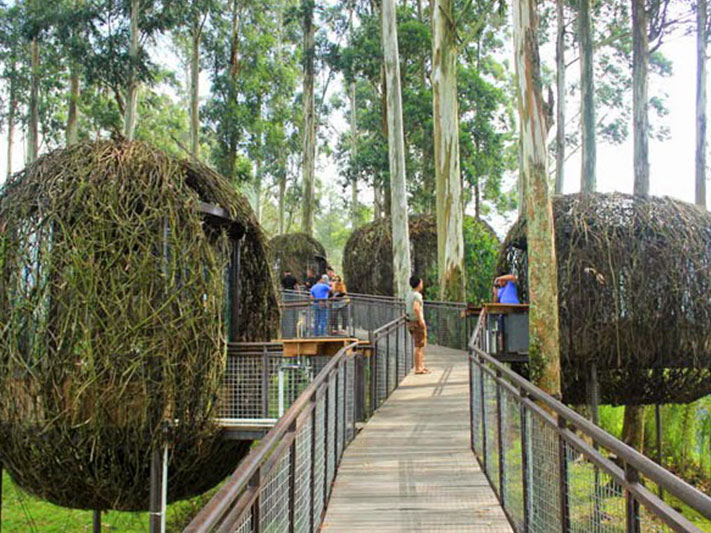 Image source:  http://3.bp.blogspot.com

How about an amazing dinner in lush surroundings? Well, Lutung Kasarung is the right place for you to enjoy a romantic evening while you relish in the beauty of nature. This is a unique restaurant where you can dine in a private booth designed like a bird's nest. The best way to enjoy the ultimate romantic experience is to dine some authentic Sundanese cuisine while you enjoy the marvelous colors of the sunset.
Price: approx. IDR 120,000 for two
Address:
Dusun Bambu
Jl. Kolonel Masturi KM 11
Kertawangi, Cisarua
Kabupaten Bandung Barat, Jawa Barat 40551
Telephone: +622 827 82020

5 | Takigawa Meat Bar in the Sky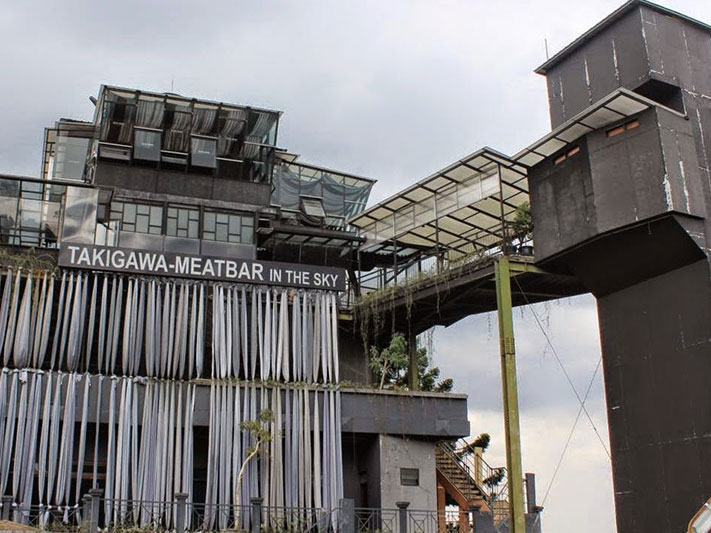 Image source: https://3.bp.blogspot.com

Feel the sensation of delighting in some Japanese comfort food with a view of the sparkling city from the 5th floor. This restaurant, located in the heart of the city, has two areas, the indoor area and the favored outdoor area. Well, for this special occasion, the outdoor area is surely the top choice for you and your loved one. However, if you opt to dine in, the cute tatami mats surrounded by glass walls is also a great experience.
Price: approx. IDR 500,000 (minimum purchase for table at Bar in the Sky); approx. IDR 250,000 for two (indoor area)
Address:
Dago Pakar Building
Jl. Bukit Pakar Timur IV No. 8
Dago Pakar, Ciburial,
Bandung, Jawa Barat 14430
Telephone:
+622 825 3090

6 | Belle Vue – GH Universal Hotel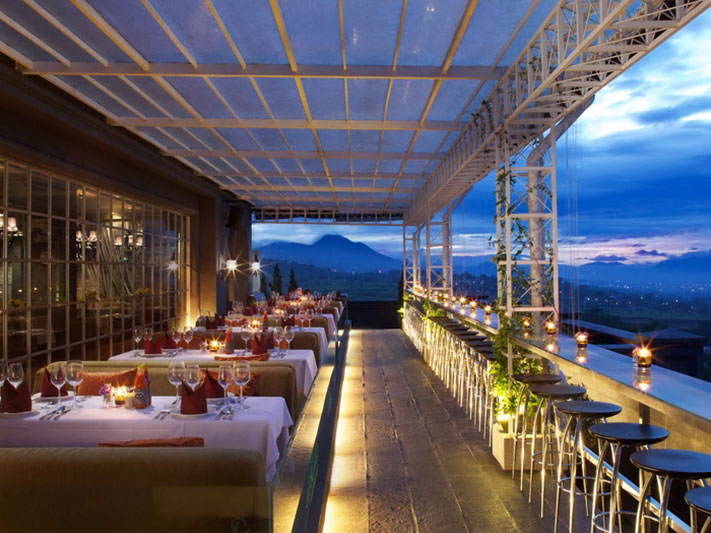 Image source:  https://origin.pegipegi.com

For those who love French and Italian bistro food, come to Belle Vue for an authentic dining experience. Here is where you'll fall in love with not only your partner, but also with the spectacular ambiance and food. GH Universal Hotel itself is a unique 5-star hotel with renaissance style architecture that will boggle the mind. You will feel like you've drifted off into romantic European history once you enter this establishment.
Price: approx. IDR 500,000 for two
Address:
Jl. Setiabudhi No. 376
Bandung, Jawa Barat 40143
Telephone:
+62 22 201 0388
Website:
https://ghuniversal.com/eat-dine/bellevue/