The capital city of the country, Jakarta is also Indonesia's bustling financial and business hub. Therefore, it is no surprise that the number of business travelers coming into Jakarta is rising every year. With more and more business people now mixing business trips with pleasure tours, more and more are choosing to stay out of the big names hotels and checking into boutique hotels that provide unique characteristics and experience. It does not hurt if these hotels are Instagrammable from every corner, house cool hangout spots to unwind and of course offers high-speed internet access to let you stay connected with the rest of the world.
So, whether you are staying in Jakarta for business and/or for pleasure, here are a selection of five unique business hotels in Jakarta in the 3 to 4-star range that can give you an experience like no other:
1 | Artotel Thamrin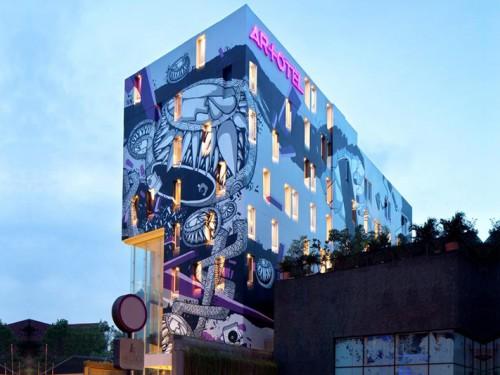 Photo source : www.booking.com/artotel-jakarta-thamrin
Located just by the main Thamrin avenue with an eye catching graffiti done by Jakarta's best Darbotz, it is hard not to notice it. This hotel gives you a unique art concept, style, and design on each floor. The minute you walk in, you will see original local artworks presented in creative and unexpected ways. The rooms shout originality through customized art designs on the walls. With a Dolce Gusto machine in each room, you can admire art with a cup of hot coffee in your hands. If you prefer an artisan cup of freshly brewed coffee, Filosofi Kopi serves a mean cup of joe available on the ground floor.
The hotel provides a 24/7 dining restaurant that features local flavors and a twist of contemporary style with ROCA (Restaurant of Contemporary Art), as well as a rooftop bar, BART, that opens until 1 am. To top it off, purple bicycles are available for you to use and ride around the central city, especially during Car Free Day (every Sunday morning). Occasionally, the hotel also offers interesting art classes to unwind from you busy week.
Contact:
www.artotelindonesia.com/thamrin-jakarta
Jl. Sunda No.3, RT.8/RW.4, Gondangdia, Menteng, Jakarta, Indonesia
+62 816 1610 555
Price starts from IDR 655,000
2 | Kosenda Hotel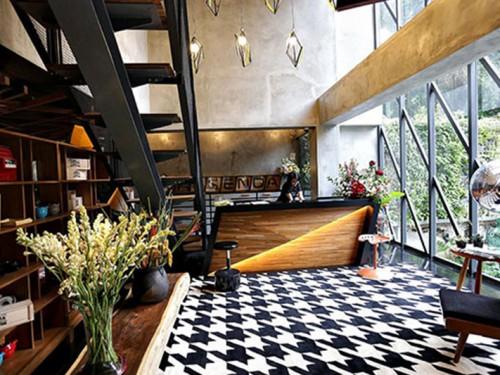 Photo source : www.kosendahotel.com
Located close to the city's business district, this eclectic urban interior hotel will attract potential visitors for a fun and funky escape. Despite its limited space, Kosenda Hotel really knows how to optimally bring comfort by combining contemporary architectural touches inspired by Jakarta's own ethnic Betawi houses, with modern Danish furniture in wood. It is a true testament that bigger is not always better, especially when your room is adorned with hip retro smartphone speaker and a rotary phone as well as bespoke dressing gown and slippers.
The ground floor has a restaurant (Waha Kitchen) and Cafe (127 Cafe), where you can indulge in delicious Chinese Peranakan cuisine. Business travellers will be happy to know that every room is equipped with free Wi-Fi and a desk. The hotel comprises of 60 rooms and a rooftop lounge (Awan Lounge) with panoramic view on the city. The bustling shopping district is not far away from the hotel, giving you the experience of being in two places at once.
Contact:
Jl. KH Wahid Hasyim No.127, Jakarta, Indonesia
Phone: +62 21 3193 6868
Price starts from IDR 745,035
3 | Morrissey Hotel

Photo source : www.booking.com/morrisey-service-apartment
Similarly located near the heart of Indonesia's capital, this British Retro-themed hotel is a sleek modern structure that offers many perks to its visitors, whether they are staying for business or for pleasure.
The interior design of each room has a contemporary industrial feel lend by its exposed concrete ceiling. Large windows in every room allow the light in to motivate you to start your morning activities. The size of the room is comparably bigger than most business hotels in the area within the same range and it has a full kitchen which makes it convenient for those opting for a longer stay in Jakarta.
Endless facilities are provided by the hotel: a restaurant, gym, self-service launderette, rooftop lounge and swimming pool. They also have bicycles and three-wheeled motorized vehicles (popularly known as "Bajaj" here) to take you exploring the nearby food street at Jalan Sabang, and take in the sights, sounds and tastes of Jakarta.
Contact:
Jalan KH. Wahid Hasyim No.70, Menteng, Jakarta, Indonesia
Phone: +62 21 2993 3333
Price starts from IDR 1,200,000
4 | The Hermitage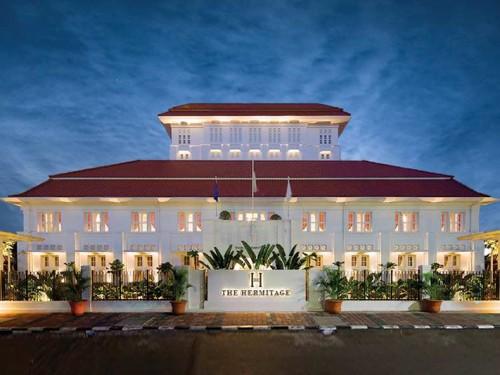 Photo source : www.bestjakartahotels.com
This hotel provides the middle ground if you still wish to stay with the big names, as the hotel is part of the Starwood Hotels, but you still look for just that touch of uniqueness. It is almost hard to believe that this Colonial-themed hotel that feels so serene is still centrally located. Nestled in the plush Menteng area, the hotel used to be a Dutch telecommunications office back in colonial days. The Hermitage 1920's art deco building with antique vases plucked straight from the sultan's palace in Cirebon and handmade batik wall art, is not short on luxury nor elegance.
The Hermitage has three dining experiences such as The Hermitage Lounge which offers light bites and snacks, L'Avenue chic-ethno-bistro style restaurant, and La Vue Rooftop Bar where you can swim and lounge the rest of your day away.
The location of the hotel is just stone's throw away from Antique Art Market on Jalan Surabaya and Cikini Railway Station.
Contact:
Jalan Cilacap 1, Menteng, Jakarta, Indonesia
Phone: +62 21 31926888
Price starts from IDR 2,069,000
5 | Kemang Icon by Alila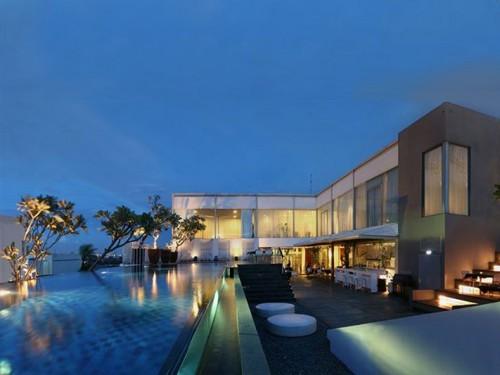 Photo source : www.reservasi.com/kemang-icon-by-alila
If you are looking for a truly bespoke experience, than there is no other place that does it better than Kemang Icon by Alila. Located in the hip area of Kemang, where lots of restaurants, cafes, galleries and chic boutiques occupy most of the area. It is also the perfect choice if you want to stay in the South of Jakarta as it is not far from the business area at T.B Simatupang.
There are only 12 rooms in this hotel that occupy the upper floors of a shopping center, but each one is different from the other. What they have in common are how each nook and cranny of this room is well-thought out in terms of design and is packed with gadgets that you never knew you needed. The level of personalization that the hotel offers is meticulous. You can not only pick your preferred pillows and duvet types, but you can also inform them what you want them to stock your minibar and preload your iPod with.
There is only one restaurant-cum-bar, The Edge, is where you can have your breakfast on the rooftop area and also unwind in the evening. The hotel does not have a gym area, however the stunning 53-foot infinity-edge pool and yoga studio with 360-degree skyline view that can be accessed from The Edge make up for what it lacks.
Contact:
Jl. Kemang Raya No.1, RT.4/RW.1, Bangka, Mampang Prapatan, Jakarta, Indonesia
Phone: +62 21 7197989
Price starts from IDR 931,095
Now, your stay in Jakarta does not always need to be about business! Book yourself into one of these hotels and instill a little bit of pleasure into it.
Photo source of header banner : www.id.pinterest.com
Related articles:
1. 8 among Jakarta's Luxurious Hotels to fit your Lifestyle
2. Bargain Shopping In Metropolitan Jakarta
3. 3 Best Places to sip Authentic INDONESIAN COFFEES in JAKARTA
4. Exclusive Special Fine Dining around Jakarta
5. Indonesia's Haute Couture Fashion Designers' Galleries in Jakarta