Yogyakarta, located in the southern-central part of the island of Java,is a relatively small yet bustling city with many wonders to explore. From majestic natural panorama, local fine arts, historical traditions, delicious culinary cuisine to Javanese royal heritage. It is also the favorite city from where to drive to the inspiring Borobudur temple.  This is the reason why Yogyakarta is the second most visited destination in Indonesia after Bali. Because of its rich heritage, Yogyakarta produces many kinds of handicrafts. Here are a few places, where you can find original and best quality handmade pieces created by skilled artisans of the city:
1. Silver of Kota Gede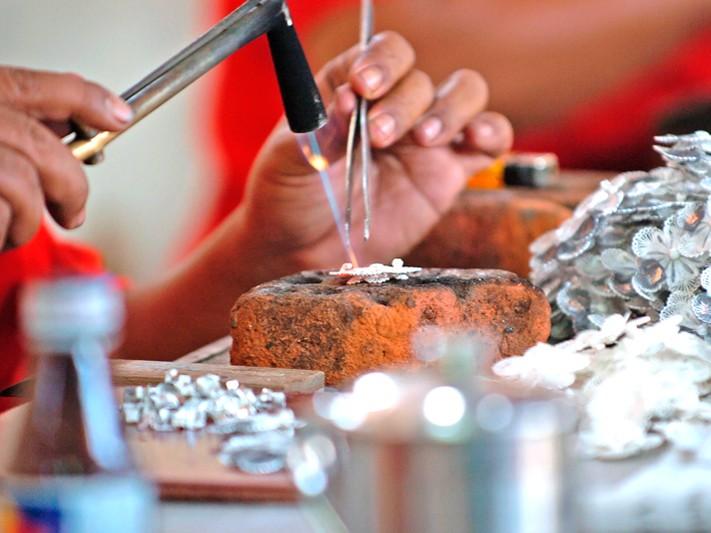 The area called Kota Gede is the old part of the city and is internationally known for its fine silvercraft. A number of shops, factories and workshops are sited here, located inside heritage buildings that once were  homes of merchants and aristocrats, defined by their stylish architecture of the past. Visitors are welcome to see and learn the art of silversmithing. A number of places will give you the opportunity to make your very own signature jewelry. Observe up close and personal how silver bars are transformed into delicate beautiful works of art full of details. The finished products include handmade accessories, such as neckalces, brooches, pendants, bracelets and earrings, but also miniature souvenirs, silver cast sculptures, silver trays and complete tea set, as well as beautiful silver handbags, made with filigree technique.  Yogya silver can be distinguished by its burning technique that emphasizes the relief between black shadows and sparkling silver fronts. You will find  that shopping for silver in Kota Gede offers better deals than elsewhere in Yogyakarta.
How to get here:
Depending on the tour group you are in, you can rent a bike, motorcycle, car or take a taxi. Kotagede is only a short distance from city centre , located about 10km southeast of Yogyakarta. To move around, you can also try the Andong (horse drawn carriage) or Becak (pronounce beh-cak, a kind of pedalled trishaw). Both local transport can bring you around on a tour, but be sure to negotiate the price before starting the journey.Whilst in Kotagede, you should also visit some landmarks here like the Kotagede market (Pasar Gede), the Masjid Agung (the Grand Mosque)and the revered complex of tombs of the old Mataram Kings.
2. Earthenware and Ceramics at Kasongan village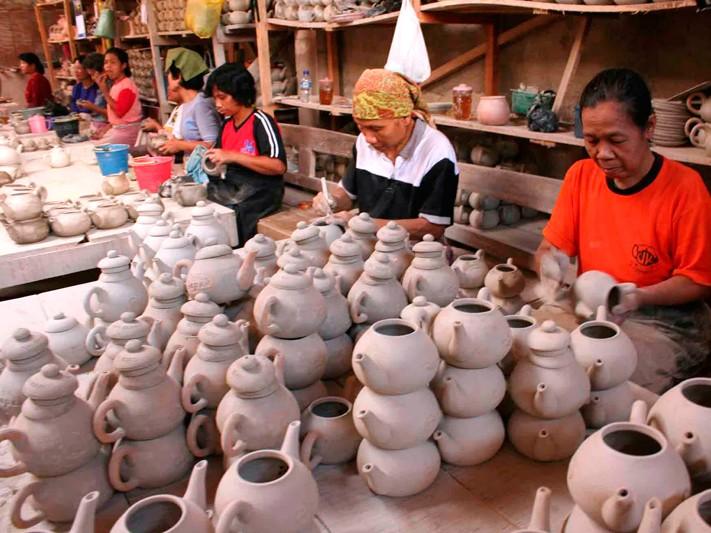 Kasongan village used to be just an ordinary village that you can find around Yogyakarta  but it has now become a tourist destination alll its own. Today, Kasongan represents one of the biggest local producers of ceramic handicrafts in Yogyakarta. Most of its inhabitants work on pottery for household and kitchenware. Original designed products made with artistic sensitivity and natural craftsmanship  has thrust Kasongan into a tourism area of local pottery. A collaboration of talented artisans, arts observers, merchants, tourists, with government support has helped the village to rise up and perform global business throughout the world. More modern home decor , such as carved stone tiles, ceramic vases, plates and sculptures are some of the specialties favoured by visitors.
How to get here:
Located about 8 km to the southwest of the city center of Yogyakarta, it is best to rent cars or taxi, so you would not find it hard to transport your pottery. Stroll around the one lane street of showrooms, and then walk a while again to get a closer look and find hidden treasures to bring home.
3. One Stop Shopping along Jalan Malioboro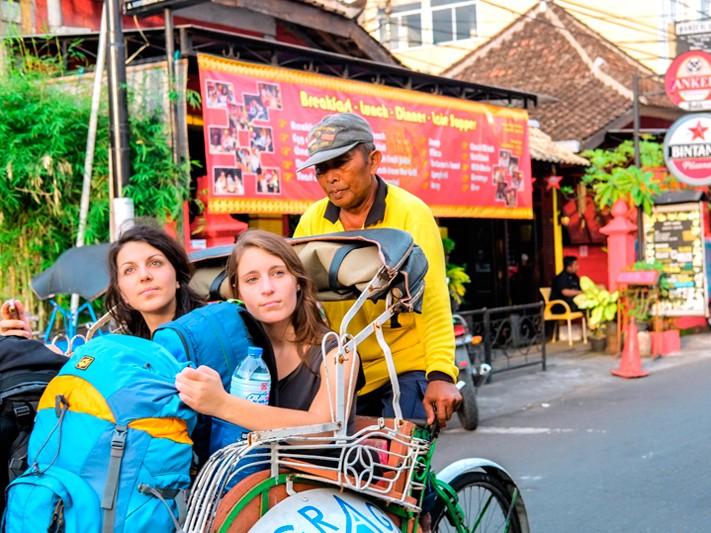 If you only have limited time to visit Yogyakarta, then Malioboro is the main visitors' hotspot for shopping. You may find everything  is available on this street. From humble stalls selling local cuisine to modern shopping malls and fancy hotels. The street is busy by day and festive by night. Shopfront sidewalks are shared among visitors and street vendors during morning to afternoon, but when night falls  food vendors spread their ware with Lesehan (dine in by sitting on the plastic carpeted floor and low tables). Street musicians will entertain you with accoustic performances while you enjoy the city's lights. Some of the must visit shopping place in Malioboro are:
Dagadu
Malioboro Mall, Lower Ground
They produce funny contemporary t-shirts with slogans revolving around Yogyakarta's people, culture and lifestyle.
Mirota
Jl. Jend. A. Yani No. 9. Phone : +62 274 588524
You may feel overwhelmed walking into this exciting shop. Selling pretty much everything from today's trendy items to antiques. Mirota Batik houses handicraft in leather,silver,textiles, ceramics, paintings to iconic historical pieces. For the curious goods hunter, it is a paradise in choice and style. Live music, dance performances and batik paintings exhibition are an extra point of value offered to service visitor while doing their shopping.

4. Batik Beringharjo
Jl. Pabringan 1, Phone :+62 274 515871, +62 274 561510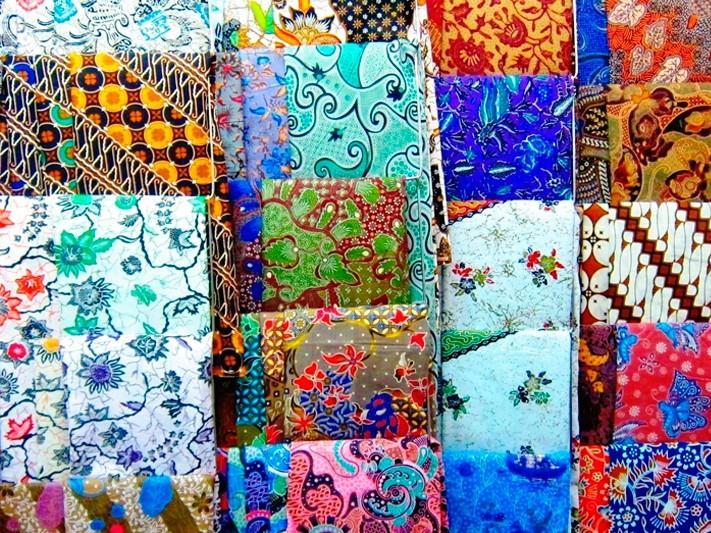 Beringharjo is the largest traditional marketplace that is simply worth a visit while in Yogyakarta. Historically, the name Beringharjo was given by the late Sultan Hamengku Buwono VIII. "Bering" came from the origin of its place which was at first a banyan (Beringin) forest, while "Harjo" expresses the hope that this place will bring prosperity to the people. The main entrance of Beringharjo Market is on the west side directly facing Malioboro Street.
On the entrance gate, visitors can read the name Beringharjo Market, 'PASAR BERINGHARJO', written in roman and Javanese letters. Vendors here sell goods ranging from basic daily needs (meats, vegetables, fruits, herbs and spices) to many kinds of handicraft such as batik, souvenirs, toys and artworks. Visitors are encouraged to bargain.
The building is divided into zones. On the first level, you will see the north side entrance, with at its western side are vendors selling fruits, vegetables, and delicious traditional delicacies. The rest of the market offers a wide range of good quality batiks at reasonable prices, perfect for souvenirs. On the next floor, are a number of shops selling Javanese herbs and spices, such as tamarind, temulawak, ginger, cinnamon and much more.
How to get here:
This market is right in the heart of Yogyakarta, accessible by all kinds of transportation. You can choose public transport from the Adisucipto Airport , do take Trans Jogja Bus line 3A or 3B, stop in front of Yogykarta's governor office. Then continue walking about 100 meters, along the same road.

5. Traditional Cement Tiles of Tegel Kunci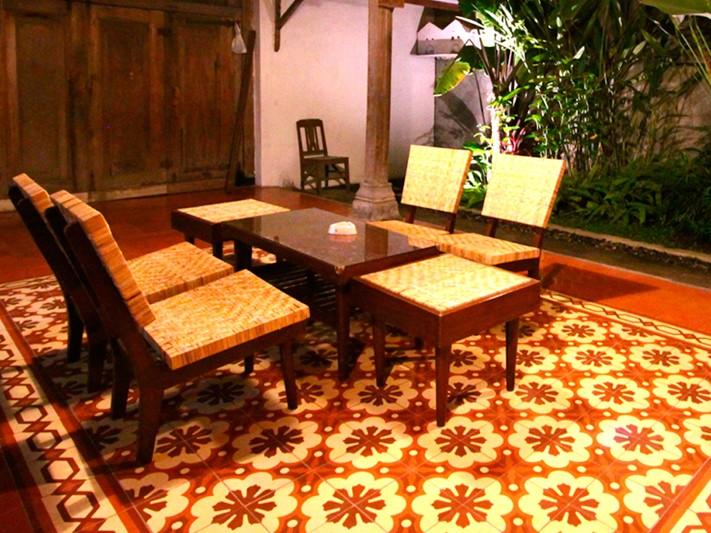 Nowadays, vintage items for home and interior decoration have once again become trendy. This local cement tile factory has  historical roots going far back to 1927. In 2013 the company revived into popularity by word of mouth, by adding more specialized custom-made productions, a tile at a time. Cement tiles are known for durability. It serves to give a special style and sense of a space. Today, cement tiles with vivid hues and motifs are used as accents and highlights to a room. Whether it is planted on the wall alongside state of the art stainless steel kitchens or on the floor bordering your favourite lounge, these tiles are versatile to combine with modern style architecture. Tiles are made and coloured piece by piece to suit your custom order.
How to get here:
You can visit their address, at Jl. Pakuningratan No.70, Cokrodiningratan, Jetis. Phone: +62 274 – 512707 Fax: +62 274 – 517505. To get a preview, you can also visit their website at www.tegelkunci.com
There is so much more that you can experience in Yogyakarta in addition to its artistic handicraft and interesting culture. Visit the Keraton or Royal Palace, then feast on local delicacies at the Alun Alun, the green in front of the palace. Walk around and climb the steps of the ancient  Borobudur temple to watch a bewitching sunrise. Come and enjoy the enthralling traditional Ramayana dance drama on the huge stage with as background the graceful Prambanan temple under the full moon. Yogyakarta will enchant you with its majestic magic.