Yogyakarta is one of the most popular cities in Indonesia known as a center for art, culture, food and many other, all together experiences tourists dream of. This is also home to the royal family of Yogyakarta, classic architecture, tongue tantalizing traditional food and many more. But did you know that you can experience all of the above while staying in a chic and unique hotel during your stay?
Aside from aiming to see the sights and experiencing pleasurable activities, many also seek a cozy and comfortable place to stay during their visit to another city or country. Well, Yogyakarta does not only have many comfortable places to stay at to make your journey more worthwhile, but also quirky hotels that are totally 'Instagrammable'and pleasing to the eyes and mind.
We've come up with a list of the 4 quirkiest hotels in the city to make your stay more unforgettable. The bonus? All of these hotels are extremely affordable so you can enjoy hotel-hopping and a longer stay in one of Indonesias top destinations.
1 | GREENHOST BOUTIQUE HOTEL PRAWIROTAMAN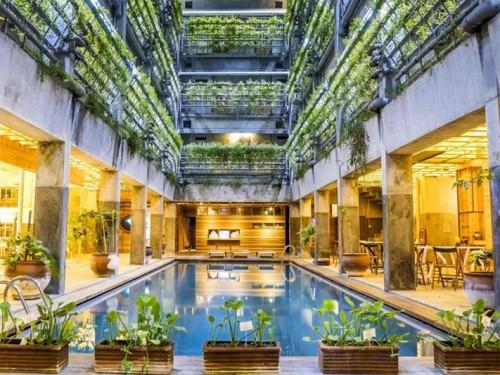 Photo source: www.agoda.com/greenhost-boutique-hotel-prawirotaman
This relatively new eco-friendly hotel, situated in the unique artsy area of Prawirotaman, is one of the most mind-boggling hotels in the city. What makes this hotel special is that aside from its fantastic lush design, it has a cozy lounge on the highest floor known as the Attic Lounge, which is connected to a hydroponic garden on the rooftop of the hotel. Not only that, guests are also welcome to admire the lush garden filled with all types of plants, herbs and spices used for the meals served at the hotel.
As for rooms, they are not only comfortable, but the industrial-like design is totally worth a picture or two, or even ten! The hotel also provides good quality basic amenities needed when traveling, so you can travel light while staying in one of the most uniquely comfortable hotels in the city. Nearby attractions, all less than 2 km away, include Sumur Gumuling, Water Castle (Taman Sari), South Palace Town Square and the Keraton Complex.
Address:
Jalan Prawirotaman II No. 629,
Brontokusuman, Mergangsan
Kota Yogyakarta, Daerah Istimewa Yogyakarta 55153
Telephone: +62 274 389 777
Website: https://greenhosthotel.com/
2 | YATS COLONY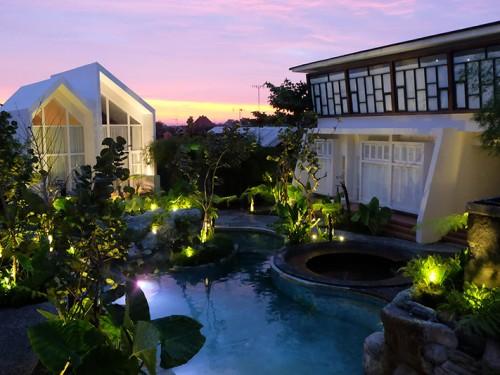 Photo source: www.yats.co
When you enter the hotel site, youre welcomed by a uniquely shaped pool surrounded by the artistically developed building of the hotel. Each room has a specific theme and name. There are five types of rooms you can stay in depending on your needs and style of lounging.
YATS Colony is truly an exceptional place to stay in for those who seek a cozy hotel that will please the eyes and relax your body and soul. Nearby attractions, all less than 2 km away, include Sumur Gumuling, Water Castle (Taman Sari), South Palace Town Square and the Keraton Complex.
Address:
Jalan Patangpuluhan No. 23
Patangpuluhan, Wirobrajan
Kota Yogyakarta, Daerah Istimewa Yogyakarta 55251
Telephone: +62 274 375 948
Website: http://yats.co/
3 | LOKAL HOTEL & RESTAURANT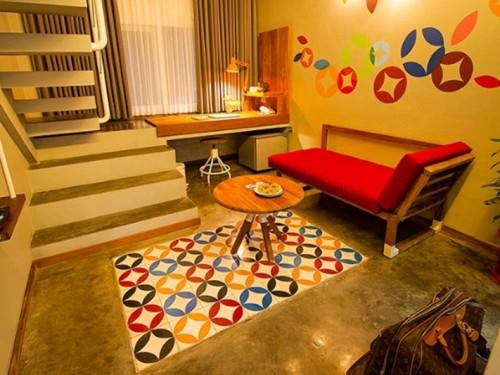 Photo source: www.lokalindonesia.com
This unique and colorful hotel is absolutely mind-boggling. Some of its more superior rooms come in an adorable two-floor style, with the bottom floor being the living room and the top floor being the bed. It has three types of bedrooms called Type A, Type B and Type C. But dont be fooled by the simplicity of its names because they seem like a fun trip to a color museum once you enter the rooms.
Aside from the rooms, this cute establishment also has a swimming pool and a restaurant serving yummy food. Nearby attractions include Ambarrukmo Plaza, Kraton Ngayogyakarta Hadiningrat and Water Castle (Taman Sari). All take less than half an hours drive to get to the location. The magnificent Borobudur Temple is also a one-hour drive from this unique little establishment.
Address:
Jalan Jembatan Merah No. 104C
Jogjakarta 55283
Telephone: +62 274 524 334 ; +62 274 551 864
Website: http://lokalindonesia.com/
4 | OMAH KECEBONG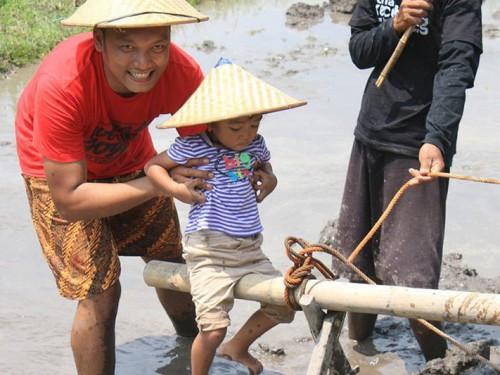 Photo source: www.omahkecebong.com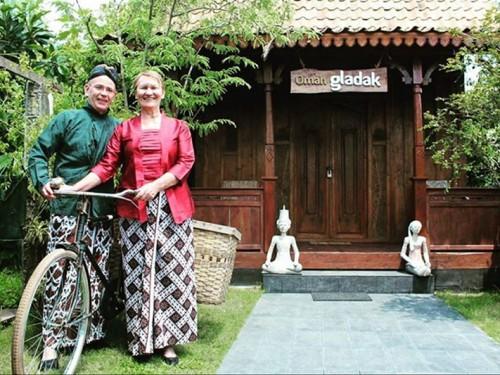 Photo source: www.imgrum.org
Located on the outskirts of Yogyakarta, Omah Kecebong is a traditional guesthouse surrounded by lush scenery. Here is where you will not only be able to stay the night in an authentic traditional home, but you will also be served with some delicious authentic local cuisine.
Plus, the guesthouse offers fun packages that will provide you with an authentic experience of living among a friendly Javanese community and find out their way of life. Some of these packages include a volcanic tour, a 'kebaya-wearing'experience, traditional meals, traditional games, tours to surrounding farms, actual rice planting, and many others. The area is popular for its fishing and cycling activities. The hotel comes complete with a flat screen TV in each room, free Wi-Fi and a 24-hour front desk to serve your every need. So come book your stay now at Omah Kecebong for an authentic Javanese experience like no other!
Address:
Omah Kecebong Guest House
Sendari (Cebongan) Tirtoadi
Mlati Sleman 55287
Yogyakarta, Indonesia
Telephone: +62 817 0290 771
Website : http://www.omahkecebong.com/
Photo source of header banner: www.omahkecebong.com
Related articles:
1. Explore Yogyakarta and Central Java – Obama Style!
2. 6 Unique Photo Spots to Enjoy Yogyakarta Above the Clouds!
3. 5 Things You Can Learn in Yogyakarta While Traveling
4. 8 Beautiful ​Hotels Closest to Magnificent ​​BOROBUDUR