Indonesia is the new hip for Muslim travelers seeking faith tourism. As the country with the largest Muslim population in the world, Indonesia has abundant and yet beautiful mosques across the archipelago. The mosques are much attractive either due to their history or architecture. Among others, here are our picks of grand mosques for you:
1 | Baiturrahman Grand Mosque, Aceh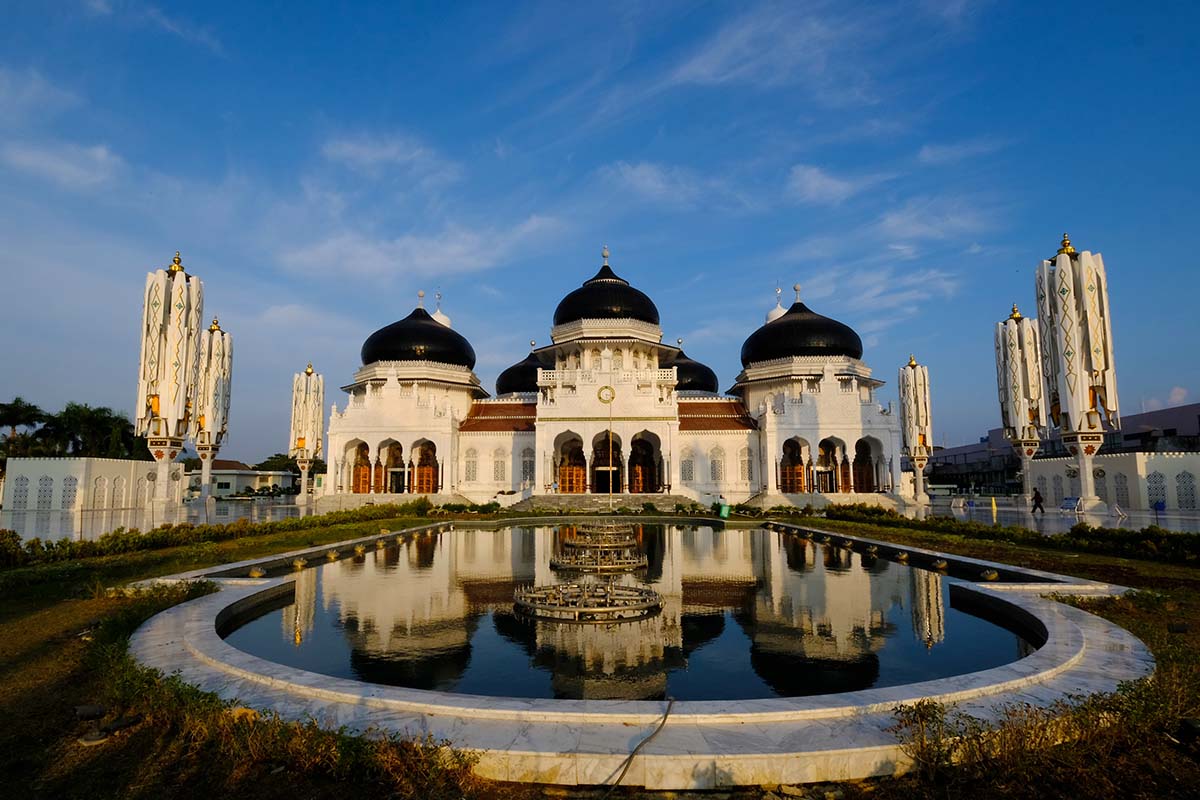 Image source: Shutterstock

If you are looking for a place to visit in Banda Aceh, it should be Baiturrahman Grand Mosque. This historical site was built during the Aceh Sultanate era and has been through various things – from the burning by the Dutch colony in circa 1873 to tsunami hit in late 2004.
Apart from praying, they mostly want to see the trace of the tsunami. When a 21-meter-high tsunami waves hit the coast of Banda Aceh on December 26th, 2004, the mosque was among buildings that remained standing tall despite damages to some parts of the mosque.

2 | Great Mosque of Palembang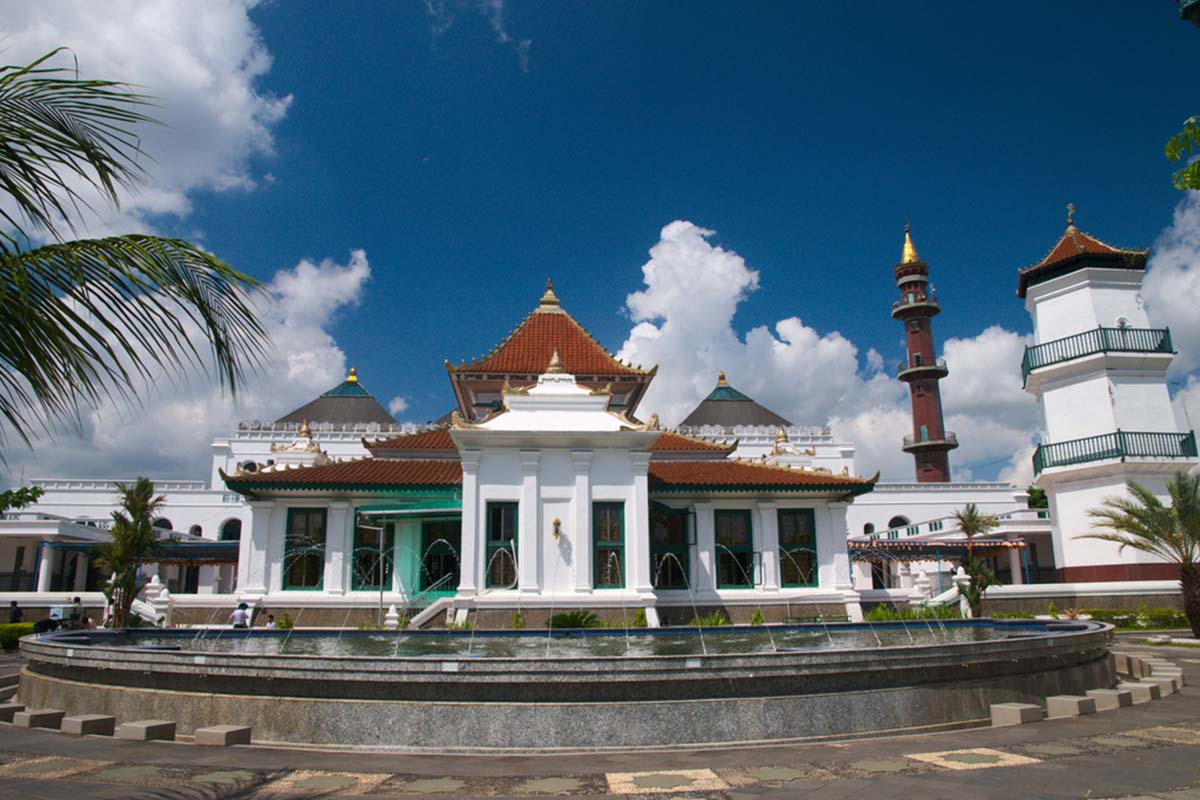 Image source: Shutterstock

Great Mosque of Palembang has a unique blend of three cultures, namely Indonesia, Europe, and China cultures, in every curve of the building. Its main door, for example, shows the influence of European culture while the roofs reflect Chinese influence with their temple-like top.
The culture of Indonesia is depicted at its cone-shaped towers which seem like nasi tumpeng or tumpeng rice (Indonesian dish usually served as a form of gratitude in a celebration).
The Great Mosque of Palembang has a wide range of activities conducted daily, monthly, or annually. The daily routine, for instance, covers five-day rawatib prayer and dakwah (religious proselytizing), which are in line with the main purpose of the mosque: to remember Allah and introduce Islam.
Interestingly, every holy month Ramadan, the mosque often holds recitation of the Qur'an which is held after tarawih prayer for a whole month.
3 | West Sumatra Grand Mosque, North Padang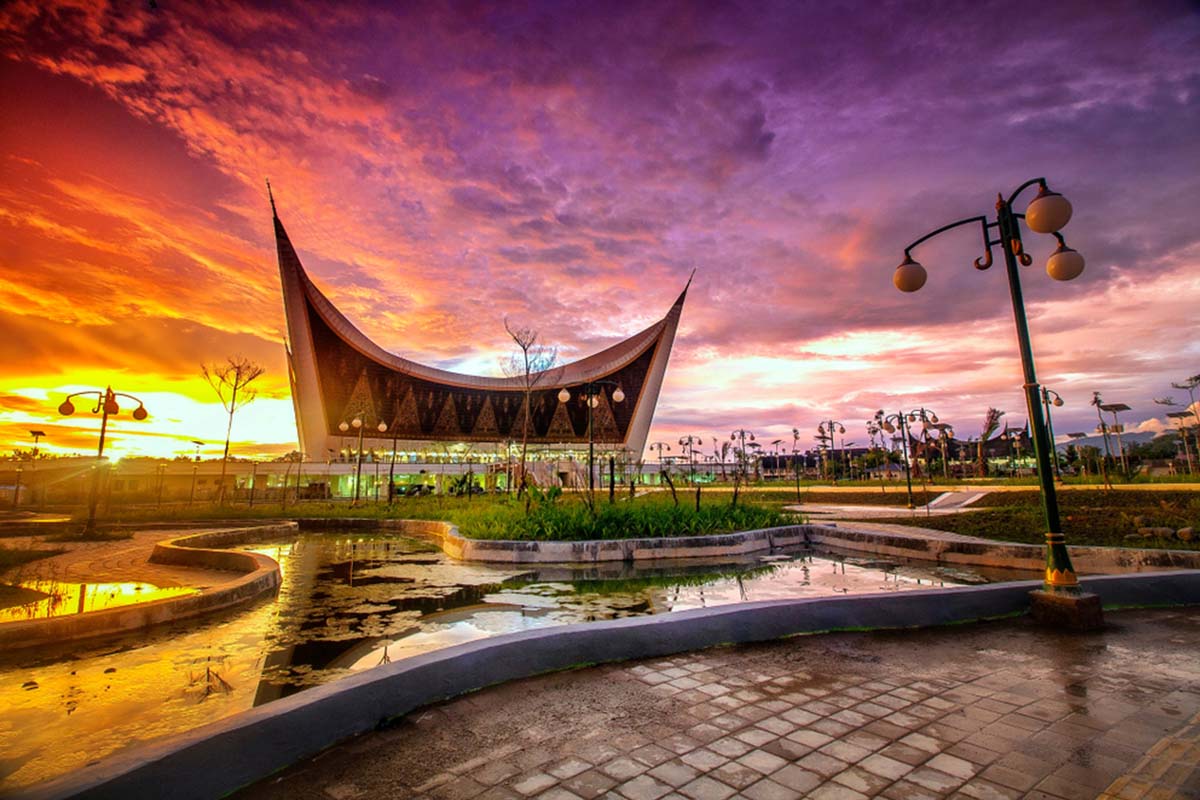 Image source: Shutterstock

Having holiday in Padang, West Sumatra? Stop by at the West Sumatra Grand Mosque that has a unique architecture. This worship house is designed to be earthquake-resistant and yet still very grand.
Uniquely, this mosque was not built with domes on top of it but rather a typical roof of Minangkabau house. Minangkabau is West Sumatra's indigenous people. These people are familiar with local idiom basandi syarak, syarak basandi Kitabullah, which means custom should be based on religion, religion should be based on Kitabullah (Al-Quran).
This is reflected in the West Sumatra Grand Mosque which is designed not only with influence from cultures but also Islam itself.
4 | An-Nur Grand Mosque, Pekanbaru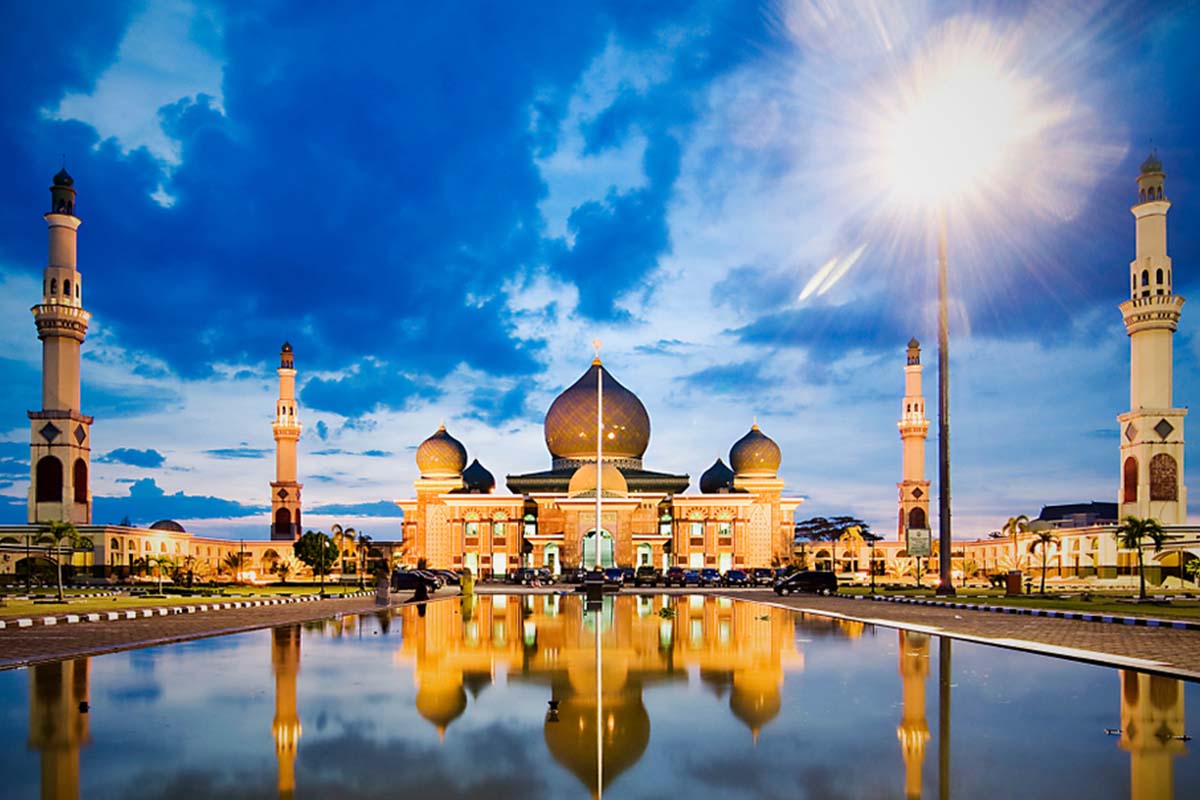 Image source: Shutterstock

An-Nur Grand Mosque is the largest mosque in Pekanbaru, Riau Province. It was in 1963 and completed in 1968. The mosque building is influenced by mixed styles of Malay, Turkish, Arabic and Indian architecture. The An-Nur GrandMosqu is touted as Riau's Taj Mahal due to some similarities.
It has a beautiful calligraphy writing created by a famous Indonesian calligrapher Azhari Nur in 1970.
Apart from praying rooms, the An-Nur Grand Mosque is also equipped by various facilities such as child playground, library, and a hall. Interestingly, it has Middle-East-origin date palms at its front yard which grow fertile and fruitful enough to attract attention. That is a rare scene to Pekanbaru people.
5 | Istiqlal Grand Mosque, Jakarta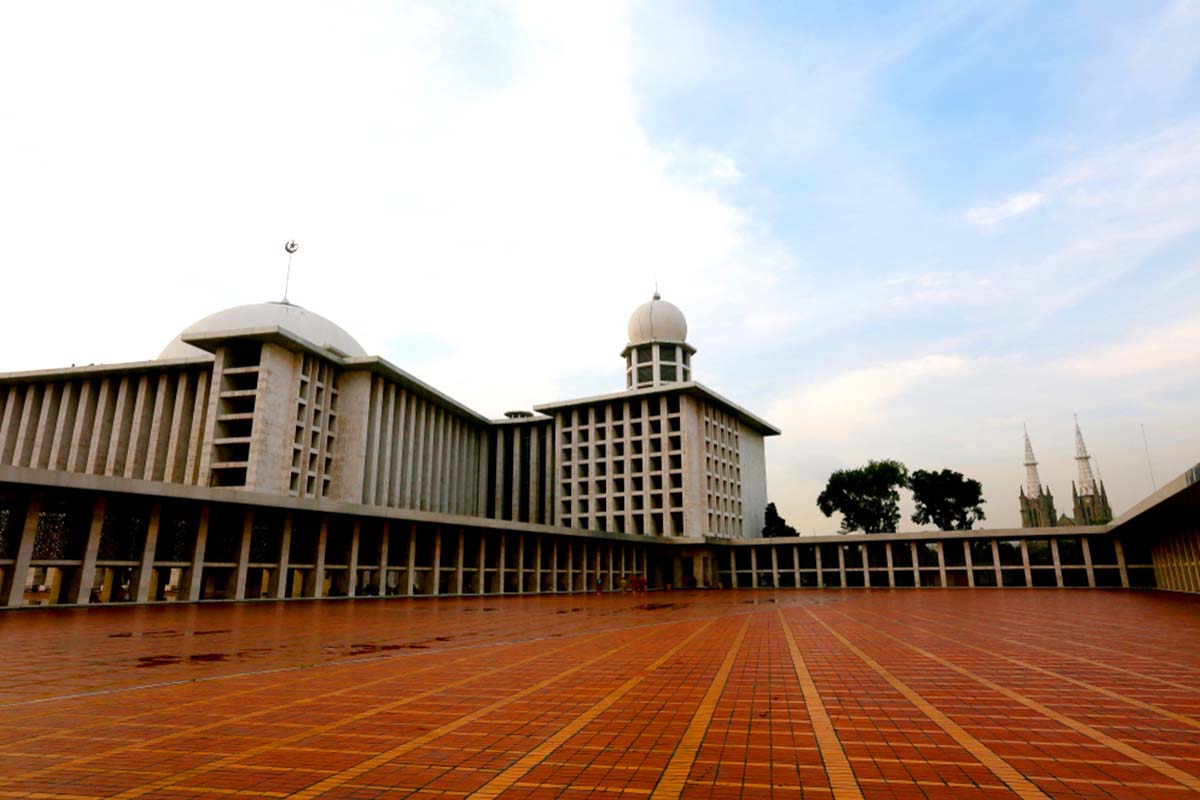 Image source: Shutterstock
Located at the heart of Jakarta, Istiqlal Mosque is very easy to find. The mosque, which name means 'victory', was built during the reign of former president Soekarno in 1955. It is now the largest mosque in Southeast Asia because it can accommodate to 200,000 worshipers.
The Istiqlal Mosque along with a Catholic Cathedral at its front is the symbol of harmony in Indonesia.
This can be seen during their respective religious holidays. During Eidal-Fitr, the Cathedral Church will accommodate the Muslims' cars at its courtyard. While as Christmas arrives, the Istiqlal Mosque is ready to accommodate cars of the church's congregation.
6 | Central Java Grand Mosque, Semarang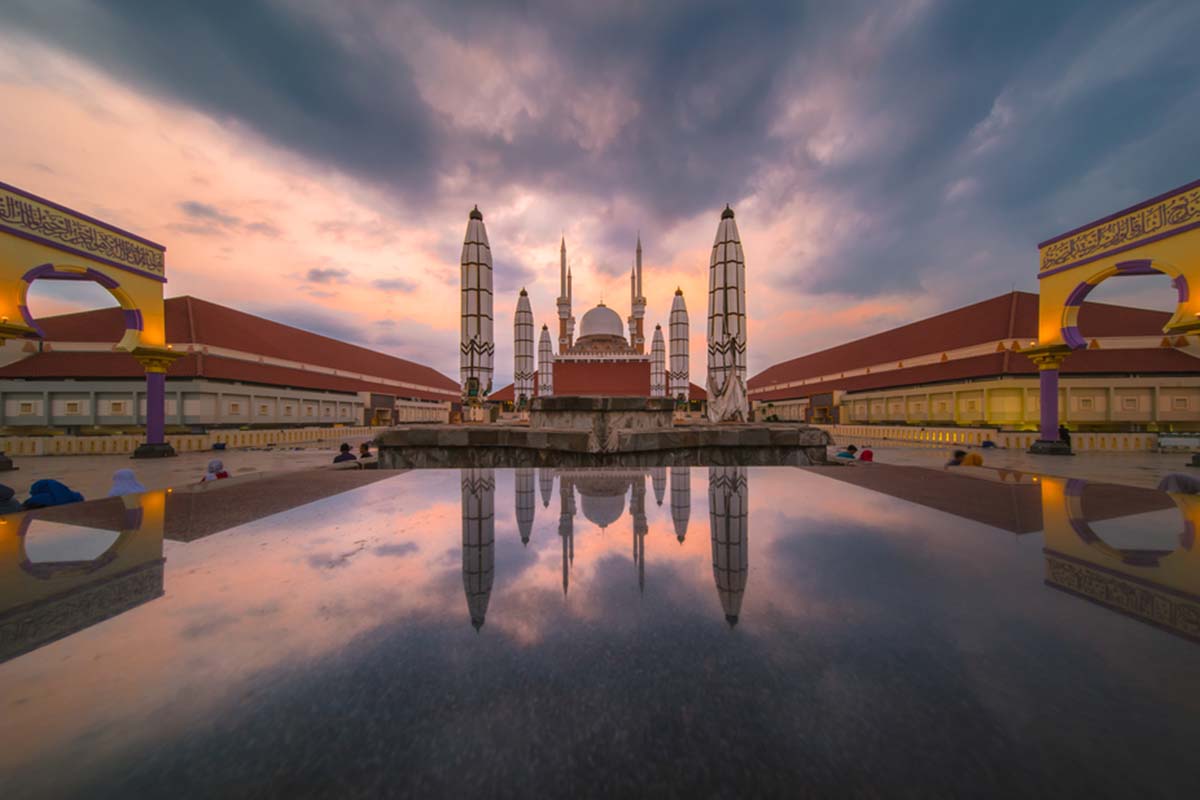 Image source: Shutterstock

Unlike most grand mosques in Indonesia, Central Java Grand Mosque in Semarang was built with futuristic design. The architectural style of the mosque is believed as a mix of Javanese and Greece styles. Also, the mosque has a unique giant hydraulic umbrella that can open and close automatically.
For those loving unique buildings, visiting the Central Java Grand Mosque would be very fun. If you take a vacation during fasting month Ramadan, you can also see dugderan tradition, a local tradition of welcoming Ramadan organized by local people.
7 | Tuban Grand Mosque, East Java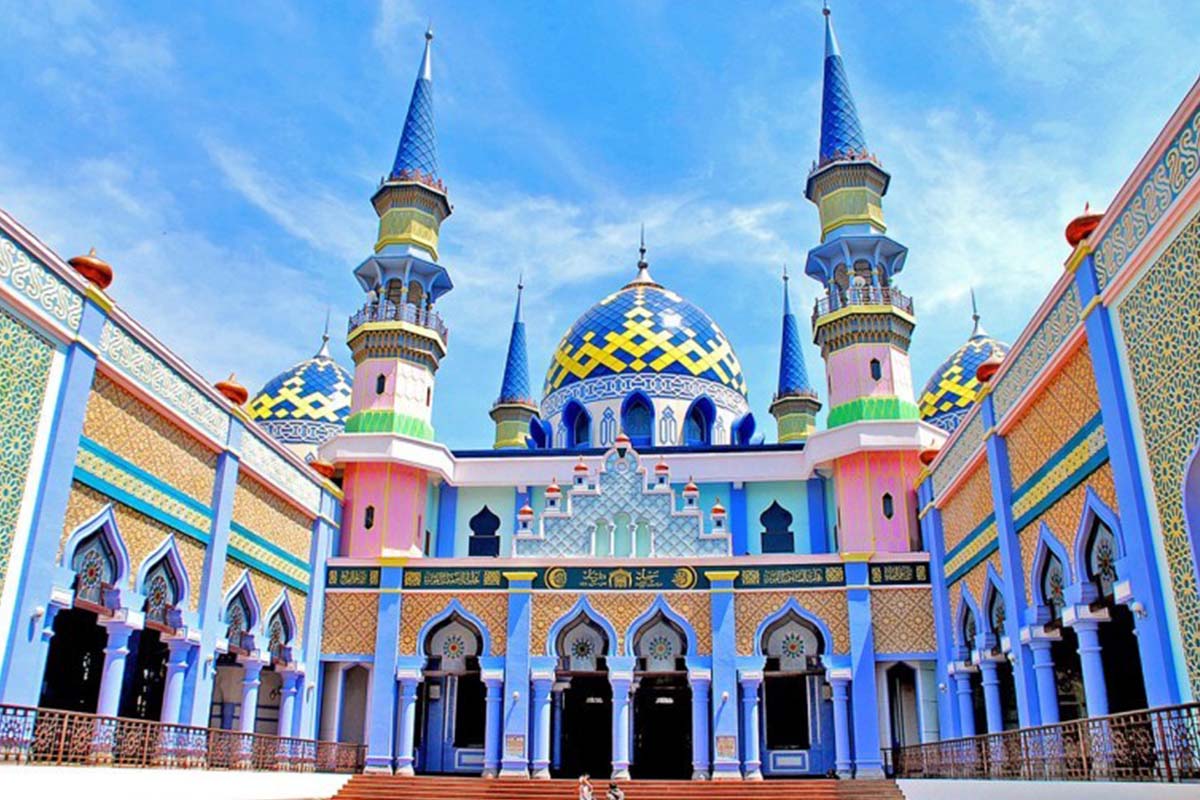 Image source: https://travelingyuk.com

In Tuban, East Java, there is a mosque whose architecture is similar to Disneyland. It is Tuban Grand Mosque. Tuban Grand Mosque was founded in the 15th century by the first Tuban regent who embraced Islam, Raden Ario Tedjo.
Tuban Grand Mosque has a beauty that is not inferior to famous mosques across the archipelago.
The mosque architecture is influenced by the Middle East, India, and Europe. It looks unique and yet luxurious with beautiful ornaments coupled with so much detail, like beautiful tile floors, carved walls, to the colorful domes.  The Tuban Grand Mosque has also relics of Wali Songo (nine propagators of Islam in Java) stored in a museum inside.
The historical objects, among others, are ancient Koranic books made of leather, Chinese ceramics, heirlooms, and sarcophagi.
8 | Kediri Grand Mosque, East Java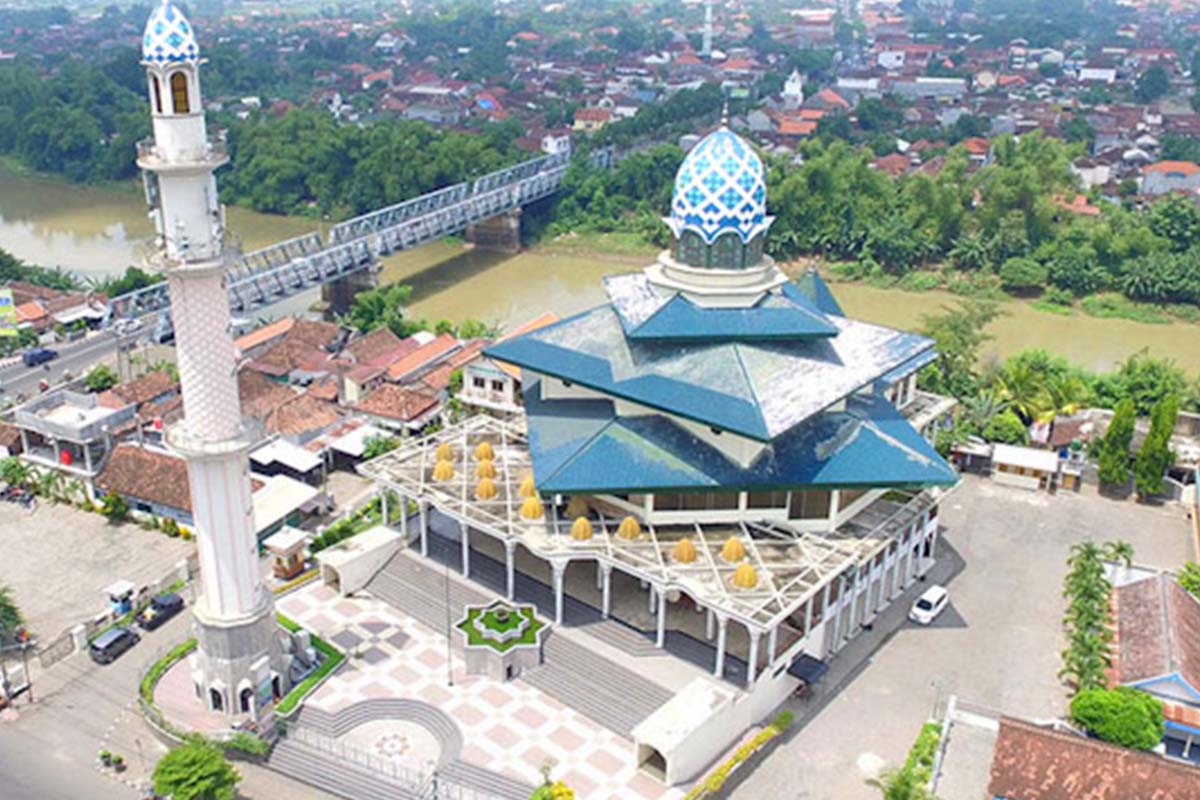 Image source: https://kontraktorkubahmasjid.com

Inaugurated in 2006, Kediri Grand Mosque in East Java is the largest mosque in the city of Kediri. This magnificent mosque consists of three floors, with minarets towering approximately 49 meters high.
Although European architectural style dominates this mosque, you can feel the ethnic nuances from the wooden calligraphy carvings inside the mosque.
Located in the center of the city, the mosque is facing directly toward the plaza and pavilion of Kediri.
The mosque is also opposite to Dhoho Plaza, one of the shopping centers in Kediri. For those wanting to enjoy Kediri, you can stop by at this mosque to worship while seeing the crowds of the city square.
Image source of header: Shutterstock