Business or pleasure? Who says you can't have both! Well, if you are going to Bogor for business, you can still let your mind rest and relax by staying in one of the city's most luxurious hotels that prioritize comfort and pleasure during your trip. Here, we've come up with a list of some of the best hotels in Bogor that are strategically located to provide you with the best facilities.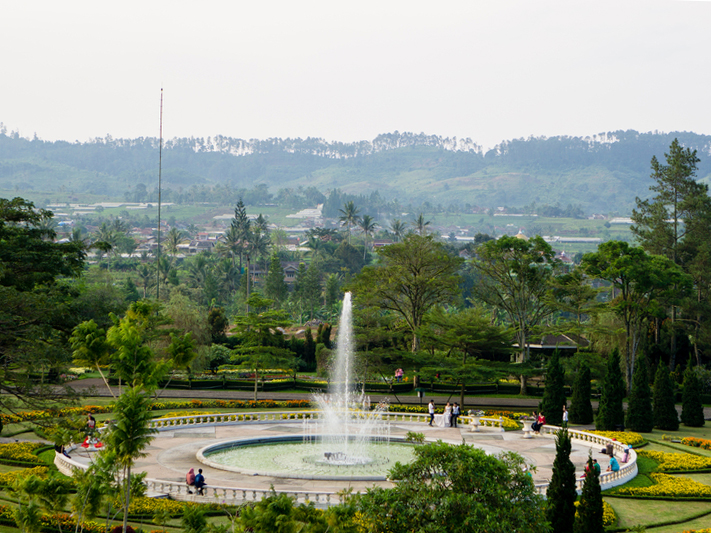 Situated 69 km south of Jakarta, and reachable within 2 hours by toll road (taking in mind traffic jams), Bogor is a cool town located at the foot of the cone-shaped Mt, Salak. Here is also the sprawling Bogor Botanical Gardens with at its doorstep the colonial styled Bogor Presidential Palace once the residence of Sir Stamford Raffles.Lately Bogor has also become famous for Indonesia's Agricultural University, IPB.   
1 | Amaroossa Hotel Royal Bogor
The Amaroossa Hotel Royal Bogor is an elegant hotel situated in the center of the town of Bogor. This four-star hotel will provide you with all the facilities you need on a business trip, such as Wi-Fi, meeting room and more. Now, for your pleasure, the hotel also houses a spa and relaxing massage treatment. The hotel has a total number of 112 elegant yet cozy rooms to ensure that you will get enough rest in luxurious surroundings. If you have time to explore the city, this hotel is also just a few stepsaway from the lush Bogor Botanical Garden,  the Suryakencana (China Town) and more. You don't have time for a culinary tour? The hotel  itself has a splendid array of dishes at its Kumawalangi Restaurant that will sate your hunger for delicious food.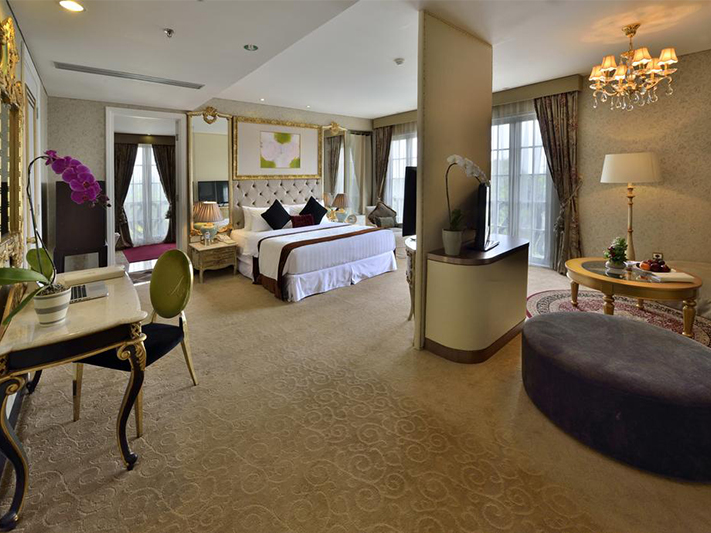 https://www.booking.com/
Room rates start from Rp 600,000
Address:
Jalan Otto Iskandardinata No.84
Baranangsiang, Bogor Tengah, Bogor Timur,
Bogor City, West Java 16143
Telephone:
+62 251 835 4333

2 | Salak Tower Hotel
Located in the heart of Bogor, the classic Salak Tower Hotel is perfect for those who want to enjoy both business and pleasure during their stay. This strategic location also enables all of the hotel's 150 rooms to have a magnificent view of the growing town of Bogor, including a stunning view of Salak Mountain from afar. It is perfect for business because it has sufficient meeting rooms, great Wi-Fi connection, 24-hour front desk service and more. Hungry? Well the hotel's Skyview Restaurant, located on the 7th floor, not only offers delicious meals, but also a fabulous view of the city of Bogor from above. Plus, its Oasis Café & Lounge, located on the 8th floor, is open 24 hours and has Wi-fi so you can work any time while enjoying the magnificent view of the city. If you want some "me time" to relax and unwind, then take a plunge into the swimming pool.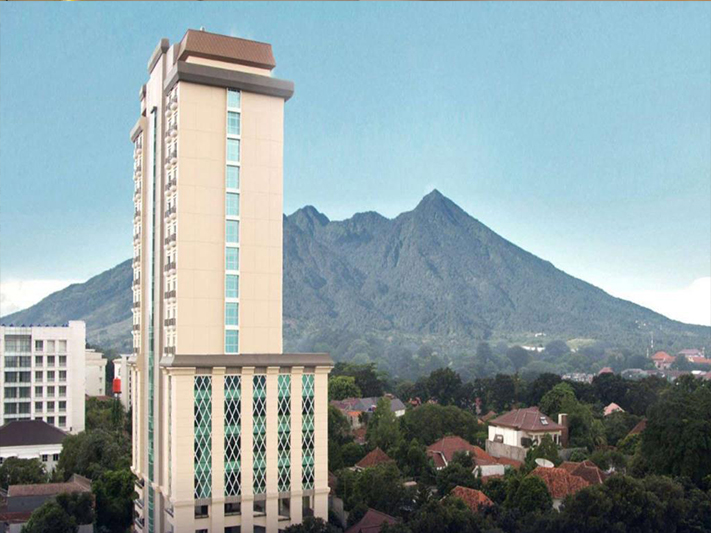 https://www.agoda.com/salak-tower-hotel
Room rates start from IDR 850,000
Address:
Jalan Salak No. 38-40
Babakan, Bogor Tengah,
Bogor City, West Java 16129
Telephone:
+62 251 756 5111
3 | Hotel Grand Savero
This is the perfect place for those who wish to experience a business trip in comfort. The hotel's antique yet modern design offers not only a lovely stay, but also various facilities such as at its great spa treatments to pamper your aching body after a long hard day at work. Some of the hotel's 128 rooms also offer an amazing view of the beautiful and popular Bogor Botanical Garden. Its spacious rooms, with a modern touch, and delicious food are comforting to make your stay more pleasurable.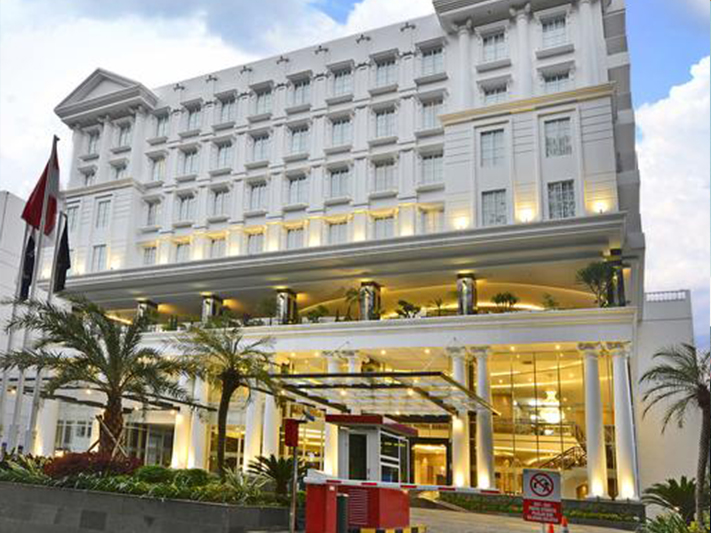 https://www.booking.com/hotel/id/savero-golden-flower.en-gb.html
Rates start from IDR 620,000
Address:
Jl. Pajajaran No 27, Babakan, Bogor Tengah
Bogor City 16128
Telephone:
+62 251 835 8888
4. | Hotel Salak the Heritage
Hotel Salak the Heritage is one of the oldest hotels in the town of Bogor named after the famous Mount Salak. Its history goes all the way back to Dutch Colonial era in 1856. Back then, the hotel was called Binnenhof Hotel. This elegant hotel is situated comfortably near the grand Presidential Palace and the beautiful Bogor Botanical Garden. It has 140 cozy yet elegant rooms to make your stay in Bogor more pleasing.  Plus, if you want some entertainment, you can have some fun singing and dancing to your favorite tunes in the hotel's private karaoke room.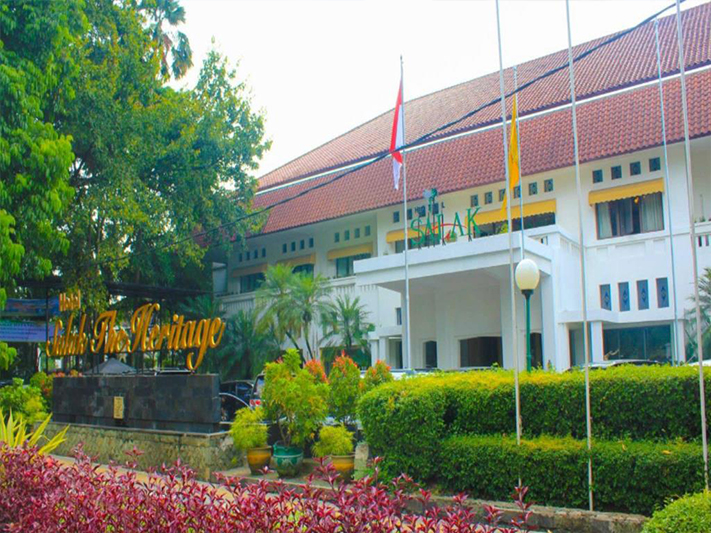 https://www.agoda.com/hotel-salak-the-heritage/
Rates start from IDR 960,000
Address:
Jalan Ir. Haji Djuanda No. 8,
Pabaton, Bogor Tengah
Bogor City, West Java 16121
Telephone:
+62 251 837 3111
5 | Hotel Novotel Bogor Golf Resort and Convention Center
This is the ideal hotel for a business trip where you can relax and spend your free time unwinding. As one of the most luxurious hotels in Bogor, Hotel Novotel rests comfortably on 5 hectares of land that offers various facilities to pamper its guests. Located in the calm Bogor Raya Golf Estate, the hotel features an 18-hole golf course, relaxing spa, 2 restaurants, 1 lounge, 20 function rooms, 2 ballrooms, free Wi-Fi, a tennis court, fitness room and so much more. This is the best resort for those who do not have time to travel around the town of Bogor because it includes all you need for relaxing and excercise during your free time on a business trip.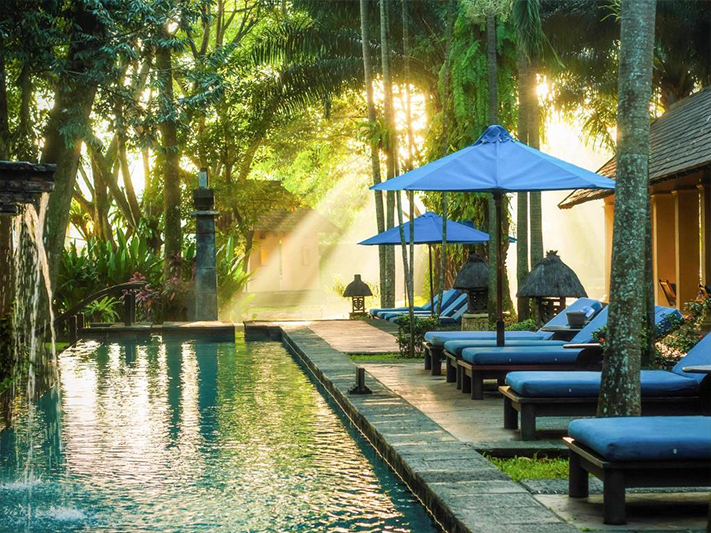 https://www.agoda.com/novotel-bogor-golf-resort-and-convention-center/
Rates start from Rp 850,000
Address:
Golf Estate Bogor Raya
Sukaraja, Bogor,
West Java 16710
Telephone:
+62 251 827 1555