Are you ready to fly and explore Paradise? Well, now you can set your worries away since more destinations in Indonesia will be easily accessible via air transportation. Spread across the vast archipelago, 15 new airports will be ready to welcome tourists and making it easier to explore all the fascinating wonders of Indonesia. Among these 15 airports, some are already officially open and fully operational while others are on completion and will be ready to welcome guests by next year at the latest.

Here are the 15 brand new airports that are already operating all across the archipelago:

1 | West Java International Airport in Majalengka, West java
The West Java International Airport or Kertajati International Airport is the second largest international Airport after Jakarta's Soekarno-Hatta International Airport and also the second airport for the province of West Java, after Husein Sastranegara Airport in Bandung (the capital city of West java Province). On 24May 2018, the Presidential Plane carrying Indonesia's President Joko Widodo and his Cabinet Ministers landed on its runway which marked the official operation of the airport. The airport encompasses a total area of 1,800 hectares and currently has one runway of 2,500 meters. This runway will increase to 3,500 meters so that wide-body aircraft can be landed such as Airbus A380-800. Ultimately, the airport will have two runways and with this current capacity, Kertajati Airport can serve 5.6 million passengers per year and will be able to accommodate 18 million passenger traffic in the following year.

2 | Aji Pangeran Tumenggung International Airport in Samarinda, East Kalimantan
Aji Pangeran Tumenggung (APT) Pranoto Airport or Samarinda International Airport is the main airport in Samarinda, the capital city of the Province of East Kalimantan that started its commercial operation on 24 May 2018. The airport replaced the now-closed Termindung Airport. The airport covers an area of 470 hectares and has four boarding gates with four jet bridge gates capable of handling the Airbus A320. The airport has one runway, which is 2,250 meters in length and 45 meters wide. Further plan is underway to extend the runway to 3000 meters to further accommodate wide-body aircrafts.

3 | Letung Airport in Anambas Islands Regency, Riau Archipelago
Opening the door the wonders of Anambas Islands, the Letung Airport located at Jemaja Island in Anambas Islands Regency in Riau Archipelago Province started its commercial operation on 11 August 2018. Letung Airport has a runway of 1200m x 300 m, 125m x 30m taxiway, and apron measuring at 125m x 70m. Wings Air serves Batam-Letung return flights for three times a week, on Monday, Wednesday and Friday with departing hours from Batam at 12:30 am and returning to Batam at 1.55 pm.

4 | Maratua Airport in Derawan Islands, East Kalimantan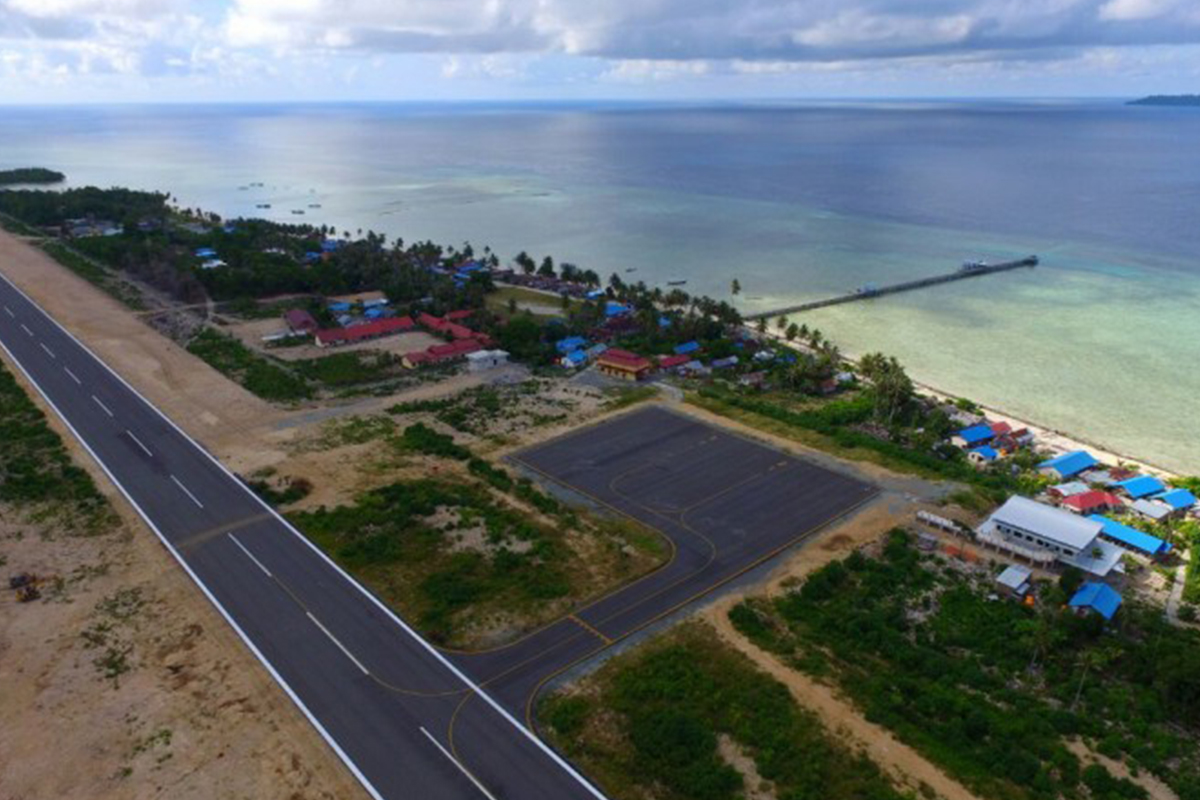 Image by http://kaltimprov.go.id

Already operating since late 2017, the Maratua Airport in Maratua Island, which is one of the Islands of the Derawan Archipelago in East Kalimantan, welcomes tourists to one of the most fascinating underwater paradise on the face of the earth. The Maratua Airport has 1600m x 30 m runway, 75m x 18 m taxiway, and 100m x 70 m apron. Along with Miangas, Maratua Airport is also one of the airports located on the most outer part of the Indonesian Archipelago.

5 | Miangas Airport in Miangas Island, North Sulawesi
Located in Miangas Island within the Talaud Islands in North Sulawesi, this is the most northern airport and one that on the most outer part of Indonesia. Officially opened in 2017, the airport has one runway designated as 03/19 with an asphalt surface measuring 1,400 by 30 meters which can accommodate planes such as ATR-72. It also has a 130 by 65 meters apron sufficient for operating three aircraft at the same time. This airport also houses a 356 square meter terminal warehouse. One of the special thing about this airport is that it located directly on a shoreline, so that it offers a magnificent view of Miangas.

6 | Werur Airport in Tambrauw, West Papua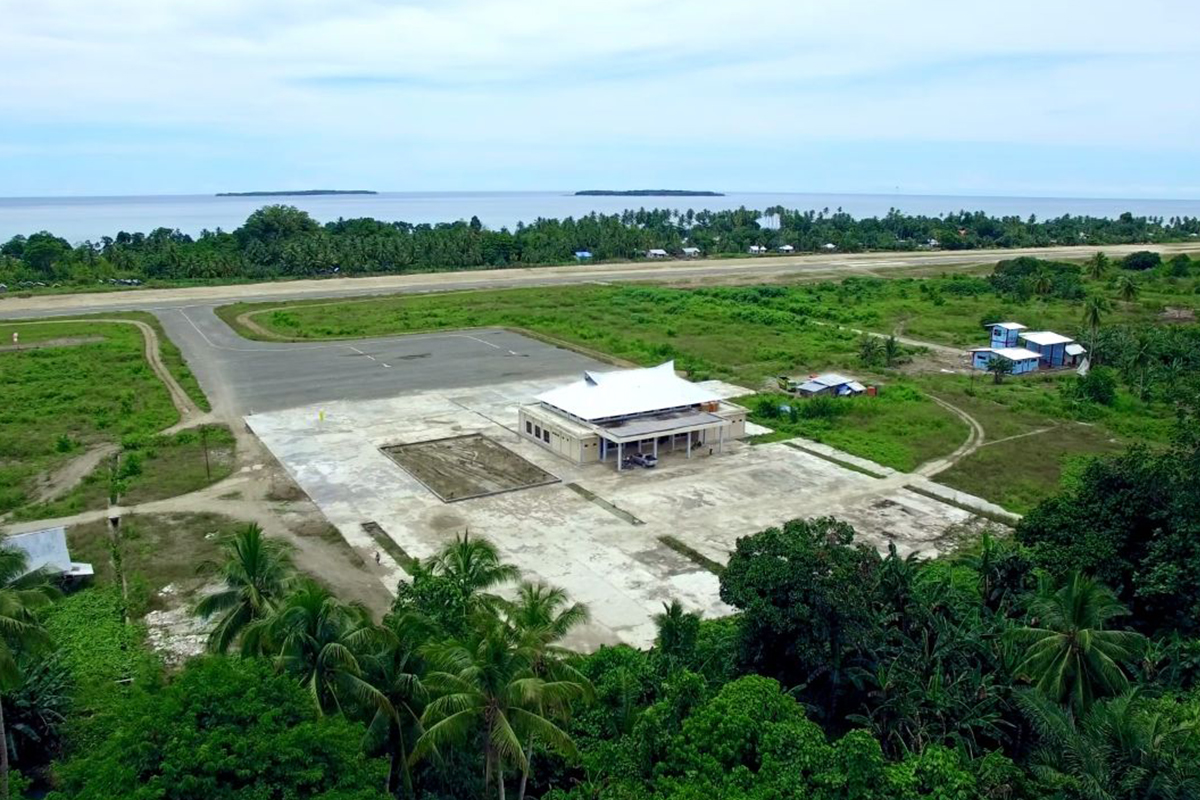 Image by http://hubud.dephub.go.id

Formerly a disused World War II airfield, the Werur Airport in Tambrauw, West Papua has opened again for business after six years of redevelopment on February 2018. The government had been planning to develop the airfield into a commercial airport since 2012, but construction work only began in 2015 after President Joko Widodo started his initiative to improve access to Indonesia's underdeveloped regions. The area of the runway is 500 x 23 meters, while the runway strip is 520 x 60 meters. Currently, the airport serves flights to-and-from Sorong provided by Susi Air, however in the future it will also be develop to facilitate the locals and tourists to reach Raja Ampat and other locations in West Papua

7 | Tebelian Airport in Sintang, West Kalimantan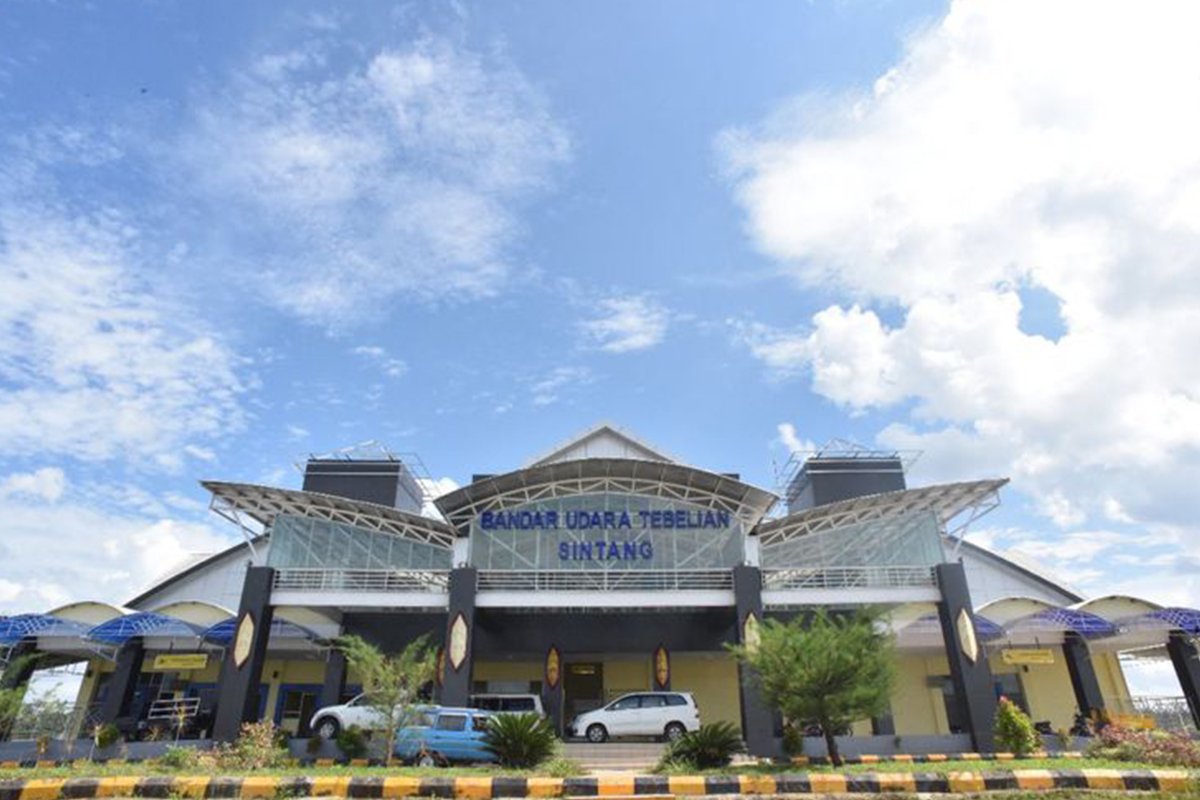 Image by https://ekonomi.kompas.com

Officially open on 26 April 2018, the Tebelian Airport located at Sungai Tebelian district of Sintang Regency in West Kalimantan Province took over the role of the previous Susilo Airport, which is no longer operating. If the previous Susilo Airport has a runway of 1300m x 30m, the newly opened Tebelian Airport has longer runway of 1660m x 30m thus it can accommodate bigger aircrafts. The runway is also plan to be extended to 3500 meter.

8 | Maleo Airport in Morowali, Central Sulawesi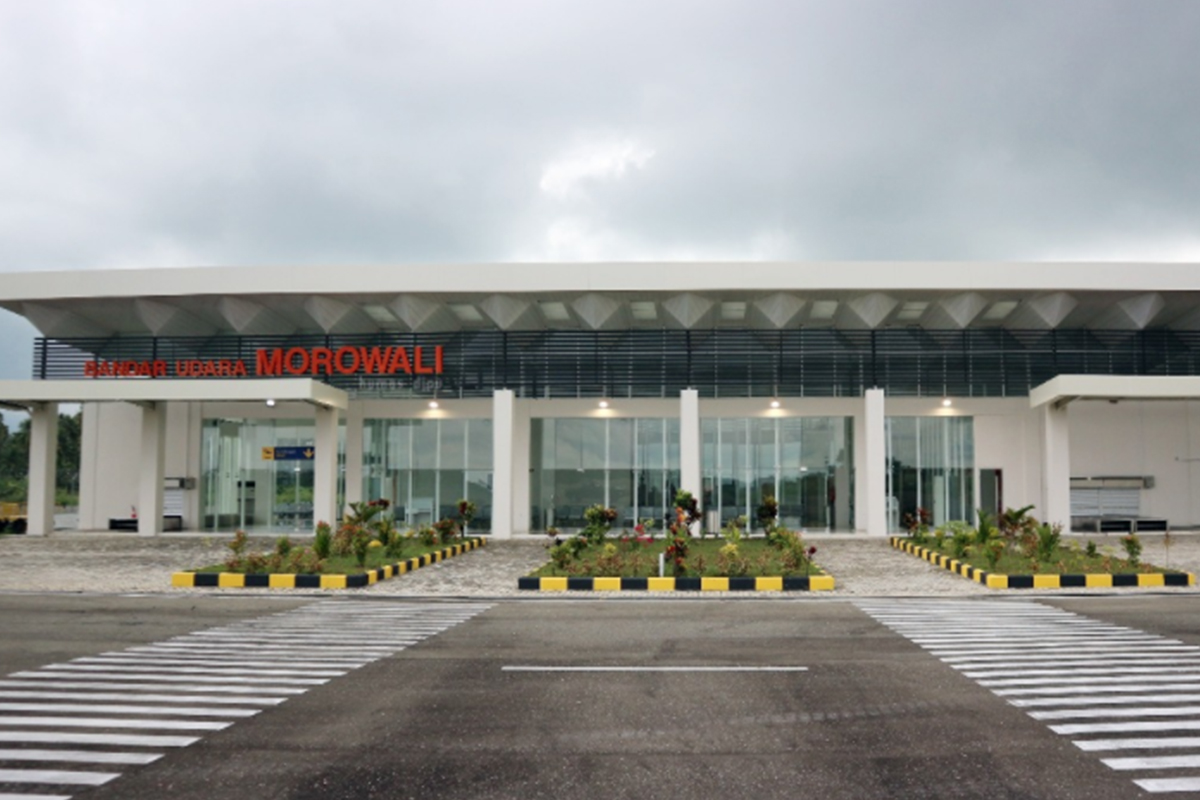 Image by http://www.angkasareview.com

Since it was first open on March 2018, the new 158-hectare Maleo Airport in Morowali Regency, Central Sulawesi, is becoming a hub for connecting flights to Palu in Central Sulawesi, Kendari in Southeast Sulawesi and Makassar in South Sulawesi. The airport has a runway measuring at 1050m x 30m, taxiway of 192m x 18m, and apron measuring at 80m x 70 m. Further development will extend the runway to 1500 meter so that it can accommodate larger air carriers. The name of the airport is taken from an endemic bird found largely in Central Sulawesi, the Maleo Bird.

9 | Namniwel Airport in Buru Island, Maluku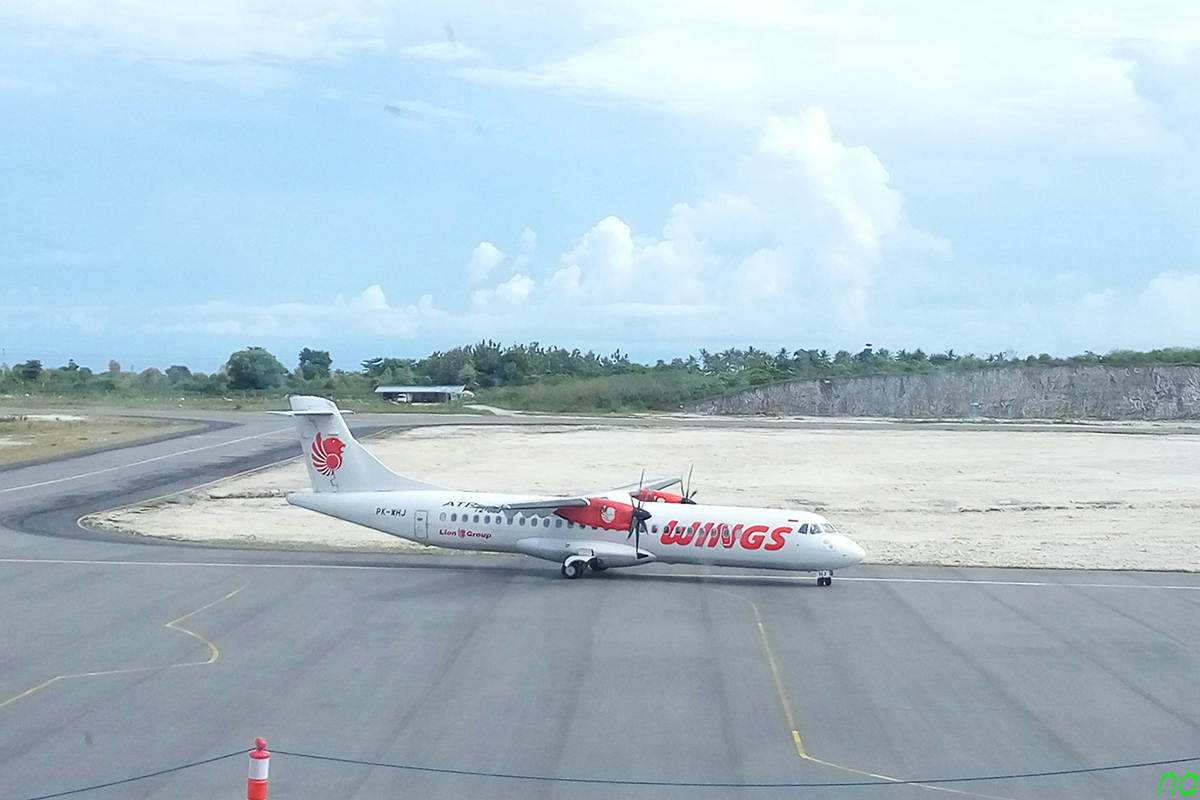 Image by http://burukab.go.id

Began serving commercial flights by Wings Air on 17 November 2017 the Namniwel Airport is located in Buru Island, the third largest island within Maluku Island. The airport has a runway of 1600 m x 30 m, 185m x 3 m taxiway, and a 9170 meter square apron. As an airport that located in one of the most remote areas of Indonesia, the airport has an important role as a connection hub that supports economic activities as well as other sectors for the people in the island.

10 | Koroway Batu Airport in Boven Digul, Papua
An Airport that will take you to one of the most inner part of the Papua Island, Koroway Batu Airport is located at Boven Digoel, Papua Province. Previously, the airport only has an 800m x 18m, today the airport has a 1600m x 30m runway after renovation was completed in 2017. Thus, apart from the small cargo aircrafts, larger aircrafts can now serves this remote destination in Papua Island.

5 Airports to be inaugurated in 2019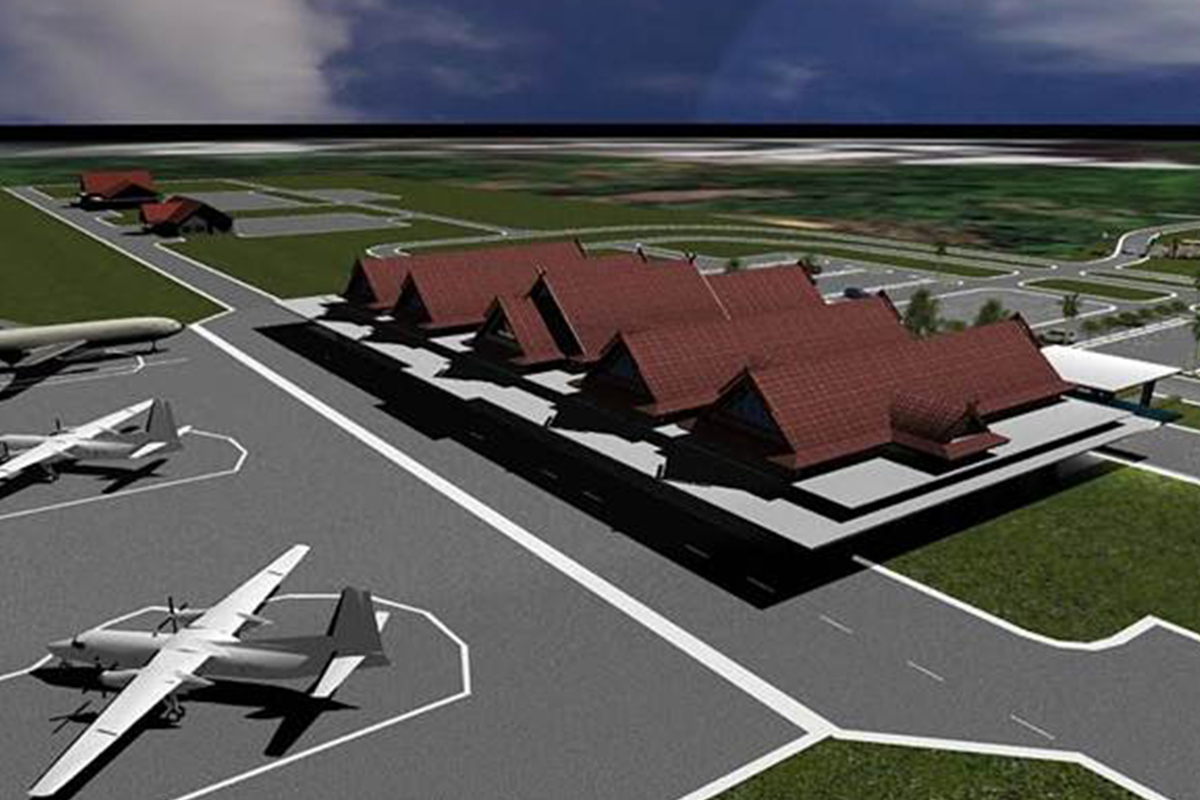 Image by http://img.bisnis.com
Further expanding air connectivity throughout the entire archipelago, the government continues to develop more airports as well as expanding and improving existing ones. Among, the many, five are already nearing completion and will soon be inaugurated in 2019. Here are the five airports that will be operating in 2019:
1. Buntu Kunik Airport in Tana Toraja, South Sulawesi
2. Pantar Airport in Alor, East Nusa Tenggara
3. Pihise Airport in Sitaro, North Sulawesi
4. Beringin Airport in Muara Teweh, Central Kalimantan
5. Tambelan Airport in Bintan, Riau Archipelago

Image Source of Header Banner: http://burukab.go.id