Bandung, capital city of West Java Province, well known for its creative arts, rich culture, culinary bliss, shopping spree outlets and scenic mountain views, is where you can pamper your taste buds with foods prepared at humble street stalls to signature restaurants at five star hotels. More and more attractive food stops are mushrooming in this city that is sometimes called "Parijs van Java". Blessed with cool fresh air, Bandung draws visitors to spend a day or two exploring the city's trendy attractions. Bandung is a favorite weekend retreat for Jakartans and a popular tourist destination. Here are a number of establishments where you can have a hearty meal while enjoying  the peace and serenity of nature:
1. Kampung Daun
Jl. Sersan Bajuri Km 4,7 no.88. Phone: +62 22 2787915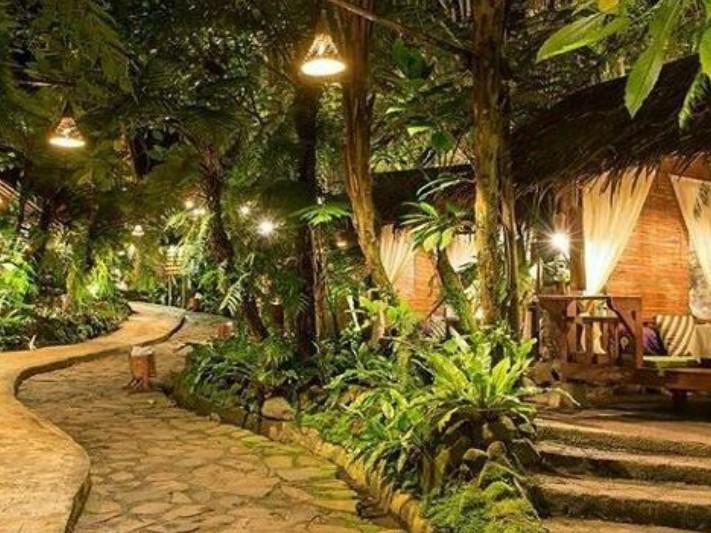 Image by kampungdaun
Hidden in a natural valley surrounded by thick greenery, Kampung Daun is set  in traditional village atmosphere where gazebos are built from bamboo stading on solid rock. The sound of gurgling streams, whispering green leaves, gushing waterfall, and the fresh mountain breeze will make you feel as if you are dining in a local village. The natural chirping of birds will soothe you through your course. Try the Nasi Timbel, a Sundanese traditional menu, a hot dish consisting of steamed rice wrapped in banana leaf. The heat of the steaming hot rice touching the banana leaf produces a unique inviting aroma.
2. Congo Cafe
Jl.Rancakendal Luhur 8, Dago Pakar. Phone: +62 22 2531065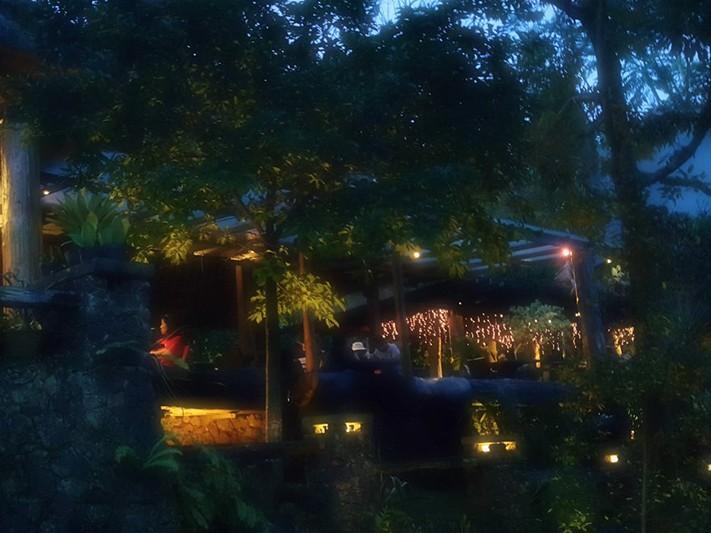 Image by congogallery

Welcome to the jungle! This sign will greet you as you enter this culinary adventure set amongst soothing nature. The restaurant is built with sophisticated modern tropical architecture, where large openings allow abundant natural light in and fresh air  to flow freely. Consisting of three storeys, the Congo cafe offers more than just the menu. You will experience a mix of dining, entertainment, art gallery in a space made of solid wood and from here get a vantage view on the city of Bandung. Although it is open from 10 am in the morning, try to make your reservations a little later in the afternoon, so that you can enjoy a stroll around the vast gardens while catching the dramatic colors of the sunset in the sky. To enjoy the sizzling Tanzania sirloin steak or the hot Oxtail soup on the top floor of the restaurant, you will need to have a minimum order of one million rupiah, a price to guarantee the best seats  for you to gaze down on Bandung's romantic twinkling lights and starry sky.
3. Sugar & Cream
rooftop of the MAJA house, jalan Sersan Bajuri no.72, Lembang. Phone: +62 22 2788196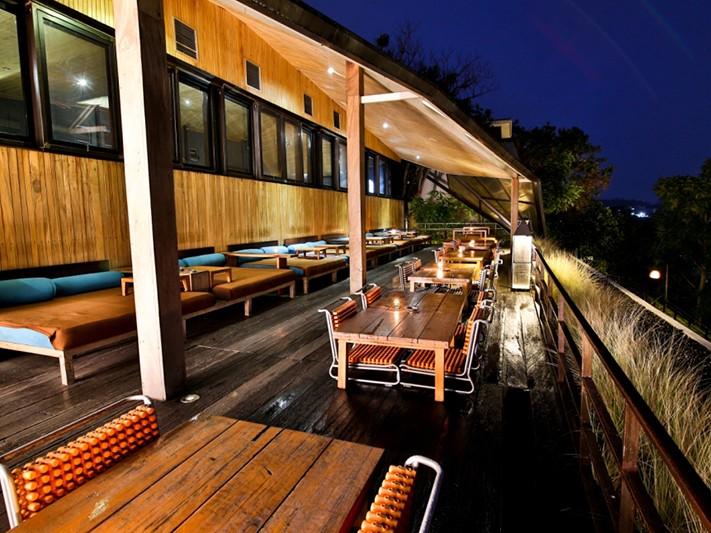 Image by majahouse
The Maja house is an integrated leisure spot of hotel, bar and rooftop restaurant. The place provides seating areas with each its own specific view and atmosphere. You can enjoy fine dining in straight up chairs, or long sofa with soft light coloured cushions, or no-legged lounging chairs in pop colours or just choose the much more relaxed flat-bed like seats to lounge a while. Western is the house specialty, served in themes of appetizers, main course , drinks and desserts. Try the recomended Spaghetti Aglio Olio and Signature Apple Mojito to drink bottom up. The view is unquestionably astonishing, with some cool breeze, so prepare yourself with some warm clothing to feel comfortably cosy during your stay.
4. Armor Kopi Garden
Jln.Legok Randu no 46 B Cimenyan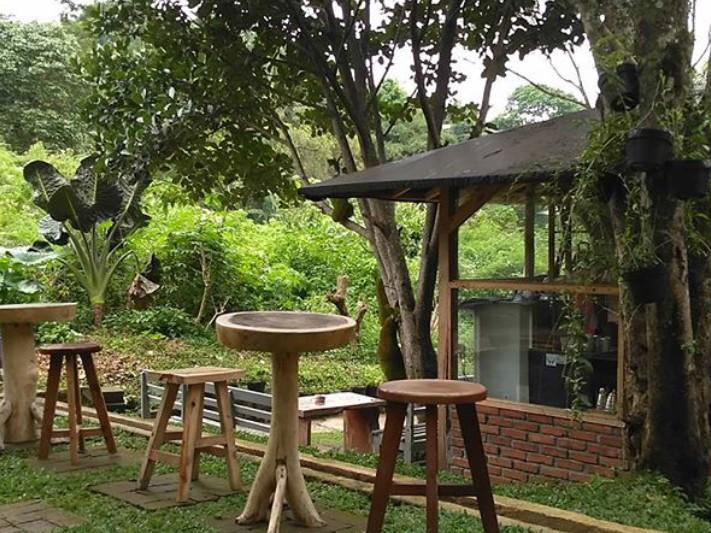 Image by armorkopi.garden
The ARMOR, acronym for "ARabica Multi ORigin ", is a hip coffee place located just behind the famous Selasar Sunaryo art space. With humble yet comfy interior, this famous place has gorgeous natural views and is daily packed with visitors lining up to try their menu. At a friendly price, the Armor offers 3 basic coffee menus of Robusta, Arabica and Liberica depending on your choice of brew. The brewing station itself is an open bar and entertaing to watch. Lab-like instruments for cold brew and for many other brewing techniques add a distinct value to the interior. You can see how your choice of coffee beans are processed before you sip its delicious taste. You can also inhale the inviting aroma of Indonesia's finest coffee beans all for free. And don't forget to try a good snack to complete your hangout fun, try the brand new menu of Potato Cheese Pie, or the most wanted Cireng Bumbu Rujak, which is crunchy-spicy-and so yummy!
5. D'pakar Cafe
Jl. Dago Pakar Utara, Sekejolang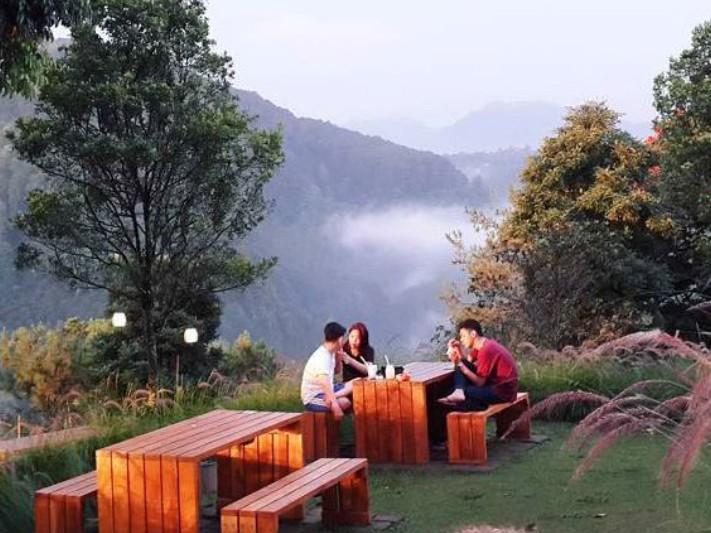 Image by dpakarbandung

Located isolated in an almost secluded part of Dago Atas area, D'Pakar cafe  offers  a view unlike any other. You can get here by simply following directional signs towards the famous Tebing Keraton site. Although the road to get here is quite bumpy and narrow, but it will all be worth your while once you enter and breathe in the fresh air. Because of its steep roads, this cafe opens only up to 18.00 WIB, with the last order taken at 16.30 hrs, so visitor can safely arrive and depart before it gets too dark. The indoor area has seats in an open Joglo-Javanese styled one floor building. During holidays or other high peak seasons, you will need to get in line to enjoy the green hilly natural painting of trees and forests while eating some piping hot ramen and sip warm chocolate. They also time your stay to a maximum 2.5 hours, to guarantee every guest will have a chance to dine in.
6. Lereng Anteng Punclut
Jalan Baru Laksana No 75, Pagerwangi, Lembang. Phone: +62 878-2529-5659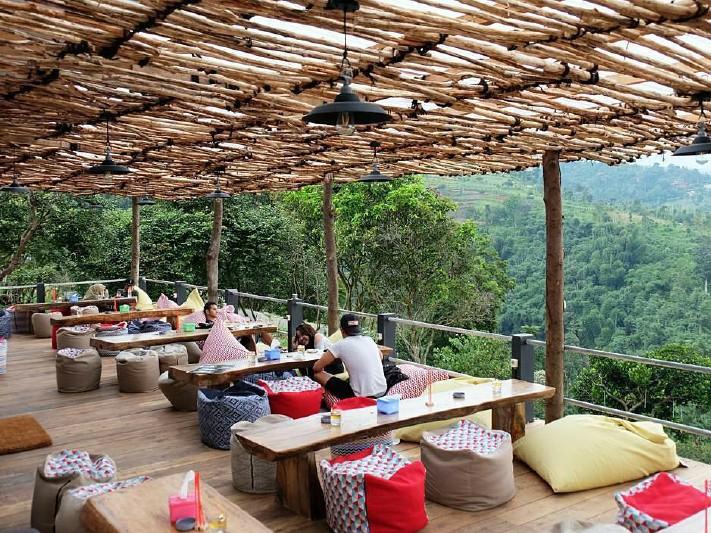 Image by bale_foto
This new place in the Puncak Ciumbuleuit area, is the spot to enjoy your favourite warm drink, while lingering in transparent tents on cascading terraces. The unique see-through outdoor tents overlook the green hillside forest. Being one of the trending topics in social media, this place soon became the target of panorama seekers to take some update shots. Beside the eye-catching tents, colorful beanbags and solid wood tables are so cozy to lounge in, set in a semi outdoor and indoor areas. While waiting for your order, there are mini golf fields with miniature landmarks to test you hole-in-one skills. Nasi Ayam Tulang Lunak, Kue Cubit, Luwak coffee and Vietnam Drip are some of the popular choices to spend the day with.
7. Floating Market
Jalan Grand Hotel No 33 E Lembang . Phone: +62 22 2535898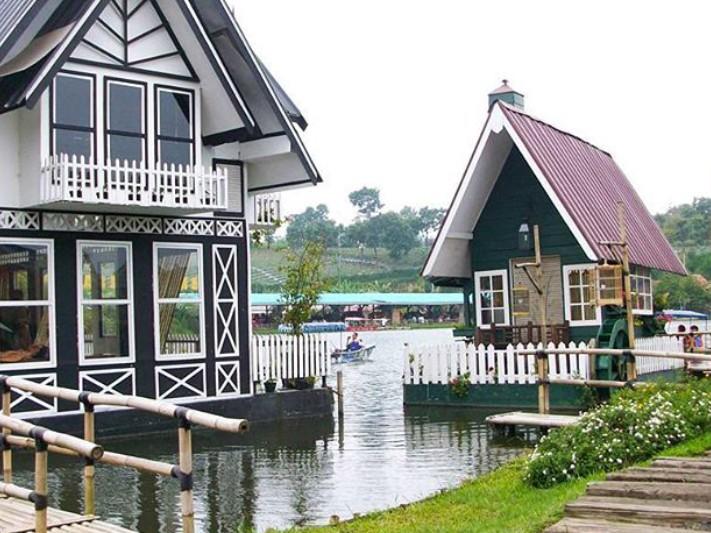 Image by floating.market.lembang

A recreational village that offers natural panorama and cool fresh air, this Floating Market has become one of the most famous tourist spots in Lembang. Sitting above the 7 hectare area of Situ Umar and situ Karang Putri lakes, this Situ is a water reservation lake that has helped enhance local residents' income, living and working here everyday to welcome visitors. An array of 46 boats filled with traditional West Java culinary dishes are its main appeal. Batagor, Baso Tahu, Colenak, Otak Otak, are some of the all time favourites that you can try at reasonable price. You can also sail around in boats. Here the  coin system is in use, where you purchase cash in return for 4 coloured coins with each nominal value being Rp 5,000 (yellow), Rp.10,000 (blue), Rp.50,000 (pink), and Rp.100,000 (orange) to pay for your shopping or recreational purposes. Gazebos are also available for rent, if you need a place to lounge and linger by the lake.
8. Dusun Bambu
Jl. Kolonel Masturi Km.11. Phone : +62 22 82782020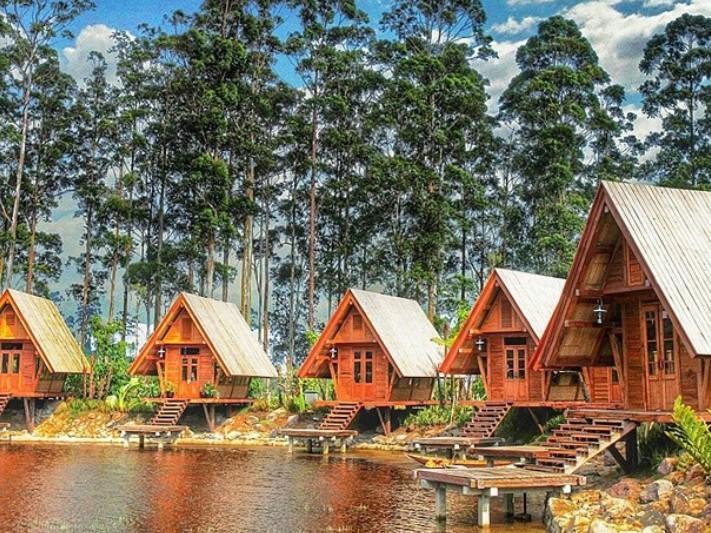 Image by dusunbambu
Here at Dusun Bambu, you can enjoy nature's grandeur in 3 different types of spots to choose from. The Burangrang is the largest modern styled restaurant set in the midst of lush green forests overlooking flower fields, lake and river streams. The Purbasari offers you to dine by the a serene lake in gazebos. And. last but not least is the Lutung Kasarung. The name comes from the traditional Sundanese folklore. This unique place will give you a unique sensation of space. Cocoons of dining space are perched on tree trunks, a few meters above the ground, creating a feeling of being in a bird's nest. You will need to make reservations, though,  to choose which nest will suit your need, and there will be additional cost for space rental outside the total cost for food and beverages you ordered . Dusun Bambu also offers other activities such as children's playground, cottages and camping grounds, so you may decide that one day here is just not quite sufficient.
The city of Bandung will indeed offer you more and more beautiful spots. Feeling the sensation to go back to nature will always bring that tranquil moment for you to slow down and breathe in fresh air,  and exhale your stress from the overwhelming world of daily routine. So, what are you waiting for? Mother nature is waiting to embrace you!