Although boasting the 5-star resorts where you can peacefully enjoy your life to the fullest, Nusa Dua is also the place for those who are seeking for thrilling activities, cultural charm, and culinary experience. In Meantime, whenever you need to get out from your luxurious hotel bed, Make the most of your vacation by a wander around to see the excitement of Nusa Dua.

Anyways, how much do you know a thrilling vacation and tasty food when it comes to Nusa Dua? Here are 8 ideas that you need to figure out.
1 | Having Fun at the Surf & Turf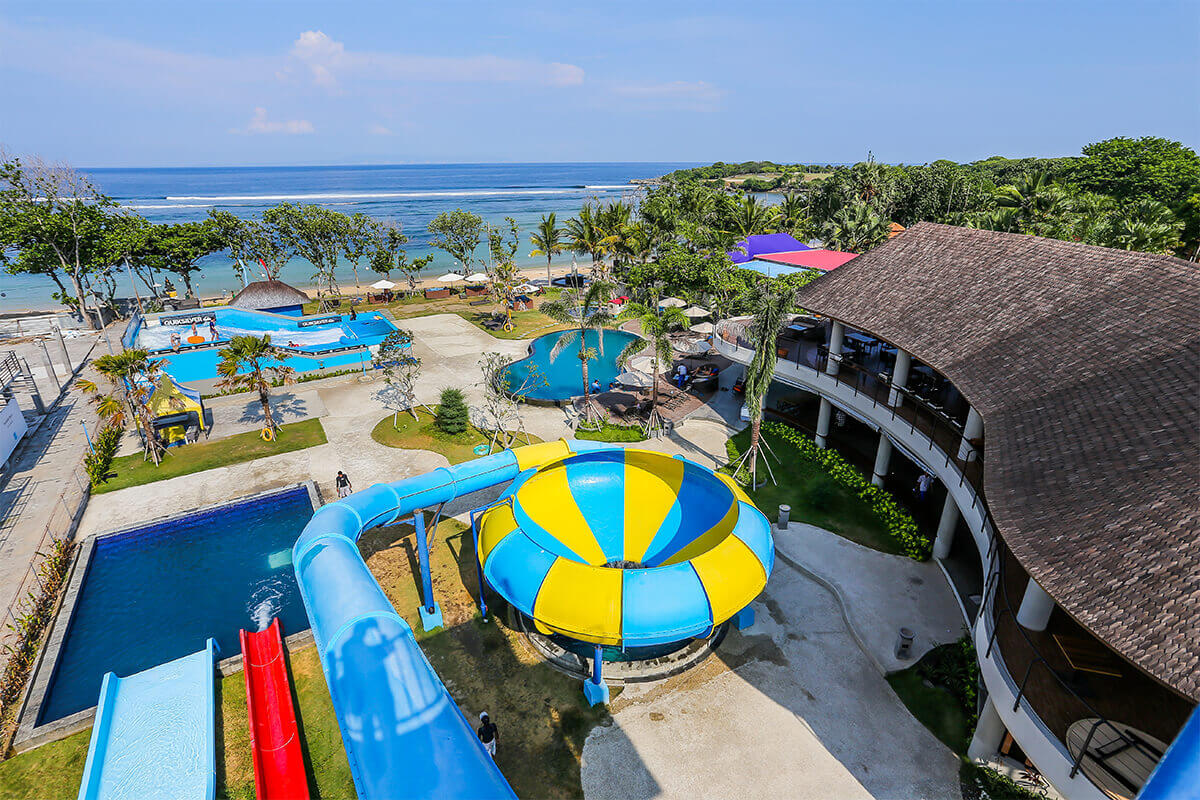 Image source: ITDC

If you wish you could go surfing but you are a bit scared of rough wave-or even sea animals, you should give Surf and Turf a try. Here, you can learn how to conquer surfboards from the experts with minimal difficulty on a sloping surface of a generator, in a wavy pool.
But, if you are that type of person who loves adventure, you should try sliding into space bowl. This exciting option will definitely highlight your day. However, if you want to just enjoy the Nusa Dua Beach, there are also alternative options, such as cycling, canoeing, or sipping your cocktails while hanging out at the swimming pool.
The 3,300-square meter beach club and amusement water park are indeed designed for a whole package of a beach club. Therefore, apart from the water-sport facilities, Surf and Turf also provide a two-story fusion restaurant and bar. Serving Western and Asian cuisine.
Address: Kawasan Wisata BTDC, The Bay Lot C-0, Nusa Dua – Bali 80363
Phone: (+62 361) 8499 166, (+62 361) 9388 008
Website:  www.surfturfbali.com
Operational hours: 10 AM – 8 PM
Price: Starting from IDR 70,000 to  IDR 450,000 (Adults), IDR 50,000 to IDR 250,0000 (Children) depending on activities taken

2 | Visiting Waterblow Site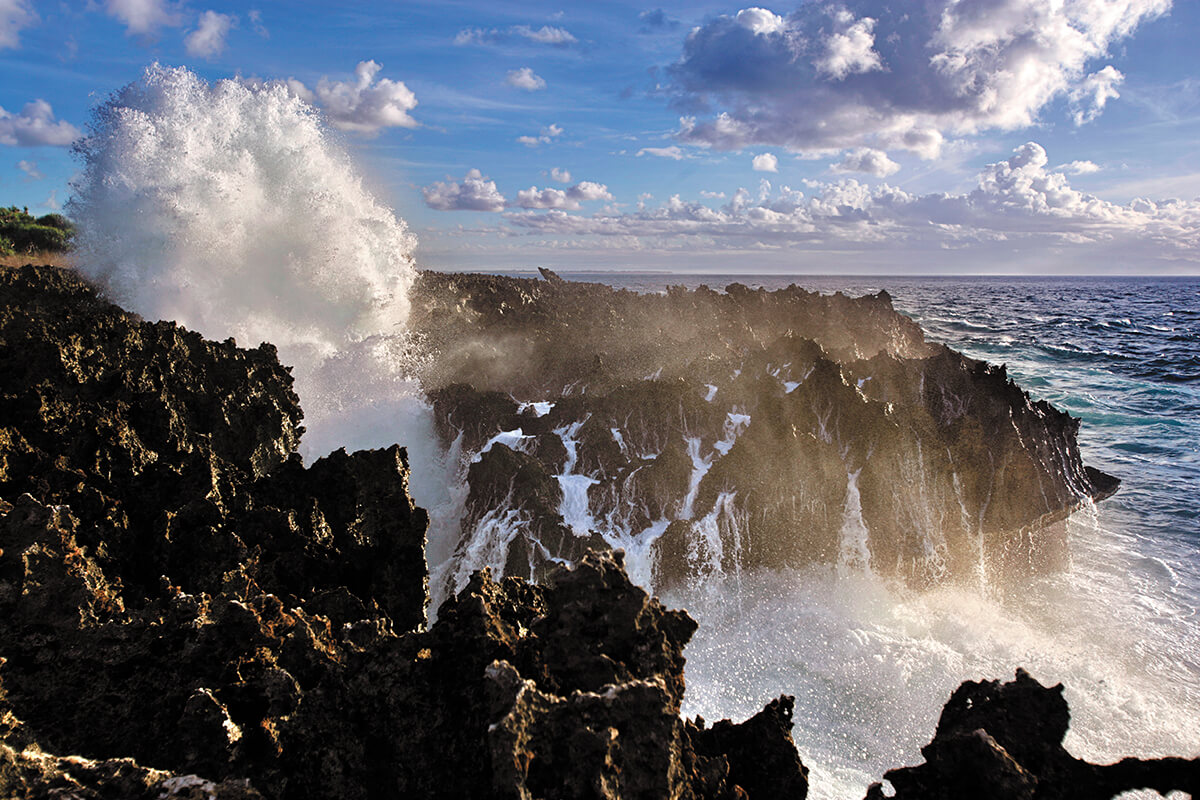 Image source: ITDC

Make sure to bring spare clothes and underwater camera whenever you visit Waterblow. The site is located behind Grand Hyatt Bali Hotel, Where you can see cliffs of coral view where waves strongly burst between them.
There are wooden paths secured with fences, not to mention a gazebo. Here, you can take some photos with bursting waves in the background. Nonetheless, make sure to always watch your steps.
It is free of charge whenever enter the Waterblow. However, if you want to do some pre-wedding shoots or other commercial activities, you must pay to the management for t least Rp 2.5 million.

Address: Jl. Pantai Mengiat | Peninsula Island, Nusa Dua 80363, Indonesia
Phone: -
Website: -
Operational hours: 24 hours
Price: Free
3 | Dining at Bebek Bengil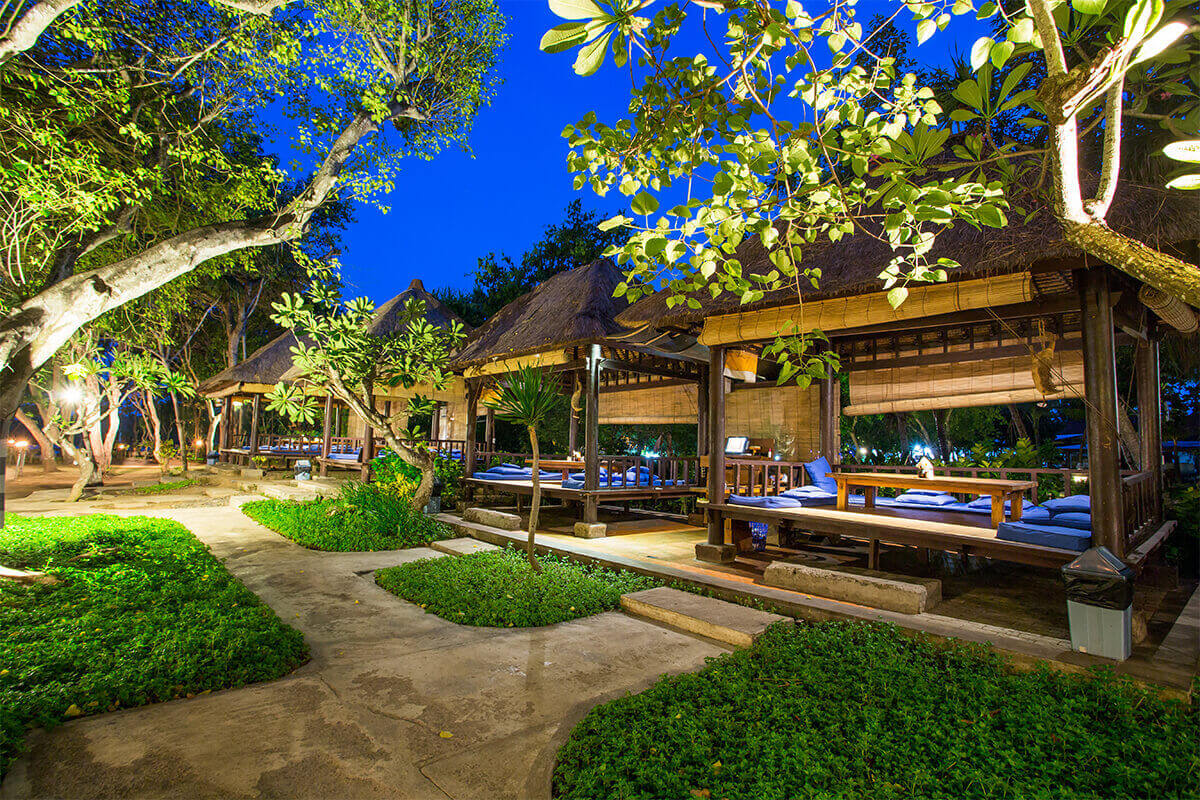 Image source: ITDC

Bebek Bengil, also known as Dirty Duck, is famous for its crispy et mouthwatering deep fried duck. The duck is so crispy in your mouth that you will want to finish it all, even the bones. Try to eat it with lawar or minced meats and mixed vegetables to get an even tastier experience.
Aside from fried duck, Bebek Bengil also serves other Balinese cuisines, like Sate Lilit (minced mackerel satay) and Cumi Goreng Bumbu Bali (fried calamari with Balinese sauce). As their customers also come from other countries, Bebek Bengil now also serves the Mediterranean and Asian food and desserts, like Spaghetti Bolognese, Tom Yam Goong, and Black Russian Pie.
Bebek Bengil was first established in 1990 in Ubud, Bali. They only serve ducks bred in Ubud. Now, they have eight outlets across Java and Bali island.

Address: The Bay Bali,  Nusa Dua Resort.  BTDC Area Lot C – 0, Nusa Dua Bali 80363
Phone: (+62361) 8948111
Website: https://bebekbengil.co.id/id
Operational hours: 11 AM – 11 PM
Price: Approximately IDR 400,000 for two people
4 | Taking a splendid break at Bali National Golf Club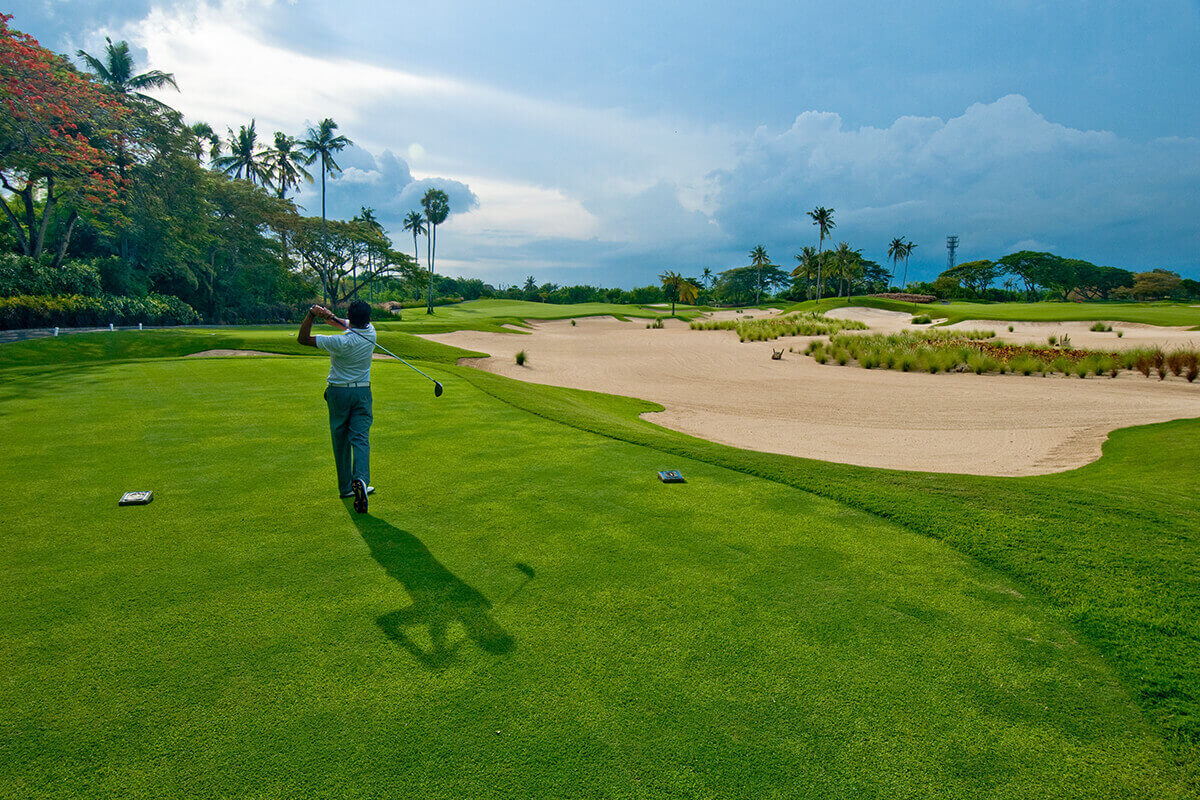 Image source: ITDC

For those who wish to have a vacation with luxurious golf, mingling are suggested to visit Bali National Golf Club. You will find the greatest pleasure of playing golf surrounded by magnificent views of the majestic Mount Agung and the Indian Ocean.
You can easily find the place by driving approximately 20 minutes from Ngurah Rai Bali International Airport through the Bali Mandara toll road. The Bali National Golf Club provides three playing environments throughout the 18-hole course.
The Bali National Golf Club is located within a luxurious accommodation, named Bali National Golf Villas. Hence, if you happen to dedicate your holiday for playing golf, You can book your stay in one of the 7 stunning villas in The Bali National Golf Club resort

Address: Kawasan Wisata Nusa Dua, Bali - Indonesia 80363
Phone: (+62) 361 771 791
Website: www.balinational.com
Operational hours: 6 AM – 7 PM
Price: Starting from IDR 900,000 to IDR 5,500,000
5 | Chilling at the Vista Bar at St. Regis
Image source: ITDC
Vista Bar at St. Regis resort is the place you want to stop by to get the Western relaxing style in the warmth of the Eastern atmosphere. They offer a luxuriously relaxing experience with a tropical bar, overlooking the Indian Ocean while you're enjoying their signature cocktails, the Bali Mary.
The bar interprets two sides of life to a wide selection of champagnes, martinis, cocktails, with refreshing squeezed juices. To get the best experience, try to get relaxed on its oversized cushion hanging out at the bar seats in a warm-water pool.
Address: Kawasan Wisata Nusa Dua, Bali - Indonesia 80363
Phone: (0361) 8478111
Website: http://www.stregisbali.com/vista-bar
Operational hours: 10 AM – 11 PM
Price: Approximately IDR 800,000 for two people
6 | Strolling along the beach at Club Med Bali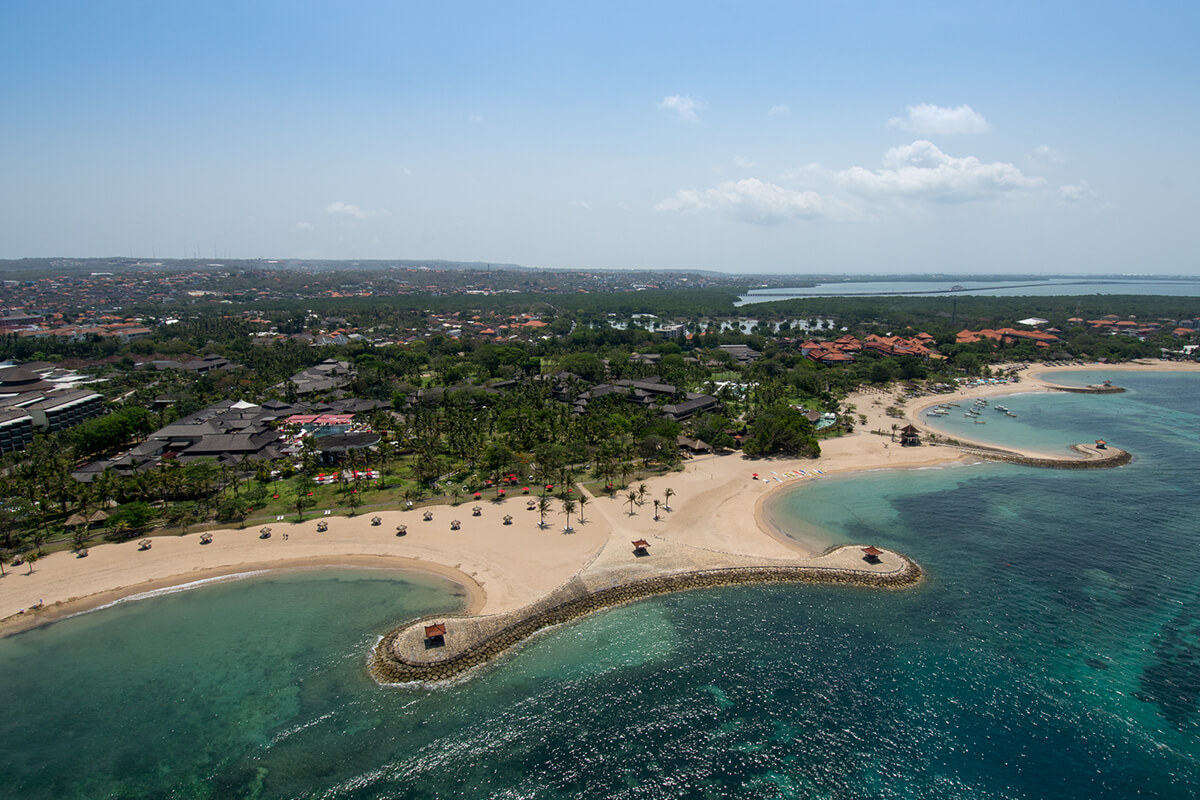 Image source: ITDC

Located next to golden sandy Nusa Dua beach, Club Med Bali has all in one package or the fullest at-beach-holiday. You can enjoy the blue clear waters on the Balinese horizon while you are sunbathing above the clean sands.
Apart from that, Club Med Bali will recall your childhood back by watching Flying Trapeze attraction. This thrilling activity is offered at the resort's circus site.
The Flying Trapeze can only be accessed by +4. It will swing you through the air like a daring circus player. Apart from the Flying Trapeze, in the inclusive Club Med hotel, you can also try other outdoor activities like playing golf, kayaking, snorkeling, or doing yoga by the beach.

Address: Kawasan Pariwisata Nusa Dua BTDC Lot. 6, Nusa Dua, Kuta Selatan, Benoa, Kuta Sel., Kabupaten Badung, Bali 80363
Phone: (0361) 771521
Website: https://www.clubmed.co.id/r/Bali/y
Operational hours: -
Price: -
7 | Tasting the local cuisine for dinner at Grand Hyatt's Pasar Senggol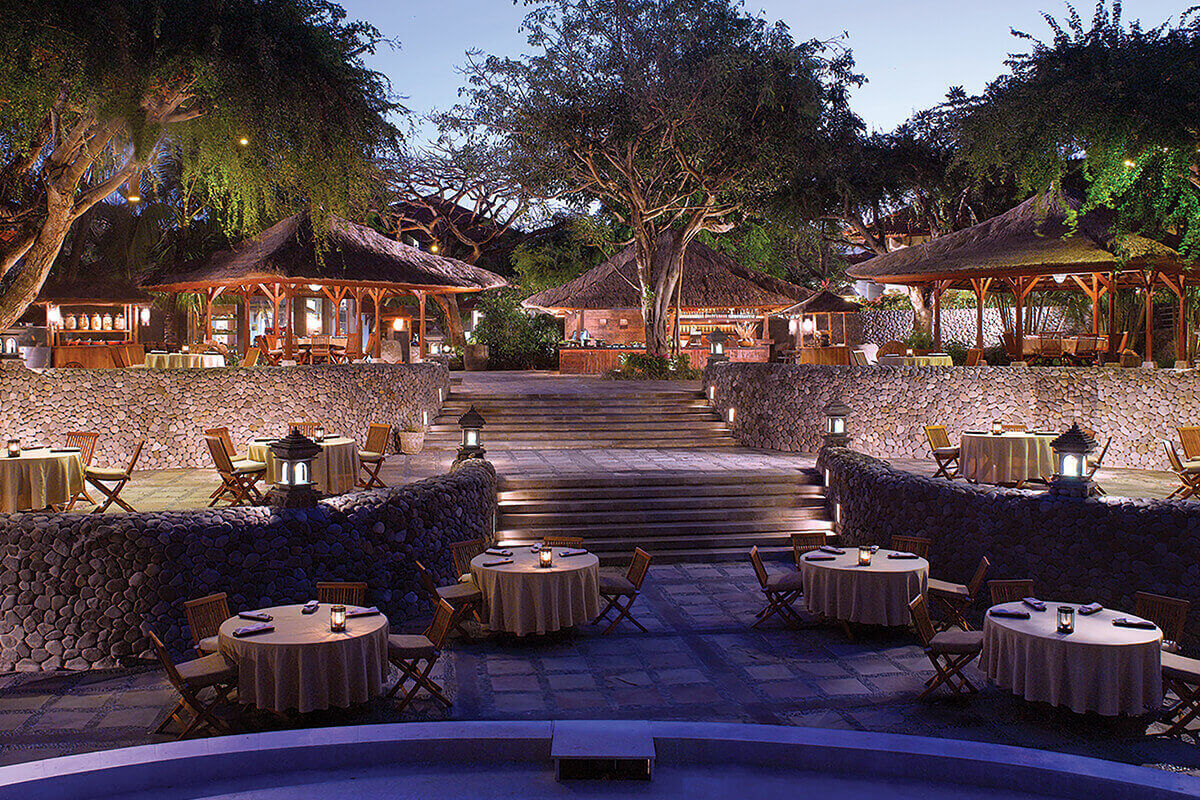 Image source: ITDC

In Indonesia, Pasar Senggol refers to a crowded traditional market where you touch and squeeze each other to walk through. However, in Grand Hyatt Nusa Dua, Pasar Senggol is a fancy dining representing a contemporary Balinese night market.
They serve authentic Indonesian and Balinese dishes that in a line of food stalls along the area. Not only that, at its pathways, there are artisans creating and selling handicrafts just like those in the traditional markets.
Their open amphitheater is where the extravagant Balinese cultures are staged. Here, a lot of Balinese performances have been exhibited; from the magical Kecak dance to mesmerizing Ramayana dance.

Address: Kawasan Wisata Nusa Dua BTDC, Nusa Dua, Bali, Indonesia
Phone:+62 361 77 1234
Website: http://www.pasar-senggol.com
Operational hours: 08:00 AM - 09:00 PM
Price: -
8 | Total relaxation in Courtyard Spa by Marriot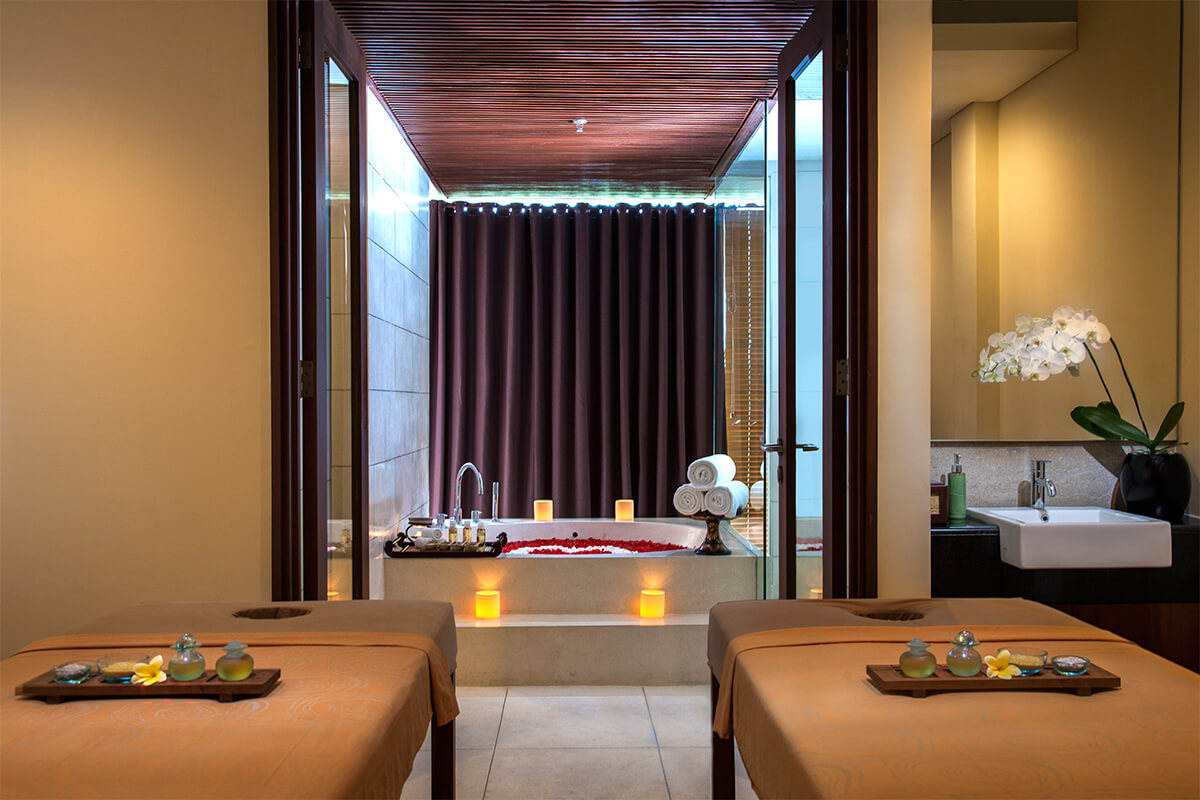 Image source: ITDC

You know it really well that Bali is haven not only for its beaches but also spa relaxation. Blessed with fragrant herbs, Bali has many unique spa products, as well as satisfying spa services.
Among the best spa house is Courtyard Spa by Marriot. They offer various kinds of Balinese spa treatments; from manicures/pedicures for adults to kids. The spa is also adored by many lovebirds due to its service for couples – not to mention its fragrant tea compliments.
Apart from rejuvenating yourself with the spa, you can also make the most of your day by relaxing by the resort's large lagoon pool or even trying their fitness facilities. From the Courtyard, you can also reach Nusa Dua's shopping center Bali Collection by driving for only 3 minutes. Moreover, the resort is only a 20-minute drive from Ngurah Rai International Airport.

Address: Kawasan Pariwisata Lot SW1, Nusa Dua, Bali  80363 Indonesia
Phone:+62 361300, ext. 8728
Website: http://www.marriott.com/hotels/hotel-information/fitness-spa-services/dpscy-courtyard-bali-nusa-dua-resort/
Operational hours: 08:00 AM - 09:00 PM
Price: -
Upgrade the fun with more Bali tour of your choice here!
Photo Source of Header Banner: ITDC