Belitung Island has become a new favourite island-themed holiday destination among tourists located south-east off the larger island of Sumatra.  With its impeccable pristine beaches, blue waters and natural granite rock structures, its hard not to linger on its beauty. Well known after the success of the box office Indonesian movie Laskar Pelangi or Rainbow Troops, this island is now determined to reach its goal to become one of world's best Geoparks. A Global Geopark is a UNESCO-designated area, that contains natural sites with particular geological importance and are intended to be conserved on account of its heritage. Tourism is expected to act as booster to spread knowledge and awareness of this unique natural wonder. Here are a few  for you to start your incredible holiday :
1 | Tanjung Kelayang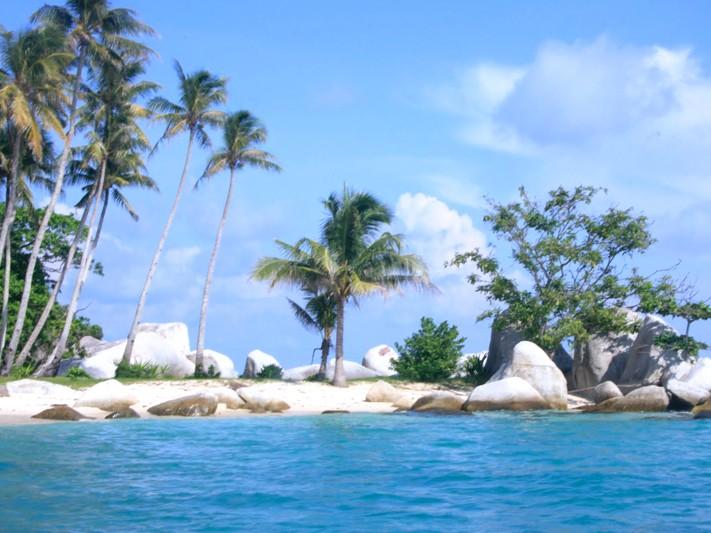 This fabulous stretch of white sandy beach decorated with large boulders as if scattered  by some giant hand, is the icon of the island of Belitung, and is,  for this reason, earmarked to become one of Indonesia's top destinations. Its long shoreline and calm waters are perfect for swimming. A few nearby islands are great to explore, try out your kayaking skills or do some other watersports. Enjoy the local cuisine and cooling drinks while enjoying your holiday along this scenic beach. Tanjung Kelayang is planned to become a destination for yachts and cruise ships.   
2 | Lengkuas Island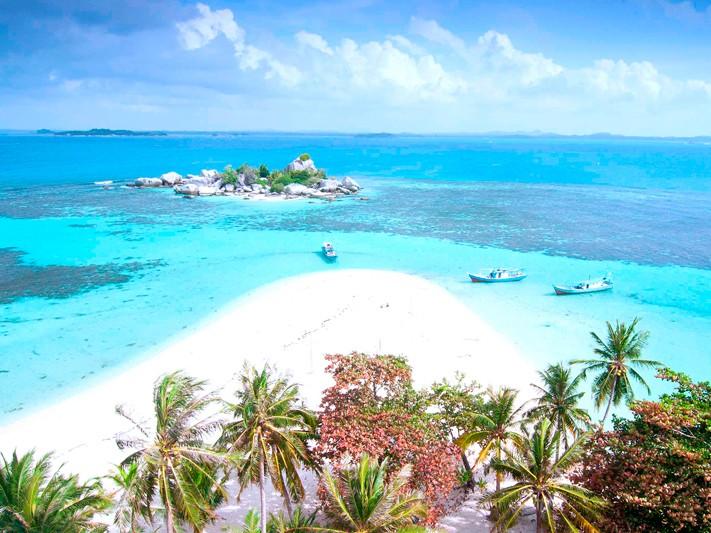 Image via nakarasido 
This is Belitung's number one popular destination.  Here a towering 313 stairs light house built a century ago has aged gracefully. From its top floor look down on turquoise waters and pearly sand borders and a stunning panorama. Another set of amazing stone rock formation is a rhapsody of sculpture molded by mother nature.
3 | Batu Berlayar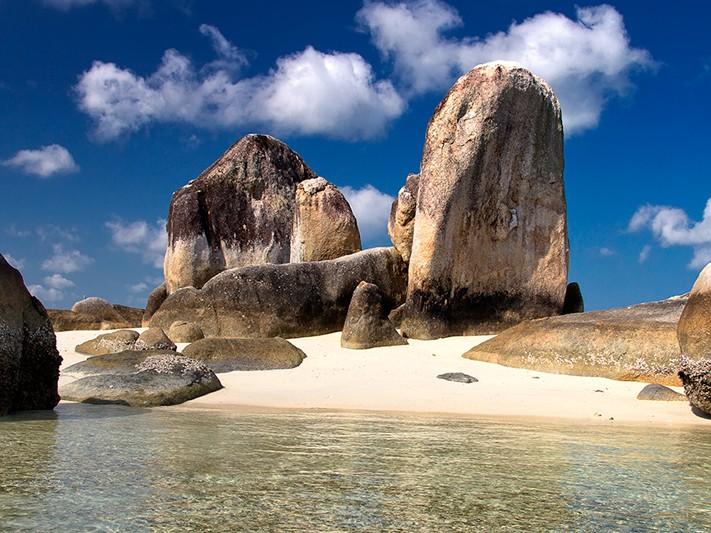 Image via belitungwonderful
Batu Berlayar means the Sailing Rock Island. Its name is derived from the shape of the island's rock formation that resembles a sailing ship. This is  a small island that has some secluded spots with tiny beaches and huge granite structures. Getting here needs an experienced boatsman, to navigate across the shallow and rocky seabed around the island.
4 | Tanjung Tinggi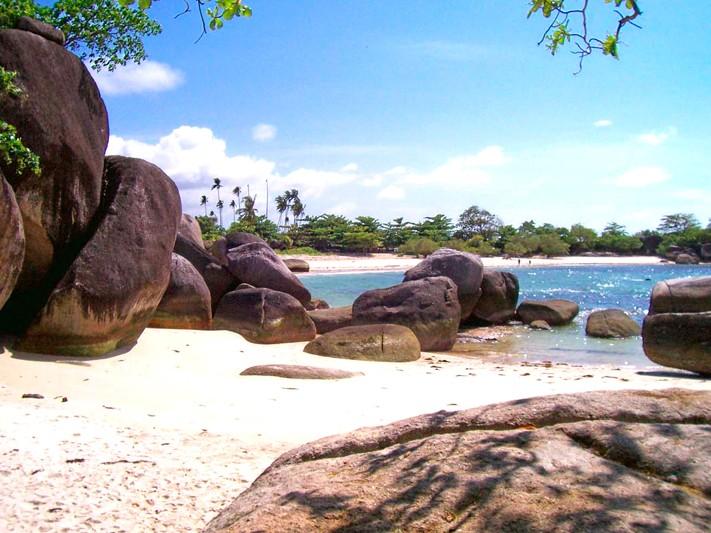 Image via belitungtrans
A serene and tranquil beach,  that is  perfect for swimming. A few hotels are situated along this lovely waterfront to serve tourists, offering an incredible view just outside the window. Be aware of the wind and current though, they may blow your sunhat away.
5 | Birds Island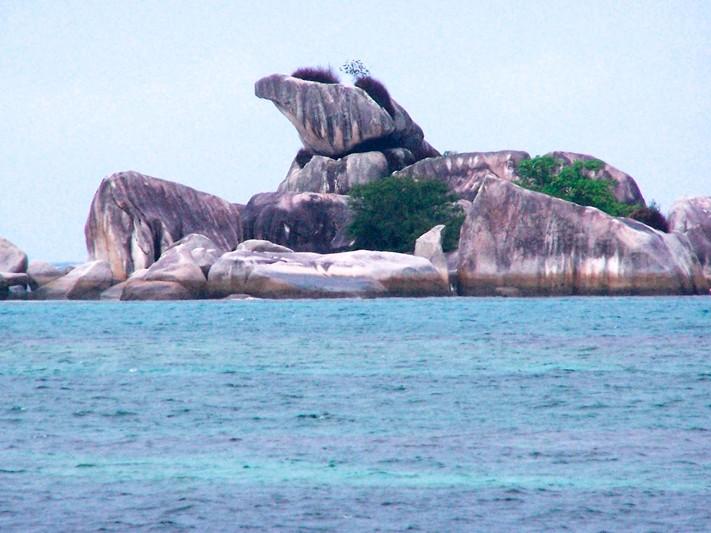 Image via nakarasido
Burung is the Indonesian word for Bird. A soaring granite structure in the form of a bird's head gives the island its name. Still framed in the peaceful nuance of crystal clear ocean water and white sands, this is just another gorgeous photo spot for your memory album.
6 | Museum Kata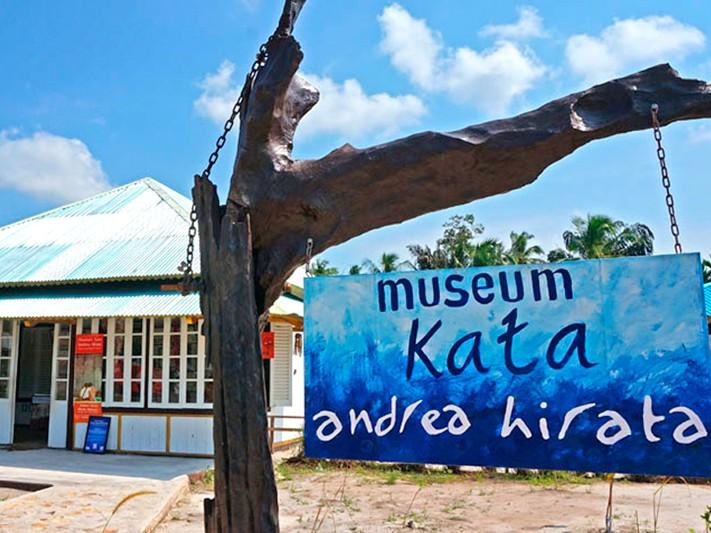 Following his widely successful Laskar Pelangi in novel and silver screen movie, Andrea Hirata opened Museum Kata, a one of a kind museum that is filled with memorabilia of his famous story. Born in Gantong, the famous novelist continues to inspire the young generation to reach their dream. The building is vivid in color and  encourages visitors to read and write through its literary collections. Kata means "Word" in Bahasa Indonesia.
7 | The Satam Monument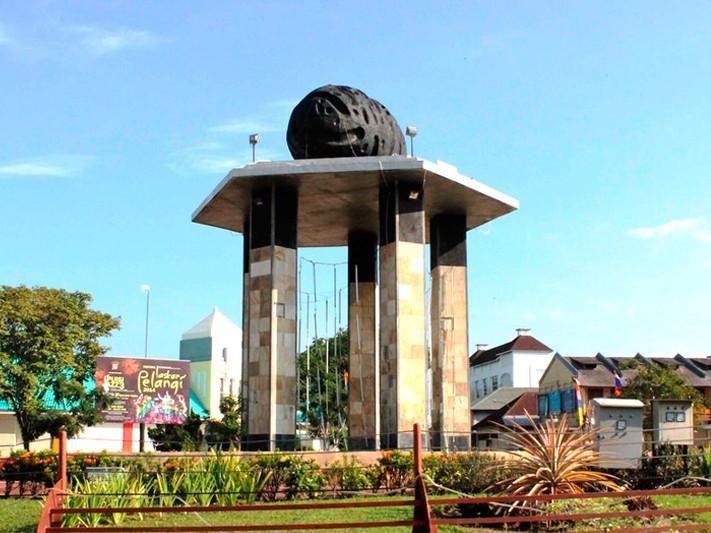 This is an iconic monument in the heart of Tanjung Pandan, capital of the district of Belitung.  Located in the middle of a traffic roundabout of this lovely city. Satam is derived from the word Hitam,  meaning Black. It's a kind of black rock that is considered sacred and powerful by the locals but can be bought in many forms of jewellery and other ornamental handicraft. Around this monument are shops and restaurants to indulge your shopping spree for special  mementos.
8 | The Kaoline Lake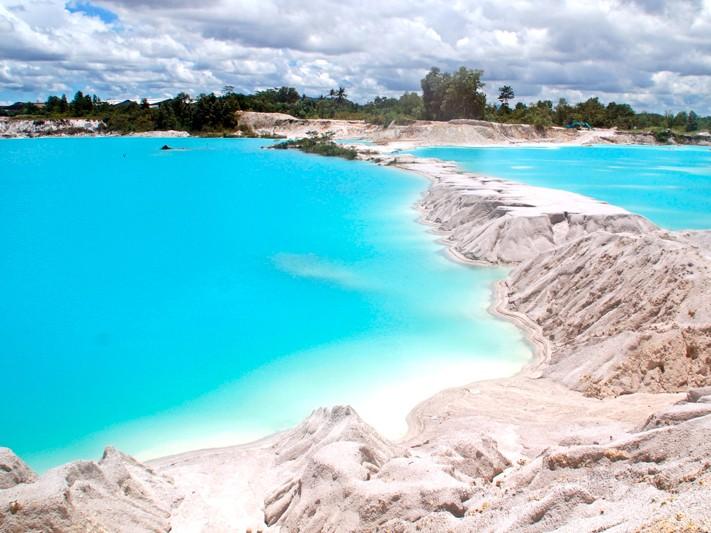 Image via vpitu.com
This is an abandoned kaoline or white clay mine that has been transformed into a hotspot for travellers and photographers. Bright blue water against a white rugged stone cradle is just a photogenic spot in an unexpected site. It is still restricted to enter the water due to safety precautions, but you will surely get a great pic even if you stay dry.
9 | Manggar Coffee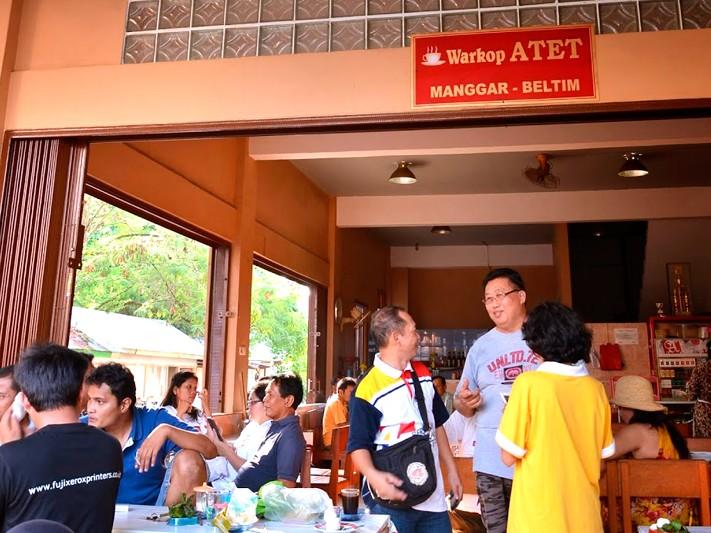 Image via jendelakecildunia 
When in Belitung, do not miss this culinary highlight.  Manggar is a small town that is well known for its coffee culture, marked with the 1001 Coffee Shop Monument. Manggar Kopi is aromatic and has a special taste that leaves you asking for more. You will find many side-street local shops with long wooden benches and inviting porches along the way. Simple local foods are also available to try while lounging with a perfect cup of strong scented and finest Manggar coffee.
To get to Belitung you can catch flights from Jakarta and Medan to Belitung airport.