Gili Air: although it is the smallest of the 3 Gili islands off Lombok's west coast, namely Gili Trawangan, Gili Meno and Gili Air – it is not one to be overlooked. Many say the island has the best white sandy beaches amongst the three Gili's.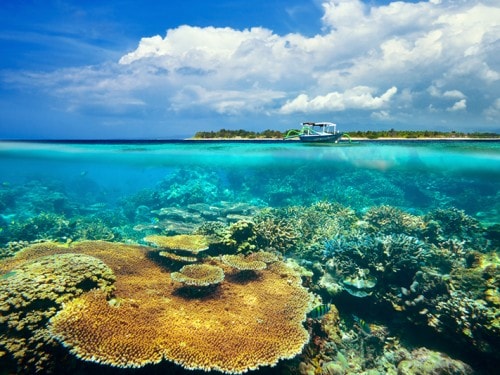 Gili Air exudes a natural and beautifully simple vibe, one that perfectly balances its night life with day time serenity. So, while you stay on this perfect dream island; why not take a look at 5 places that we have carefully selected to accommodate your needs.
1 | Manta Dive Resort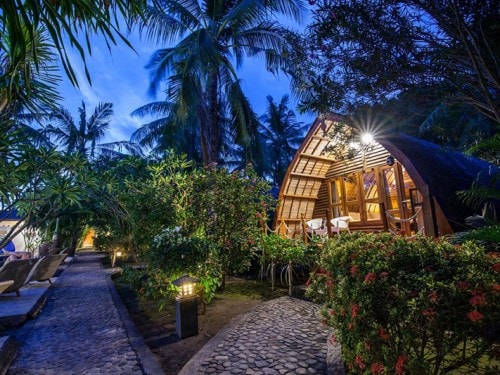 Photo source : Booking.com
Whether or not diving is on your list of things to do whilst on your trip to Gili Air, the Manta Dive Resort offers you fantastic experience. Feel free to select your choice of accommodation among Traditional Bungalows, The Garden Room or the Deluxe Bungalow; there is something for everyone as each one of these will have you feeling completely pampered and relaxed. The diving facilities are well known, with programs that are specially designed to teach beginners how to dive.  But if cycling around the island is what you came for; then bicycles are available for rent upon request. Think this is the place for you? Click the link below for further information.
Website: http://manta-dive-giliair.com/
2 | Gili Air Escape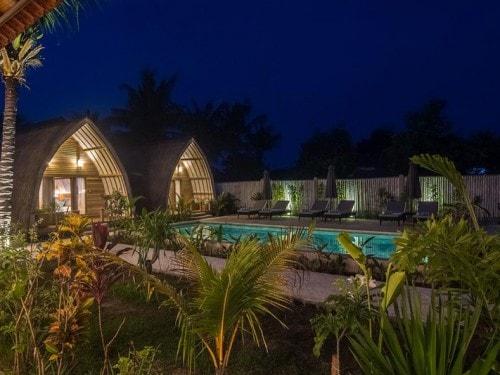 Photo source : Booking.com
True to its name, Gili Air Escape offers guests the chance to truly escape from  modern-day stress. Just minutes away from the beach, a fantastic swimming pool and a restaurant that serves the most delicious food await; what else could you want? Gili Air Escape has four traditional bungalows, a villa that has two rooms and two suites that come highly recommended. Looking for a peaceful place to enjoy the beauty of Gili Air? Look no further because Gili Air Escape may just be what you have been searching. Click on the link below for more details.
Website: http://www.giliairescape.com/
3 | Aza Zil Bungalow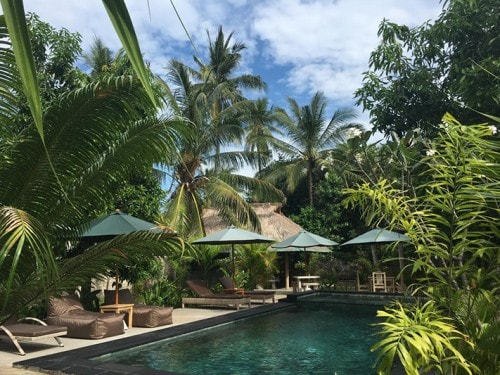 Photo source : Booking.com
Aza Zil Bungalow's is most famous for its delightful rooms. The place offers a lovely relaxing environment that is perfect for those looking to spend their holiday on Gili Air feeling completely at leisure. Situated just a few minutes walk from the beach it has a lovely azure blue pool; Aza Zil Bungalow has everything you need to make your stay enjoyable. The property has a choice of a double room; which is a room with a king-sized bed, a bungalow perfect for two, or a family room that has two large beds. Interested in booking a night at Aza Zil? Click the link below for further details.
Website: http://www.azazilbungalows.com/en-gb/
4 | Akasia Villas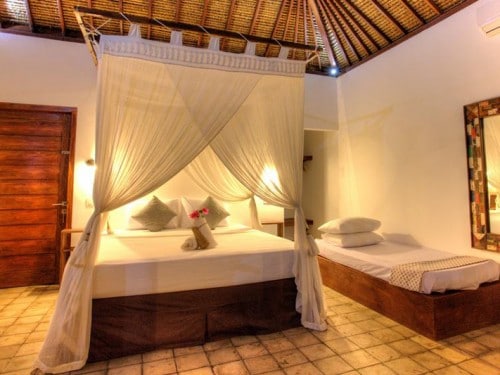 Photo source : Booking.com
Traveling with a large family? Have no fear, Akasia Villas is the place for you. Akasia Villas is a relatively new property that has modern villas within walking distance to the beach. They also have a private swimming pool and fantastic staff that are readily available at your beck and call. However, if you are planning a vacation just for two, this property also has one bedroom villas available, perfect for that romantic getaway you've always wanted. Does Akasia sound appealing? Click on the link for more information.
Website: http://akasiavillas.com/
5 | Lucy's Garden Hotel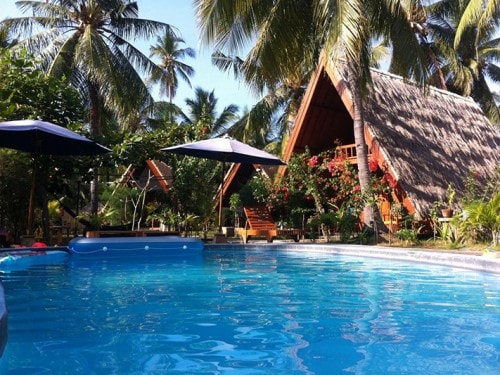 Photo source : Booking.com
Tucked away on the western side of Gili Air is this little tropical paradise; with nine traditional Sasak houses with a modern twist, this property offers you an escape like no other from the hectic city life. The atmosphere is tranquil and the location is right on the side of surfers paradise. So if you have an inkling to catch a few waves, well this just might be the place for you. Of course, if you'd rather enjoy the beautiful sandy beaches and take in the natural beauty of the island, Lucy's Garden will provide that serene natural environment that we all could use a little more of. Is this the place for you? Click on the link below to find out more.
Website: http://lucysgardenhotel.com/

Choose your perfect way to best enjoy Lombok here!
Photo of homepage banner: http://www.giliairescape.com