Indonesia received two most prestigious awards at the Getaway Show Africa that was held recently from 23rd to 25th September 2016 at the Ticketpro Dome in Johannesburg, South Africa, which is recognized as one of the biggest tourism exhibitions on the continent.
At this important event, Indonesia was awarded The Best International Destination and The Spirit of Getaway 2016, being the highest acknowledgement of the event. As the largest tourism expo in South Africa, the event was participated by over 350 exhibitors and businesses from numerous countries.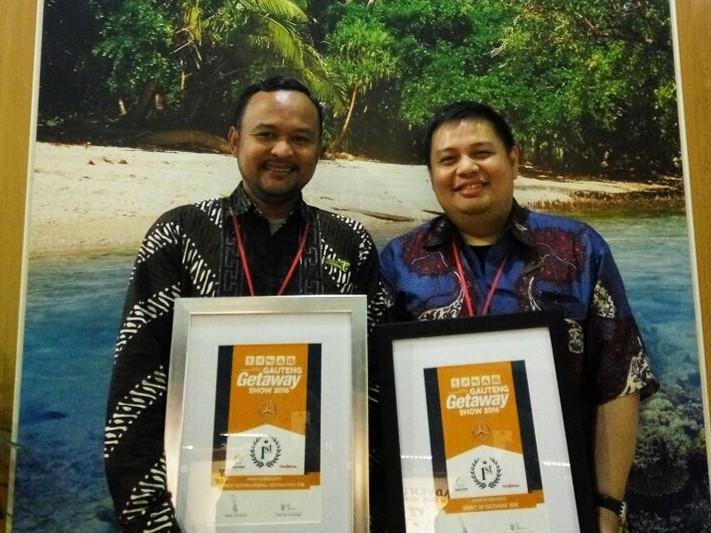 "We are truly grateful and proud that Indonesia has won the two top awards. This achievement will further open the eyes of the world, in particular in and around Africa on the magnificent wonders that are in Indonesia, consequently luring more tourists to Indonesia as a top tourist destination," said Nia Niscaya, Deputy Market Development for Europe, Middle East, America, and Africa of the Ministry of Tourism.
This marks yet another incredible achievement for Indonesia as a tourist destination, after also receiving numerous awards in other similar events including the award as The Most Beautiful Diving Destination in the exhibition Taiwan, 2 Awards at the China Xi'an Silk Road International Tourism Expo as well as 4 awards at PATA Travel Mart 2016.
Altogether, the Wonderful Indonesia Team attending the event was showered with praise for their success. Representatives of the Ministry of Tourism, including Chef Marco and his culinary team as well as the Mawar Budaya Dance group who were considered the magnets attracting visitors to the Wonderful Indonesia booth. Most visitors enjoyed Indonesia's delicious culinary presentations such as Rendang, Ayam Panggang Cabe Hijau, as well as various other traditional snacks.
As a result, operators attending the show, such as Nusa Dua Beach Hotel Bali, Holiday Inn Bandung, Maya Resort Bali, Bhara Tours Bandung, Singapore Airlines, as well as 2 local travel agents Afronesia Tours and The Facets could more easily offer their products to lure people from South Africa to holiday in Indonesia.