Indonesia is steadily planning for the reactivation of the tourism industry, and Bali will be the first destination assigned as the locomotive for the whole country. Preparation is being rigorously, but mindfully undertaken, to ensure the comfort, convenience, and wellbeing of future visitors, once they return to Bali.
Deputy for Strategic Policy of the Ministry of Tourism and Creative Economy, Kurleni Umar stated that the implementation of the tourism recovery plan in Bali will be undertaken gradually. "The government has assigned three regions in Bali as green zones: Ubud in Gianyar Regency, Sanur in Denpasar City, and Nusa Dua in Badung Regency," he explained.
Currently, efforts taken to prepare these three green zones include a COVID-19 vaccination program, and health protocol certification and implementation.

COVID-19 VACCINATION PROGRAM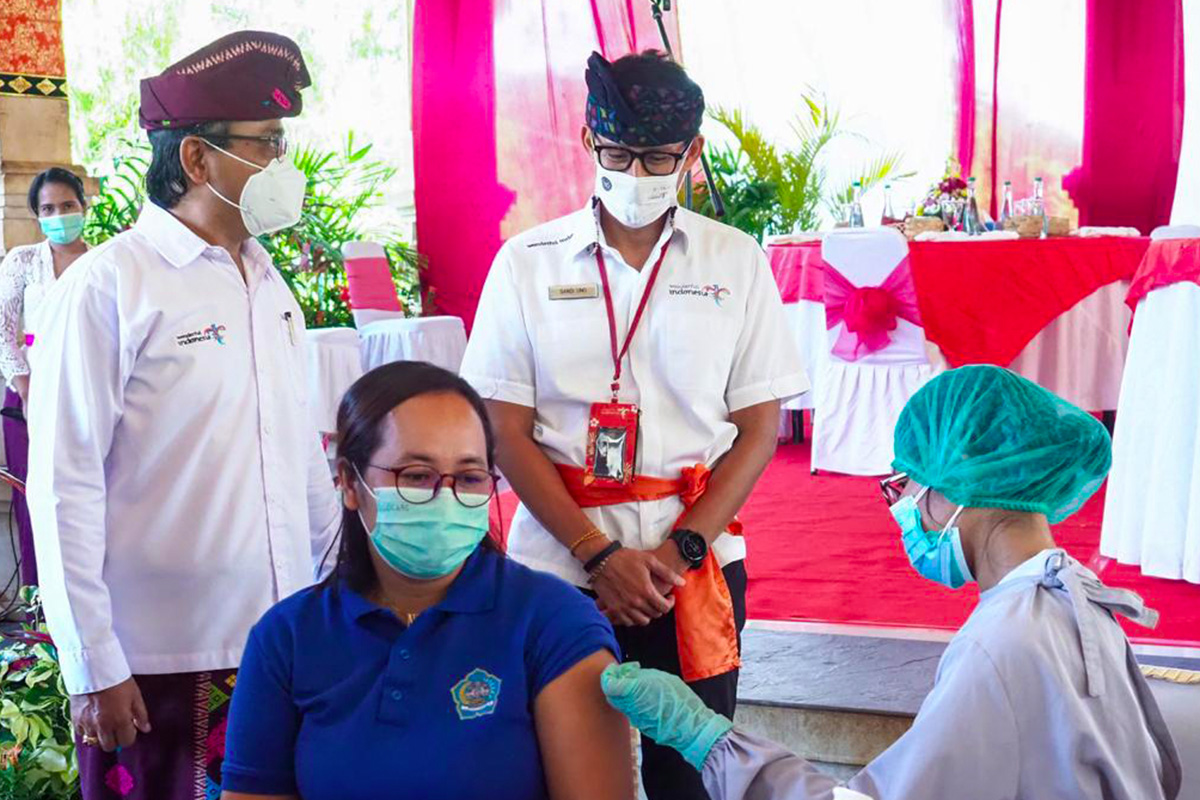 Reports show that as of 1st April 2021, some 9,475 tourism workers across three green zones in Bali received COVID-19 vaccines. Moreover, on 7th April 2021, an additional 271,900 doses of Sinovac vaccines arrived in Bali to accelerate the COVID-19 vaccination program, which is now almost complete in the three green zones.
The Ministry of Health has also been working in collaboration with Grab and Good Doctor in commencing the drive-thru based vaccination program in Bali. On 8 March 2021, it was estimated that 5,000 people had been vaccinated through this program, 1,000 of whom are Grab taxi drivers in Bali.
Coordinating Minister of Maritime and Investment, Luhut Binsar Pandjaitan, predicted that the vaccination program can create herd immunity in Bali by the end of July 2021. "Currently we are striving to vaccinate 1,8 - 2 million people. It is expected that we can add 1 million more people from April to May, so that herd immunity will be achieved by the end of July," said Luhut in a press release, quoted on Wednesday (31/3/2021).

HEALTH PROTOCOL CERTIFICATION AND IMPLEMENTATION
As of 18th January 2021, approximately 994 tourism stakeholders in Bali have been granted InDOnesia CARE certification by the Ministry of Tourism and Creative Economy. The list includes 516 hotels and 478 non-hotels, including restaurants, homestay villas, nature tourism sites, shopping centers, transportation services, and diving tours, which have met the required standards for implementation of health protocols.
Alongside the InDOnesia CARE movement, the Government's COVID-19 Task Force is also taking part in the guidance and supervision of health protocol implementation in tourism-related businesses, including in Bali.
Ngurah Rai International Airport in Bali has become one of 15 airports in Indonesia that has been granted a Safe Travels Stamp by the World Travel & Tourism Council since August 2020. This stamp was obtained after Angkasa Pura I, the state-owned company managing the airports in Indonesia, sent details of airport health protocols to the agency for a complete assessment. According to the Director of Angkasa Pura I, Fahmi Faik, the Safe Travel Stamp shows both the public and tourism stakeholders that Angkasa Pura I has consistently implemented health protocols related to preventing the spread of COVID-19, in accordance with Safe Travels WTTC dan ICAO Takeoff Guideline for Aviation protocol.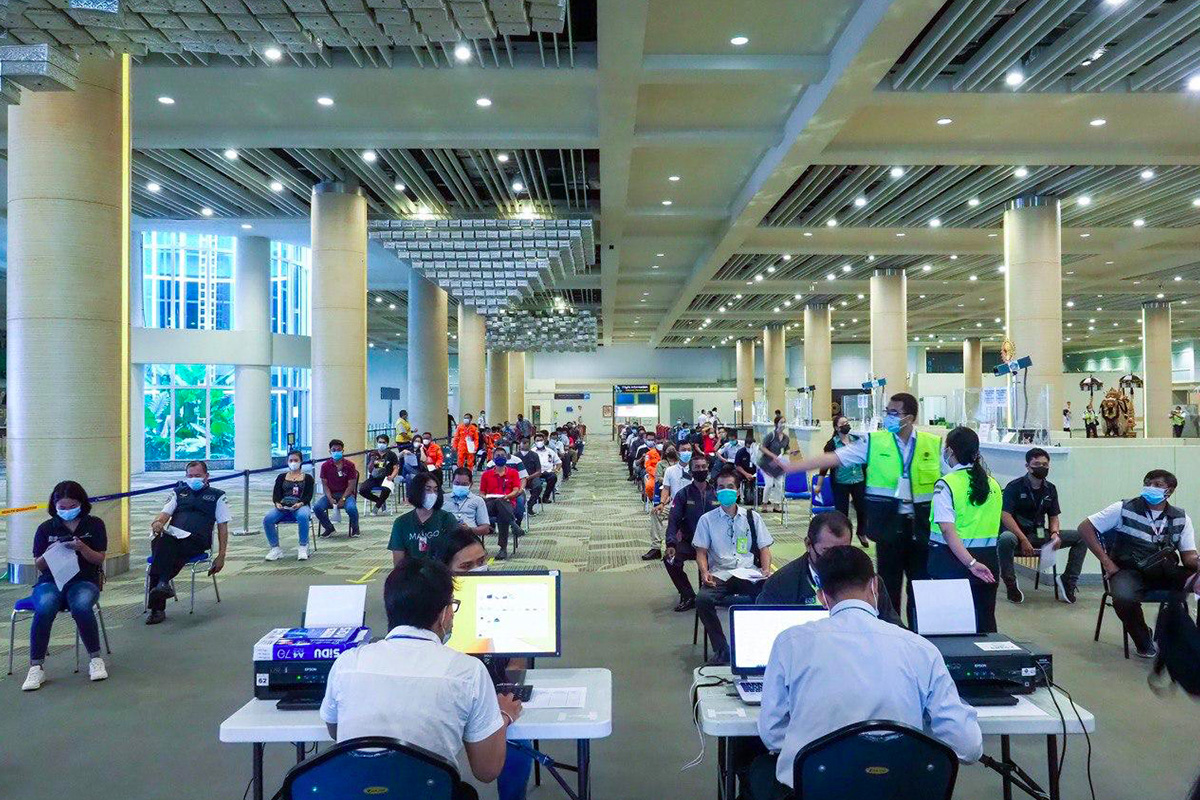 On 4 April 2021, Bali Governor, Wayan Koster, issued Governor's Decree No. 10, 2021, regarding the Application of Discipline and Law Enforcement of COVID-19 Health Protocol in Bali. The decree imposes strict regulations not only for locals, but also for international travelers visiting Bali in the future.
While visiting the Sanur Beach area in Denpasar on Saturday, 10 April 2021, Minister of Tourism and Creative Economy, Sandiaga Salahuddin Uno stated that the COVID-19 prevention health protocols will be strictly implemented in the green zones in the Bali region. "We have to extensively monitor people's compliance with health protocols." said Sandiaga Uno.
He said that the Ministry will also intensify socialization and education to all people, especially those in the green zone, to continue to comply with health protocols in order to continue to suppress the Covid-19 infection rate. "There will be sanctions for those who commit violations. Regarding international travelers, we won't hesitate to deport them if they refuse to comply with health protocols," he said.
The green zones designated as a locus for the Bali tourism recovery plan were selected on the basis of potential demand, and a longing by visitors to return to the natural attractions of Ubud, Sanur, and Nusa Dua. The strict measures being implemented are because InDOnesia CAREs for the comfort, convenience and wellbeing of future travellers, when they can finally embrace the beauty of Bali once again.