Capital city of Indonesia and hub of this country's Government, trade, business finance and economy, Metropolitan Jakarta offers a wide range of luxurious hotels from those located in exclusive highrise buildings in the center of the city to lavish sized hotels on the outskirst of the city, hidden among green trees with stretching lawns.
Since Jakarta is a sprawling city, it is wise to pick a hotel that is closest to your business needs, or you may waste time in the traffic.
Here is a list you may want to choose from:
1 | The Dharmawangsa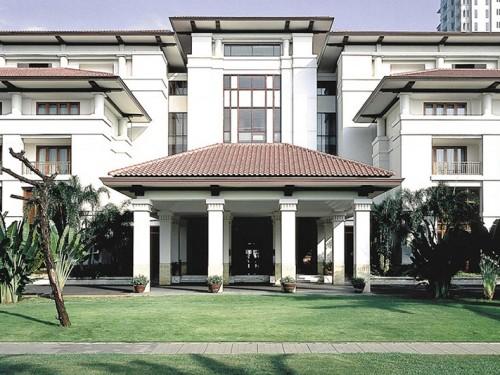 Photo source : www.the-dharmawangsa.com
Located in the lush and leafy area of Kebayoran Baru in South Jakarta, The Dharmawangsa Hotel is an embodiment of modern tropical architecture. Each room is treated with sophistication and artistry so you can find the inspiring richness of Indonesian arts, cultures and heritage embodied in various spaces throughout the hotel. An outdoor pool will also lead you to a modern Balinese garden, with frangipani trees shading your sunbathe lounge.
Get immersed in the lavish Javanese styled Presidential Suite on the entire top floor of 443 sqm exclusive facility. With two master bedrooms, en suite bathroom, walk in closet, a plunge pool, private double balcony, full kitchen and a dining area for 8, this particular room will bring you nothing but satisfaction. You can visit the nearby malls like Dharmawangsa Square, Kemang Village or Pondok Indah for your shopping spree. There are also choices of chic café and restaurants around the premises.
Address : Jl. Brawijaya Raya No.26, RT.1/RW.2, Pulo, Kby. Baru, Kota Jakarta Selatan, Daerah Khusus Ibukota Jakarta 12160
Website : http://www.the-dharmawangsa.com
2 | The Fairmont Hotel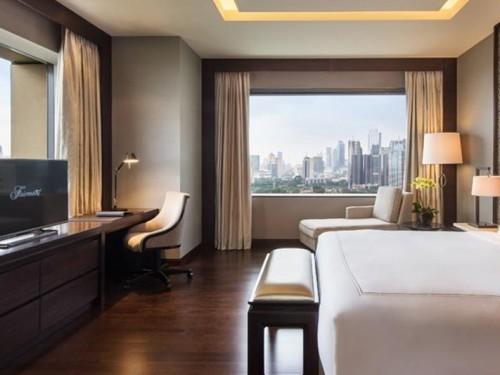 Photo source : www.fairmont.com
Strategically located in Jakarta's prestigious Senayan area, just skirting the financial and business district at Sudirman avenue, the Fairmont Hotel offers exclusive accommodation for your business or holiday plans. Various choices of rooms catering to travelers who need longer stay are offered in the fully equipped Sky Suites, a gorgeous home away from home that provide high end facilities and fine quality amenities. Upgrade your stay to their Presidential Suite, a 303 sqm luxury living space with the best of Jakarta's skyline. It comes with full access to the Fairmont Gold Lounge with many exclusive privileges to enjoy during your stay.
This hotel is directly connected to Plaza Senayan, a popular luxury shopping center. It is also located near the Indonesian Stock Exchange, The Jakarta Convention Center, Gelora Bung Karno Stadium, The Sentral Senayan Office Tower and Senayan City Shopping Mall.
Address : Jl. Asia Afrika no.8 Gelora Bung Karno Jakarta, Indonesia 10270
Website : http://www.fairmont.com
3 | The Hermitage Hotel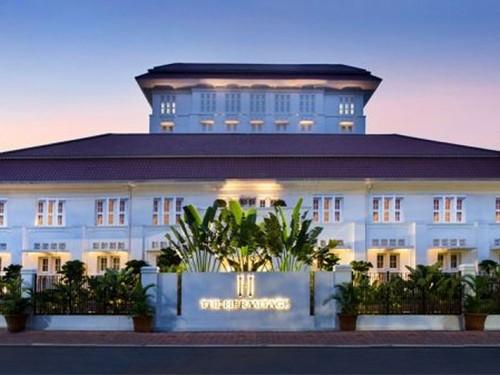 Photo source : www.hermitagejakarta.com
This hotel is set in the heart of Menteng Area, which is an upscale district of Jakarta known to be the dwellings of the rich and famous. The Hermitage blends into the surroundings with a colonial style building that emits elegance. The interior decorations are also curated to depict the ambiance of the colonial era in Indonesia. The rooms are all luxurious in a seamless mix of heritage and modern living. The Presidential Suite is a harmony between lavish European and warm Javanese styles.
If you love vintage goods, this place will be perfect for your stay because it is also very close to the famous Jalan Surabaya where you can browse for good vintage items, such as vinyl records, gramophones, brass chandeliers, old radios and so on. Taman Menteng, Taman Suropati and the Planetarium at Taman Ismail Marzuki are also some nearby attractions that you may want to visit for your entertainment.
Address : Jalan Cilacap 1, Menteng, Jakarta, 10310, Indonesia
Website : http://www.hermitagejakarta.com/
4 | Hotel Indonesia Kempinski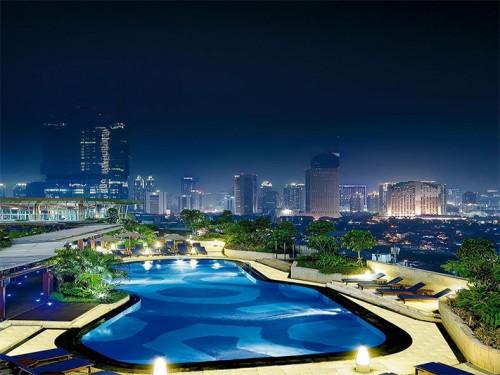 Photo source : www.agoda.com
Hotel Indonesia was the first luxurious hotel built in Jakarta, inaugurated by President Soekarno on August 5, 1962 as one of the iconic landmarks of the capital. Designed by an American Architect, Abel Sorensen and his wife, the hotel sits right in front of the busy Hotel Indonesia Roundabout. In 2004, the hotel had a massive renovation and was then re-branded into Hotel Indonesia Kempinski. It was inaugurated in 2009 by President Susilo Bambang Yudhoyono, as part of the Grand Indonesia complex. A multi use area comprises of accommodation, offices, living space and shopping malls.
The 412 sqm Presidential Suite certainly has the best unobstructed view of the famous roundabout, which is always packed with boisterous crowds having a great time on New Year's Eve. Beside the lovely rooftop pool, the hotel also offers delectable cuisine of fine dining. The Paulaner Bräuhaus Jakarta is the only microbrewery restaurant in the country. It is a 400-seat establishment that serves traditional Bavarian food and its famed German beer, made only with authentic imported ingredients. Every year, Paulaner holds the only authentic Oktoberfest in the country.
Address : Jl. MH Thamrin No. 1, Jakarta 10310
Website : https://www.kempinski.com
5 | Keraton at the Plaza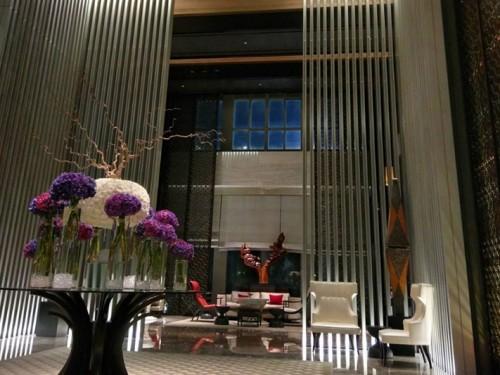 Photo source : www.keratonattheplazajakarta.com
Keraton is a Javanese word meaning Palace, which defines the sumptuous ambiance that the hotel wants to excel. With direct connection to the famous Plaza Indonesia, the hotel is simply a subtle elegance. The entrance is hidden from the hustle of the main street, stressing your rights for right from the welcome area. As one of the Starwood's Luxury Collection Hotel, the Keraton also has as sole purpose to provide its guests with a memorable experience of basking in its luxurious service and lavish lifestyle. One signature in rhw Luxury Collection Hotels is to highlight indigenous arts. You will see hand selected fine arts from famous curators, placed throughout the spaces, displaying Indonesian masterpieces.
The Keraton Suite is 140 sqm of pure leisure, crafted in a spacious area for your ultimate comfort. The Kids High Tea, 24 Hour Butler Service, the pre-informed Late Check Out Policy and the indoor Infinity Pool are some of the many more unique first class services you'll enjoy here. Proximity from Jakarta's landmarks and most exclusive shopping malls are another advantage.
Address : Jl. MH. Thamrin Kav. 15, Jakarta, Jakarta, 10350, Indonesia
Website : http://www.keratonattheplazajakarta.com
6 | The Suites at Mulia Hotel Jakarta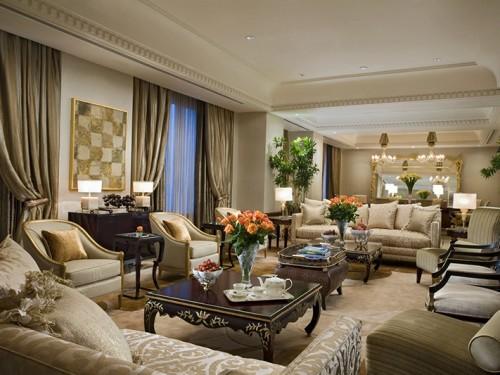 Photo source : www.themulia.com
What can be more relaxing than having a rejuvenating complimentary massage in your own private suite? Experience the pinnacle of luxury, in the Duke Suite, a 595 sqm palatial chamber fit for royalty. With two wings of living space, including one of a kind custom made 12 feet bed with specially tailored beddings of cotton and silk to highlight the posh lifestyle.
The Mulia is located in Senayan area and has long been known for their authentic cuisine. The Café, Table8, Orient8, Edogin and il Mare each offers specialty culinary delicacies with signature interior style in pure elegance. The Café serves buffets with exquisite choices of international cuisine, where you can try freshly made beef from the serving buffet. Table8 is all about Cantonese and Szechuan dishes, set in tasteful extravagant interior. At Orient8 you can enjoy delectable French and Pan-Asia delicacies. The Edogin focuses on the zest of Japanese fresh foods, while Il Mare brings you flavorful Italian cooking. And to seal the deal, the Mulia also houses a fancy Chocolate Boutique to pamper your sweet tooth.
Address : Jalan Asia Afrika, Senayan, Jakarta 10270
Website : http://www.themulia.com
7 | The Raffles Hotel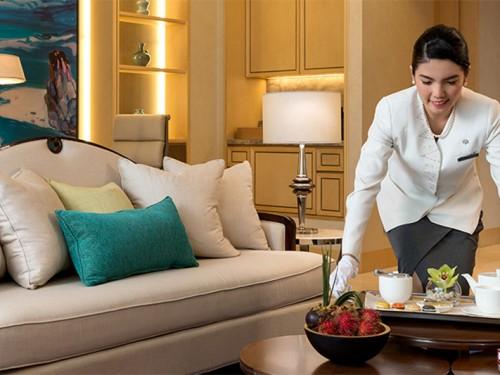 Photo source : www.raffles.com
This year, the Raffles hotel surely made the spotlight when Saudi King Salman stayed in their exclusive quarter during his state visit in 2017. The hotel is just a walk away from the Lotte Avenue, a massive shopping complex boasting the best international brands and complemented with entertainment facilities to explore. The hotel combines art and business, leisure and glamour, style and service. It was built particularly as homage to iconic Indonesian artist Hendra Gunawan, where his works splash colors and tint the elegance throughout the interior. The Raffles butlers are renowned for their gracious and impeccable service to attend to your every need. The Raffles Suite is a sublime 390 meter square space basking gracefully in lavish ambiance. It is a two bedroom extravagance with its own private gym, private spa room, steam room, unique shower experience feature, a grand piano and a private den. All that and the marvelous view of Jakarta's cityscape that will anchor you to linger just a while longer.
Address : Ciputra World 1, Jl. Prof. Dr. Satrio Kav. 3-5, Jakarta, 12940
Website : http://www.raffles.com
8 | The Ritz Carlton Mega Kuningan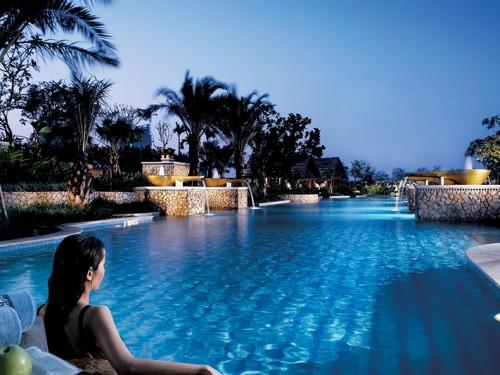 Photo source : www.ritzcarlton.com
You can already feel its grandeur the moment you walk through its unique pillared entrance way. The Ritz Carlton has two establishments in Jakarta, one is at the Mega Kuningan and the other is at the Pacific Place SCBD area. The Mega Kuningan area is where embassies, banks and the city's large shopping malls are located. The hotel offers a luxury retreat, where rich, elegant décor, modern amenities and attentive service blend to create that wonderful experience.
There are indeed some interesting room choices that you can enjoy here. The first is the 110 sqm Spa Terrace. A very cozy quarter that offers your very own jacuzzi, that stirs that romantic mood promising a soothing weekend. Second is its superb 401 sqm Presidential Suite. Equipped with high end technology in its robotic toilet and oversized whirlpool, this exquisite premise is also truly spectacular due to its splendid artistic interior. Last but not least the hotel also offers something for the kids! Let your kids embark on an evening of adventure from the comfort of your hotel room. The Ritz Kids Night Safari is designed to give an unforgettable holiday experience by allowing your children to set up camp in your own room. The program was designed by world renowned oceanographer Jean-Michel Cousteau in 2013 to let children explore their imagination.
Address : Jl. DR. Ide Anak Agung Gde Agung Kav.E.1.1 No. 1, Mega Kuningan, East Kuningan, Jakarta, South Jakarta City, Jakarta 12950
Website : http://www.ritzcarlton.com
Eight of the crème de la crème of luxurious living have been previewed here to give you a sneak peak of lavish living in Jakarta. Be sure to check directly with the hotels websites for current prices and facilities before making your booking.
Welcome to Jakarta, the Capital City of Wonderful Indonesia!
Photo source of header banner : www.hello-pet.com
Related Articles:
1. 3 Best Places to sip Authentic Indonesian Coffees in Jakarta
2. Bargain Shopping In Metropolitan Jakarta
3. Exclusive Special Fine Dining around Jakarta
4. 10 Islands to Plunge into in Jakarta's Thousand Islands
5. Wander Around Malls in Jakarta with These 10 Finger Foods