On the southeast of Bali separated by Badung Strait, neighboring the small islands of Nusa Penida and Nusa Ceningan, lies Nusa Lembongan: an even smaller island that dwells unmatched beauty within. Being a part of the Klungkung Regency in Bali Province, Nusa Lembongan only comprises an 8 kilometers square area with a permanent population estimated at 5,000. The economy of this island mostly relies on tourism. Due to the small size of the island, Nusa Lembongan is populated by very few cars, therefore the main transportation modes for the people are only by scooters and foot.
The Home of Dreamy Beaches
Bali indeed has a lot of wonderful beaches to explore, but not all of them are located on the mainland. Nusa Lembongan is also considered as a small island with soft white-sand beaches. There are several stunning beaches you can explore here, such as Dream Beach, Mushroom Bay, Coconuts Beach, and Jungutbatu Beach. The four of them have their own distinctive charm that are incomparable to each other.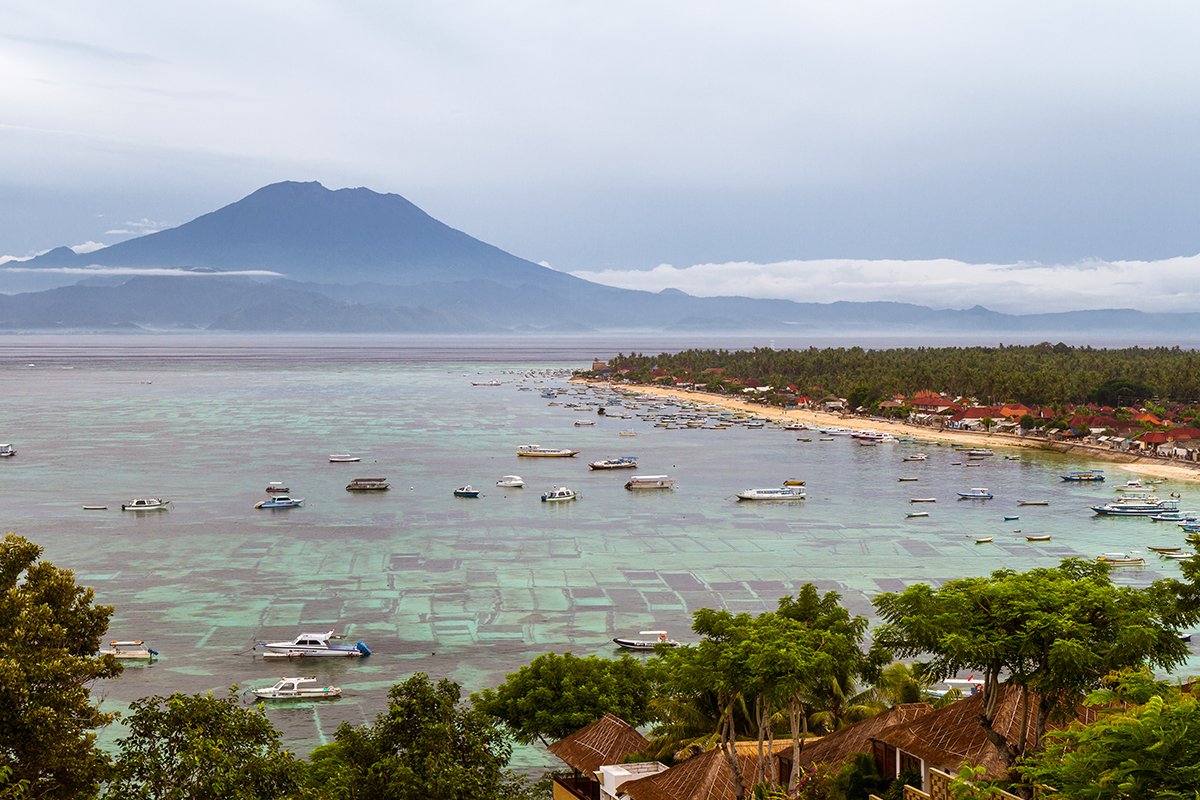 Jungutbatu Beach is the main bay in Nusa Lembongan where most of the boats from Bali arrive. Its white sand and turquoise waters make it a favorable place for visitors to hangout at. If you're coming with your family, we recommend you to go to Coconut Beach. There are quite a lot of spaces with shallow waters and shade under the trees, so this place is safer for kids to play around.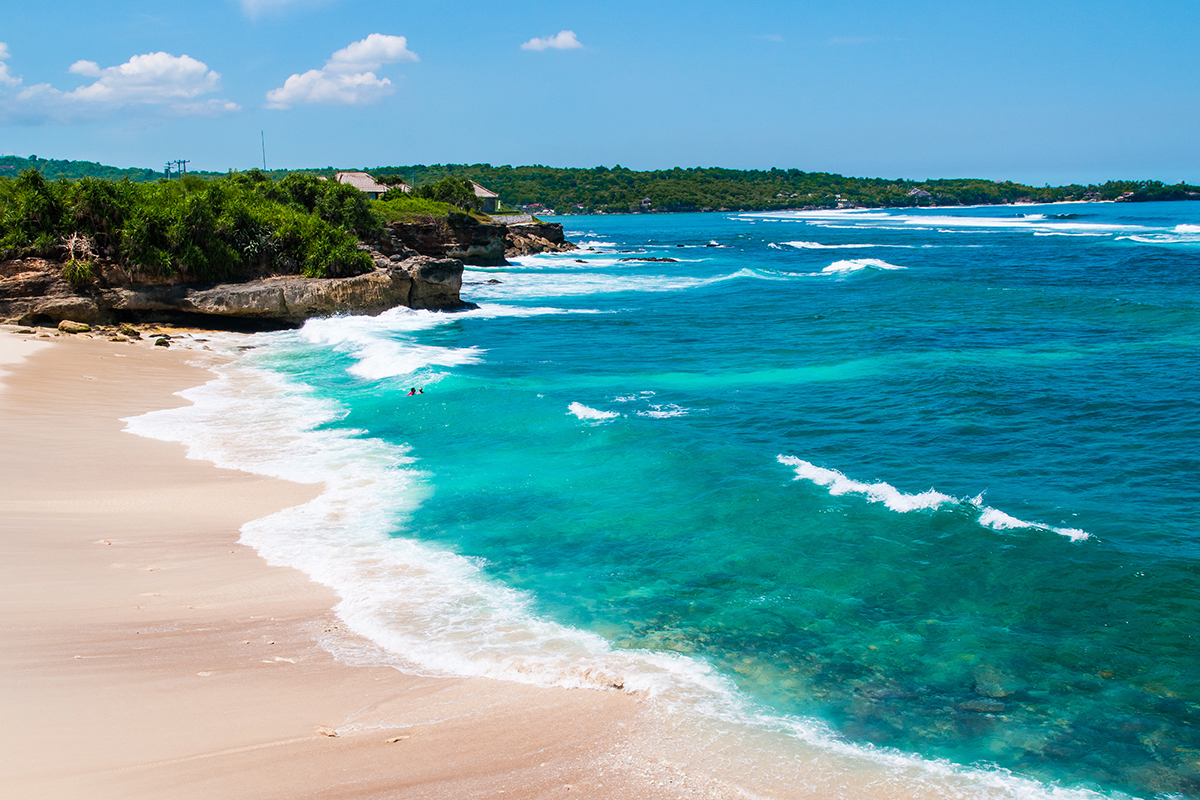 Mushroom Bay is also renowned for being a beach that is kids-friendly. The northern end of this beach has an all-day dedicated swimming area that will be exciting for those who just want to chill around the coastline.
Lastly, there is Dream Beach. Contrary to Coconut Beach and Mushroom Bay, this one is a beautiful beach that is only suitable for experienced swimmers as there are rips, large swells, and tides which visitors must be mindful of.
What to Do
If there are many beautiful beaches, then there must be many fancy beach clubs flourishing, especially in Nusa Lembongan. You can enjoy a laid-back atmosphere while dipping into their pools and enjoying the picturesque settings of the beach clubs for an added value of luxury.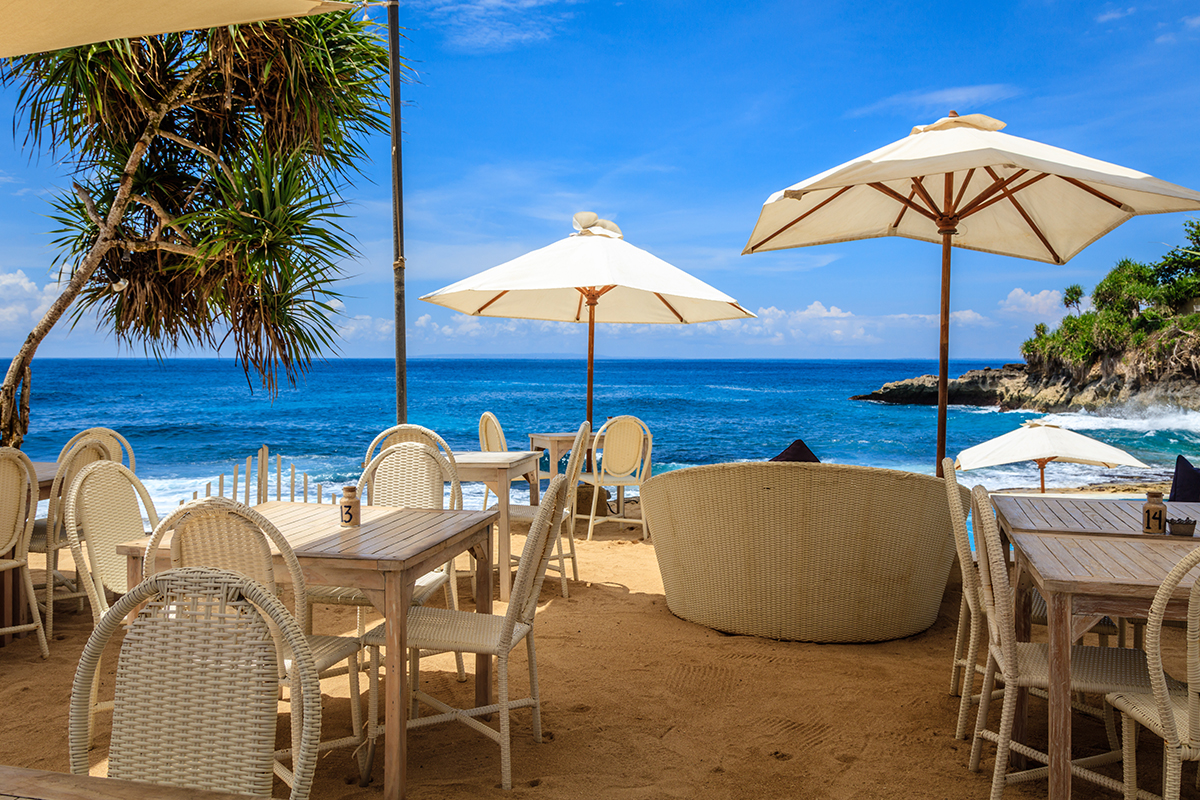 Nusa Lembongan and Nusa Ceningan are connected by a yellow bridge a.k.a. The Bridge of Love. Many visitors take their selfies here due to its vibrant yellow color, which perfectly complements the scenic green island in the background and the turquoise waters beneath. At night, this landmark lights up beautifully, so come back after dark to witness a completely different kind of magnificence.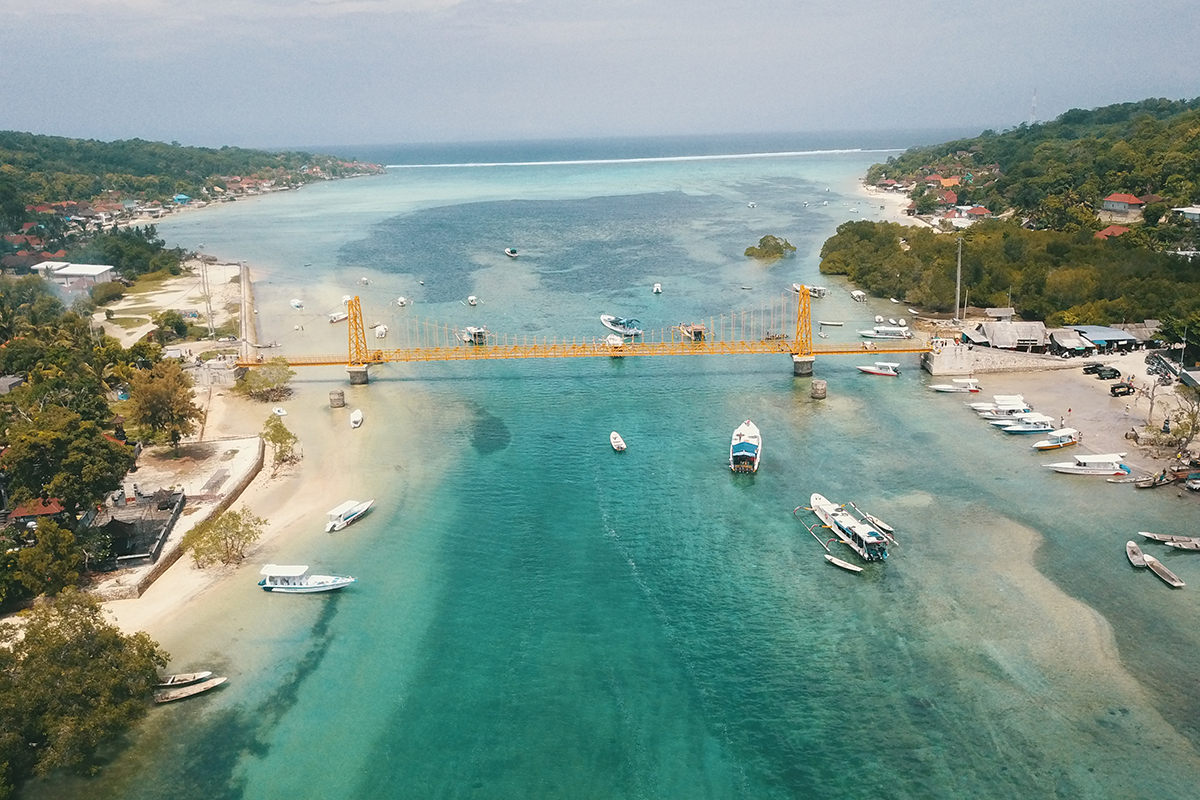 There are many other things that you can explore here, but no one ever visits Nusa Lembongan without stopping by the Devil's Tear. As one of Nusa Lembongan's most well-known natural wonders, it is not an exaggeration to say that Devil's Tear is an exhilarating spectacle that looks like something out of a movie set.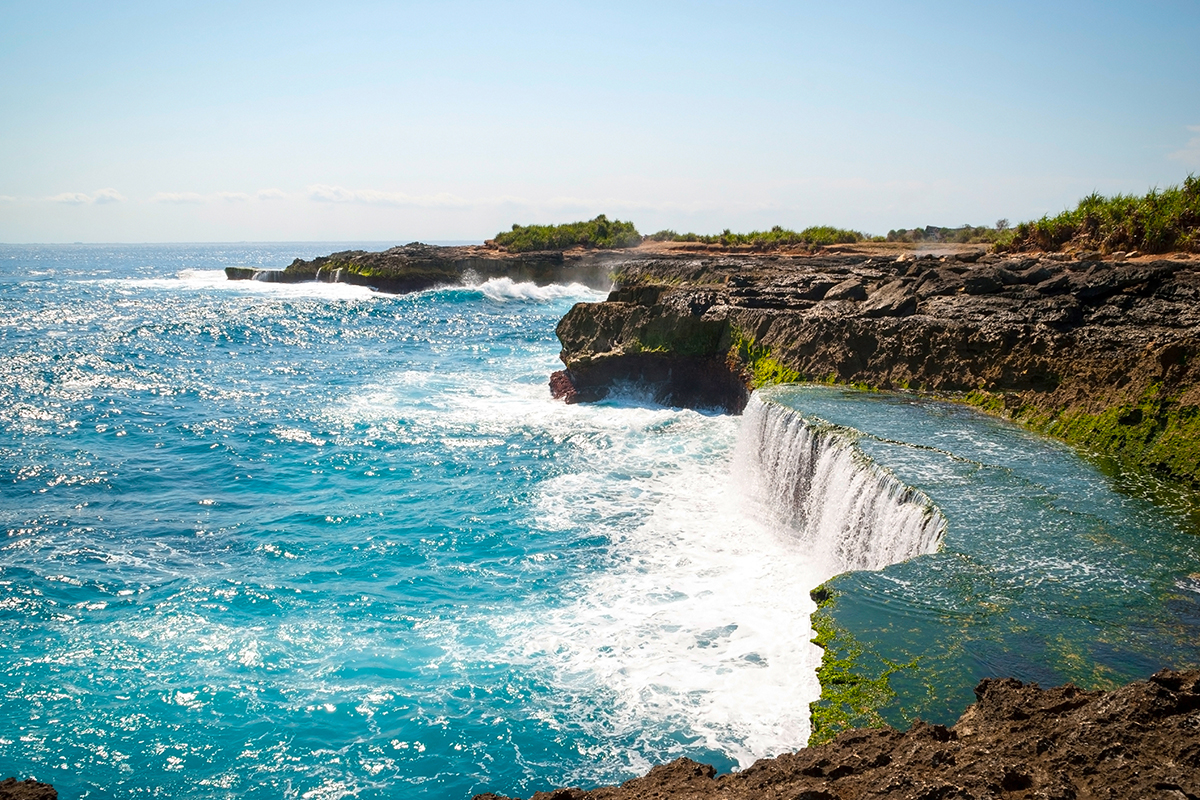 Also known as the "edge of the earth", Devil's Tear is where a rugged cliff meets untamed ocean tides. You will sometimes see a powerful blowhole that spits out giant plumes of water. You can visit this place any time of the day, but sunset is just when the magic happens. If the weather is clear, you will have a chance to be greeted by a seriously stunning display of fiery skies that reflect off the surrounding rock pools. It's going to be one of the most unforgettable moments in your lifetime.
How to Visit
Nusa Lembongan is accessible from Bali via Sanur Beach. Head straight to Sanur harbour and just hop on a boat for a 40-minute ride to this island. You can choose either a traditional public boat or a fast cruise. Whichever you choose, you will arrive at Jungutbatu Beach.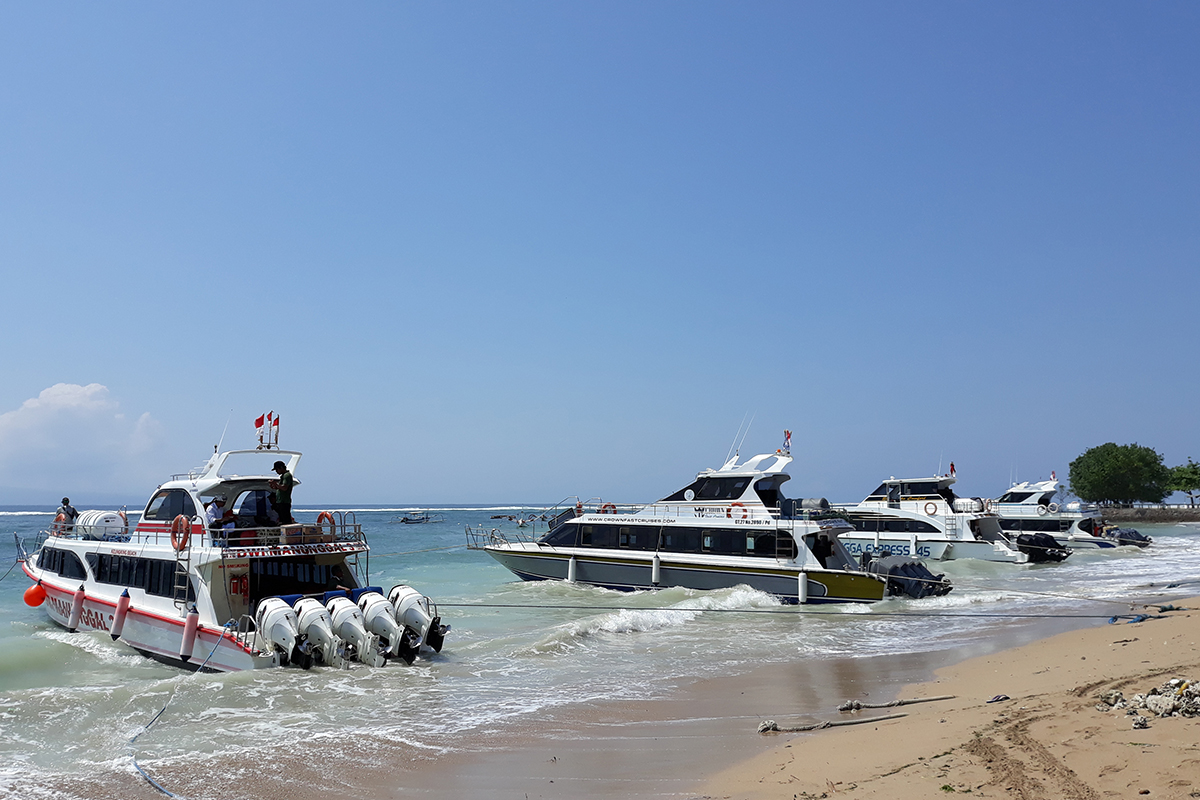 We hope that this article will inspire you to plan your future trip to Nusa Lembongan since Bali has been reopened for international travelers. Before you visit Indonesia, we kindly encourage you to be a responsible traveler by practicing healthy habits along your trip such as washing hands frequently, implementing social distancing, and wearing a mask in public places. Last but not least, comply to the health protocols imposed by the Indonesian government for your own convenience and may you have a safe journey ahead.