Nusa Penida, the rarely-touched gem of Bali is a solitary yet vibrant island located in the southeast of Bali, divided by Badung Strait. Truly a special kind of paradise, this island houses some of the most astounding landscapes you can find in Indonesia. The natural attractions of Nusa Penida are no less fantastic than what are usually found in Bali. Moreover, because the island hasn't really been explored by a lot of people, the environment around Nusa Penida is still unspoiled. The hills radiate bright green shades and the beaches are filled with pristine sands and waters. There's a lot to discover if you plan to visit this island. Among them, is one of the most instagrammable beaches in the world. Known as Kelingking Beach, this place can be found on the southwestern coastline of Nusa Penida. Is there anything special about this beach other than how it is so instagrammable? Come find out the answer below!
The Iconic Instagenic Beach
Could you visualize a place where white soft sands stretch along the coast, surrounded by pristine blue sea as well as otherworldly rock formations ornamented with greeneries? That's exactly what you will find at Kelingking Beach! What's more interesting, Kelingking Beach was just recently crowned as the Most Instagrammable Beach in 2021. Its popularity was proven by Money.co.uk. The site has analyzed more than 26 million hashtags with the keyword Most Popular Beach in The World on Instagram as well as posts consisting of certain beaches.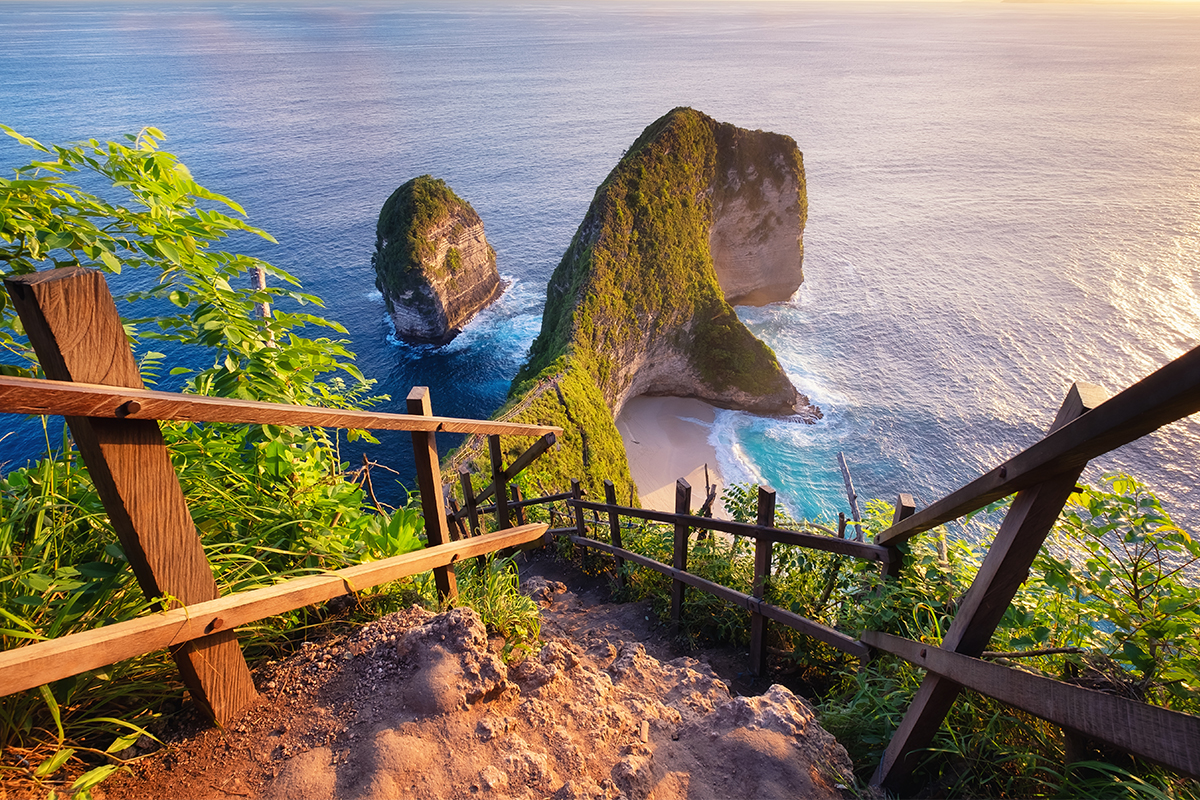 The result shows Kelingking Beach occupying the top of the list, as there are about 338,000 photos featuring this paradise on Instagram. No wonder Kelingking Beach earned this title since the place is filled with unique landscapes, enchanting its visitors to take as many pictures as they can around here. If you go to a nearby viewpoint called Cap de T-Rex, you'll be able to witness the reason why the landscapes around here are considered unique. From this viewpoint, you can see that the huge cliff that takes up most of Kelingking Beach resembles the shape of a Tyrannosaurus Rex or T-Rex with its jaws open. Truly fascinating, right? As for the location itself, Kelingking Beach can be found in Bunga Mekar village, on the southwestern coast of Nusa Penida, pretty close to numerous other interesting tourist attractions.
What to do
If you're done relaxing on the shores of Kelingking Beach, or have captured enough amazing pictures around here, then you can also try roaming around the southwestern coast of Nusa Penida. There are so many fascinating spots to discover in this area.
About 3 kilometers along the coastline to the southeast of Kelingking Beach, you can chill inside a lovely small natural spring known as Tembeling Springs. To reach this spot, you can either do a 30-minute walk down the forest or ask the locals for a ride to take you here. This place is perfect for those who are seeking to enjoy some hidden gems in and around Bali.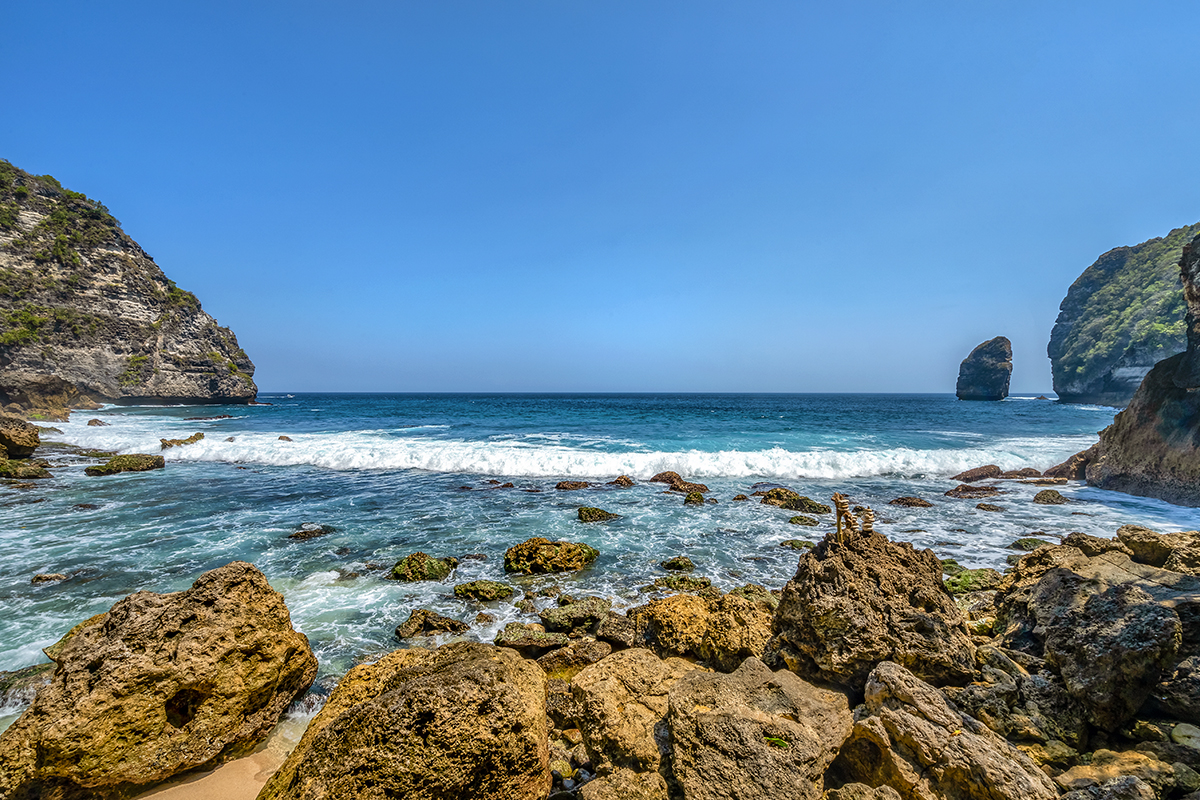 If you finish swimming inside the charming pool of Tembeling Springs, do also check out Guyangan Waterfall, a picturesque cascading waterfall that provides an open view of the dramatic Indian Ocean, located further to the southeast about 3 kilometers from Tembeling Beach and Forest. Before you reach this extraordinary spot, you must take a walk down through the blue staircase set along a cliff. Once you reach a beautiful little temple, you can then find a small infinity pool below, where you can enjoy the sight of the vast Indian Ocean while taking a peaceful dip.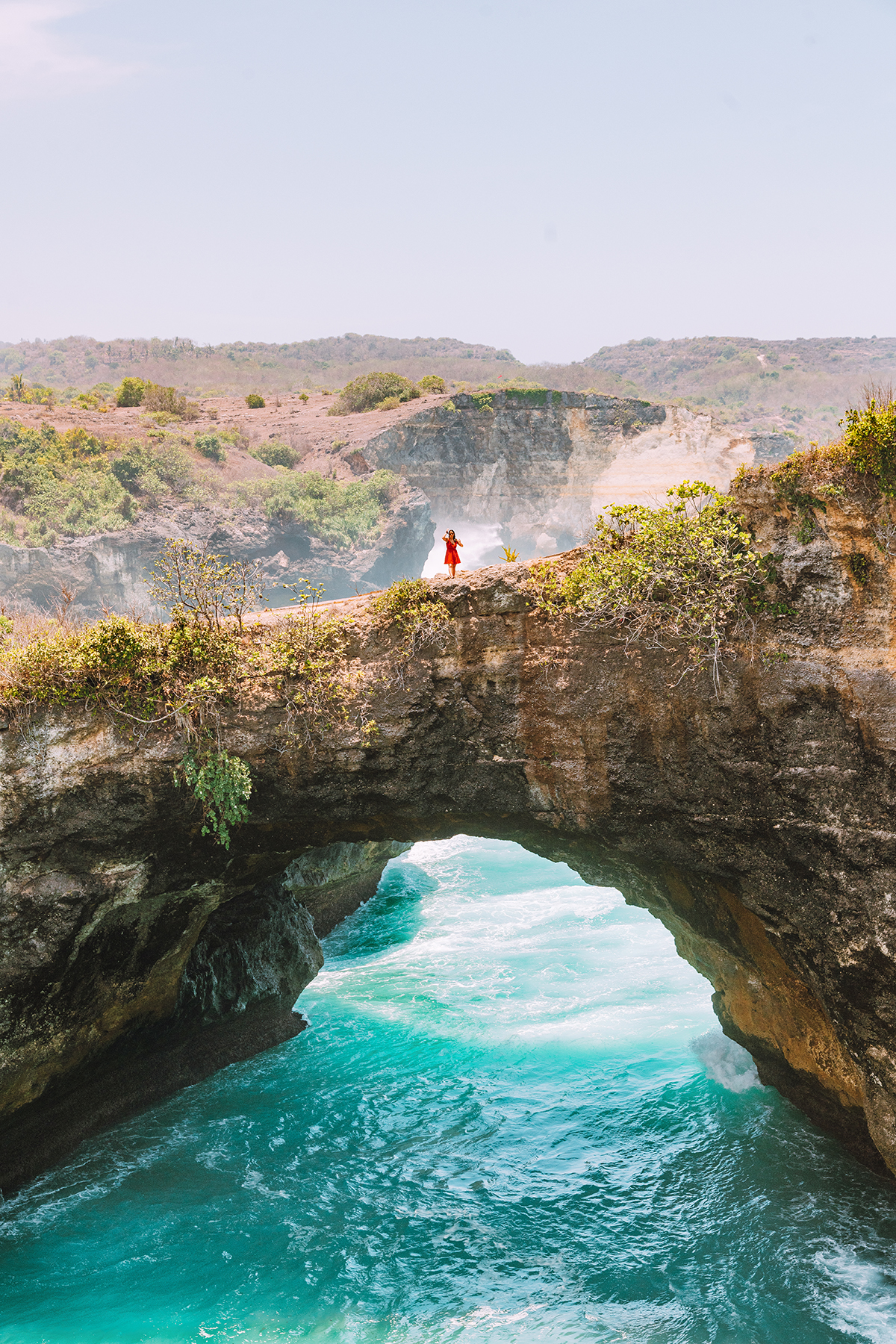 Image by @Dutchie
Looking for another magical landscape in Nusa Penida? Then you got to visit Broken Beach or Pasih Uug, an astonishing cove with a stunning natural archway and gorgeous turquoise pond, situated about 3 kilometers to the northwest of Kelingking Beach. Other than seeing the sight of the cove's natural archway and pond, here, you can also feast your eyes upon the vibrant greeneries surrounding you as well as the breathtaking view of the vast blue sea in the distance. There are still a lot of incredible things to unveil around Kelingking Beach!
How to Visit
There are many ways you can take to reach this phenomenal spot. However, if you want to get here from Bali, you have to cross your way through the Bering Strait by using water transportations. Several water transportations are available on the southeastern coastline of Bali. These transportations include boats, fast boats, as well as traditional boats. Once you have set foot in Nusa Penida, you still have to continue your journey to Kelingking Beach by renting a car or motorcycle. These can be found pretty easily since there are many locals or travel agents offering car or motorcycle rental services in Nusa Penida.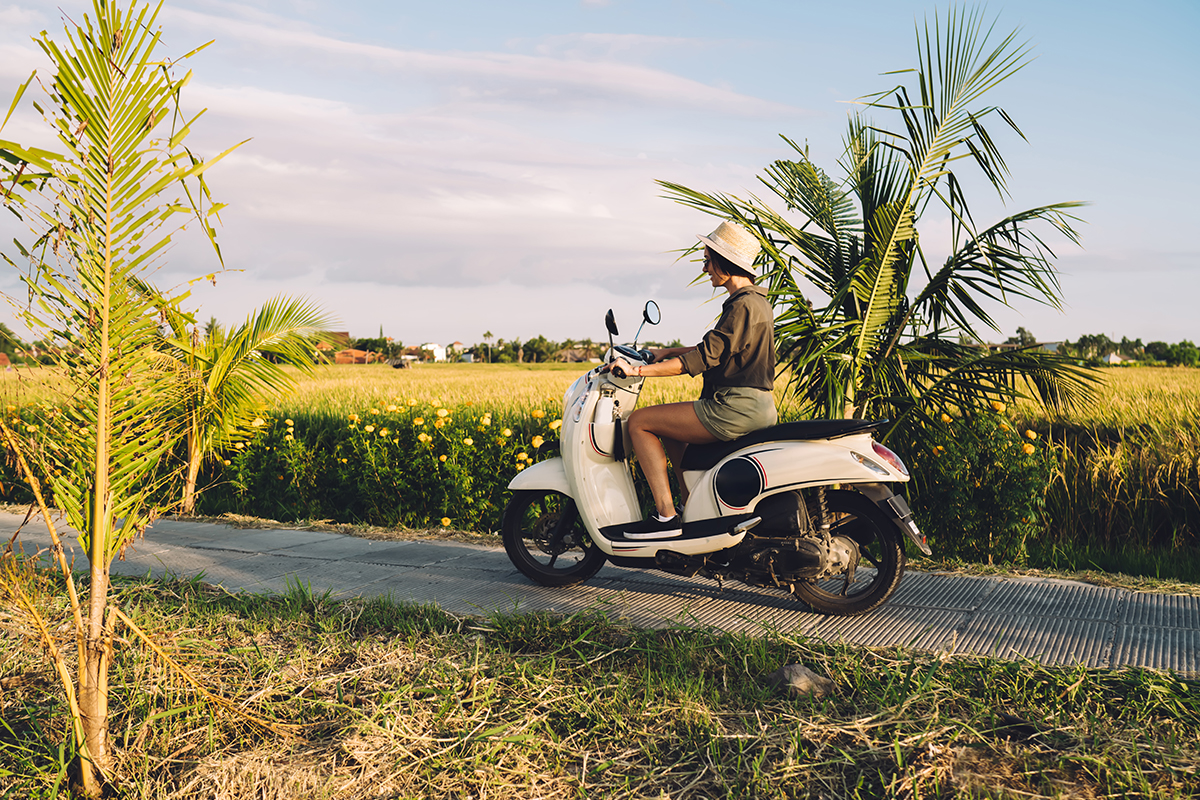 While you are searching for other exciting spots to visit around Kelingking Beach, remember to keep the CHSE (Cleanliness, Health, Safety, and Environmental Sustainability) protocols in your mind, which include wearing a mask, keeping your distance, and washing your hands with soap as frequently as possible.