We need to take precautionary measures against COVID-19 by staying at home and avoiding any close contact with others, but at the same time, we also need to maintain our health and well-being. Luckily, there are so many Indonesian herbal drinks that you can try to make at home. These drinks are not only warm and delightful but also very nutritious. We have 8 herbal drink recommendations for you.
1 | Talua Tea

Some people call this the "Indonesian Eggnog", and while it's true, it is halal because it doesn't contain any alcohol at all. Talua Tea is basically a tea with egg yolk and spices originated from West Sumatra. The recipe requires simple ingredients which you can easily find in your kitchen.
Ingredients:
2 free-range egg yolks
2 teabags of black tea
2 tablespoons of sugar
30 ml of condensed milk
1 lime 
One tablespoon of cinnamon powder
500 ml of water
Method:
1) Boil the water with the tea bags in it
2) Beat egg yolks and sugar on high speed until the mixture becomes thick

3) Pour mixture into cups, add condensed milk

4) Add hot tea to the mixture in the cups. Then add some lime juice and cinnamon powder

Talua Tea is ready to serve!
 
2 | Wedang Uwuh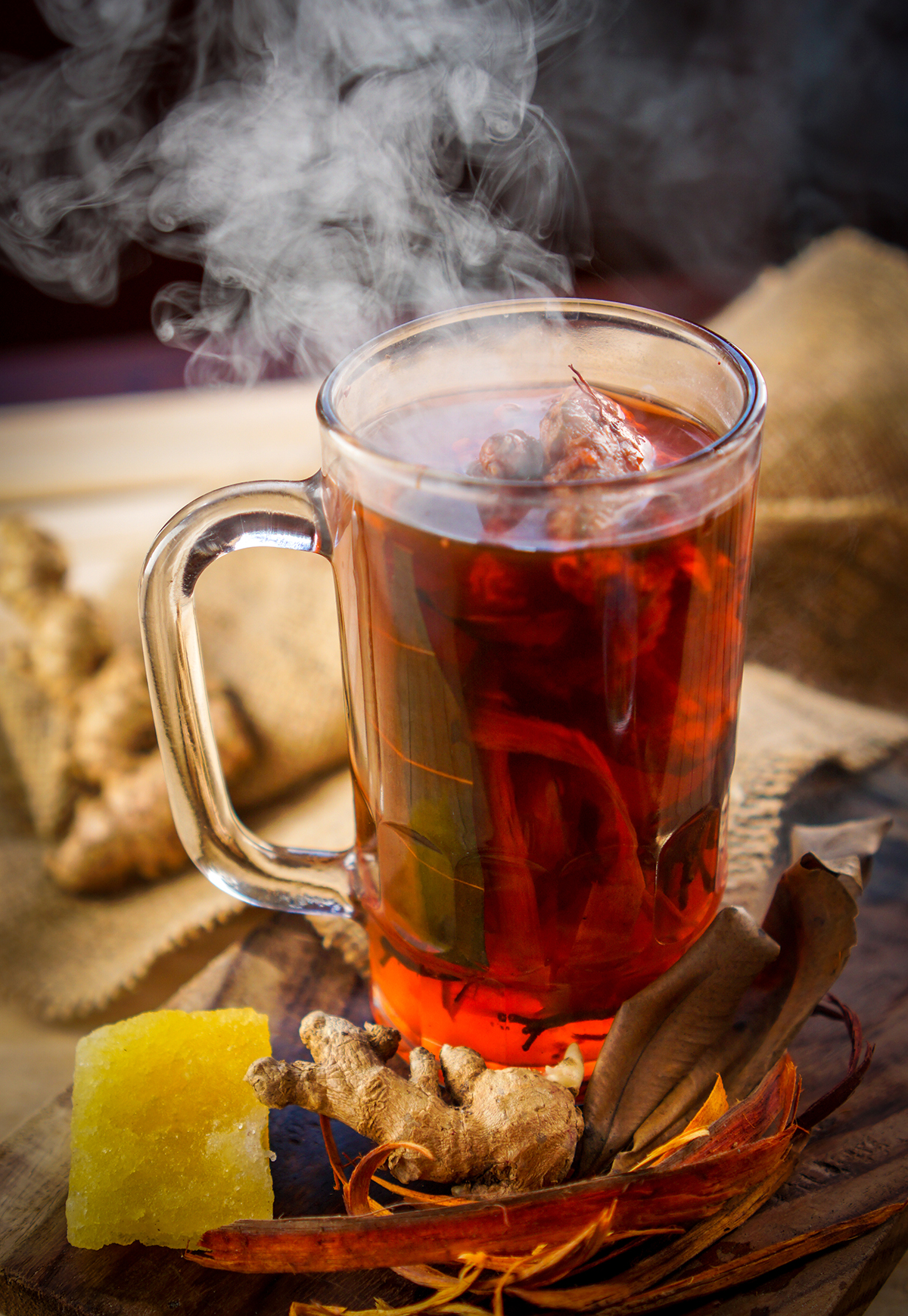 Wedang Uwuh is a drink containing herbs and spices and is served unfiltered. It is a warming traditional drink that comes from Bantul, the Special Region of Yogyakarta. Wedang Uwuh has various health benefits; it's rich in antioxidants and helps reduce cholesterol levels in the body.
Ingredients:
(Use as per your preference)
Ginger
Clove
Clove leaves
Dried cinnamon leaves
Dried nutmeg leaves
Secang wood
Rock sugar
Method:
1) Roast the ginger over fire, then crush it

2) Boil the water. Add the ginger and let it steep. Then add cloves, clove leaves, cinnamon leaves, nutmeg leaves, secang wood shavings, and rock sugar

3) Boil until the water turns red

4) Pour the drink into a glass. Serve warm
 
3 | Bajigur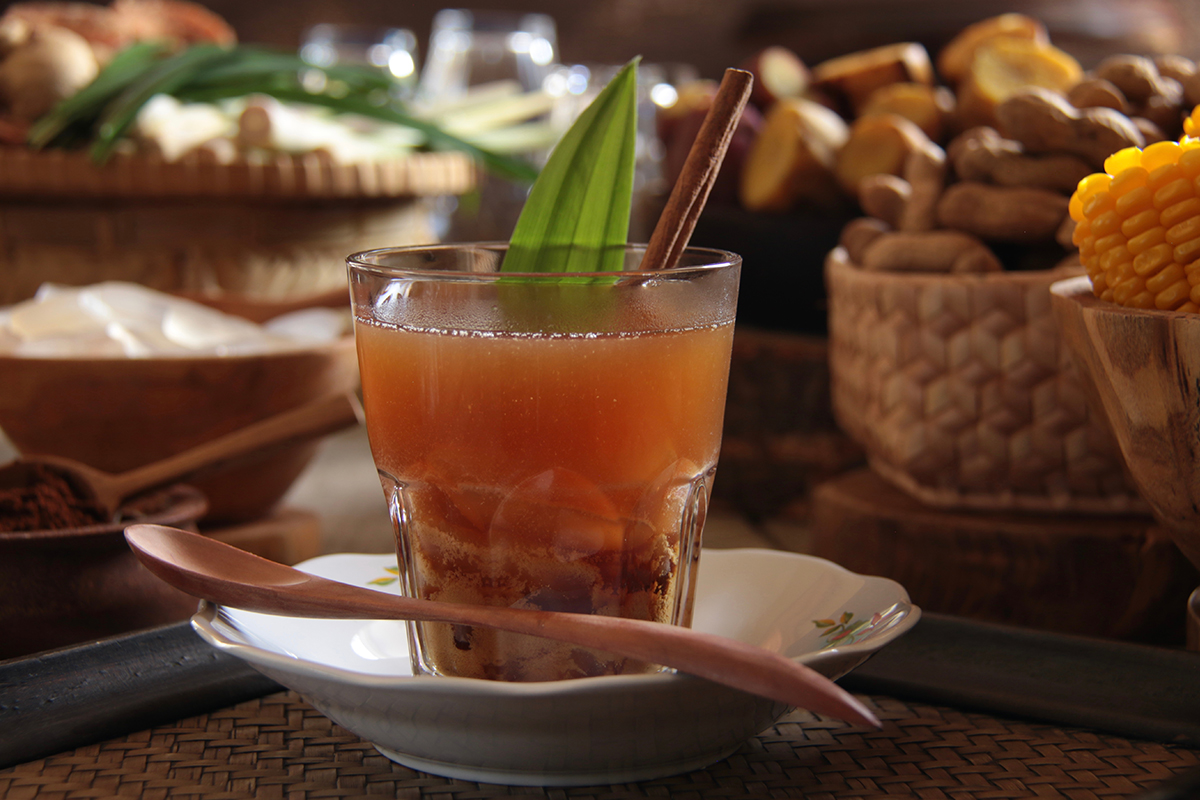 Originating from West Java, Bajigur is a popular drink that's warm, delicious, and suitable to be consumed at night. The drink is usually accompanied with snacks like fried banana or fried cassava. It is said that this drink comes from the Sudanese farmers who like to brew palm sugar with hot water before heading to the fields. The recipe has evolved over time and other ingredients have been added to it.
Ingredients:
1 liter of coconut milk
150 grams of palm sugar
100 grams of ginger, roasted and bruised
2 lemongrass stems, bruised
5 pandan leaves
A 5-cm piece of cinnamon
1 tablespoon of instant ground coffee
Method:
1) Take a medium-sized pan to boil all the ingredients
2) Put 1 liter of liquid coconut milk in the pan and set it over medium heat
3) Add sliced palm sugar to the pan. Then put ginger, lemongrass, pandan leaves, and cinnamon into the pan
4) Stir the ingredients. Wait till the mixture boils and becomes frothy
5) When the water turns brown, put the instant coffee powder. Turn off the flame
6) Stir to get the contents evenly mixed. Then let the mixture sit until the steam disappears
7) Strain the mixture and pour it into cups
Bajigur is ready to drink!
 
4 | Sarabba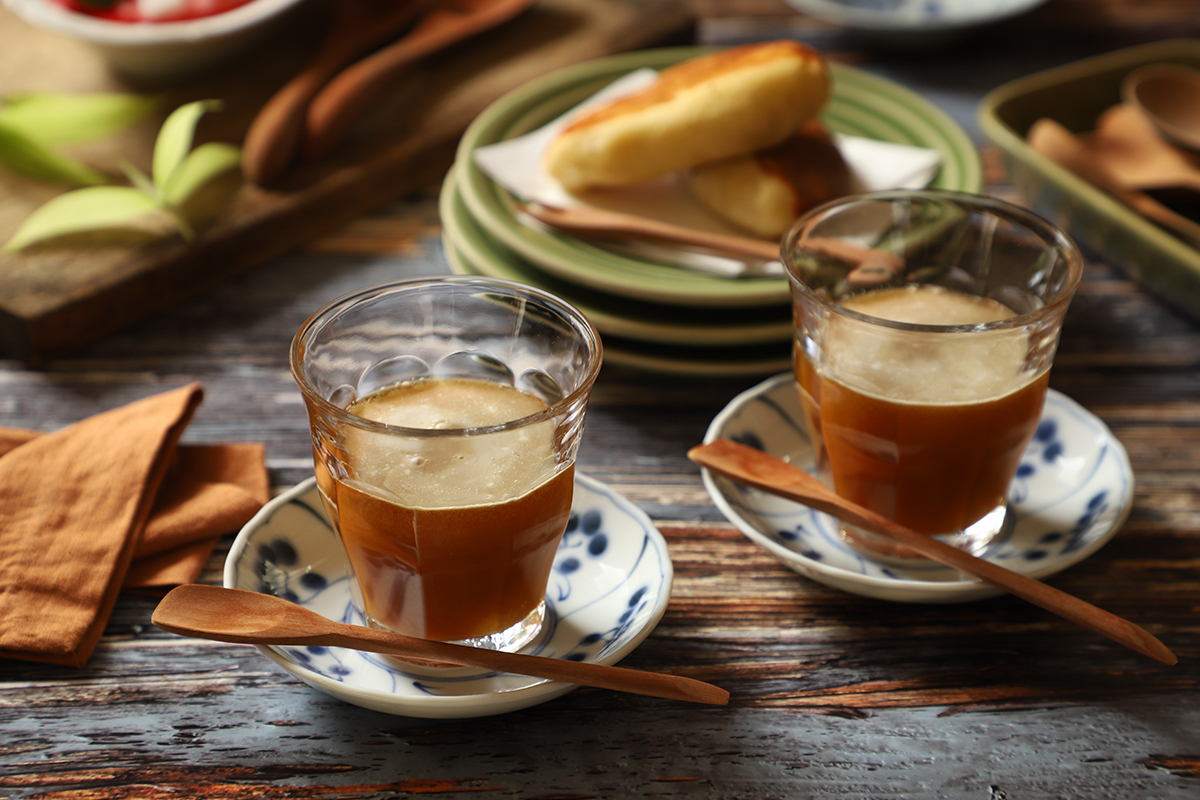 Bugis people in South Sulawesi have a traditional herbal drink called Sarabba, which tastes refreshing. Sarabba combines ginger with brown/palm sugar, coconut milk, pepper, and free-range egg yolk. It is truly unique and nutritious.
Ingredients:
800 ml of water
350 grams of ginger, peeled, coarsely ground
350 grams of brown sugar, combed
1/2 teaspoon cinnamon powder
1/2 teaspoon nutmeg powder
1/2 teaspoon ground pepper
200 ml of thick coconut milk
45 grams of free-range egg yolk
Method:
1) Boil the brown sugar in water until it dissolves
2) Add ginger, cinnamon, nutmeg, and pepper. Cook for 10 minutes until the aroma of the ginger is released
3) Reduce the flame. Slowly add the thick coconut milk and continue stirring
4) Pour the mixture into cups. Then add 1 egg yolk per cup and stir well
 
5 | Bir Pletok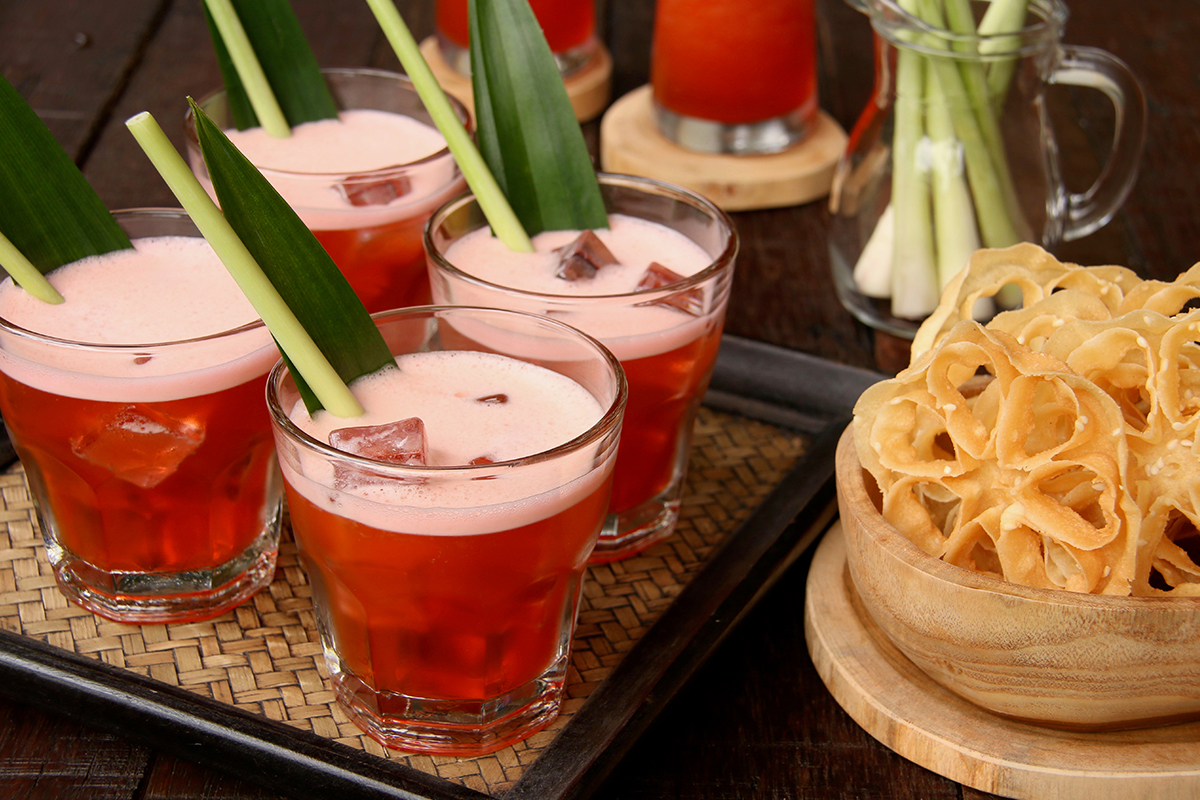 Bir pletok is a recipe born out of curiosity of Betawi people over the taste of wine consumed by the Dutch in colonial times. With wine being prohibited in the religion of the locals, this drink, rich in herbs and spices, serves as an alternative. In Betawi tradition, bir pletok represents luxury and success, just like wine.
Ingredients:
(for 6 liters of serving)

250 grams of ginger
3 grams of cloves
3 grams of nutmeg
3 grams of pepper
3 grams of lemongrass
3 grams of cardamoms
30 grams of cinnamon
30 grams of sappanwood
7 pandan leaves
6 orange leaves
1 kilogram of sugar
Method:
1) Crush the ginger, nutmeg, pepper, cardamom, and lemongrass together
2) Put them in a pan full of water and boil on medium heat
3) Add other spices such as pandan leaves, orange leaves, cloves, sappanwood, and cinnamon. Add sugar to taste and keep stirring
4) Bring to a boil. Then cover the pan and let it simmer for 20-25 minutes
5) Serve warm
 
6 | STMJ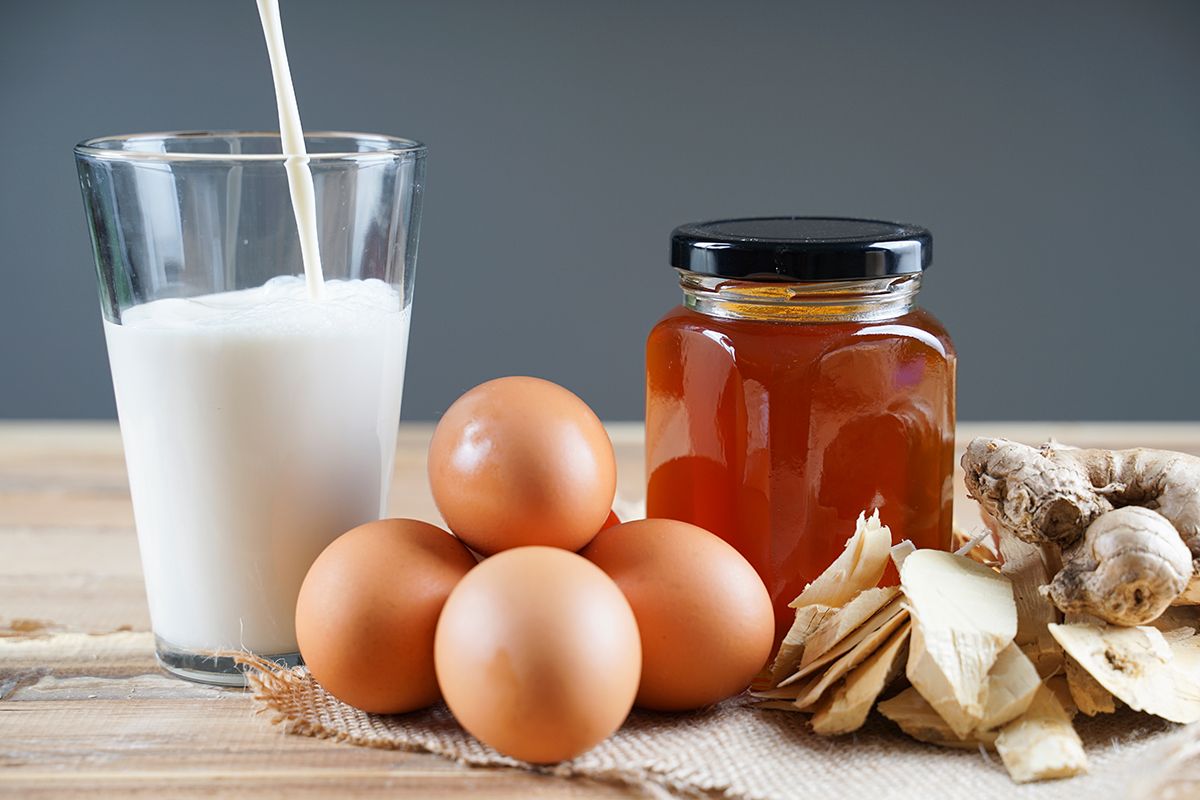 STMJ is an abbreviation of Susu Telor Madu Jahe, which means Ginger Honey Egg Milk.  Widely popular in Java, many food vendors and roadside stalls offer this drink that's affordable and good for health. Originating from Malang, East Java, this drink is actually an adaptation of the original ginger milk recipe.

Ingredients:
300 ml of liquid milk
A 5-cm piece of ginger, bruised
3 tablespoons of pure honey
1 free-range egg
1/2 teaspoon of ground pepper
Method:
1) Boil milk with crushed ginger
2) Pour the ginger milk into a cup
3) Put the egg in ginger milk and stir quickly so it does not curdle
4) Add pepper and 3 tablespoons of honey. Stir until evenly mixed
5) Serve while warm
 
7 | Wedang Ronde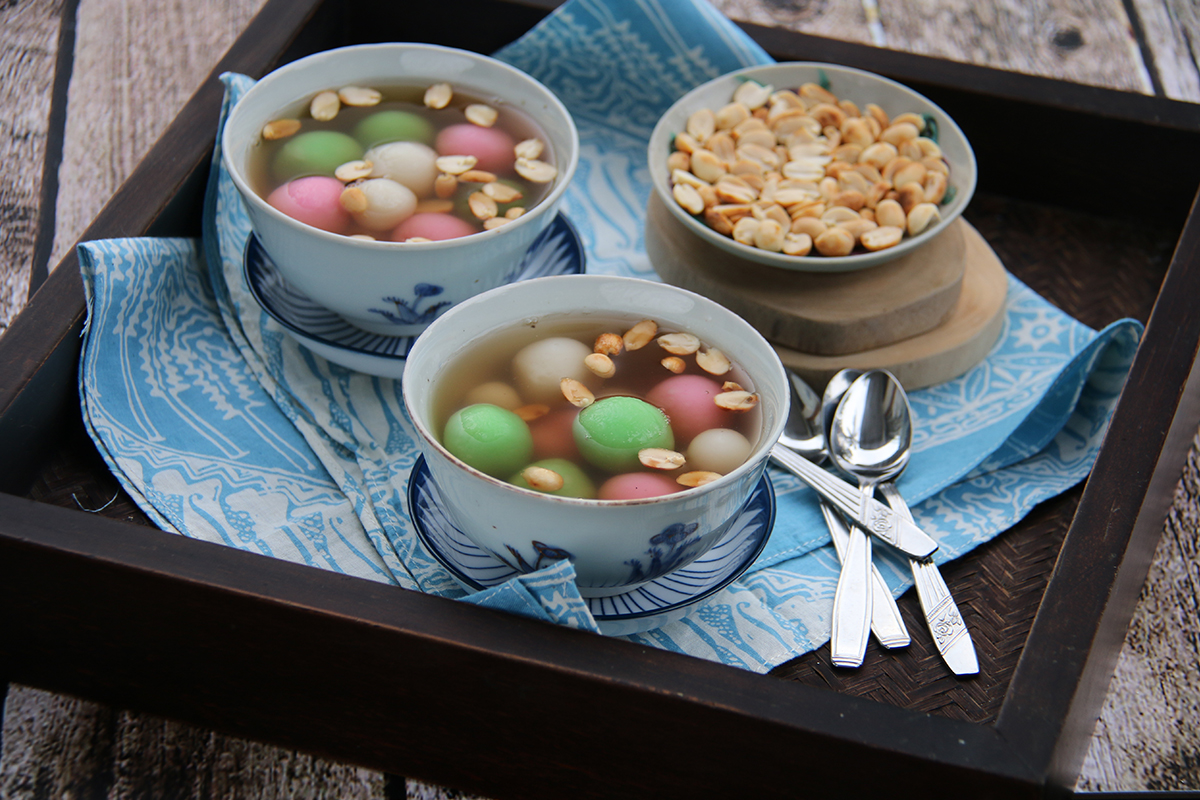 Found mostly in the Central Java region, this herbal drink actually originated from China and is known by the locals as tangyuan or dongzhi. This drink was introduced to the people of Indonesia by Chinese traders who came to the country. It is easy to make at home. The ingredients, too, are simple and affordable.

Ingredients:
1) Ronde (chewy topping)
150 grams of glutinous rice flour
A teaspoon of salt
125 ml of water
A teaspoon of betel lime water
Green and red food coloring
2) Fillings
100 grams of roasted peanut puree
75 grams of sugar
25 grams of sesame seed puree
A quarter teaspoon of salt
Two tablespoons of warm water
3) Liquid sugar, boil, and filter
500 ml of water
200 grams of sugar
4) Ginger water, boil, and filter
1 liter of water
An 8-cm piece of bruised, fire-roasted ginger 
Bruised lemongrass stems
2 pandan leaves
Method:
1) Ronde: Stir all ingredients until uniformly blended. Divide the dough into two parts, add coloring, stir well
2) Fillings: Mix all ingredients thoroughly. Shape into small balls. Set aside
3) Take 1 tablespoon of dough, flatten it, put one small ball of the filling in the center, and shape into a ball. Do the same with the rest of the dough
4) Boil the "ronde" until they float to the surface. Then take them out
5) Soak the "ronde" in liquid sugar
6) Presentation: Put the "ronde" and the liquid sugar in serving bowls
7) Pour the ginger water into the serving bowls
This recipe serves 16 people.
 
8 | Bandrek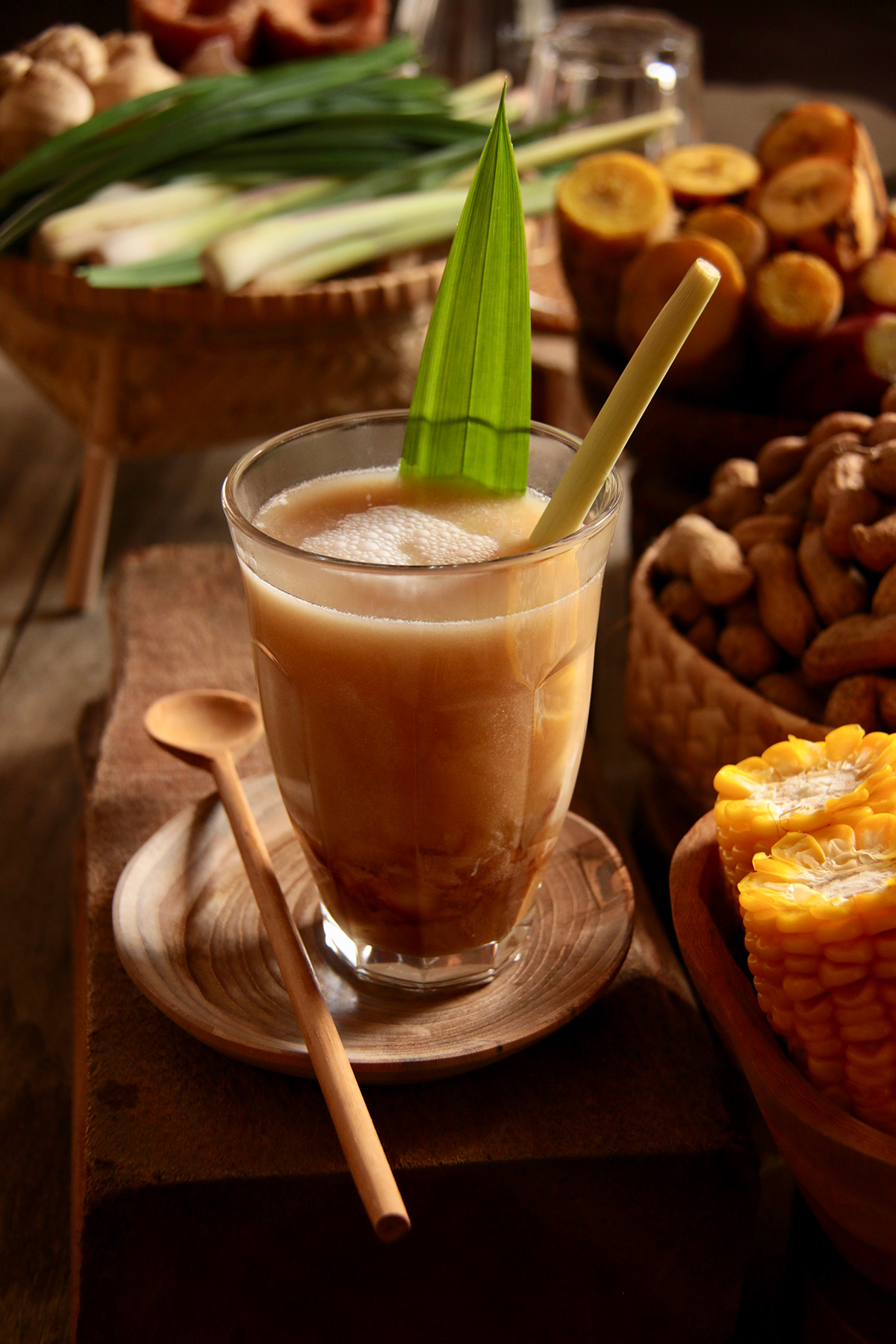 Bandrek is a healthy hot drink made from ginger, palm sugar, and lemongrass. Originating from West Java, Bandrek is perfect for cold and rainy weather because it will warm you up and leave you feeling refreshed.

Ingredients:
1 liter of mineral water
350 grams of refined brown sugar
3 stalks of lemongrass, crushed
80 grams of fire-roasted and crushed ginger
½ tablespoon of salt
1 pandan leaf  (Washed and cleaned) 
Sweetened condensed milk
Method:
1) Boil sugar with water in the pan
2) Tie the pandan leaf into a ribbon and add it to the pan. Add the crushed fire-roasted ginger and the crushed lemongrass stalks. Stir well
3) Add salt and stir again
4) If the balance of flavor is just right and all the ingredients have mixed evenly, then turn off the heat
5) Add sweetened condensed milk to the drink that's ready to serve
 
While staying at home, you can try some of these traditional Indonesian herbal drinks. Trying out these recipes will help you overcome your boredom and at the same time, these drinks will help strengthen your immune system. So treat yourself to a healthy herbal drink and enjoy your #StayatHome.