In an article published by CNN in August 2016, Lapis Legit, - Indonesia's ultra-fine layer cake - was established as being among the world's best and most delicious traditional cakes.
Lapis Legit was first introduced during Dutch colonial times in Indonesia. Nonetheless, although it was inspired by the Dutch, it cn rarely be found inHolland itself but can only be found in Indonesia. The reason being its long and complicated process to create this cake, which makes this a work of utter patience to make into the elegant and delicious masterpiece for which Indonesians across the globe are understandably proud to call their own.

This is a layer cake made of a lot (and I mean A LOT) of eggs, traditional Indonesian spices, plenty of butter (best to use Dutch roomboter/ butter). TheDutch in Indonesia used to call this: Spekkoek, meaning lard cake, although no lard has ever been used in it. Its creation follows a long and painstaking process because the cake requires the baker to meticulously bake the cake layer by fine layer. A classic Lapis Legit cake usually consists of 18 thin layers of yummy spongy goodness.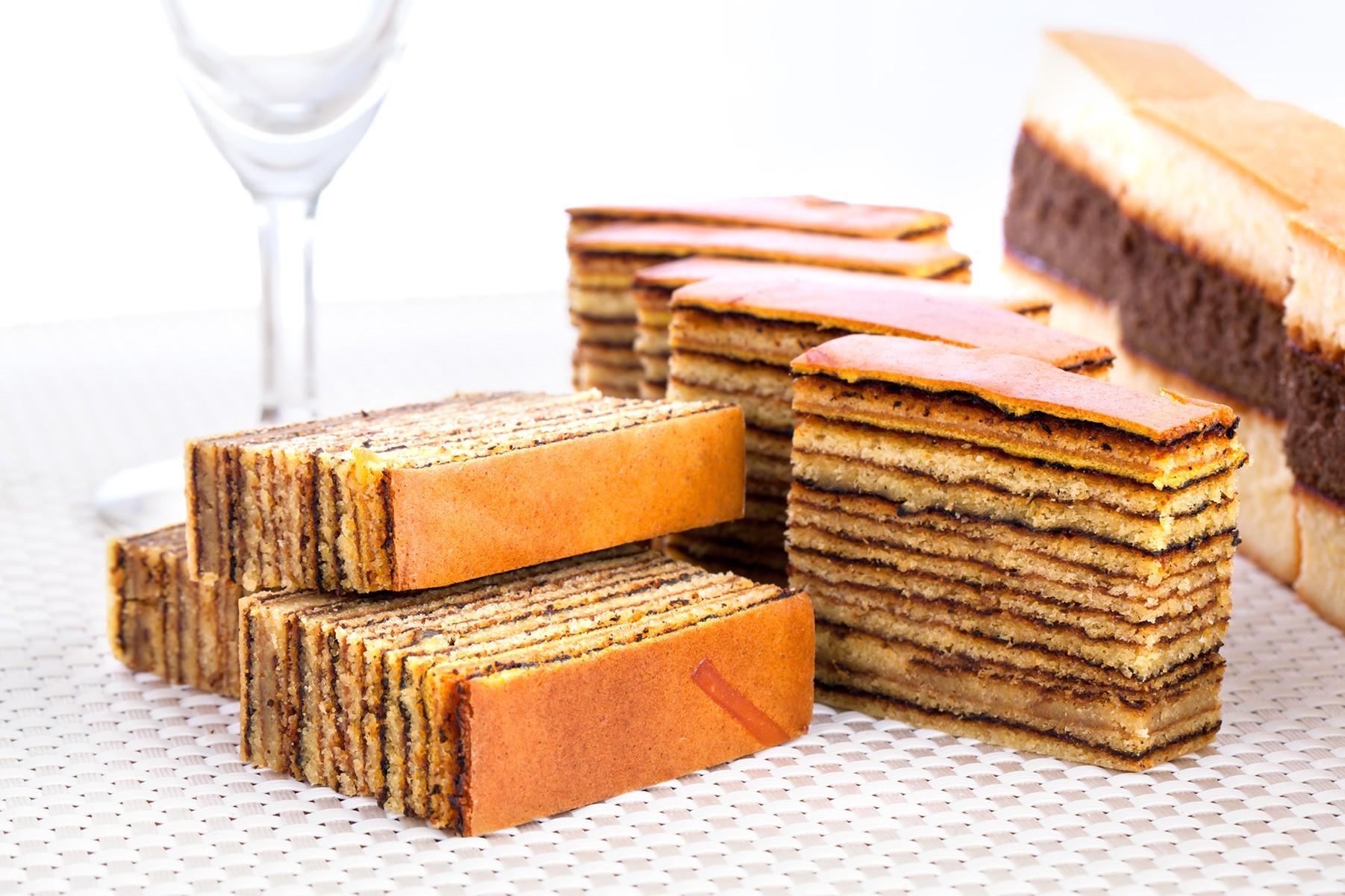 Throughout the years, the cake has evolved from its original flavors (originally prunes and cheese) as modern bakers now include touches of more contemporary flavors such as chocolate or cinnamon. This is the type of cake that will make you truly to appreciate the true meaning of 'love at first bite'.
Can't wait to tuck into this sweet delight? Well here's a list of bakeries that offer the best Lapis Legit cakes in Jakarta to start off your quest for layer cakes in the capital city.
PAND'OR
If you want to sample a more modern rendition of this delectable cake, try the ones by Pand'or. This elegant establishment was first founded in Jakarta in 1983 offering Asian and European cuisine. Its bakery offers many Lapis Legit flavors, including prunes, cinnamon, walnut, chocolate and cheese.
Price range (per whole cake/ August 2016): IDR 430,000 – IDR 800,000
Pand'or
Jl. Wijaya I No. 60, Kebayoran Baru.
Jakarta Selatan
Telephone: +62 21 720 83 51 / +62 21 724 7011
Website: www.pandorcake.com
Instagram: @pandorcake
HAPPY
Happy is one of the most popular bakeries specializing in Lapis Legit cakes in South Jakarta since 1976. Many head to this establishment when craving for a classic Lapis Legit cake. Munchers can enjoy an array of flavors here, such as dried prunes, cheese, walnuts, mocha and moscovis. However, only the original flavored cake is always readily available while other flavors are made to order. This bakery also offers three different types of cake qualities, the most expensive of course using the highest quality ingredients.
Price range (per whole cake/ August 2016): IDR 340,000 – IDR 870,000
Happy Lapis Legit
Jl. Haji Nawi Raya No. 18, Kebayoran Baru
Jakarta Selatan
Telephone: +62 21 769 1861, +62 21 769 7764
HARLIE
Harlie Lapis Legit is a new player in Jakarta's world of Lapis Legit that definitely deserves a taste. Established in 2005, the cakes were made by order and were only available online through its website. However, it recently opened an outlet selling this yummy goodness in a mall in North Jakarta, offeringdelicious flavors like original, butter, prunes, cheese and almond.
Price range (per whole cake/August 2016): IDR 175,000 – IDR 350,000
Harlie Lapis Legit
Ground Floor (across Francis Artisan Bakery)
Mal Kelapa Gading 3
Summarecon Kelapa Gading
Jl. Bulevar Kelapa Gading Blok M
Jakarta Utara
Mobile: +62 812 8117 8323
Website: www.harlielapislegit.com
Instagram: @harlielapislegit
Facebook: Harlie Layer Cake
AJ BAKERY
Established in Medan, North Sumatra, in 1990, AJ Bakery is an international bakery that serves some of the finest selection of baked goods, including, of course, the Lapis Legit cake. This moist delectable delight is a definite must-try for all dessert lovers. This bakery has 6 tantalizing flavors: cheese, chocolate, mascovis, original, pandan and prunes.
Price range (per whole cake/ August 2016): IDR 170,000 – IDR 485,000
AJ BAKERY (2 Outlets in and near Jakarta)
Jl. Boulevard Raya Blok DF No. 9-10, Kelapa Gading
Jakarta Utara
Telephone: +62 21 452 8468
Ruko Melati Mas Square Blok A2 No. 21-23
Jl. Raya Serpong, Tangerang Selatan
Telephone: +62 21 537 36 53
Website: www.ajbakery.com
Instagram: @ajbakerycake
HOLLAND BAKERY
If you don't have time to explore the best Lapis Legit cakes hiding in the capital's corners, then Holland Bakery is the right fit for you. This is the go to spot for those seeking a decent Lapis Legit cake because this bakery has over a hundred outlets sprawled across Jakarta. The bakery offers two of Lapis Legit's classic flavors, original and prunes.
Price range (per whole cake/ August 2016): IDR 480,000 – IDR 525,000
Holland Bakery
Call Center: +62 21 6530 5151
Website: www.hollandbakery.co.id
Facebook: Holland Bakery Indonesia (Official)