East of the fabled island of Bali, there stretches a long chain of islands that are divided into two provinces, called the West Nusatenggara and the East Nusatenggara provinces. West Nusatenggara comprises the two main islands of Lombok and Sumbawa including clusters of small islands surrounding these, whereas, the further islands all form part of the East Nusatenggara province that comprises the islands of Sumba, the Komodo National Park, Flores, the Alor Islands and Timor (of which, West Timor belongs to Indonesia).
Among these, the rising star are the cluster of Komodo islands named Komodo, Rinca and Padar, that have gained worldwide interest since here is the remaining habitat of the last surviving prehistoric Komodo dragons. Together with their surrounding seas these islands are protected within the Komodo National Park. Facing Komodo Park and being the entry port and jumping off point to this sanctuary is the island of Flores, which in itself still hides many deep mysteries. Here were found the skeletons of prehistoric Homo Florensiensis or the Flores Hobbits, as well as living megalithing villages hidden on remote hillsides, and even the three colored lakes in the crater of Mt. Kelimutu that keep changing from time to time.
Lately many celebrities have made it a point to holiday around Komodo and Flores, among whom the latest was Valentino Rossi, world motorcycling champion, and many more.
If beforehand people used to visit Komodo only, nowadays more and more tourists venture forth across the long Flores island and find its wondrous and most unexpected beauty, among which are the miraculous spiderweb pady fields near Ruteng, the wonderfully refreshing waterfalls that seem to invite you to jump into its clear waters, or attend the ancient Portuguese influenced rituals during Easter week, commemorating the death and resurrection of Jesus Christ. And of course there is the Komodo National Park, which is an unbelievable haven for divers who wish to swim with giant turtles and manta rays.
South-west of Flores, the island of Sumba, enchants with its living megalithic culture , juxtaposed with amazing barrels of surf chasing each other to shore: a true paradise for surfers. Here, every February, villagers hold mock jousting battles on Sumba horses. Amazingly, this remote island prides itself to have the World's Top Luxurious Private Hotel, called the Nihiwatu Resort.
The airport of Labuan Bajo, named the Komodo airport is now a designated international airport to facilitate more visitors to get up close and personal to the famous Komodo dragons.
But these islands are not only for the rich and famous. For adventurers on a budget there are homestays to choose from, and here is a shortlist for you to take your chance, to experience your own adventure before the hordes of tourists descend on these still paradisical islands.
1 | La P'tite Kepa
read the reviews here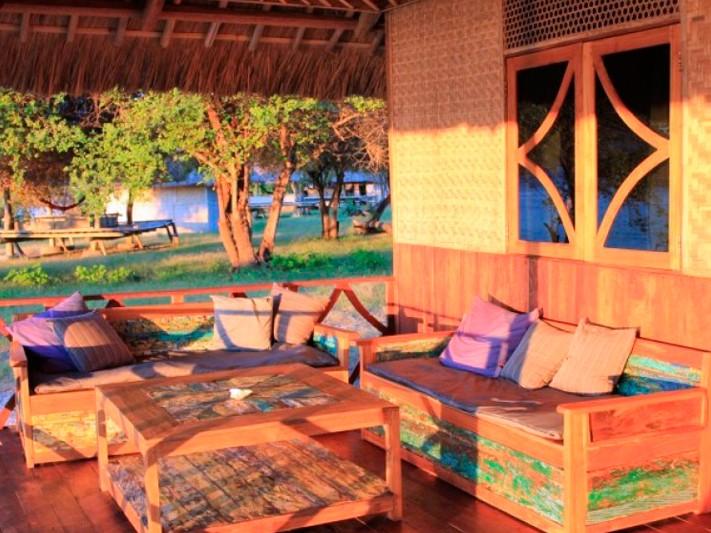 Here is a rustic beach getaway built in thatched roof huts with swinging hammocks, in one of the most spectacular corner of the world. The food, the friendliness of the people and the sea at Kalabahi in the Alor archipelago all merge together into a breathtaking whole in this place. This is a dive and snorkeling paradise with clear visibility and a chance to spot some baby sharks. If you are no diver, you can just chill out and gaze on the beautiful tranquil shore while enjoying your leisurely holiday, indulging in the feeling of being in a heavenly secluded private island. Come explore these wondrously beautiful islands, experience their warm hospitality in all its pristine glory before modern life comes to settle here. 
2 | Mbeliling Homestay
read the reviews here
This homestay is located 10 minutes away from city center, in a lovely quiet little street with tall trees close to local neighborhoods, Ruteng is a cool town from where you can view the unique spide-web paddy fields. Golo Curu is a nearby tourist spot, where you can look down on the town from above. The house has 6 rooms and are styled as in the old time Dutch colonial era. Wifi is available along with relaxing hot water. Wholesome breakfast is freshly cooked with hand picked ingredients picked from their very own garden.
3 | Pantai Paris Homestay
read the reviews here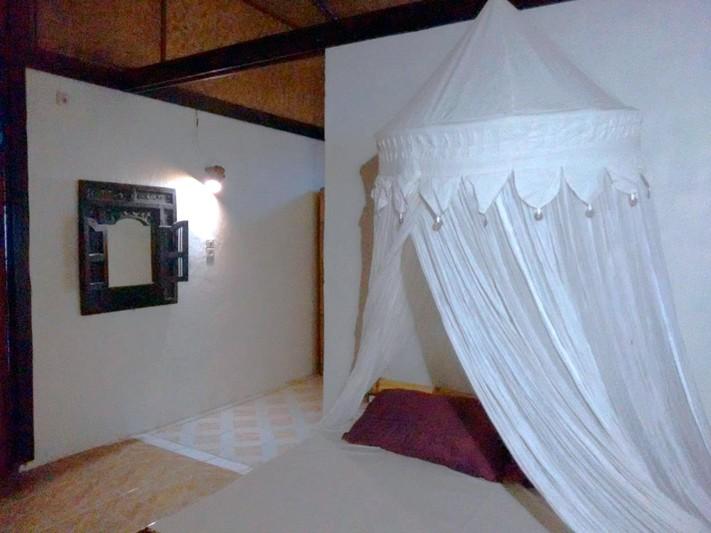 Here is a homey stay with a lovely host, who runs an enviromentally friendly facility. It is located close to the airport of the city of Maumere and is located directly by the beach. Its mission dedicated to a higher cause is to help disabled people to find jobs and educate locals about the importance of recycling, that was the foundation that started the business. Locals and tourists can practice the "Reduce-Reuse-Recycle" motto in their shop where they can learn to refill water, shampoo and others. Plastic waste is upcycled to make durable and reusable grocery bags. The homestay also becomes the source of funding for an NGO who educates the community on waste management. So stay here and contribute towards a good cause. Join the 'trash heroes' on Sundays to collect rubbish for recycling.
4 | Maramba Homestay
read the reviews here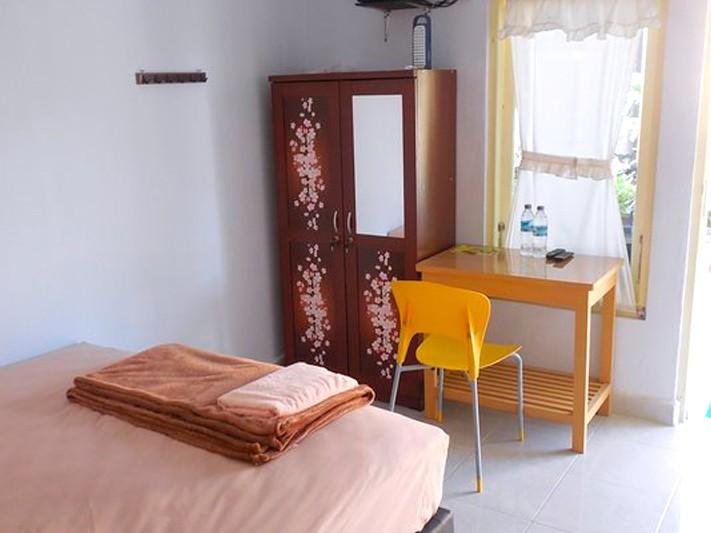 Located near a bus station in the town of Waingapu on Sumba, the Maramba Homestay offers hospitality and clean basic facilities. Shops and a cafe are available for your needs while exploring Sumba island. The city center is about 5 kilometers from here.
5 | Marthen's Homestay
read the reviews here
Sited only a few minutes away from the beautiful Tarimbang beach on Sumba near the town of Tarimbang, it will provide you the experience of living in an original Sumba village, among its warm and welcoming people. With limited electricity and no internet, it's a guarantee for an uniterrupted holiday retreat. Imagine yourself bathing in a traditional semi open bathroom with thousands of stars twinkling above when you look up to the open sky. Essential facility will be all you need to relax after a wonderful journey filled with new experiences.
6 | Lopo Mutis Homestay
read the reviews here
To reach this homestay, you will need to put some extra efforts in, as you depend on the motorcycle during your 2 hours ride. But once you reach the homestay, the view is magical. Here you find a most tranquil and unobstructed environment, so peaceful that you can almost hear the whispering breeze among the trees. Mateos Anin, the owner and also the village traditional leader, will show his genuine hospitality that you won't find elsewhere. Unspoilt forests and its wildlife will grasp your awe and lure you to explore the surroundings even further.
7 | Cool Corner Backpackers
read the reviews here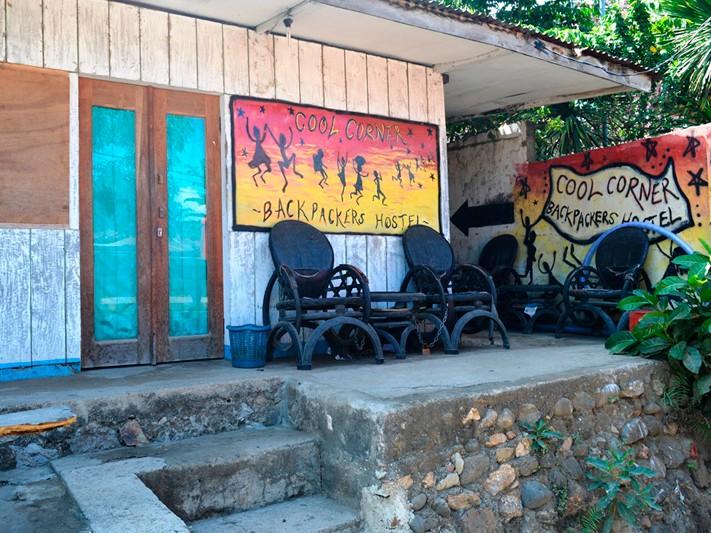 Located right in the middle of the main road of the port city of Labuan Bajo, the owner, Mr. Gregorius, is quite famous around this part of town. Here's a place where you can meet and share space with fellow travellers looking forward to explore the amazing islands. You can ask the staff to help arrange trips to nearby islands and get a chance to dive with manta Rays. Air conditioned facilities and homemade doughnut for breakfast is a luxury you can enjoy on a budget, to get all energized to meet the gigantic Komodo lizards.