An exciting special weekend was imminent as we exited from Bintan's Raja Haji Fisabilillah Airport in Tanjung Pinang. It was unexpectedly raining hard that day, so we had to cross out a few things on our itinerary such as crossing on to Penyengat Island, going to Busung desert and visiting the Blue Lake. Our driver said it would not be safe and comfortable to go to those places when the sky is dark with rain.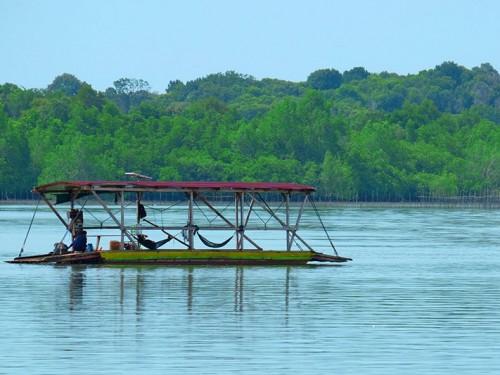 So we decided to circle around Tanjung Pinang instead while looking for some souvenirs for our family and friends. We stopped by a local shop to get some various shape and flavor of kerupuk (crackers). Besides the more famous fish and prawn crackers, Tanjung Pinang's special will be the kerupuk siput gonggong crackers. It's a kind of mollusk, snail-like sea creature that the locals believe as a natural aphrodisiac. You can have them freshly served in seafood restaurants in Tanjung Pinang.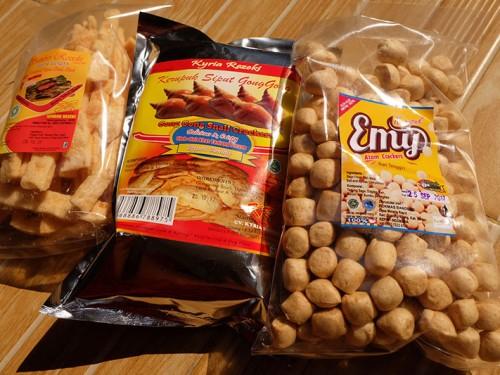 Speaking of siput gonggong, the city immortalized its significance in the shape of a building overlooking the sea, just across Penyengat Island. The Siput Gonggong monument building was perched in the middle of an open area, near the city's main street. I could imagine people spending an enjoyable time here, among the sea breeze, if it wasn't raining.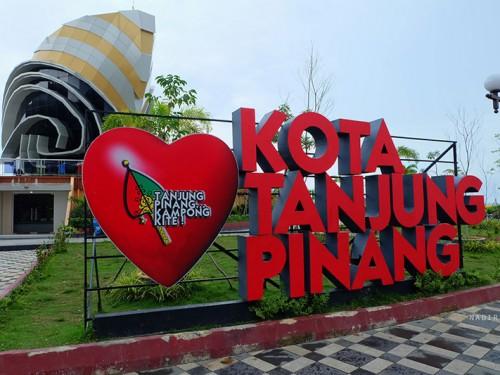 It was time for lunch, and the driver suggested us to go to "kelong" — a kind of offshore platform built from wooden materials, jutted to the water. On our way there, we passed so many green and lush mangrove forest, and some points are said to open for anyone who would love to experience a guided boat ride. We finally arrived at our kelong and the kids were immediately excited when our driver picked up a net from under the Bridgeway to show them live lobsters, prawns, clams, and crabs. After we ordered our menu, we picked the fresh seafood ourselves and watched them as they were weighed. That way we could control how much we would want to spend on food here.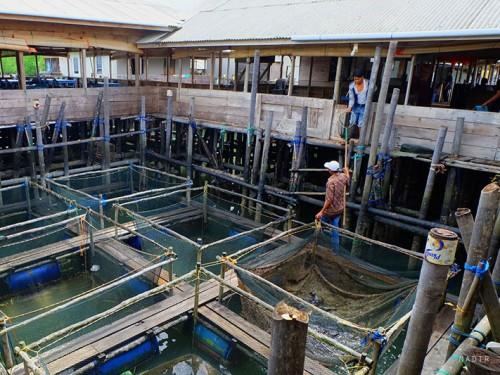 For lobsters, you might expect to pay as low as Rp 900,000. As for fishes, you'll be paying around Rp 250,000 per menu for a 550 grams of fish. But I will tell you that what we had that day was so delicious! A black pepper crab, a sweet-sour sauced baronang fish and a garlic fried prawn with a fresh young coconut drink, so perfect! Not to mention the scenery around the kelong were lively interesting with people crossing the water in and out with bamboo platform boats with installed hammock, dense mangrove trees and an exotic view of wild eagle flying close by.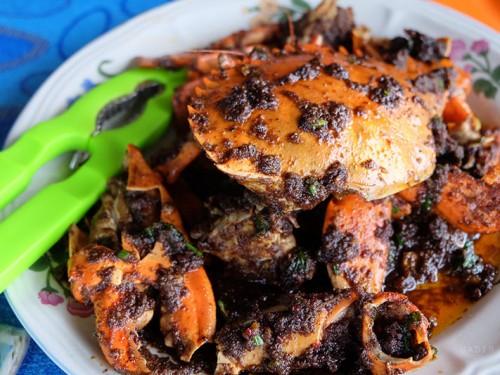 As we were here mainly to support the dearest husband to race on the renowned Bintan Triathlon 2017, we needed to be at the hotel soon to get his racing gear set up on time. So we took off to Nirwana Garden in Lagoi area. It is an extensive facility that had been the venue of various international sports events. Lagoi is known for many luxurious private villas that offer splendid views with exclusive resorts facilities.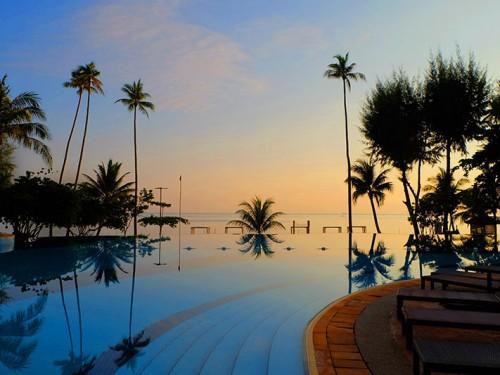 We spent the first night in Nirwana Beach Club, an area so close to the venue, so our children could easily run to join their dad in crossing the finish line. The beach club itself houses bungalow rooms with simple amenities yet comfy settings. The white sandy beach was so quiet and private that we luckily had to enjoy the best sunset without any crowds. Some large stones made a nice nook for the kids to play. This resort has so many spots for children to enjoy, such as the mini zoo, which they love so much to stroll around and the giant chess board.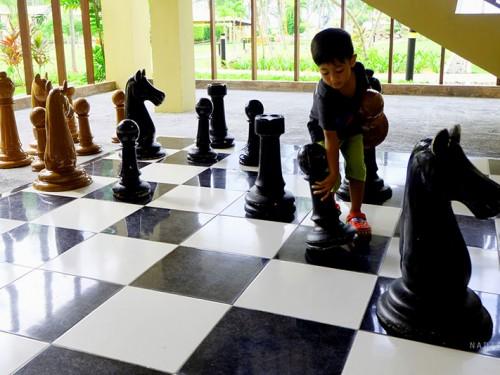 A traditional welcome dance was performed at the starting line before the Sprint Distance commenced. As many as 1300 participants from various nationalities gathered to conquer three sports of swim-bike-run. The highlight of this year's event is Rio Haryanto, Indonesia's first F1 driver who tried his first triathlon race in Olympic Distance category. The timer clock at the finish line strikes at 1:24:00 as my husband took the kids hands to cross the blue ribbon. And we were so excited that he won 1st place on his age group category and 2nd place for all Indonesian category of the Sprint Distance.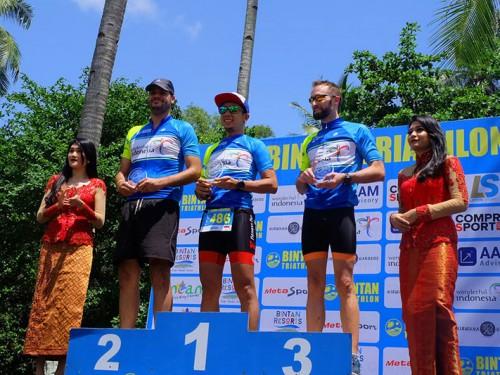 Later that day, we spent the cloudy evening on the quiet beach, with hammocks and sunbathing chairs. We upgraded our room to have a different ambiance in a different side of the hotel for the second day. And the room was exquisite, facing a wonderful view of the garden, restaurant, swimming pool, and the beach. We ordered Nasi Padang for dinner, from a renowned Padang restaurant called Lamak Basamo. A generous amount of warm white rice, with grilled chicken, beef rendang and chilis! A lovely meal to also celebrate our 12th wedding anniversary with a full stomach of local deliciousness, what a delightful day!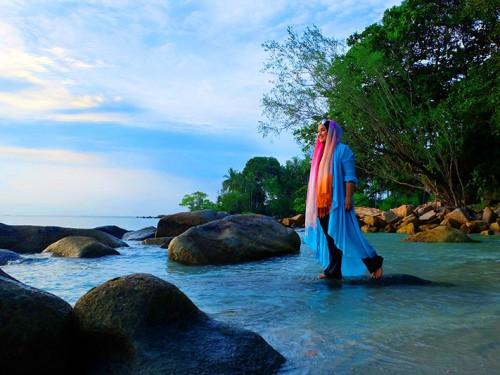 Our flight home was bound on 10.30 am the next day, so we had to get up quite early to be able to enjoy the resort some more. I managed to enjoy a soothing sunrise, so beautiful with nobody else around me. When we were all ready to go to the airport, we strolled for some more pictures around the lobby's restaurant. It was indeed an enjoyable short stay, in a great resort that had way more to offer. We still have many plans to explore in Bintan, and definitely will put the island on our list to come back in the future. See you soon Lagoi Bintan, you've been amazing!