Whether you fly directly to Bandung or perhaps happen to be in Jakarta for business but wish to see other parts of Indonesia, then take a few days off and drive to the cool mountain city of Bandung, a mere three hours away by toll road which passes some refreshing green countryside. Since Bandung is the most popular resort for Jakartans on weekends, we recommend you to travel there from Jakarta on week days.
Once a favorite city for opulent planters during Dutch colonial days, Bandung was known as "Parijs van Java" with its wide boulevards, flanked by colonial houses with wide, neat front lawns. But, with increased population, the heritage houses have been preserved along Jalan Juanda, - once known as Dago boulevard, - but today most have become popular factory outlets set in colonial ambience. Bandung still has many restaurants serving the old style succulent Dutch steaks and other Dutch cuisine – popular ones being Tizzy and Sari Rasa and restaurants along the erstwhile elite Braga shopping street. Besides, of course the many other restaurants serving the home-grown Sunda cuisine.
Bandung has a plethora of hotels, from modern five star hotels to old style bed and breakfast in colonial homes. But there are some unique accommodation that you may want to try out:
1 | Savoy Homann Bidakara Hotel – Bandung's Historical Landmark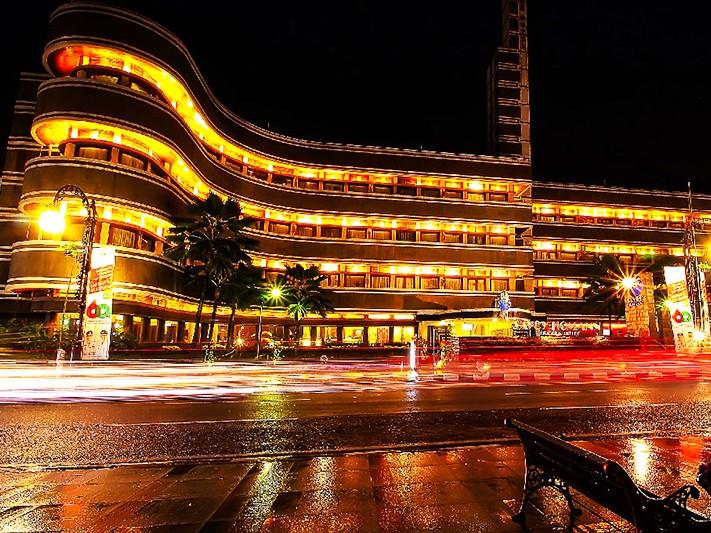 Photo by Savoy Homann
If you love history and art-deco architecture then the Savoy Homann Bidakara Hotel on Jalan Asia Afrika is your answer. Originally built in 1871 by the Homann family, Savoy Homann is a prominent landmark in the Bandung city landscape which has kept its original art-deco features and is one of the oldest luxury hotels in Bandung. In its heydays it served as a resort during Dutch colonial times for celebrities that include unforgettable names as Charlie Chaplin and Mary Pickford. In 1955 at the convening of leaders of newly independent countries for the first ever Asia-African Conference, world leaders like Pandit Jawaharlal Nehru, U Nu, Zhou Enlai, Ho Chi Minh, Gamal Abdul Nasser and Josep Broz Tito and Indonesia's own President Soekarno made this hotel their temporary home. From here all leaders walked together to the venue of the Asian African Summit symbolizing solidarity of countries on the two continents and vouching non-alignment.
Today, providing a total of 185 exquisitely decorated guest rooms, 2 grand ballrooms, a world class garden restaurant, Side walk cafe and the Batavia Lounge, the hotel has been refurbishes but still retains the charms of old world luxury with modern amenities.
Location:
Jl. Asia Afrika No. 112
Cikawao, Lengkong
Kota Bandung, Jawa Barat
40261
Phone: +62 22 4232244
Website : www.savoyhomann-hotel.com
2 | Stevie G Hotel with a football theme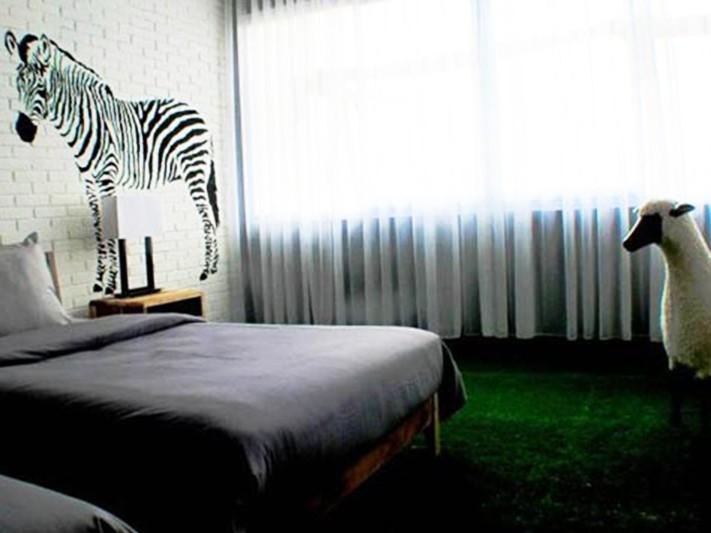 Photo by Stevie G
Football fans will love staying at the Stevie G Hotel. Situated at Sersan Bajuri Street at Setiabudi Road, the hotel is named after Stevie Gerrard, former captain of English Liverpool Premier Football Club. Stevie G spent 17 seasons at Anfield and most recently played for Major League Soccer Club, LA Galaxy as central midfielder.
Stevie G Hotel offers rooms with a beautiful concept and provides a range of facilities and services for a pleasant stay. Located only 35 minutes from Bandung's Husein Sastranegara International Airporr, the hotel is surrounded by many restaurants, shopping areas, sightseeing places and local attractions. With prices starting from IDR 600,000, make sure you book "The Anfield" room and experience the room's unique design with life size portraits of the legendary Kenny Dalglish, Michael Owen, Ian Rush, Robbie Fowler and Luis Suarez hanging on the wall.
Address:
Jl. Sersan Bajuri No.72
Cihideung, Parongpong
Phone: +62 22 2788466
Website: www.stevieghotelbandung.com
3 | Hilton Bandung - a place to unwind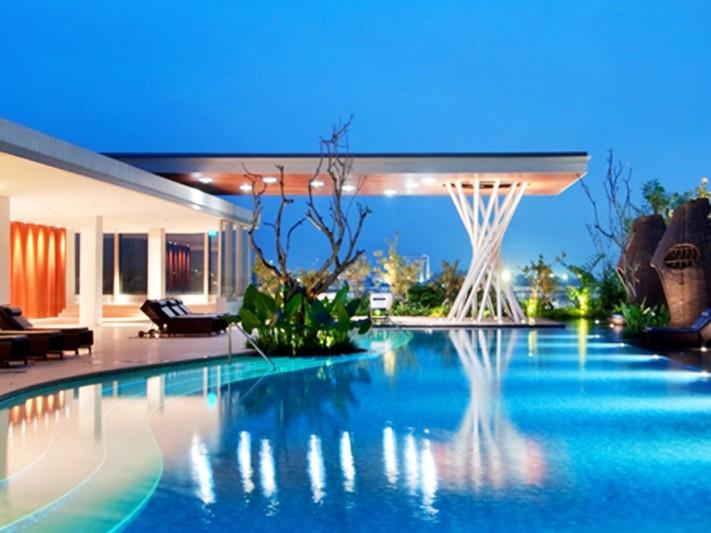 Photo by Hilton Bandung
Known for its modern conveniences and stylish property, Hilton Bandung lies in the heart of the city, and is the ideal base for business trips and family vacations. One of Bandung's most famous 5 star hotels, the Hilton offers a great selection of contemporary dining options and boasts panoramic views from the outdoor pool. Only 10 minutes from the International Airport Husein Sastranegara and about 1.5 km from Braga Street, this hotel is strategically located for fabulous shopping.
Address:
Jl. HOS Tjokroaminoto No.41-43
Bandung – West Java 40171, Indonesia
Phone: +62 22 86066 888 / +62 814 1010 3107
Website: www3.hilton.com
4 | Padma Hotel Bandung - A view over the valley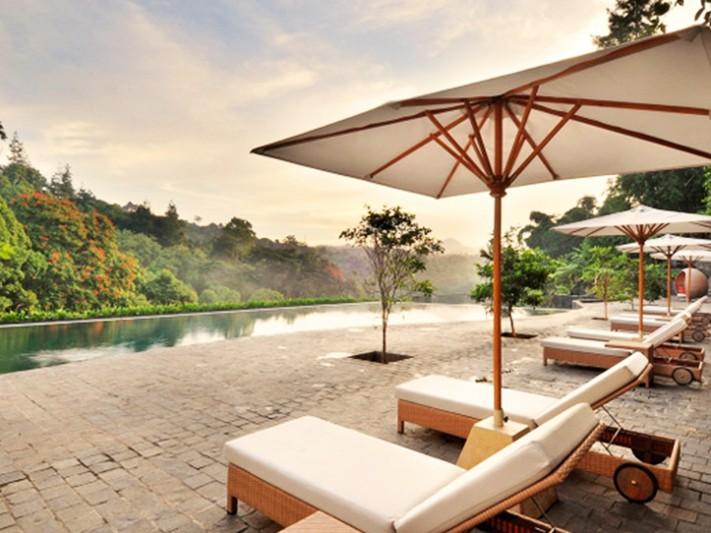 Photo by Padma
Located on the hillside and only minutes away from Bandung's city center, The Padma Hotel makes guests feel as if they are miles away from the busy streets of the city. A great family hotel with a mini petting zoo and playground, the Padma Hotel sits slightly above a luscious green valley which provides breathtaking views from every angle. The hotel also offers a great place to dine where visitors can enjoy the charm of the green scenery and the refreshing mountain air.
Address::
Jl. Ranca Bentang 56-58
Ciumbuleuit, Bandung
Contact: +62 22 203 0333
Website : www.padmahotelbandung.com
5 | GH Universal Hotel - Ancient European architecture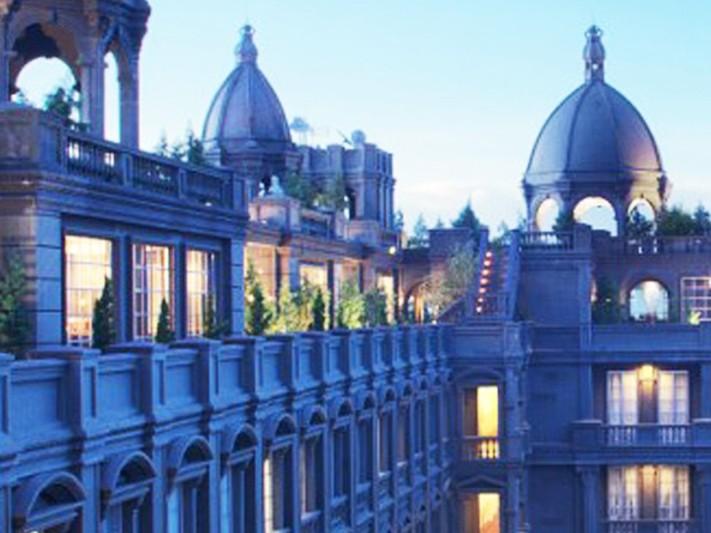 Photo by GH Universal
Built in 2008, The GH Universal Hotel is an excellent example of stylish Italian Renaissance. As GH stands for Green Hill, the luscious green location attracts a wide range of tourists, both locally and internationally. This five-story hotel offers a 360-degree panoramicic view of the city from its famous rooftop chapel - which is a favorite spot to exchange "I dos". The five large domes on the rooftop, decorated with Italian-style paintings and statues, make this hotel uniquely different from any other in Bandung.
Location:
Jl. Setiabudhi 376
Bandung 40143
Tel: +62 22 2010 388
Fax: +62 22 2014 525
Website : www.ghuniversal.com
6 | Sensa Hotel Bandung with Minimalist Design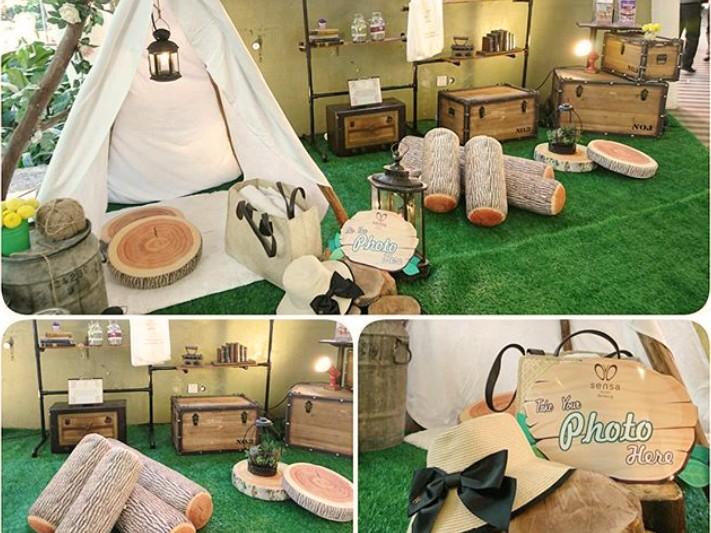 Photo by Sensa
A simple lifestyle hotel, the Sensa Hotel Bandung has everything you need for a comfortable stay. All rooms are decorated in contemporary modern design to meet an assortment of modern tastes. In line with having a green concept, the unique and futuristic "curve or oval form" deslgn allows the building to have good air circulation. Located about 2.8 km away from Husein Sastranegara International Airport and only 1.9 km from the Bandung's Train Station, guests are also within walking distance from one of the most famous malls in Bandung, the Cihampelas Walk Mall. The strategic location and uniquely designed building has captured the hearts of many guests and is an ideal accommodation for business and leisure travelers.
Address:
Jalan Cihampelas No. 160
Cipaganti, Coblong
Phone: +62 22 2061111
Website : www.sensahotel.com
Related articles:
1. 8 Amazing Back to Nature Cafes in Bandung
2. Pasar Baru Trade Center, Fascinating Historical Marketplace in Bandung
3. Bandung's Cool New Fun-Packed Family Parks
4. Let's Go Glamping Around Bandung!
5. Bandung Factory Outlets, Apparel And Leatherware Galore