Confronted with Jakarta's gleaming lights and sparkling metropolitan life, you may well be forgiven to think that Indonesia's capital city has only high end exclusive malls, haute couture fashion, and luxurious shopping experiences. Well, this is where you're wrong. For, aside from being the center of international branded items, top designers fashion, and exclusive products in Indonesia, the city is also a hotspot for bulk and bargain shopping.
The wide variety of items that you can buy in Jakarta is mind boggling. From the best of local handicrafts, popular fashion products, accessories & decorations, to unique souvenirs, wedding gifts and a whole lot more, all of these are up for grabs at relatively pocket-friendly prices and can often even still be bargained for, if only you know where to look.
So here are among some of the hotspots in Jakarta for your perfect budget shopping:
1 | ITC (International Trade Center) Mangga Dua
This is indeed a shopping paradise, the favorite destination, not only for domestic visitors but also for those from neighboring Singapore, Malaysia and Thailand, where the gamut of imported and domestic products are available. Here, you will find anything you many need, from imported winter clothes, boots, to flimsy underwear, fashion wear, perfumes, baby's outfits to fridge magnets and other small souvenirs in bulk that you may want to give out as your tokens of thanks to weddings guests. When you decide to visit Mangga Dua, better have ready your shopping list, preferably buy in bulk as this is, in fact, a wholesale area.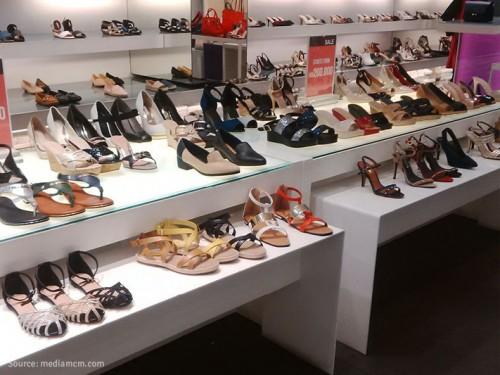 Photo source : www.mediamcm.com
2 | Pasar Baru
Literally translated as "The New Market", Pasar Baru is actually one of the oldest shopping centers in the city, having been built in 1820. Today, even after many years, PasarBaru , which is located close to the Lapangan Banteng still maintains its past popularity. Observe and you will see a plethora of shops, many owned by those of Indian descent living in Jakarta, which, for this reason, it is sometimes called "little India". Pasar Baru Street which is open only for pedestrians, is lined with numerous shops, restaurants and several shopping centers. Most of the shops here sell textiles, shoes, clothes and other fashion itemss, such as sportswear, watches and jewelry. While the shopping centers on the north side specialize in selling cosmetics, cameras and photographic products.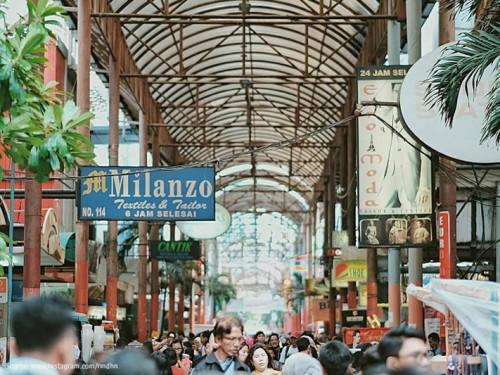 Image by : www.instagram.com/jakarta_banget
3 | Blok M
Whether you're looking for that great deal or take in the sights and sounds of the city, Blok M (or the M Block) in Kebayoran area, South Jakarta, is definitely worth a stop. The main shopping centers here are the Blok M Square and Blok M Plaza. At Blok M, you can find everything you need at discounted prices. These super shopping centers have everything from belts to sunglasses, head scarves to jewelry. In the mega complex you'll find a supermarket, clothing stalls, jewelry, art, glasses, toys, cellphones, gadgets, cameras and electronic kiosks; everything and anything you can think of is available at Blok M Square. Don't forget to practice your bargaining skills since this is the perfect place to do get the best bargain.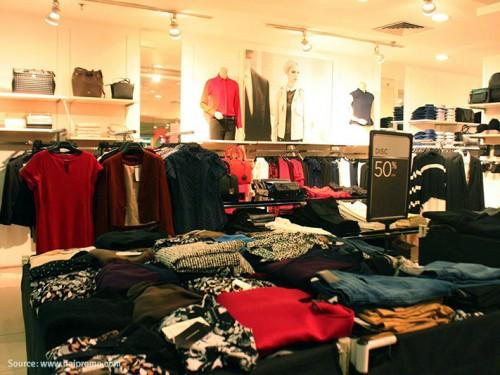 Photo source : www.haipromo.com
4 | Tanah Abang Market
When it comes to wholesale and bulk shopping, Tanah Abang Market is definitely the ultimate hotspot. Located in the center of the city, Tanah Abang has been famous for centuries for its wholesale and raw materials. Cheap of the cheap – very famous for resale - it has a massive range of products, especially in textile and garments. With over 13,000 kiosks and 75,000 shoppers per day, Tanah Abang is recognized as the largest textile and garment wholesale center in Southeast Asia. With over 5 shopping areas (with block A and Block B as the main areas), Tanah Abang is an extremely massive shopping areas, so if you are here for the first time, be aware of your surroundings since you can easily get lost. Be also aware of pickpockets.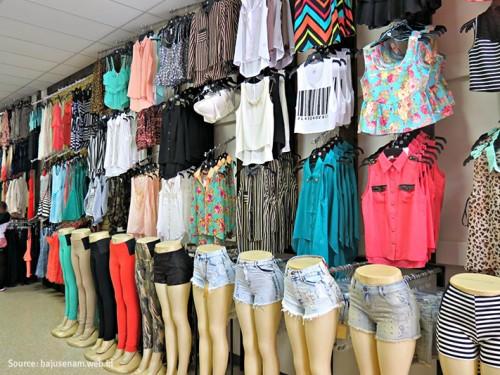 Photo source : www.bajusenam.web.id
5 | Thamrin City Mall
Besides Tanah Abang, the nearby Thamrin City shopping mall, located behind Hotel Indonesia Kempinski, is another place that is frequently visited by shoppers seeking new clothes, and batiks, especially during the Ramadhan fasting month and prior to the IdulFitri holidays. Apart from locals, the place is also popular with foreigners from Singapore and Malaysia .Although smaller in size, Thamrin City offers goods similar to those sold at Tanah Abang. As it is less crowded, and nicely air-conditioned, some people find this a more convenient place to shop.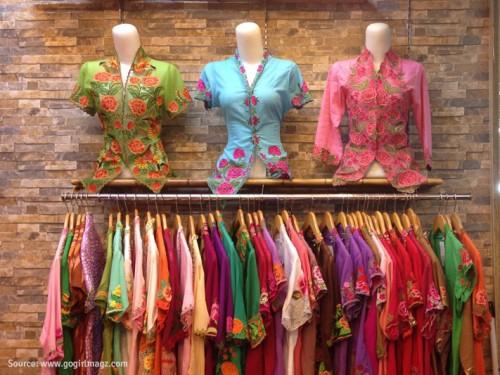 Photo source : www.gogirlmagz.com 
Photo source of header banner :  www.id.wikipedia.org
Related articles : 
1. 3 BEST PLACES TO SIP AUTHENTIC INDONESIAN COFFEES IN JAKARTA
2. 10 ISLANDS TO PLUNGE INTO IN JAKARTA'S THOUSAND ISLANDS
3. WANDER AROUND MALLS IN JAKARTA WITH THESE 10 FINGER FOODS
4. 5 JAKARTA CAFES EVERY INSTAGRAMMER SHOULD VISIT
5. INDONESIA'S HAUTE COUTURE FASHION DESIGNERS' GALLERIES IN JAKARTA