Medan, the capital city of North Sumatra Province, is rich in the diversity of cultures. Through the centuries, thousands of merchants from China, India, the Middle East, the Malay Peninsula, Singapore, and Europe have come to the city to trade and where many settled down, each bringing their own culture. The assimilation of these cultures has created a lively diverse city, as well as fascinating legacies in architecture and culinary heritage.
The city has many distinguished landmarks sculpted with meticulous details and marvelous artworks. Here, you will easily find old buildings standing right next to sleek modern constructions.
Below is a glimpse of the colorful spirit you will find in Medan's city center:
1 | The Maimoon Palace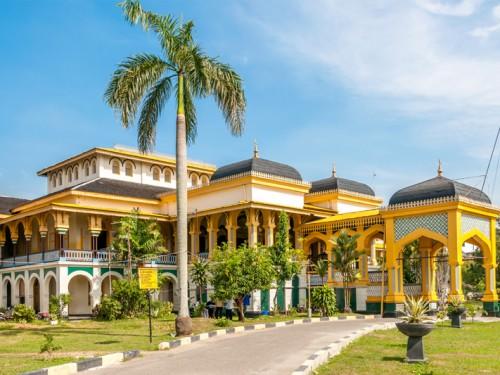 Built by Sultan Ma'mun Al Rashid Perkasa Alamsyah in 1887-1891, the palace has a total of 30 rooms on its 2,772 sqm land. However, only one main room is open to the public, which is the throne room. Its architectural style is a cultural-mix of Malay, Islamic and Moghal heritage. While its interior design takes a more Spanish-Italian ambiance. Take pictures of yourself wearing traditional royal Malay Deli costume or sit on the throne of the Sultan and His Queen. The Royal collection of jewelry, antiques, and gifts presented by other countries' royal leaders are also on display here.
Address: Jl. Brigjen Katamso, Medan
2 | Al Mashun Grand Mosque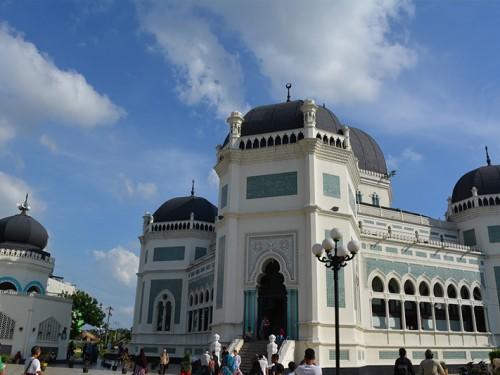 Photo by www.ucokmedan.com
This grand mosque is located on a busy street in Medan. The mosque was built in 1906-1909, during the reign of Sultan Ma'mun Al Rasyid Perkasa Alam of the Deli Sultanate. Surrounded by an extensive garden, the architectural style of the main building is a combination of Middle Eastern, Moghal and Spanish influence. It is built in octagonal shape and has four wings to its south, east, north, and west. The mosque was built based on the strictest orders given by the Sultan: that it should be grander than his own grand palace – the Maimoon Palace. An elegant structure with intricate details on the exterior and interior design, this is surely a place you need to visit.
Address: Medan 20218, Indonesia
3 | Tjong A Fie Mansion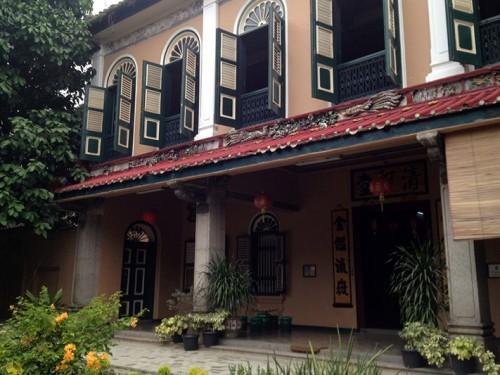 Photo by www.royhanza25.blogspot.co.id
Visiting this mansion will make you feel immediately transported back in history. Every furniture and accessory in this mansion are arranged exactly as if the mansion is still inhabited by its owner. Located in downtown Medan, the building has a combination of Chinese, Malay, and Art-Deco influences. The mansion continues to be well preserved among the surrounding modern structures. Tjong A Fie was a Chinese merchant who tried to find a better fortune in the city that is today know as Medan. He rose to become a wealthy entrepreneur, a respected leader, and philanthropist. With beautiful carvings, ornaments, antiques, and artworks, this mansion was dedicated to his beloved wife. Here's a fun fact: Tjong A Fie is among the three personalities who financed the construction of the Al Mashun Grand Mosque.
Address: Jln. A. Yani 105, Medan 20111
4 | Graha Maria Annai Velangkanni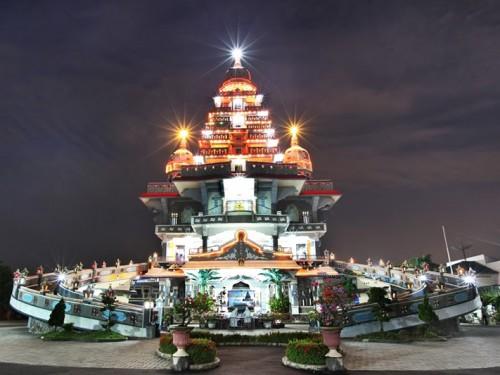 Photo by www.parokisantopetrus.com
A magnificent structure with intricate façade, The Maria Shrine at Graha Maria Annai Velangkanni is dedicated to the Blessed Mother Mary. It was built in 2001-2005. You may well mistake it for a Hindu temple or perhaps a mosque because of its ornamentation and domes. Father James Barathaputra, SJ was the originator of the idea to build this one-of-a-kind Catholic Church. His vision was to make this a sanctuary for people who seek peace, solace, healing, and divinity.
Address: Jl. Sakura III no. 10 Tanjung Selamat, Medan, Indonesia
5 | Sri Mariamman Temple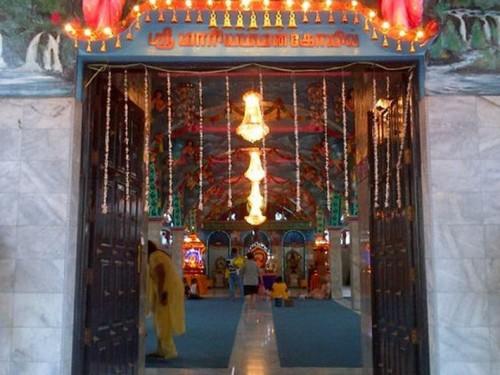 Photo by www.justgola.com
This temple was built in 1884 by young Tamil donors named Gurdhuara Sahib and Sami Rangga Naiher. Located at Kampung Madras area (also known as Medan's Little India), it is the oldest Hindu temple in Medan. It was built to worship Goddess Mariamman and is devoted to the Hindu Gods Ganesha and Murugan. its architectural style was taken from Hindu temples found in South India and Sri Lanka. It is ornamented with vivid colors, statues, and beautiful carvings. The temple's prayer room is closed on Saturdays, but the courtyard is always open on any other day.
Address: Jln. Teuku Umar no. 18, Medan 20112, Indonesia
6 | Maha Vihara Maitreya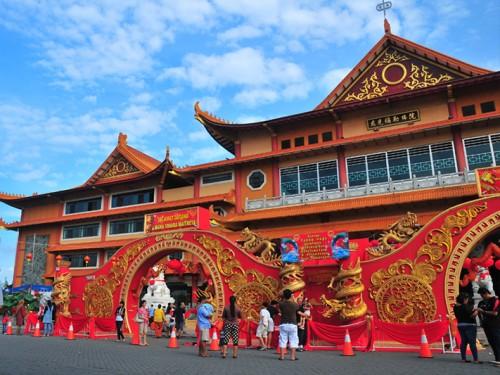 Photo by www.infohotel.co
Being the largest Buddhist temple in Medan, it prides itself with the slogan of "One World One Family". Built-in 1991 on a piece of land covering 4,5 hectares, it was inaugurated in 2008. You can find huge statues around the premise, but unfortunately taking photographs of some of them is prohibited. The interior is graceful and simple, dedicated for devotees to perform silent solemn worship, following the teachings of Maitreya Buddha. The temple has also a playground for kids to play and a souvenir shop. It is strategically located in a housing complex where you can find an abundant choice of delicious food and beverages to enjoy after a long day exploring the city.
Address: Jl. Cemara Boulevard Utara no. 8, Kompleks Cemara Asri, Desa Sampali Percut Sei Tuan, Medan,20371
There you have it, the colorful nuances of Instagrammable architectural sights to be found in Medan. Get ready to snap them as an inseparable part of your memorable journey to North Sumatra!
Photo source of header banner: www.infohotel.co