Going on holiday with the whole family to the iconic tropical island of Bali at that, is an experience not easily forgotten. And, sharing happiness with the entire family won't be complete without everyone enjoying great meals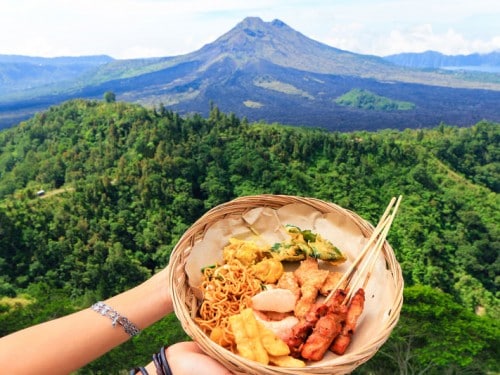 Image source: Shutterstock
Enjoying Bali's fascinating charms together with your family could bring the happiest memories in your life together. Looking at the happy faces of your children and the contented smile of your spouse will make every effort you have made to holiday in Bali definitely worth your while.
To help you on your way, here are 5 unique restaurants in Bali to choose from, to add that special magic touch to a perfect family holiday ever!
1 | Temega Tree House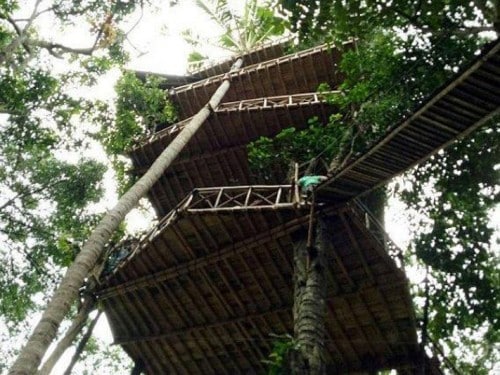 Photo source: Instagram/thebalitoday
Surrounded by beautiful rice fields in the Karangasem regency, the Temega Tree House is built to fulfill your craving for delicious food taken in a unique place — having a meal together up in the tree! Yes, this restaurant consists of several bamboo tree houses that you can reach by suspension bridge. Up above, the wonderful view of rice fields is a reward you won't easily forget. Taking photos here with your family is a must. But if you have children age 10 or below, do make sure you assist them all the time you are there.
Location:
Jl. Raya Tirta Gangga, Temega, Padang Kerta, Karangasem, Bali
Opening hours: 7 am to 6 pm
Entrance fee:
USD 0,75 or Rp 10,000 for adult
USD 0,38 or Rp 5,000 for kid
2 | The Dinner Pirate Restaurant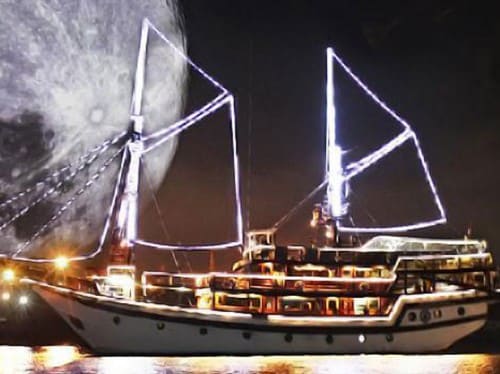 Photo source: www.bookasone.com
Prepare your family to be amazed by the magic of Dinner Pirate Restaurant! Benoa harbor not only offers incredible dining moments aboard a pirate ship, but you'll also enjoy your time playing pirate wearing appropriate costumes and playing a variety of fun games . Need more entertainment for all family members? Live music, fire dance shows, and belly dance shows are at your service!
Location:
Benoa Harbor
Opening hours: Daily
1st Session at 5.15 pm till 7.30 pm
2nd Session at 7.45 pm till 10 pm
Price:
USD 55 or Rp 733,000 for adults
USD 27.5 or Rp 366,000 for children age 4 to 12
3 | The Pirate's Bay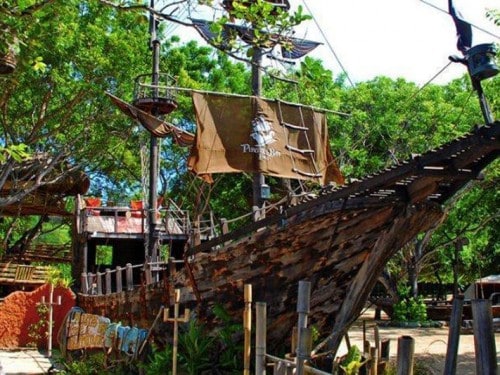 Photo source: www.discoveryourindonesia.com
Not really fond of high up tree house or pirate ships at sea? Then The Pirate Bay is your thing! This restaurant at Nusa Dua, combines a tree house with a pirate ship, but they are not too high — which makes it safe for children — and best still, it is on land, not in the open sea. Located pretty close to the beach, you can let your children play while you enjoy your meal. When the kids are done with playing on the beach, they can hop up the tree house, play inside the stranded pirate ship, or just fill their tummy with delicious food that this restaurant offers!
Location:
Jl. Nusa Dua, Kuta Selatan, Kabupaten Badung, Bali
Opening hours: Daily
9 am till 11 pm
Price range:
USD 2 to USD 21 or Rp 26,000 to Rp 280,000
4 | Maha Restaurant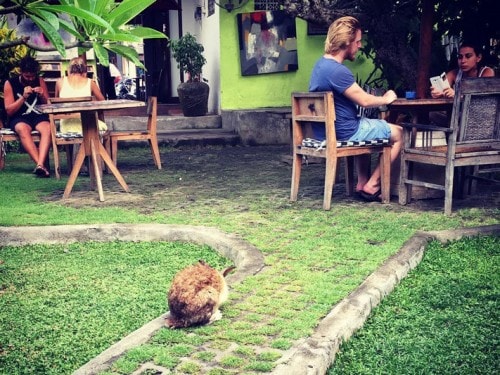 Photo source: Instagram.com/sparrow_tweets
Right on Jl. Monkey Forest in Ubud, you'll find a nice place to that your kids will definitely enjoy. Maha Restaurant has a wide backyard where bunnies jump around and accompany your family while you enjoy your meal here. With live music performances, you'll definitely love the atmosphere.
Location:
Jl. Monkey Forest, Ubud, Bali
Opening hours: Daily
9 am to 11 pm
Price range:
Starts from USD 5 per meal per person.
5 | Warung Rekreasi Bedugul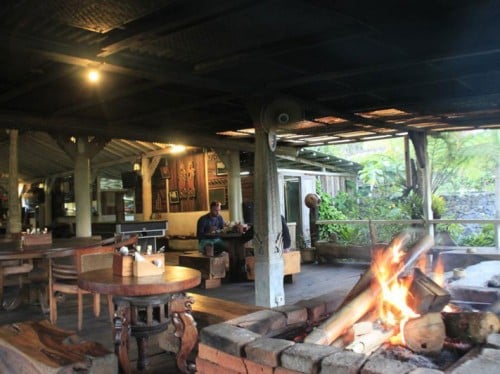 Photo source: www.booking.com
Maybe there is no restaurant in the area other than Warung Rekreasi Bedugul that brings you and your family closer to nature. Known for its delicious Ayam Betutu and Grilled Chicken, this restaurant gives your children additional pleasure with its playground. What about the grown-ups? Don't worry, you'll find many photogenic spots in the surrounding orchid garden, coffee plantation, organic farm, and the bamboo forest close to the restaurant.
Location:
Jalan Raya Bedugul, Candi Kuning, Baturiti, Tabanan, Bali
Opening hours:
8 am to 9 pm
Price range:
Starts from USD 5 - USD 15
Try some of these unique family restaurants in Bali, and complete your holiday memories with the entire family!
Photo source of header banner: Shutterstock