Whether you are an avid diver, frequent backpacker or just a casual tourist, the chance is that by now you must have already heard of Raja Ampat. This cluster of islands off the coast of Papua on the far eastern side of the Indonesian archipelago has quickly risen among the top destinations in Indonesia, even at times overshadowing Bali and Lombok in popularity.
But is the hype real or is it too overrated? Or as they say in YouTube's product reviews videos: "is it worth it?" Well, luckily I was among the group of people that was given the chance to prove it, and I'm here to tell you all about it.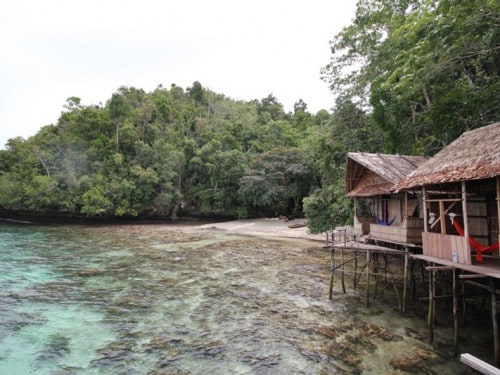 As the plane descended, making the approach to land, I could already see tiny islands that beautifully dotted the open ocean spreading as far as the eyes could see. Wait, a plane? Oh yes, I should probably tell you that nowadays you can fly to Raja Ampat since a number of airlines opened a route to the newly established airport at Raja Ampat. This means that now you can actually arrange a connecting flight from Jakarta or other cities to Raja Ampat via Sorong or Manado. Great, right? You bet it is!
So, after enjoying the magnificent views from the sky (thank God, it was a bright clear morning!) finally the plane touched down at the Marinda Airport of Raja Ampat in the little town of Waisai. In terms of facilities, you won't find much around this pioneer airport as it is still under expansion and development. However, this little airport does radiate a certain tranquil ambience, and kind of welcomes you to the sheer pristine nature of Raja Ampat. Waisai, the capital town of Raja Ampat Regency, is situated on Waigeo Island which is the largest of the four islands that make up Raja Ampat (Literally meaning the Four Kings). It turned out, that this was also the place where I had to wave goodbye to my cellphone reception, since most of the mobile providers' signals ended here. But I guess in a way, it was a good thing, since well, no 'earthly' annoying businesses should disturb my adventure in 'paradise'.
After a brief city tour and a visit to the local market (which by the way was the only relatively big market in the entire regency), we finally boarded the speed boat, and so began my adventure in paradise.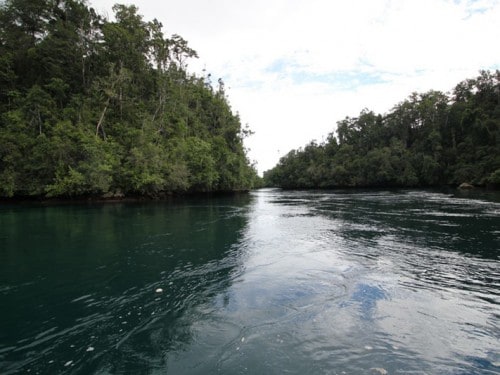 Our first stop was Yengkaweh, a cozy little homestay run by locals. Not only did the hut on the beach overlook the picturesque crystal clear sea, it promised a pleasant stay away from the hustle and bustle of everyday city life. Here you'll literally have the beach all for yourself! Isn't that something? At Yengkaweh we were also treated with a lunch with a special menu of delicious fresh sea food and an introduction to the traditional dish of Papeda and yellow soup. Papeda is indeed a unique food, made from sago starch, which is the staple food in Maluku and Papua, an alternative to rice which is the common staple of Indonesia.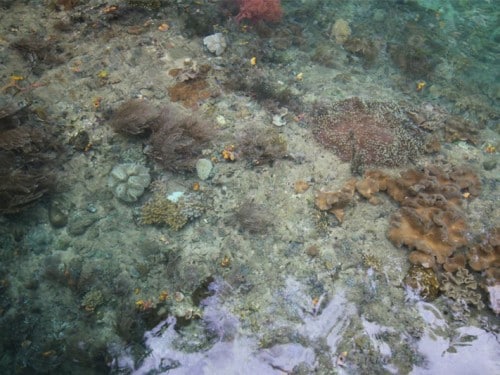 With full bellies and hearts full of joy, we left Yengkaweh and continued our journey. More and more rock islets came into sight. It was such an incredible feeling as the boat cruised among these beautiful rock formations, as if we were brought inside a beautifully designed colossal terrarium. After a while, the rocks stood closer to each other and the sea narrowed. As a matter of fact, we were entering Kabui Passage, a very narrow strait between Waigeo Island and Gam Island. Our guide said that when the renowned British explorer, Alfred Russell Wallace passed here in 1860 he thought that it was a river due to the really strong current. Well, at first glance it was exactly what I thought too.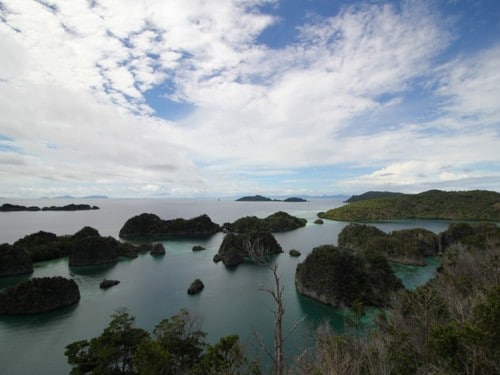 Aside from its enchanting surroundings, the water here is really crystal clear. Even from the surface, I could already see many colorful fish and beautiful coral reefs swaying in the currents. Some of us immediately plunged into the water to see the wonders below up close and came up shouting: wow! Amazing! fantastic! Surely it was a great introduction to Raja Ampat's amazing underwater splendors.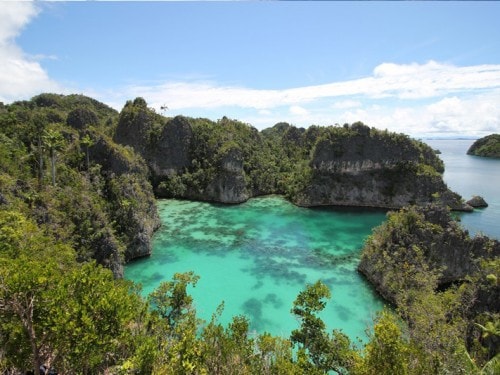 A spectacular sunset ended our adventure on the first day as we arrived at Raja Ampat Dive Lodge, our accommodation for this trip.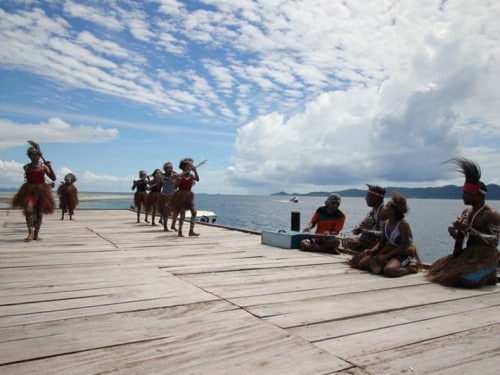 The next morning, we woke up refreshed in spirit and body filled with pure eagerness to explore more of this pristine paradise. After leaving the dock at the Raja Ampat Dive Lodge, again we cruised among beautiful islands rock formations covered with some green trees. This site is called Piaynemo, and this time we also hiked to the top of the hill to enjoy the magnificent view. The 10 minutes hike was quite strenuous, but it was not too hard since it was all up man-made steps complete with side bars. To reach the top is one effort, but being there gives a whole different sensation. From the viewing platform, looking down below, I was engulfed with an overwhelming feeling of awe. The scenery was majestically breathtaking. It was as if the rocks were carefully placed with such aesthetic precision to create such divine composition. For me, it was simply a glimpse of heaven on earth.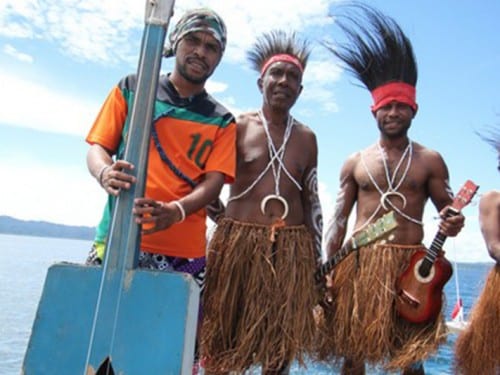 But there was more! Still in the vicinity, we also hiked up another hill to see another wonder: the Telaga Bintang or the Star Lagoon. Although this time, there were no stairs or side bars, it was just pure hiking up a steep rock. As the name suggests, from this vantage point, you can see a lagoon in the shape resembling a five pointed star. Absolutely stunning!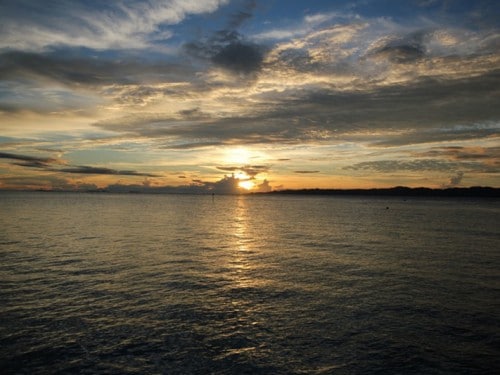 Leaving Piaynemo and the Star Lagoon, we arrived at the traditional village of Arborek. Here, the locals greeted us with a beautiful welcoming dance accompanied by simple music of Papuan folk songs. Performed by children wearing traditional Papuan costumes, the dance portrayed the life of Papuan fishermen. While the dance was quite entrancing, what intrigued me more was actually the huge home-made 2 strings bass guitar of the accompanying band. For me it was so unique, that I had to take a shot of it.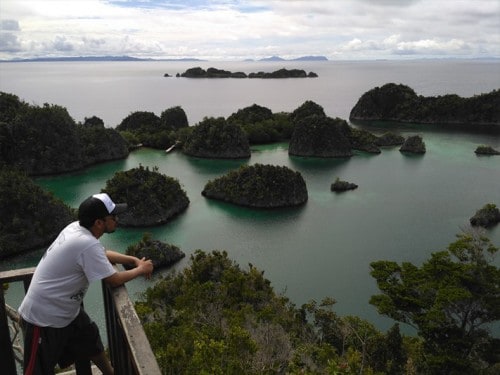 The 2nd day ended with a trip to yet another village: Sawinggrai. Here, we hang out and had a pleasant afternoon coffee with the locals and we also mingled with the kids as they sang a number of joyful songs. It was really a pleasant experience. Here, we also went to see the endemic Waigeo Cuscus that frequently came out from the forest.
The third and final day was filled with drenching and splashing actions exploring the islands' underwater wonders. Among the snorkeling and diving spots, we also visited Pasir Timbul. A Shoal or Sandbank that emerged out from the sea seemingly out of nowhere. Although it was incredibly hot as the sun sun shone directly overhead, the sensation of walking and running on the sand right n the middle of the ocean was an experience that no one was going to miss.
Sawandarek, Yenbuba, and Friwen were the spots that we visited in our underwater exploration, and each was purely astonishing. Schooling fish of various shapes, size, and color; soft corals, hard corals, and sponges; giant clams measuring over a meter long; gliding mantas and turtles; sea horses and other magnificent critters; and much-much-much more danced around this area, so that calling this an underwater paradise seemed inadequate. Plunging into the water, it was like entering a whole different realm. Especially when a huge barracuda passed by or when the giant clam made an unexpected movement, I just couldn't help but shout: wow! under the snorkel. This was undisputably a highly exceptional experience, and the perfect way to end this 3 days' adventure in paradise.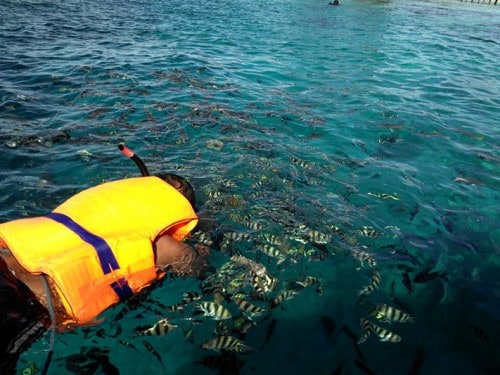 So, to get back to the question above: Is the hype real? I can now confirm for certain that Raja Ampat goes way beyond any hype, rumor, or pep-talk. Calling it a pristine paradise is not only fitting but perhaps it is not even adequate. And this is just from 3 days' experience just roaming around the main island of Waigeo. For there are still plenty of other treasures to be found among this cluster of islands such as the Wayag Islands which is said to be even on a bigger scale than Piaynemo, there is also Misool Island with all its intriguing cultural attractions, and a whole lot more.
So if there is a place that deserves to be on your bucket list, Raja Ampat should be right on top!
(A.A Muhaimin)