Having spent a good part of my life in Melbourne Australia, I have grown accustomed to the notion that a weekend is not complete without a good brunch. Saturday is for fun and friendly shenanigans, while Sunday is for relaxing or in my case, recovering from that questionable night out.
Waking up before 9am on a Sunday for me is like asking a homeless man for $100 – it ain't gonna happen. By the time I do wake up (which is around 10 am), I find myself too lazy to cook yet too hungry to wait for lunch.
So where do I go to find a good coffee and a hearty meal that makes up a well rounded brunch? Well lucky for you, I have eaten my way through most of Jakarta. So aside from my unrelentless appetite, thinning wallet and growing gut, I think it's safe to say I've tried my fair share of the good, the bad and the never again. To spare you guys of the latter two, here is a list of my 3 favourites spots.
Dijan's Pannekoekan & Poffertjes
I can honestly say with a hand on my heart, that this is one of (if not the best) places in Jakarta for brunch. Located near the heart of Kemang, this restaurant which usually serves delicious Dutch- Indonesian cuisine has now also opened a breakfast bar. On the second floor of this charming colonial style building, you will find their open kitchen and serving area for brunch. My husband and I have tried most of their menu and our favourites are the omelette, mushroom, smoked beef, green sauce on toast and the poached eggs, aioli, roast beef, creamed spinach on toast.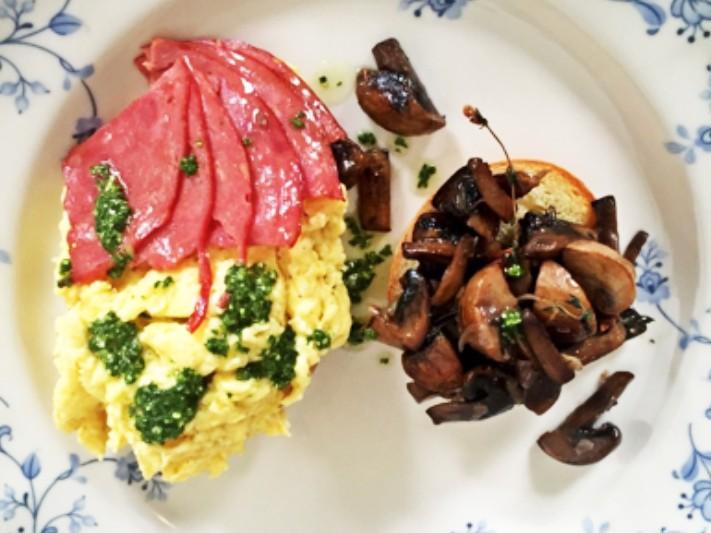 the omelette, mushroom, smoked beef, green sauce on toast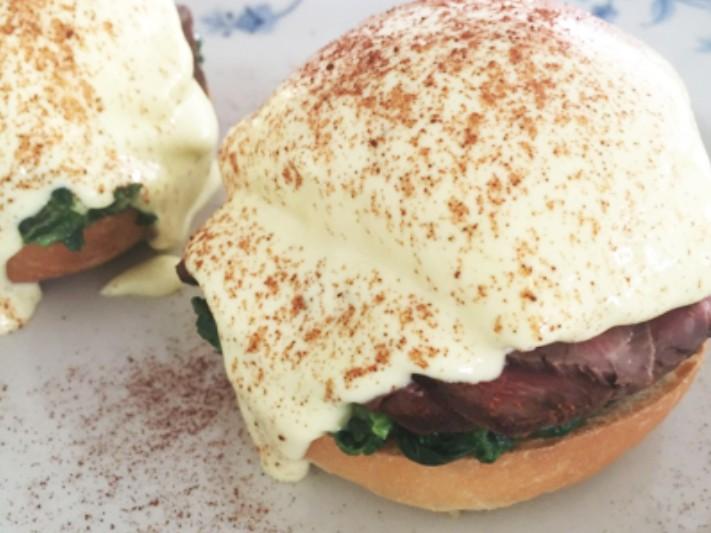 poached eggs, aioli, roast beef, creamed spinach on toast
Not only are these dishes perfectly presented, well portioned and very filling, the taste will definitely make you want to come back for more. The roast beef is flawlessly cooked and mouth meltingly tender and the omelette is perfectly seasoned and fluffy. Even the coffee here is really good! It is freshly ground, flavourful and most importantly never burnt. I highly recommend this place for those of you who are looking for a hearty, wholesome and delectable meal.
Location:
Jl. Kemang Selatan no. 102A, Jakarta, Indonesia
Opening Times:
7am-12pm on Saturday and Sundays
KOI Kemang
Also in the same neck of the woods, is the long established KOI Kemang. A canon in the field of Jakarta dining establishments, this chic and sophisticated restaurant hybrid furniture store and gallery, also serves a good and varied brunch menu. From sweet, savoury, Asian to Western cuisines, patrons are spoiled for choice. I, however, am extremely indecisive and find the long list of dishes slightly bamboozling. The eggs benedict here has made quite the reputation and friends of mine usually order this dish. My husband and I, on the other hand, usually opt for the meatier dishes and often order the steak and eggs and farmers breakfast.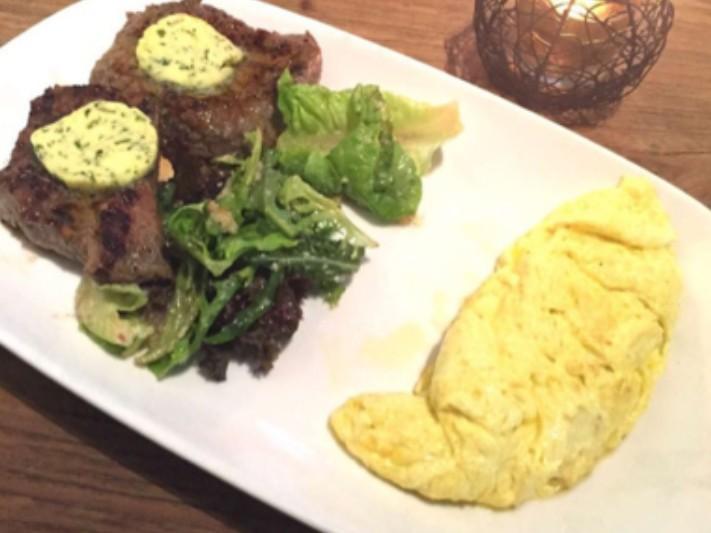 Steak and Eggs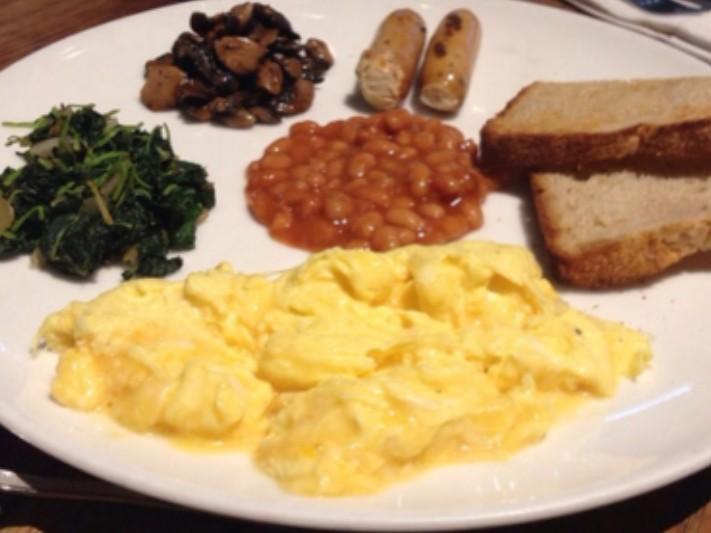 Farmers Breakfast
The steak is well seasoned and cooked to our preference, and the vegetables are subtly flavoured and not overdone. The coffee here is also very good with a variety of flavoured syrups available. A plus for pregnant mamas (like me) is that they serve decaf! A rare find in the city of Jakarta.
Location:
Jl Kemang Raya No. 72, Jakarta Selatan
Opening Times:
Brunch is served 7 days a week from 8am – 11am on weekdays and 8am- 4pm on weekends.
Gentle Ben
On the odd occasion when I feel like something healthy (and those size 10 jeans are feeling a bit too tight for comfort), I head to Gentle Ben. The new kid on the block for brunch. As this place is still relatively new and people mostly know about it through word of mouth, even during the busiest of times you would most likely be able to find a seat. The cute and modern interior is pleasing to the eye and most importantly the food and coffee is pleasing to the stomach. The cafe serves a simple menu and although I have yet to try all of it. I am very happy with the dragon fruit smoothie bowl and steak sandwich.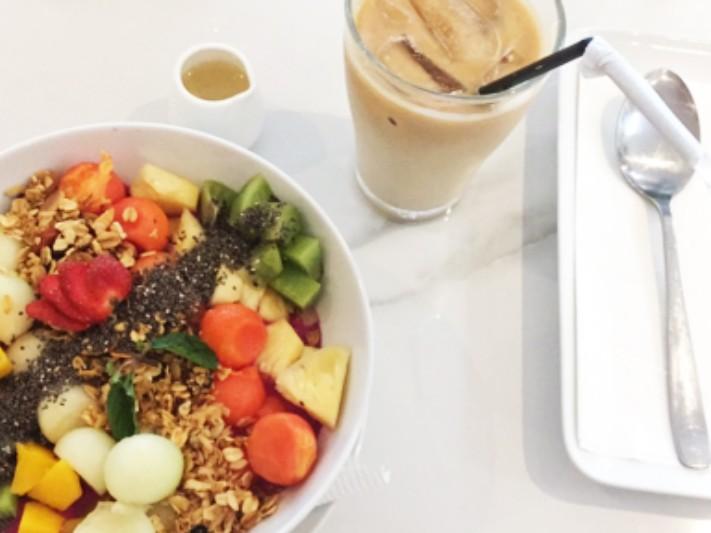 Dragon Fruit Smoothie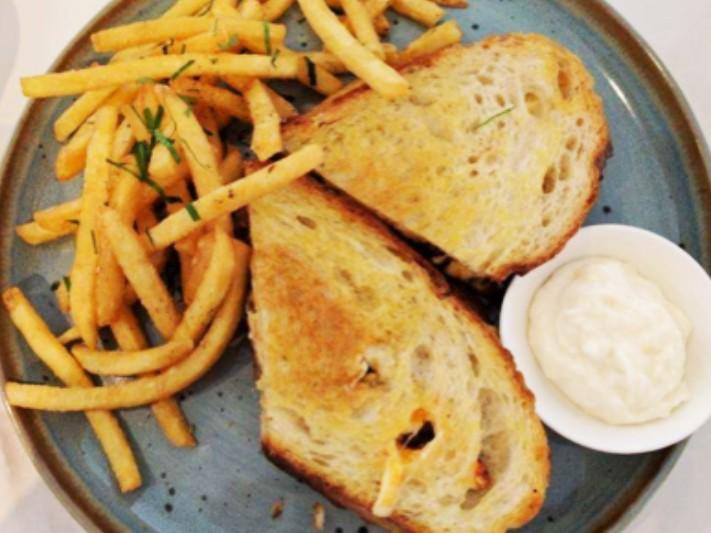 Steak Sandwich
The dragon fruit bowl is not only a rainbow of colours, it is also a rainbow of nutrients and flavours. For someone who was once averse to healthy eating, I find this dish quite tasty, as the grains give a well balanced savory flavour to the sweet melon, kiwi, papaya and pineapple. My husband, the carnivore, really enjoyed his steak sandwich and the well seasoned side of fries.
The cafe also has a team of well experienced baristas who are very helpful with helping patrons choose their perfect blend. There's a variety of fresh coffee available and even a house blend. 
Location:
Jl. K.H. Ahmad Dahlan No. 32, Pondok Indah, Jakarta
Opening Times:
Brunch is served from 8AM – 11AM.
---
And that my friends, is my top 3 brunch spots in Jakarta. In this hectic city I call home with food establishments endlessly sprouting every few months, I'm sure this list will grow.