Home to over a quarter of the world's marine life, the Indonesian Archipelago is truly the ultimate paradise when it comes to Diving. Stretching from the Indian Ocean to the Pacific Ocean, Indonesia is blessed with some of the planet's most amazing dive sites that are renowned among divers
worldwide. Recently, on 12th July 2017, CNN released the 10 Best Dive Sites in Asia, and it's no big surprise that almost half of these are found in Indonesia!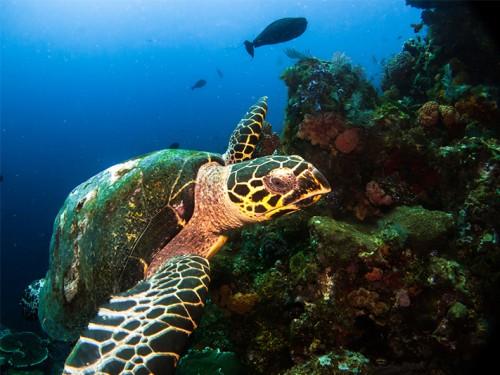 Photo source : www.playworld.id
While other countries were represented only by one dive site, Indonesia has placed 4 of the country's prime diving destinations on the list. These are the Derawan Archipelago in East Kalimantan, Raja Ampat in West Papua, Komodo Island in East Nusa Tenggara, and Tulamben in Bali. Completing the list, 6 other dive sites from 6 different countries were: Sipadan Island in Malaysia, Simian Islands in Thailand, Mergui Archipelago in Myanmar, Andaman Islands in India, Kerama Islands in Japan, and Tubbataha Reef National Park in the Philippines.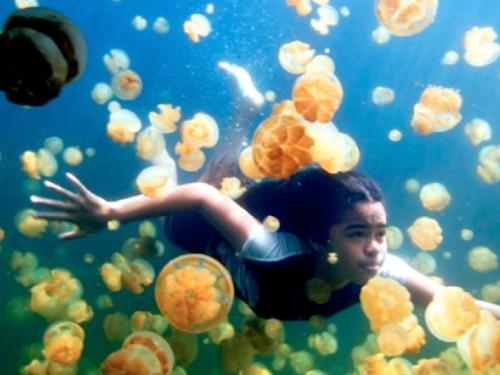 Image source : Shutterstock
Ranked 3rd on the list, the stingless jellyfish in Kakaban coral atoll at the Derawan Archipelago has proven to be one of the most outstanding underwater attractions in the world. "Very pretty, not at all painful" wrote the article illustrating these rare and unique sea creatures that are found in only two places on earth. The Derawan Archipelago itself comprises 31 islands, most well-known among these are the islands of Derawan, Sangalaki, Maratua and Kakaban. The entire marine conservancy region covers a total area of no less than 1.27 million hectares. It is the perfect tropical paradise with warm, isolated islands, soft white sand beaches fringed with waving palm trees, pristine seas that change color from green to deep blue, and an amazing underwater life of giant turtles, dolphins, manta rays, dugongs and barracudas, stingless jellyfish and occasionally, whales.

Image source : Shutterstock
Situated off the northwestern tip of West Papua province, the exceptional Raja Ampat Islands sit on the 5th place on the list. On the article, CNN wrote: "The Raja Ampat Islands have the highest recorded diversity of fish and coral on earth - an amazing 537 coral species and 1,074 fish species can be found here, according to The Nature Conservancy." While the landscape here may look like a dream, this is not an illusion. As you embark on your dive, the phrase "Attention to detail" takes on new meaning as pigmy seahorses swim around your fingers. Manta Rays and wobbegongs will glide right by you. Tuna fish, giant trevallies, snappers, and even barracudas are there to complete your underwater "meeting list". Not to mention the friendly assistant of the dugong, and a busy colleague, the turtle.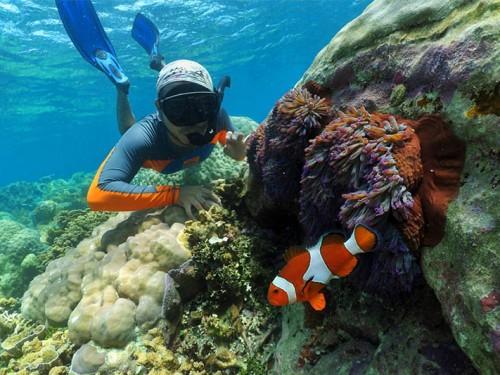 Image source : Shutterstock
Renowned for the legendary and exceptional Komodo Dragons, the Komodo National Park has also established its reputation as a world-class dive site. Placed 7th on the list, the waters around Komodo and nearby islands offers vibrant colors and exotic marine life which will enchant divers and snorkelers
alike. "The variety of marine life around Komodo Island ranges from sunfish, mantas, dolphins and eagle rays to the fascinating pygmy seahorses, ornate ghost pipefish and blue-ringed octopus, making this one of the most diverse and vibrant dive spots on the planet," wrote CNN.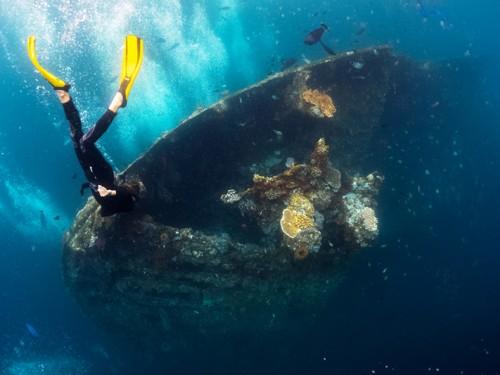 Photo source : www.esteristhin.tumblr.com
Following closely on 8th place, Tulamben Beach at the east coast of Bali Island offers the perfect experience for both professional divers and beginners alike. Illustrating its rising popularity, CNN wrote: "The small fishing village of Tulamben hosts one of the most popular dive sites on Bali". A major dive attraction here is the wreck of of USAT Liberty that sank here after being hit by the Japanese in 1942. Located only some 25 from shore the wreck is at a 5m to 30 meters depth. The 120-meter-long wreck is now home to a variety of fish species, such as batfish, angelfish, puffer fish and hawkfish.
Indonesia's Minister of Tourism, Arief Yahya, appreciated the list compiled by CNN and thanked that 4 of Indonesia's prime diving destinations were included on the list, adding that Indonesia still has many more great underwater destinations that have not been widely "discovered". Among these are Wakatobi in Southeast Sulawesi, the Gili Islands of Lombok, Karimunjawa in Central Java, Anambas in the Riau Islands, Mandeh in West Sumatra, Belitung Island in the Bangka Belitung Province, Tanjung Lesung in Banten, and so many-many more. "There are hundreds of amazing dive spots in Indonesia. For this reason we are truly confident that Indonesia is definitely the best for marine tourism" said Minister Arief Yahya.
So, what are you waiting for?
Photo source of header banner : Shutterstock
Related articles :
1. Explore the Natural Beauty of Gili Trawangan and the Gilis in Lombok
2. Follow the Action on Gili Trawangan
3. Undiscovered Coastal Beauty near Padang
4. Top 9 Special Places to Enjoy your Belitung Island holiday