Who here is as famished as a Hungry Hungry Hippo and would die for a tasty meal that will not only satisfy the tummy, but also pamper your taste buds? Do spoonfuls of rich full-flavored fragrant rice, mouthwatering succulent pieces of meat and titillating spicy goodness sound absolutely delish to you? Well then a plate of Nasi Lemak would just hit the spot!
Surprisingly named as one of the 10 most healthy international breakfasts by Time Magazine, Nasi Lemak tastes devilishly unhealthy, which means its utterly delicious.
Nasi Lemak is a Malay dish, most well-known as one of Malaysia's national dishes, and popular in Singapore and Indonesia, particularly in Sumatra's northern region. In Indonesia, basically consists of fragrant jasmine rice flavored with coconut milk with a side of beef or chicken, peanuts and ikan teri (anchovies), fresh cucumber slices, sambal and an egg. Other side dishes are also available depending on the establishment selling the dish. Sometimes other spices or aromatics are added to the rice to make it more savory and fragrant, such as pandan leaves, bay leaves and lime leaves.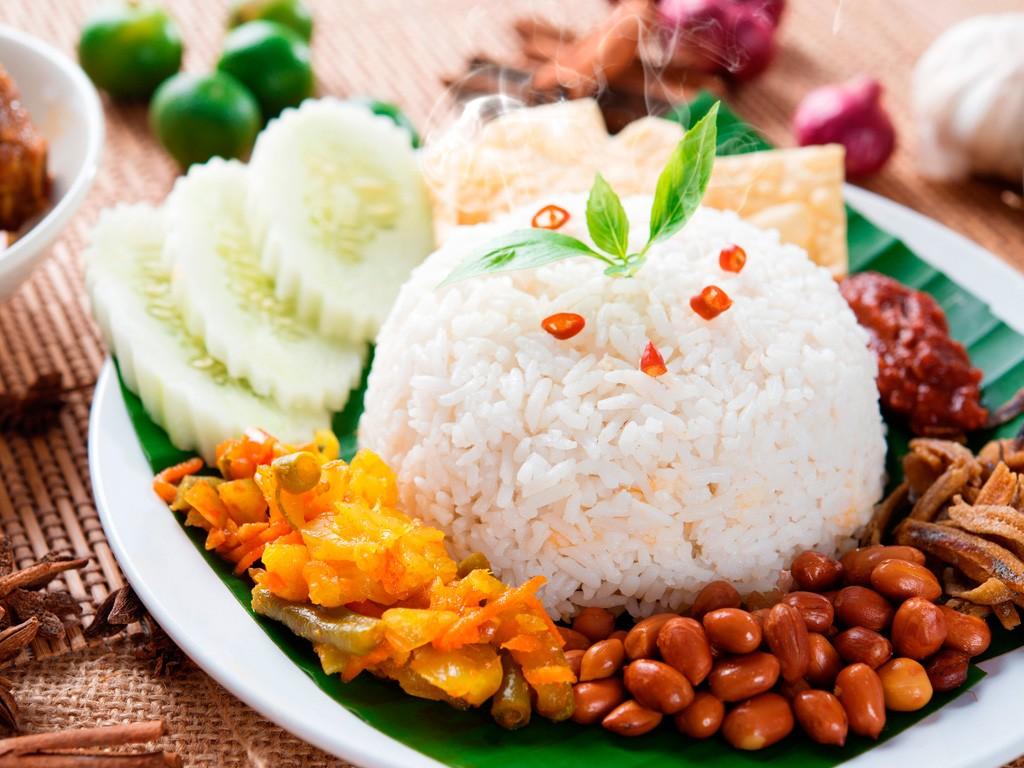 Medan is one of Sumatra's cities offering a more authentic Nasi Lemak, or Nasi Gurih as the locals call it, experience. Its strong rich flavors are so memorable that a trip all the way to Medan would worth it just to have a bite. The following are some stalls/ vendors in Medan that offer the best Nasi Lemak in the city.
1 | Nasi Gurih/Lemak Pajak Beruang
Simply mouthwatering is the right way to describe this establishment. It truly is a simple bicycle-drawn cart that displays the delish food without any seats or tables, which means this is definitely a take-away business. Your first spoonful will make you understand why this place is so popular. The rich aromatic rice is addictive while its side dishes are just irresistibly perfect with the rice. But the special part about this place is the sweet yet savory dendeng (thinly cut dried beef) that is absolutely to die for. The savory, spicy, salty, sweet party in your mouth will leave you wanting more and more. If only your tummy will allow you to eat non-stop.

Nasi Gurih/ Lemak Pajak Beruang
Jl. Aman 1 No.27, Sukaramai II, Medan Area
Kota Medan
Sumatera Utara 20224
2 | Tom and Jerry

No, this is not a souvenir shop for the cartoon show (even though the logo is exactly the same). It is actually an ice cream shop that also sells Nasi Gurih. Yes, this is a wonderful place where you can have a complete meal plus yummy dessert! There are a lot of fascinating choices of meat and veggies to accompany the lip-smacking rice that can be described in one word: umami. This establishment is for the super duper early risers because although food is sold from early morning until around noon, sometimes most of the side dishes are sold out by as early as 9.00 a.m.

Toko Es Krim Tom and Jerry
Jl. Surabaya No.30/58, Pasar Baru,
Kota Medan
Sumatera Utara 20212
3 | Nasi Gurih Tenda Biru, Yos Sudarso
If you're the type who enjoys a spicier experience, then the Nasi Lemak here would hit the spot for you. Unlike most other Nasi Lemak vendors in town, the one sold here comes with sambal that is more on the spicy side instead of sweet. Plus, the delicious rice itself is cooked to perfection 'al dente' style.

Tenda Biru
Jl. Kl. Yos Sudarso No.9F, Titi Papan, Medan Deli
Kota Medan
Sumatera Utara 20244
----
If you happen to be in Jakarta and have no time to fly all the way to another island, have no fear! There are a few top-notch restaurants that also offer some flavorful Nasi Lemak.
4 | Penang Bistro
This restaurant offers a Malaysian version of Nasi Lemak. The dish called Nyonya Nasi Lemak includes some tasty Nasi Lemak rice served with chili fried fish, chicken curry, fried egg, dried anchovies, squid cooked balado (spicy) style, potato crackers and of course, sambal. Just looking at the pretty plate makes you want to devour the whole meal at once. Yummers.

There are quite a few Penang Bistro restaurants spread throughout the city, in Central Jakarta, North Jakarta, South Jakarta and West Jakarta, so you can choose the nearest establishment to enjoy your feast.
5 | Seribu Rasa
This is an restaurant that specializes in Malay and 'peranakan' Chinese food. Although it is quite pricey, the food is simply divine. It has a wide range of items to choose from on the menu, including its exquisite version of Nasi Lemak called Malacca Nasi Lemak. The dish contains coconut fragrant rice, of course, served with beef rendang/ snapper balado, prawns with fermented bean sauce, an omelet, seroendeng (flavored coconut shavings) and sweet potato chips. Yuummm!

Seribu Rasa has outlets throughout South, Central and West Jakarta.
6 | Penang Paradise
This is another establishment that offers the Malaysian version of Nasi Lemak. Its menu has four types of Nasi Lemak dishes to choose from with a side of either beef or chicken, omelet, anchovies, prawn cracker and of course, sambal.

This restaurant has two locations, one in North Jakarta and another in West Jakarta:
Penang Paradise
Mall Kelapa Gading 1&2, Second Floor
Jl. Kelapa Gading Boulevard
Kelapa Gading, Jakarta Utara
Penang Paradise
Mall Taman Anggrek, Third Floor
Jl. Tanjung Duren Timur 2
Tanjung Duren, Jakarta Barat